My favorite morel soup recipe of all time is this bisque. I originally developed it as a way to serve morels at a reasonable price to the general public. Read on and I'll explain the details of how you can make it at home.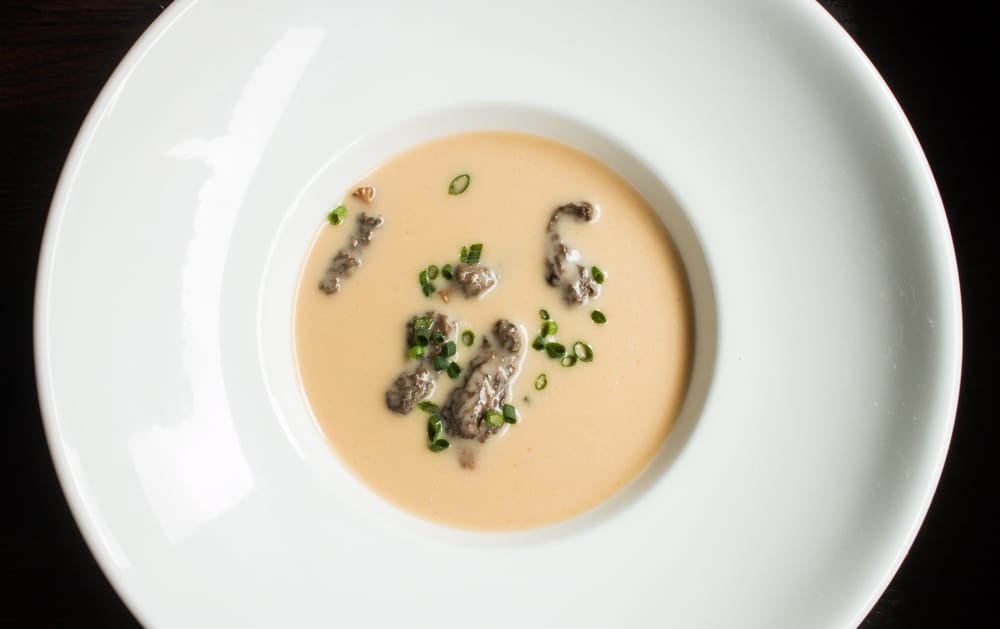 When morel season came around, I knew I couldn't afford to buy any for the restaurant, but I did have some at home, so I did an experiment. I wanted to serve the best creamy morel soup ever. 
My experiment revolved around one question: can I purchase dried morels and incorporate them into a morel-focused dish and not break the bank, i.e. keep a decent food cost?
Expensive dried mushrooms
Fresh morels will probably come in around 20$/lb, or much more depending on who you're dealing with. The price can be volatile.
Dried morels on the other hand are very price stable, because their availability is reliant upon harvests in burn areas and other spots of natural black morels, typically on the West Coast.
I've never seen typical gold/grey morels for sale through wholesale purveyors. Dried morels come in right around 250$lb, or roughly 15.63$/oz or 48 cents/gram.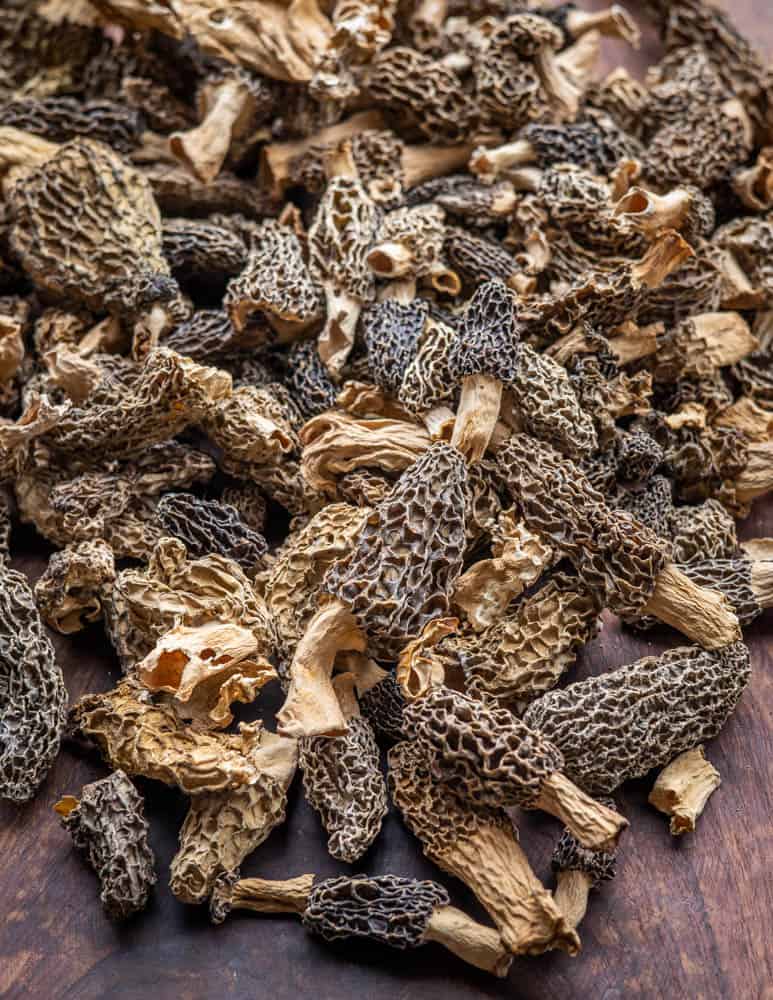 When the powers that be look at my purchases each week, large numbers over a hundred dollars had better be a box of expensive beef, duck, bison, or maybe some spendy chocolate for the pastry team.
By comparison, for 300$ I can get enough bison to run an entree for an entire week. If I'm going to bring in some fun stuff, I have to know how to make the numbers work, because at the end of the day it's not about what I want to serve, it's about the restaurant numbers being healthy.
Fortunately I've been through enough rough spots to know how to squeeze money out of a dish. Soup can have a high profit margin, much more than an expensive steak or piece of fish, so that's where I started tinkering with a recipe that could work.
Food Cost
To sum things up, here's the recipe I developed. In order to get a solid morel flavor, I ended up using about 3 ounces in the finished batch, which yields about a gallon, with a cost of morels coming out to about 35$/batch, with other ingredients probably around 10$ on the high side for a total of 45/gallon of soup, which is very expensive for a gallon of soup, but, they're morels, after all.
If I sell 4 ounce ladles of the soup for 10/portion, that's a total of 320$ net profit from one batch, and our food cost equation, assuming we're shooting for 30% (a standard for decent restaurants) will look something like this:
45$cost/320$ net profit =.140625
That's roughly 14% food cost or C.O.G.S/cost of goods sold
In the end, the soup is within workable margins by a long shot, we could even adjust the price down and still have some wiggle room to account for waste. Fortunately at home you don't have to worry about food cost or pleasing who you report to.
If you're a mushroom hunter, you might just need to use up some dried morels you've been hanging on to before the next season. My advice is: Invite some friends over for some creamy morel bisque.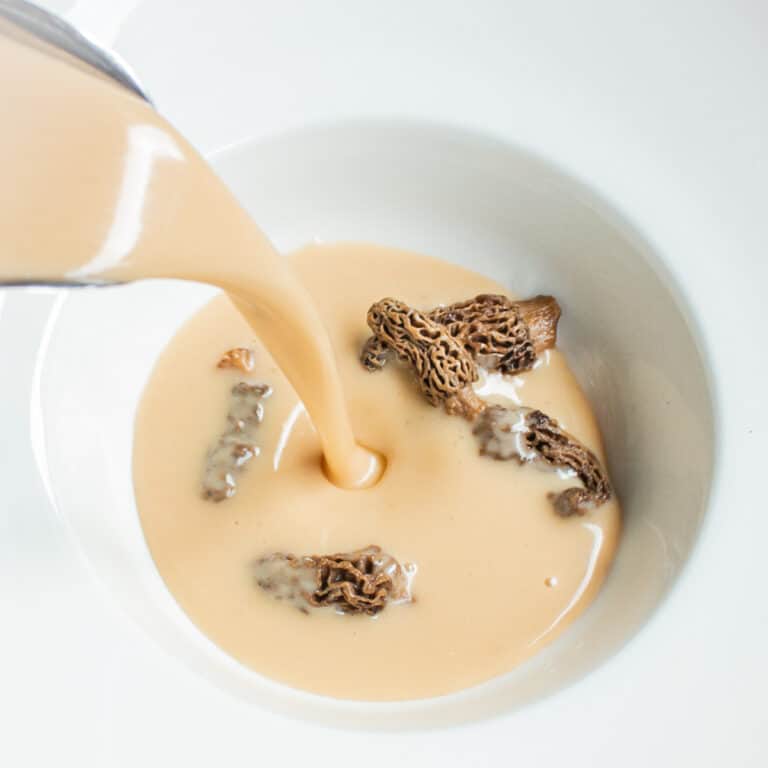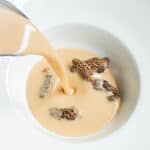 Print Recipe
Creamy Dried Morel Soup (Bisque)
Makes about 6 cups to Serve 4-6
Ingredients
4

cups

chicken stock

1

cup

heavy cream

⅓

cup

rice

8

oz

1 medium onion diced small

4

oz

2 ribs celery, diced small

½

cup

sherry or brandy

1

oz

dried morel mushrooms

Kosher salt

to taste

Ground white pepper

to taste

6

tablespoons

unsalted butter

Sliced chives or wild onion tops

for garnishing, optional
Instructions
Heat the stock, then pour over the morels and allow to hydrate for 30 minutes, then swish them to remove grit, remove the mushrooms and reserve then strain the liquid and keep separate.

Separate the mushrooms into 2 piles: saving prettiest, smallest mushrooms that will fit on a spoon for garnish, rough chop the other half.

Sweat the celery and onion in 2 tablespoons of the butter for 5 minutes, add the rice and cook for a minute more, then add the sherry and reduce by half. Add the stock, and the chopped morels bring the mixture to a simmer and cook for 20 minutes on low heat, or until the rice is just tender.

Transfer the mixture to a blender*, add the cream, and puree until very smooth—a minute or two, carefully starting on low speed and gradually moving to high as you get comfortable-hot soup in a blender can be dangerous--make sure there's room for air to escape through the top of the blender lid while pureeing. Gradually add 3 tablespoons of butter. Finally, season the mixture with salt and white pepper to taste.

To serve, heat the reserved pretty morels in the remaining butter until just caramelized and lightly browned and spoon them onto the hot soup, garnishing with chives or wild onion tops if using.
Notes
*Note, if you don't have a regular blender, you can try using a hand blender. It won't be as smooth as the soup in the pictures, but it will taste good. 
More
Forager's Guide to Morel Mushrooms