The hunt for the mushroom of St. George continues. If you're in the Midwest, or even anyone in North America, let me know if you've seen these.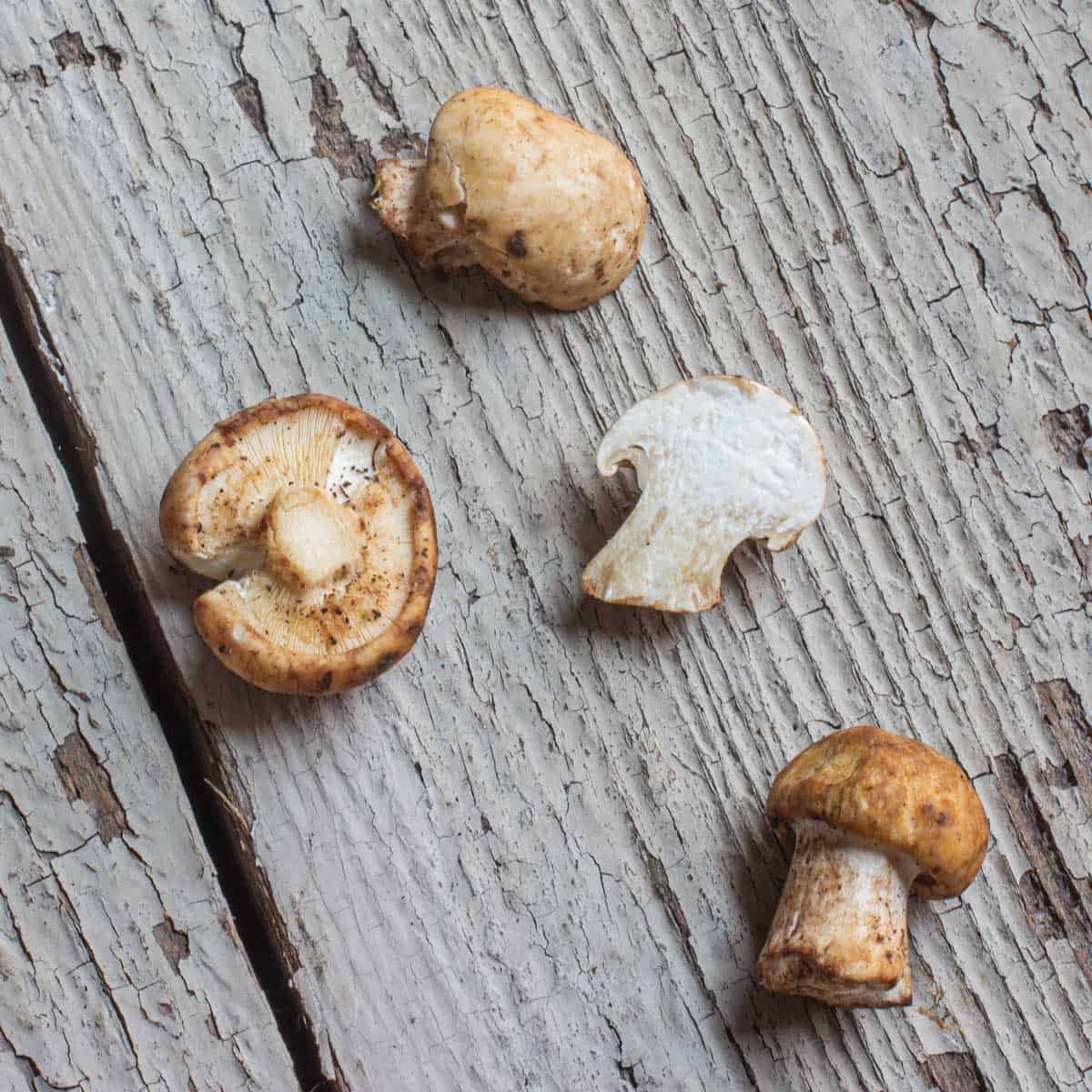 A few winters ago I was up late at night googling species of mushrooms in Minnesota I hadn't found, using search combo's of different Latin and colloquial names. Somehow I stumbled across an old PDF. Let me clarify: an old document someone had scanned into a PDF for safe keeping, likely from a library, I know there's a few literature protection projects in my neck of the woods.
You'll have to trust me, because for the life of me I can't find the PDF as hard as I try now, but I definitely remember why it was special. The document was a log of a botanist's findings from around 1920 in Minnesota, a journal of Latin names in different categories, plants, flowers, tubers, trees, and what I was after: fungi.
I remember going through the names slow, pronouncing the ones I didn't know. Eventually I realized I didn't recognize the mushrooms because the Latin names were outdated, it seems like every year now with DNA sequencing things are forever getting re-named and re-classified.
One name in stood out to me: Tricholoma gambosum (Now known as Calocybe gambosum, and previously known under at least 6 separate synonyms from what I can find)
Tricholoma, gambosum, gambosum....That's the mushroom of St. George!
Like most self respecting mushroom hunters, I have plenty of guide books about Midwest and American mushrooms. None of them discuss the Mushroom of St George being in the Midwest. Not one.
The closest I found was David Arora saying that it was likely they were "here", but I assume he was speaking about the West Coast and the Pacific North West. Every other American guide book I have was silent on the subject. European guides were different though, every one I've read mentions The Mushroom of St. George, and two even gave the day you're supposed to pick them: April 23 or St. George's Day. George is the Patron Saint of England, historically thought to be a roman soldier who killed a dragon and saved a princess. I don't know about you, but a mushroom named after a soldier who killed a dragon and saved a princess sounds like something I need to eat.
How do I find something that no one's documented to my knowledge in Minnesota for 100 years? Could they really be here?
In my opinion, history's already shown us a trend to look at. For the first half of the 20th century, French chef's complained that there weren't the wild mushrooms in America that they had in Europe. Eventually we found out the mushrooms were here, they were *all* here, we're just still in the process of rooting them out, one by one. Eventually, time apart on different continents did seem to change the composition of some mushrooms, for example, porcini (and similar bolete) mushrooms I've had will be a very different in America than those picked in Europe, but at the end of the day, both are delicious.
I believe the mushrooms are still here, I just need to find out what makes them tick. From what I've gathered St. George mushrooms like:
Soil with lime in it
A habitat in grass, often on the peripheries of deciduous woods, but not directly in the woods
A fruiting season around the same time as morels
To sometimes grow in large rings
After I got some basic hunting points, I looked at maps of Minnesota and Wisconsin with my Dad (a crazy smart farmer with a geology background) and we tried to cross reference some of the hunting points with our Minnesota lanscape. Lime soil was something I had read again and again, so we looked first at karst maps for concentrations of it, after that I pretty much knew where to start, or so I thought.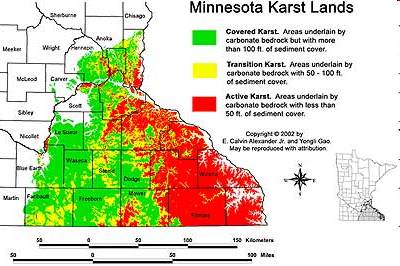 Turns out driving around Southeast Minnesota (the State's cradle of morel territory) trying to get on people's property is easier said than done in the Spring. The few land owners I talked to absolutely would not buy the story I was looking for something other than morels, since in the area for many people, it's still literally the only wild mushroom known to be safe to eat. If you know an old time morel hunter too, you know tempers, suspicion, and land access can be delicate, volatile things.
Even so, I still try to make a few day trips down to the southeast every year for kicks, and I bring a pair of binoculars in the car to stop at pastures and scan for fairy rings in the grass.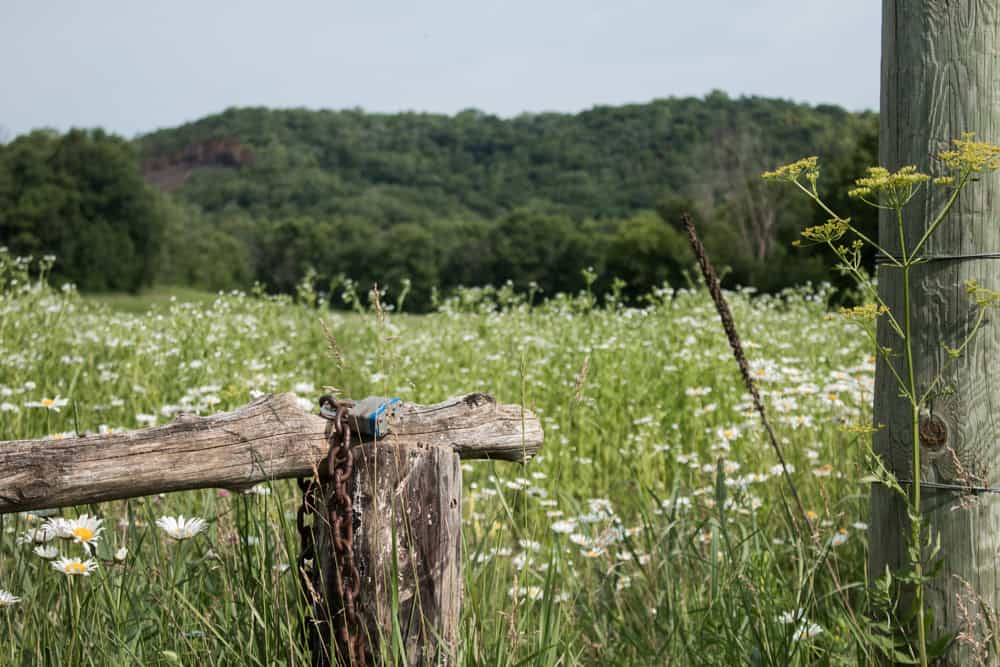 The last piece of the puzzle besides the mushroom itself was knowing exactly what I was looking for. There's a lot of white mushrooms around, many of them would not be good to eat. I needed to eat some, to know their smell and taste before I find them in the field, which is how I started finding mushrooms in the first place. I learned to cook mushrooms by watching what foragers brought to nice kitchens, only after knowing what I was looking for did I try hunting them on my own.
One perk about being the executive chef is that I have complete control over the purchasing power of my restaurant which means I can shake down purveyors for samples of whatever I want, if they want me to buy from them.
I hit up a well known international mushroom dealer and requested a box of wild mushrooms stressing that I wanted some St. George in the mix. A couple weeks later the box came with a bunch of species in little paper lunch bags.
What do they taste like?
I went right for the St. George, ripped the bag open, gave it a big whiff and was shocked, it wasn't a new, unknown aroma, it was one I knew really well. If you've ever smelled or cooked a dryad saddle, flavor-wise these are near identical. The cucumber, melon rind, all of it's there, they're literally dopplegangers for each other, with the only exception being dryad saddles are polypores. I've never come across two mushrooms from two distinct types (pored vs gilled) that share the same rare smell.
This year the hunt goes on, and if finding matsutake taught me anything it's that nothing's impossible, and I shouldn't under-estimate my friendly eyes and ears in the Midwest. So, all my Midwest mushrooming friends while you're out morel hunting this year, keep your eyes peeled, they're out there, maybe together we can find them.
I've learned that the interwebs and local connections can be powerful tools, and my friends and readers of this site have helped me uncover more than I ever could myself. So to help find the first patch of these in the Midwest, I want to up the stakes a bit.
I'll pay 1,000 cash to whoever gives me information or mushroom samples that lead to the first patch in the Midwest.
Let the hunt begin.