A dark, rich bison stew with dried bolete mushrooms and coffee is a great way to use up dried mushrooms in the winter. If you have some fresh horseradish, this is also the perfect place to use it.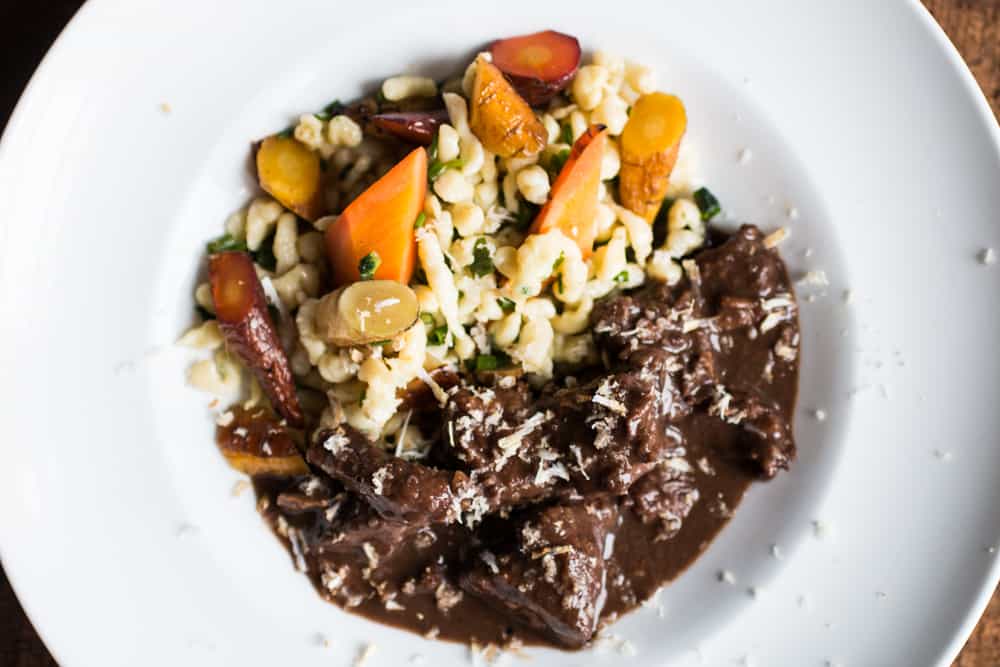 The good part about the dead of winter is that I can run all the heavy stuff the line cooks like to make, or as we call it: fat kid food. Braised meats galore, pastas layered with cheese, sausage and breadcrumbs, different types of lasagna, ragus of beans and smoked meat, sauces made with cream, butter and cheese. Yes. Winter makes me want to eat and cook it all.
This year I was looking at a pile of bison trim left from cutting hunks of pot roast, and I thought I would make a stew for the cooks to serve for lunch the next day.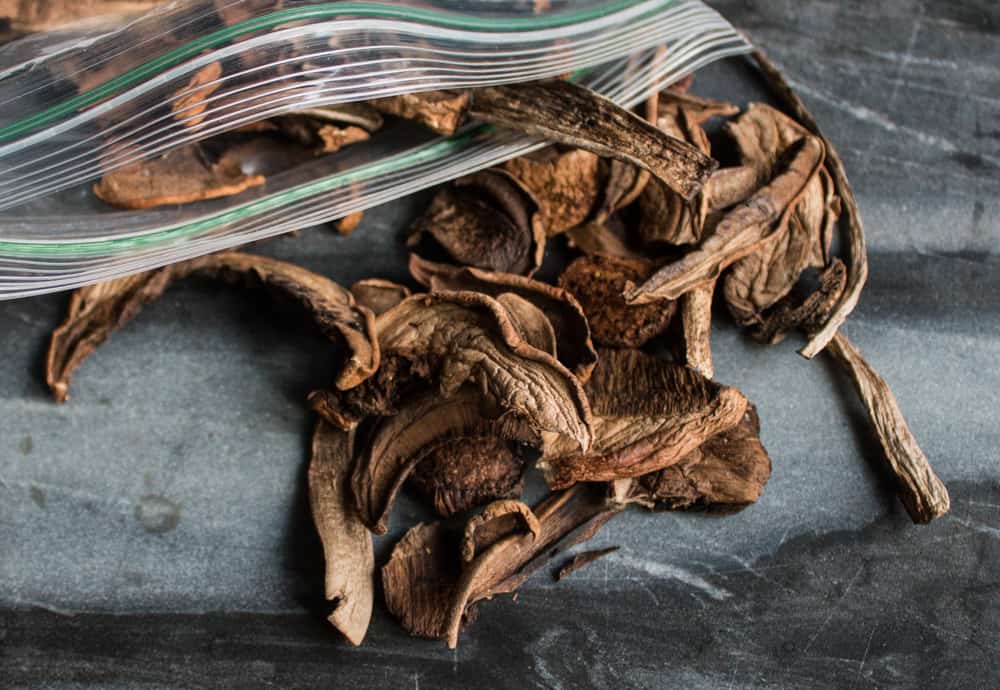 I wanted it to be dark as night, rich, thick, and mushroomy. Dried bolete mushrooms all smell different, but there's this quality to them that always makes my toes curl a little. No matter what bolete it is, it will smell dark and"boletey". Their woodsy scent will vary, but I always like them with things like red wine, dark beer, and similar rich flavor profiles.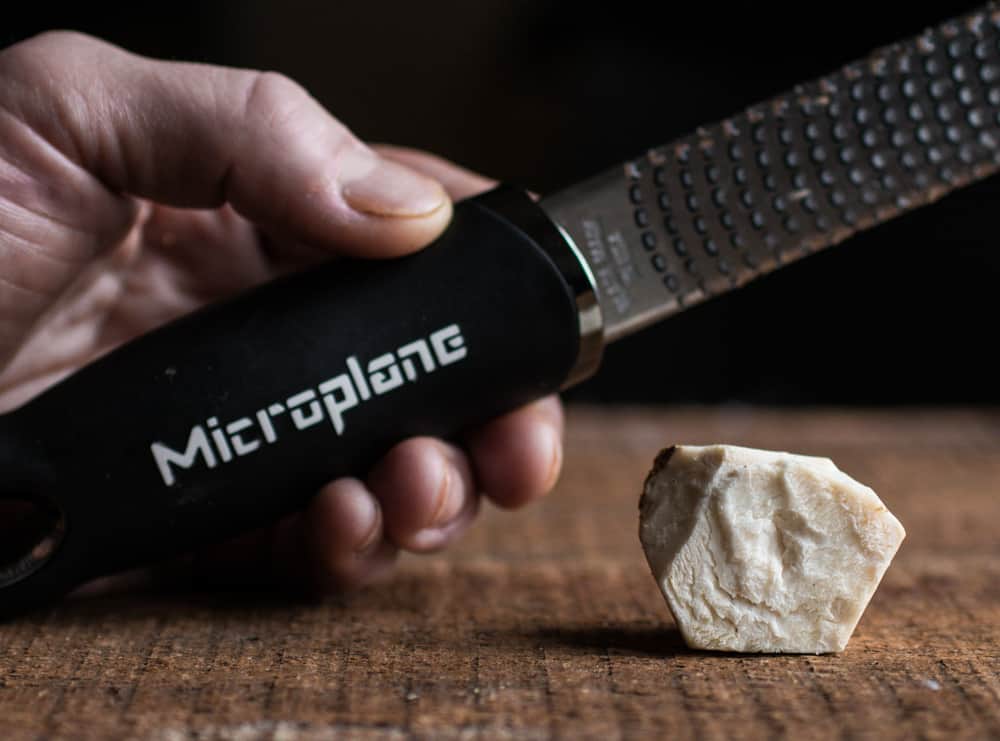 At the end of the day, it's another way to use up those dried boletes hanging out in my cupboard before the mushrooms start popping again, the growing season gets closer every day.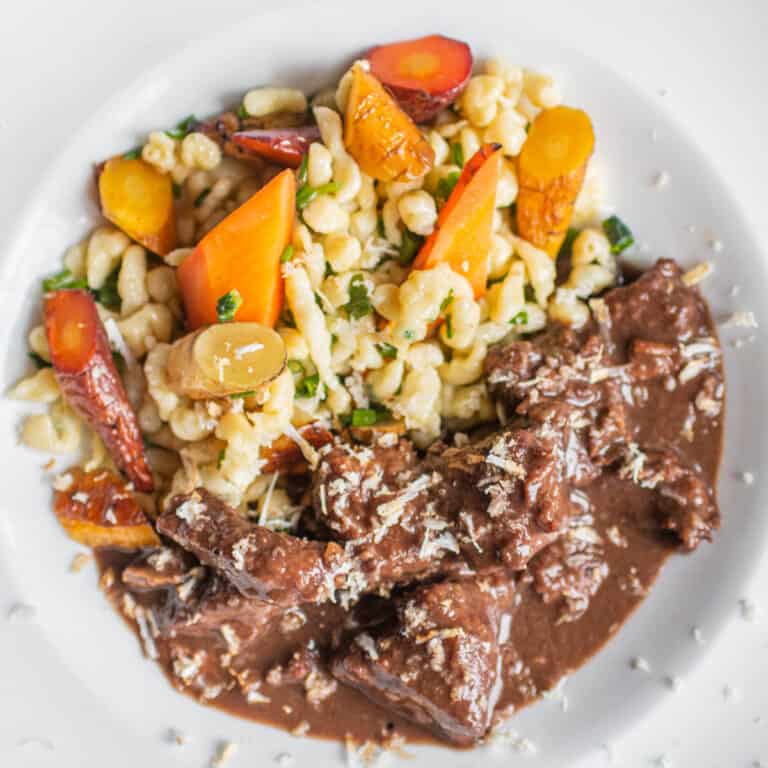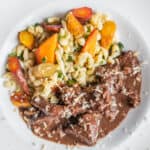 Print Recipe
Bison Stew With Coffee and Dried Bolete Mushrooms
A dark winter stew made with coffee and dried boletes.
Ingredients
2

lbs

bison or beef chuck

boneless shortrib, or stew meat

2

cups

strong coffee

3

cups

strong chicken stock

preferably homemade

1

ounce

dried porcini

roughly 1.5 cups of dried mushrooms

1

cups

shallot

diced ¼ inch

All purpose flour

as needed for dredging (optional)

Kosher salt and fresh ground black pepper

to taste

1

teaspoon

dark

unsweetened cocoa powder

Flavorless oil

for browning the meat, as needed

Bouquet garni of 5 fresh thyme sprigs

10 black peppercorns, a few cloves of garlic, and 1 fresh bay leaf (tie this in cheesecloth before adding to the braise)

3

tablespoons

unsalted butter

for serving (optional)

Fresh horseradish grated on a microplane grater

for serving (optional)
Instructions
Rehydrate the mushrooms in the stock for 30 minutes, then agitate to remove any grit, remove the mushrooms and chop roughly. Strain the stock through a fine chinois or mesh strainer and recombine the two.

Trim sinew and silver skin from the meat, then cut into 1 ounce pieces about the size of a quarter. Season the meat liberally with salt and pepper, then allow to sit for 15 minutes, or overnight if you have time, this helps the salt to penetrate the meat.

Heat ¼ cup of the oil at a time in a large rondeaux or brazier, then dredge the meat in flour, tap off the excess, and, working in small batches, brown the meat deeply, then remove the meat, add more oil if needed, and continue to brown the meat. If the bottom of the pan looks like it getting brown, deglaze with some stock or water, scrape off the brown bits and add to the reserved, browned meat, then add some more oil to the pan and continue browning the meat.

After the meat has been browned, sweat the shallot in a little oil until translucent in the same pan the meat was cooked, then add the meat, mushrooms/stock, coffee, cocoa and bouquet garni then cover the pan and simmer until the meat is tender, uncovered, stirring occasionally, about 1 hour. Transfer the stew to a container to cool, remove the bouquet, then label, date, and refrigerate until needed.

When re-heating the stew and preparing to serve, stir in the cold unsalted butter to thicken the sauce and give it a glossy sheen, adjust the seasoning for salt to taste if needed, then serve immediately, grating a little fresh horseradish over each serving.
Notes
This is scaled from a 20 lb restaurant batch I made, expect a little bit of variation, it's stew, not rocket science.
Know that I do add a little more liquid to my stews in the restaurant, since the typical downfall of braised meat dishes is my line cooks running low on the braising liquid during service.  
You'll notice there are no vegetables in the stew, which means you really need to use high quality stock to cook it in, since there won't be any aromatic vegetables to flavor the sauce. I prefer to cook vegetables fresh alongside to preserve their texture and garnish the stew with them. In the pictures, the stew is served with spaetzle and some roasted heirloom carrots.
Nutrition
Serving:
6
oz
|
Calories:
2854
kcal
|
Carbohydrates:
87
g
|
Protein:
197
g
|
Fat:
188
g
|
Saturated Fat:
86
g
|
Polyunsaturated Fat:
10
g
|
Monounsaturated Fat:
70
g
|
Trans Fat:
1
g
|
Cholesterol:
747
mg
|
Sodium:
1675
mg
|
Potassium:
5009
mg
|
Fiber:
11
g
|
Sugar:
31
g
|
Vitamin A:
1081
IU
|
Vitamin C:
21
mg
|
Calcium:
232
mg
|
Iron:
28
mg