When I moved to the Twin Cities from Willmar Minnesota I remember my Grandpa took me to one of his favorite fancy restaurants called Luci, a little Italian place, and a venerated St Paul dining spot. Everything was great, but what I remember the most was their signature dessert, a flourless chocolate torte. I'd never had anything like it.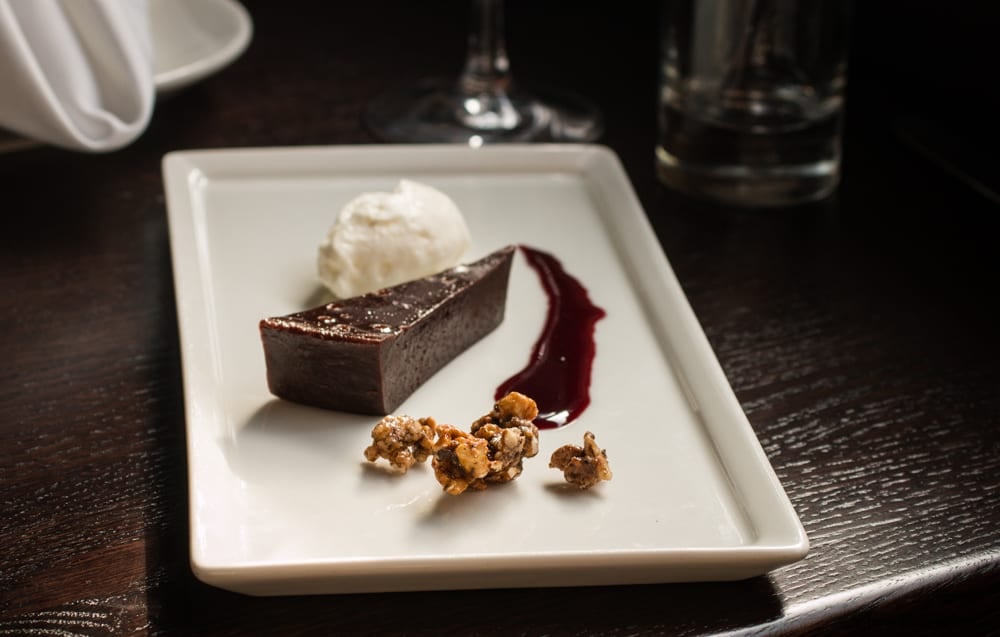 It came to the table, a tiny black wedge about an ounce or so, but looks can be deceiving. It was smooth as silk and so rich that eating more than the serving would be overkill, very different from chocolate desserts I was used to having, failing at making, or taking out of a box at the steakhouse back home I'd worked at.
Time went on and I kept cooking. Here and there I ran into flourless chocolate tortes at other restaurants. Some were puffy like a muffin, others dense like a brownie. A few were ok, most were crap, but none of them could hold a candle to that tiny sliver of chocolate I had at Luci. 10 or so years later I understood why. It's a nuanced art of cooking, a comprehension of how different temperatures and exposure to types of heat (e.g. gentle steam versus a hot wind or dry heat) affect eggs and their thickening properties, and how you can bend them to your will for a desired effect.
It's about cooking custards in a covered water bath at a low temperature.
To get the velvet texture I prefer in a flourless chocolate torte, I cook it slowly in a covered water bath. If you don't use the waterbath, the heat causes the leavening/rising properties of the eggs to activate, and it will rise (souffle), brown, fill with air bubbles, and then deflate slightly after cooking. This isn't to say that it's bad, its just a different effect that takes place when the custard mixture is exposed to different types of heat, being the wet heat of steam and the dry heat of hot air in this case. Cooking the custard at a low temperature activates the thickening properties of eggs, without the leavening effect.
To illustrate what happens physically to the batter when cooked using different methods, I did a little study for you. I cooked the same batter, in an oven using three different methods, here's what happens:
Cooked in a covered water bath at low temperature until set (275 F, 30-45 minutes)
Cooked in a water bath at a higher temperature (300F, 25 minutes)
Cooked in an oven uncovered until hot throughout (3ooF, 15 minutes)
My version of the classic here incorporates black walnuts that get shucked by hand down in Elgin Minnesota. I wanted to find a way to showcase their flavor in a dessert and have it be strong, but I didn't want chunks of walnuts messing up the texture of the silky chocolate. Black walnut oil isn't an option, for whatever reason, the oil made from black walnuts just tastes like regular walnut oil, at least the brands that I've tried.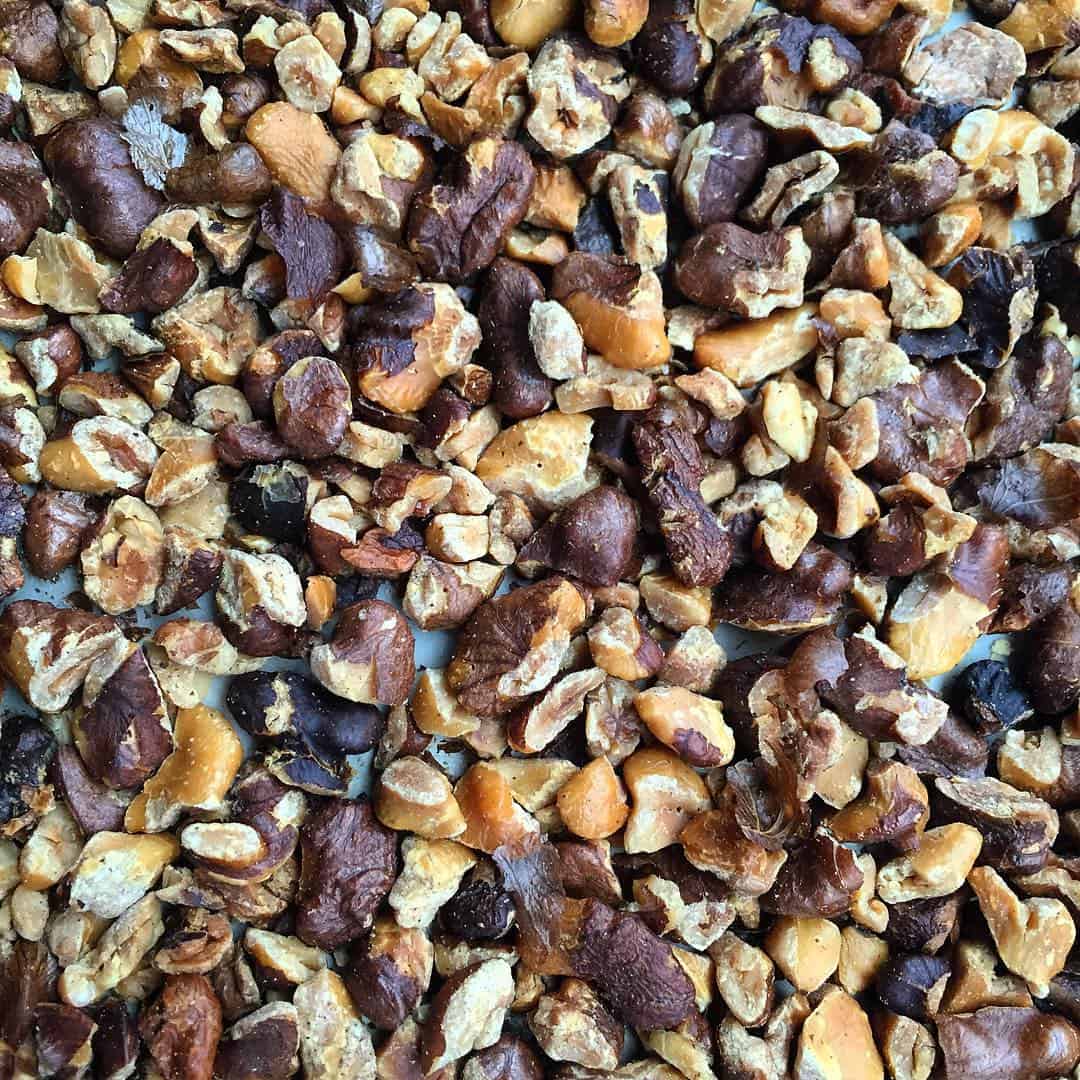 There are loads of aromatic oils and compounds in nuts, you just have to know how to extract them and find a medium that their flavor is soluble in. The way I got around the texture/flavor challenge was by pureeing toasted black walnuts with browned butter, since their aroma infuses into the fat. Afterwords I mix the nut/butter puree into the batter and cook per usual. What ends up happening is that you taste the black walnut aroma first, followed by the chocolate instead of vice-versa. It's a special dessert, but you better like black walnuts! Oh, and if you don't have a source for black walnuts, check out Hammonds.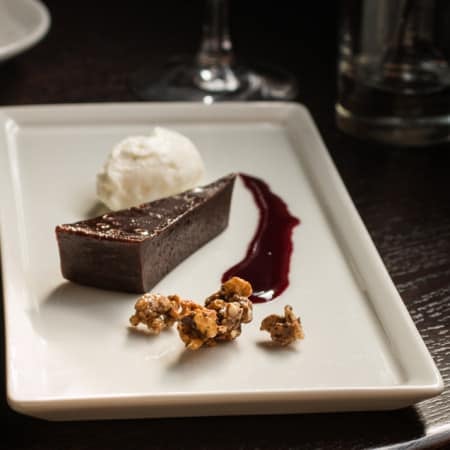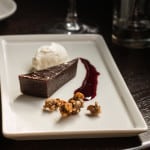 Print Recipe
Flourless Chocolate-Black Walnut Torte
Yield: roughly 8-10 small servings. This makes 2 cups of batter that will fill 3 four ounce ramekins, but, you can also bake it in a larger vessel (my preferred method) like the white ceramic dish pictured. Baking in a wider dish allows you to cut nice long slivers, but takes longer to cook. 
Ingredients
3

ounces

high quality dark chocolate

we use a 70% single source at the restaurant but a bar of nice, unsweetened chocolate will do just fine, just make sure it isn't milk chocolate since the recipe won't work with that

4

tablespoons

unsalted butter

½

cup

powdered sugar

3

ounces

black walnuts

toasted and rubbed between two towels to remove the bitter skin

2

large eggs

1

tablespoon

mild honey

pinch

of salt

1

teaspoon

cognac or brandy

For Serving

Optional

Chokecherry vinegar sauce

reduce chokecherry vinegar with equal parts of sugar by volume for a light syrup

Candied black walnuts

see my recipe here for those

White chocolate mousse

made by melting white chocolate and cream together and then charging in an ISI can-you can substitute whipped cream
Instructions
Preheat an oven to 325. Spray the cooking vessel you'll be using with some pan spray or butter it lightly.

Grind the toasted black walnuts in a spice grinder until very fine.

Cook the butter on medium heat until it's browned and smells like toasted nuts, but be careful not to burn it. Puree the nuts with the browned butter in a high-speed blender until very smooth.

Melt the chocolate in a double boiler gently until just melted, then fold in the nut-butter puree, brandy or cognac, powdered sugar, honey, eggs and salt until well combined.

Transfer the chocolate to a cooking vessel, then cook in a water bath, uncovered for 30 minutes or until just set. The chocolate should not have risen too much. Remove the chocolate and allow to cool to room temp in the water bath, then remove, wrap in plastic wrap and refrigerate until needed.

To serve, slice the chocolate into 1 ounce slivers, allow it to come to room temperature before eating.
Notes
There's a lot of different ways to serve this. In the picture above there's candied black walnuts, white chocolate mousse, and chokecherry vinegar sauce.
Related Links