I've gotten plenty of request this year for big morel recipes. By big morels, I mean the giants, honkers, pigs and behemoths that come up at the end of the season.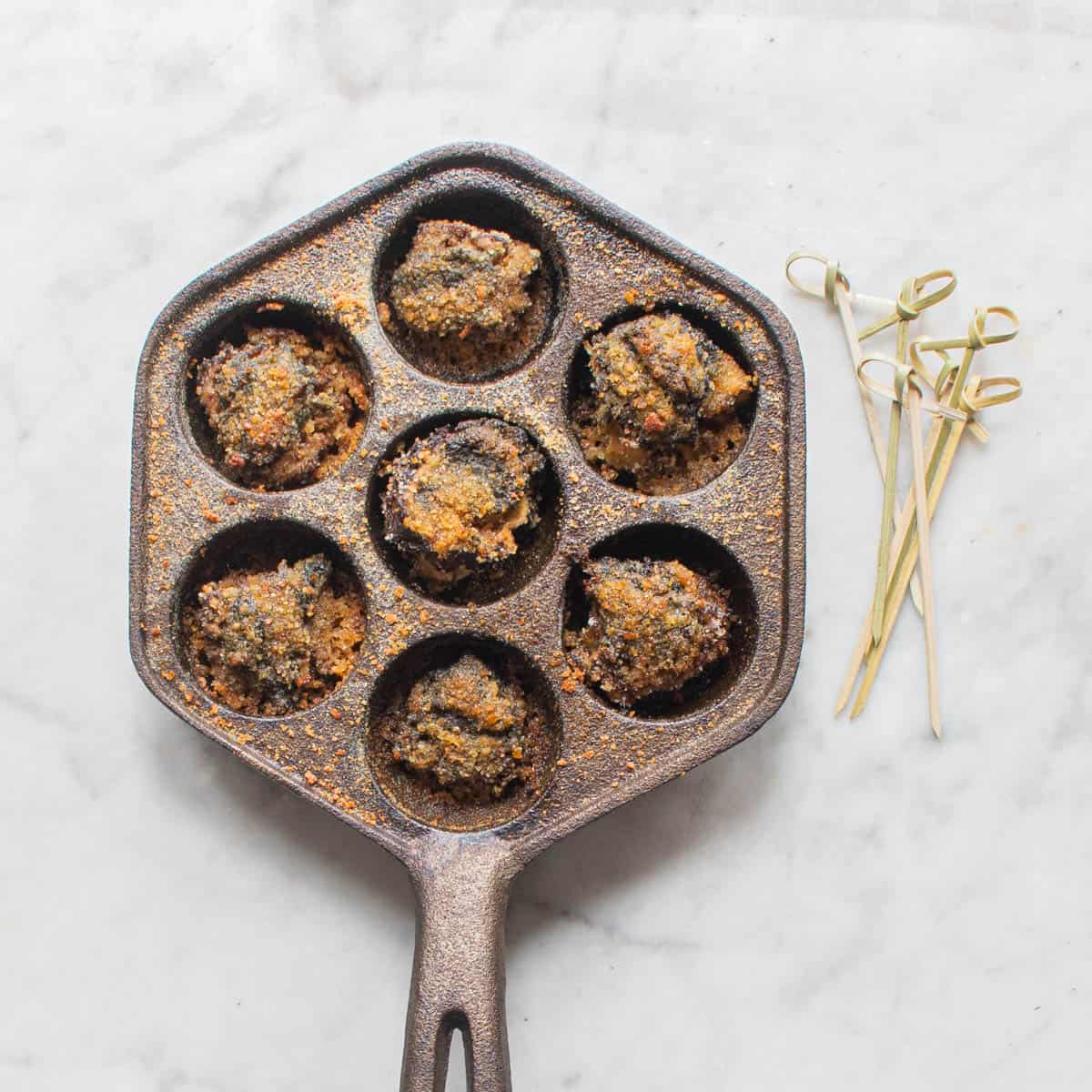 Seasoning them in a method similar to escargot is a fun treatment, and something you should try if you're lucky enough to get a few of the last and most exciting morels of the season.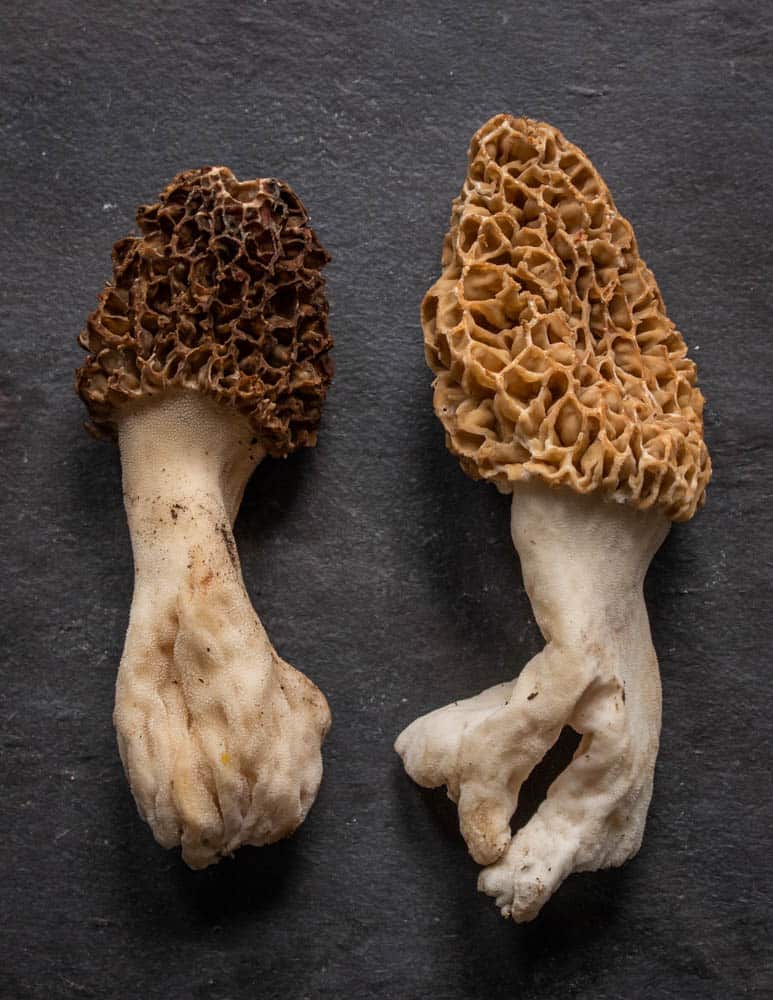 After a good hunt last spring, I had a nice 10-20 giants, and I set aside some time to work with. Big morels can be a little awkward, and on occasion, absolutely massive. Breaded/fried morels (always a good idea when they're medium-sized) is not really a good idea for the big guys as it will make a giant fried morel--too heavy and rich for me.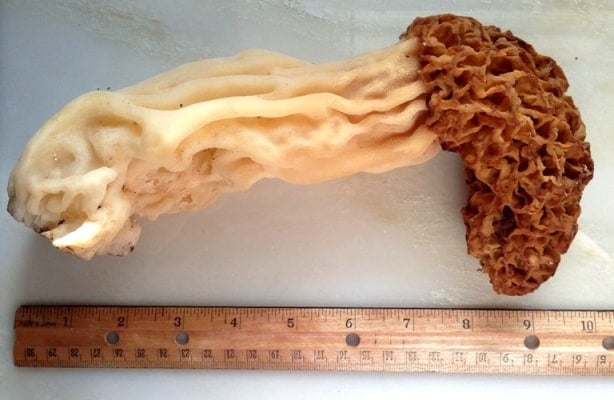 Instead of trying to work around their long, funky form, by slicing or something that might get too creative, I had an idea to mimic the shape of a snail shell, along with the flavor profile of escargot by wilting them, then rolling them up, which makes long strips of mushroom a non-issue.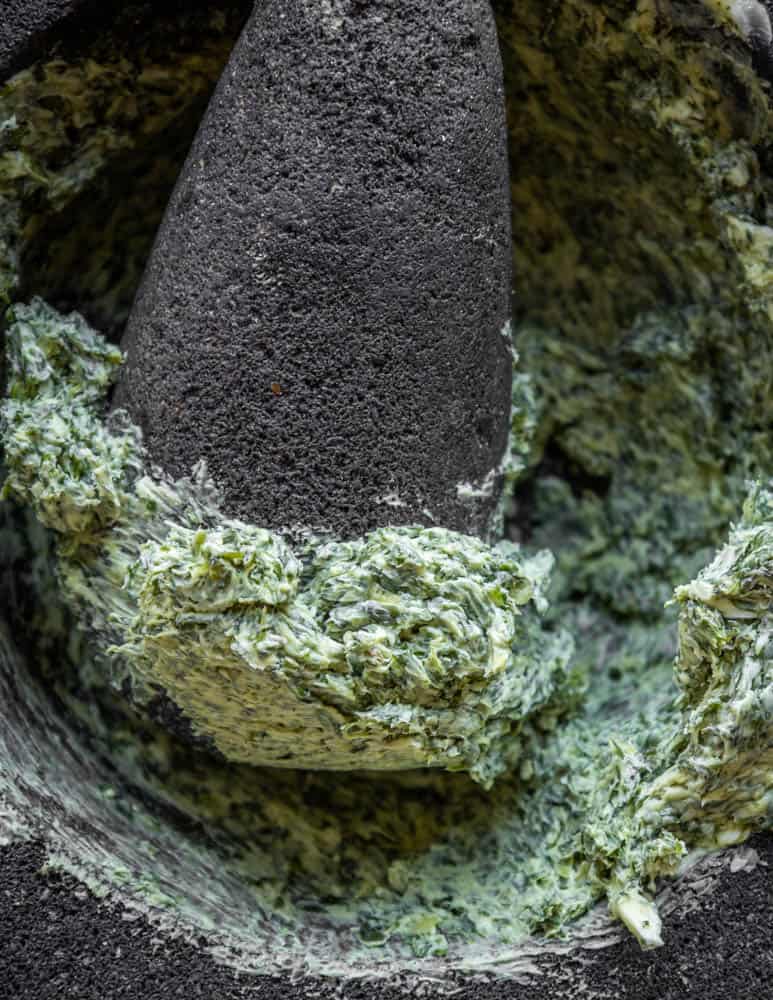 While you can always just throw large morels in a pan (better yet, a dehydrator) this is a really good treatment for those big bastards, and compacts them into a small form that's easy to work with, and most importantly, eat. If the season's over where you are, you can also use dried morels, although they'll have a bit more chew, which is fine too.
After smearing with the garlic butter and breadcrumbs, most people won't know the difference, although most hunters will agree with me that there's nothing quite like the tender, yielding quality of freshly cooked morels.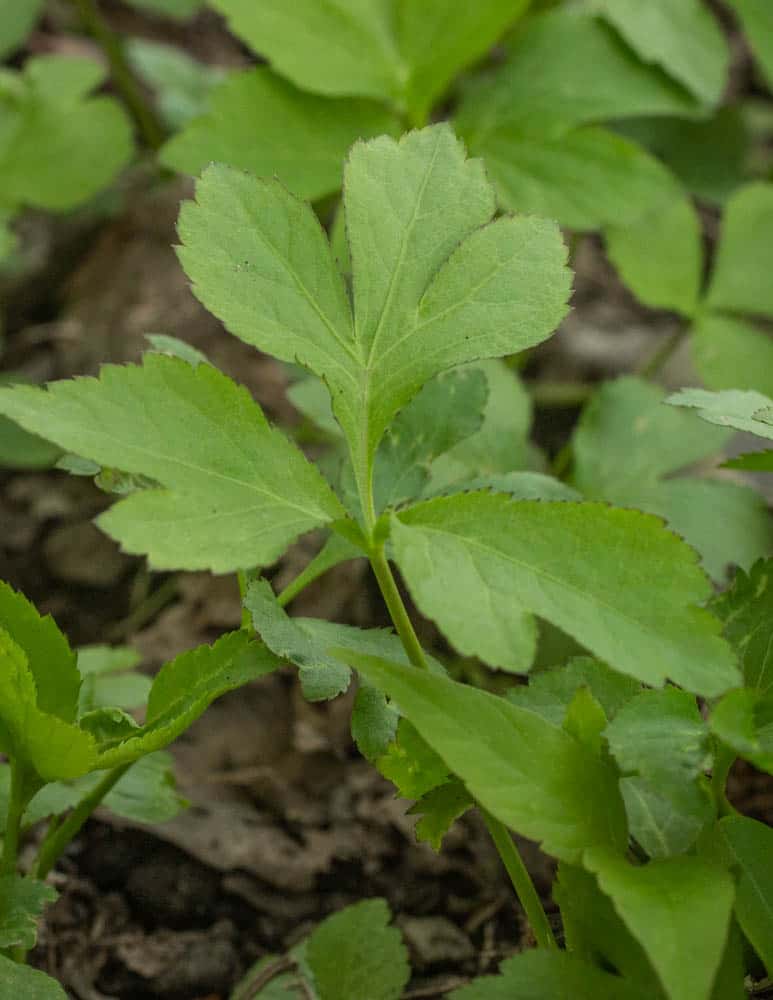 The importance of par-cooking
I sweat the mushrooms to par-cook them which is an important step, since morels and all their cousins (Verpas, Half-Free, Gyromitra) are are toxic raw and undercooked. The par-cooking ensures they're safe, but also makes them pliable so they can be rolled up into the snail form.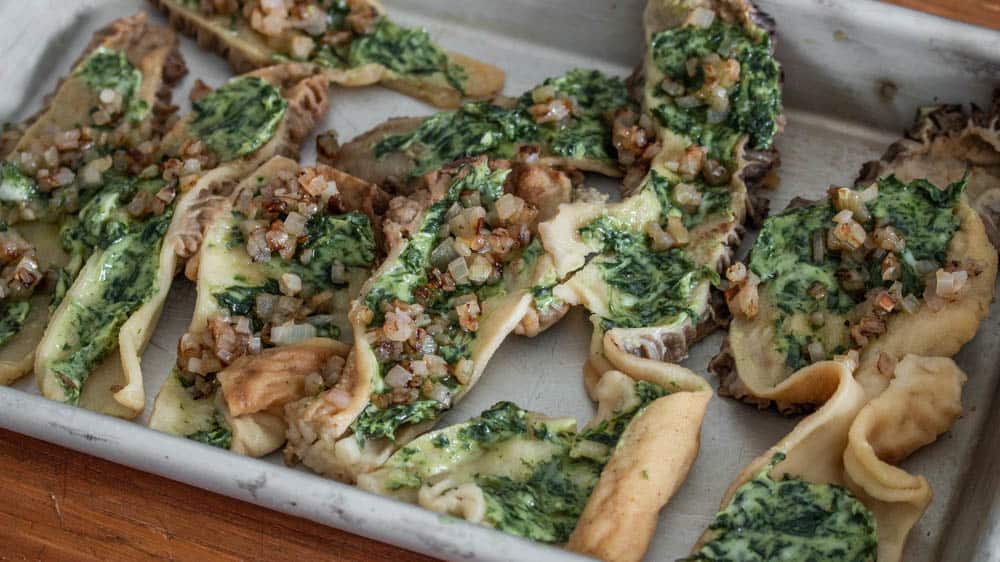 After par-cooking I spread the cut halves with a butter made from garlic and wild chervil (aka Mitsuba, if you don't know this plant, it's widespread in the Midwest, and a delicious wild herb) or other herbs, along with a dash of lemon and a pinch of fresh ground wild caraway (morels have an affinity for caraway, but it's totally optional here-only a pinch is used).
After being spread with the butter, you roll the morels up into spirals, topping them with an extra smear of the garlic herb butter and a sprinkle of breadcrumbs, because that never made anything taste bad.
The breadcrumbs here have a dual function too. With typical escargot, you're going to be picking the snails out of a bath of butter, which is discarded. The crumbs soak up a little butter, but also help round out the form of the inside, making it more even, as well as insulating them.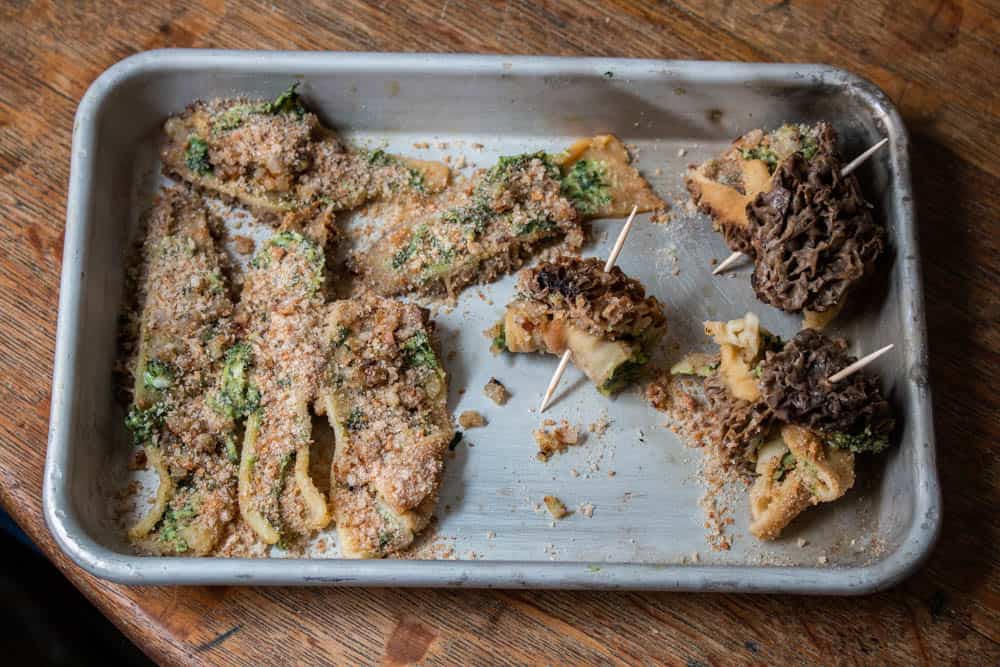 For the butter, I use a mortar and pestle here for the old-school charm, but a food processor is just fine, and much easier on the arm. After the mushrooms are assembled, they can be held for a day or two in the fridge.
To serve, just bake them to a golden brown in a hot oven and eat with toothpicks. The escargot reference, along with the similar flavor profile and all the delicious, green garlicky herb butter that goes with it, is a fun way to celebrate the last hunt of the season.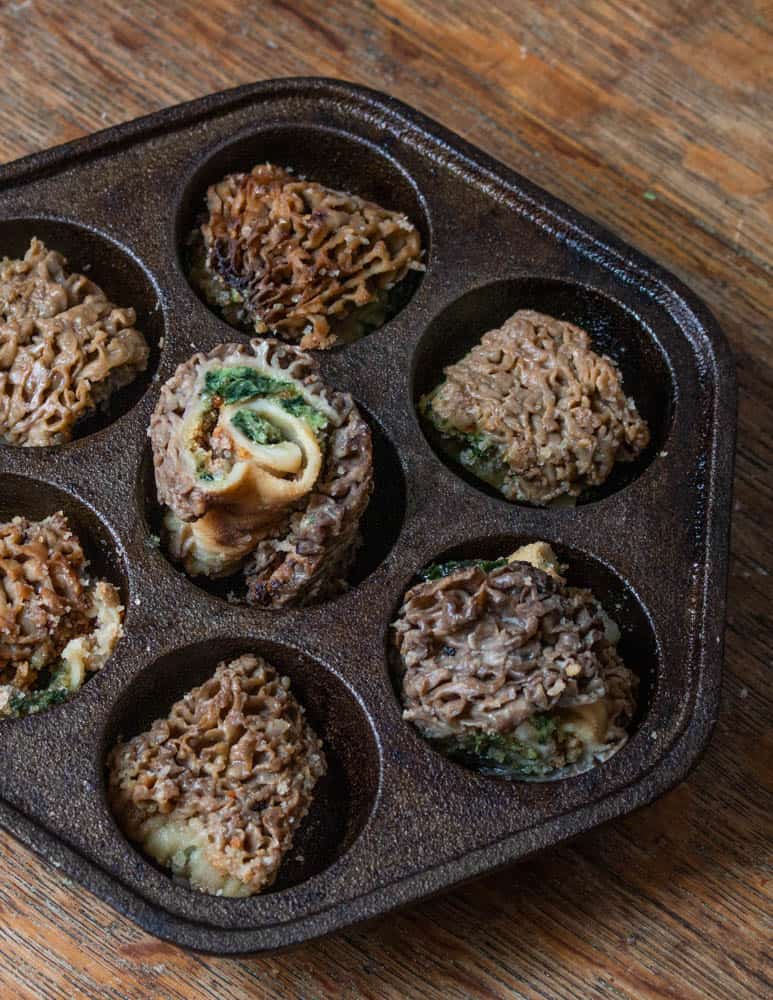 For baking and serving, I use an ebelskiver pan here as it's similar to an escargot dish, and I'm Scandinavian, dont'cha know! If you don't have one of those, or an escargot pan, you can hold the mushrooms together with toothpicks and they'll still work, although there's something special about how the mushrooms bake swathed in the garlicky herb butter just like snails.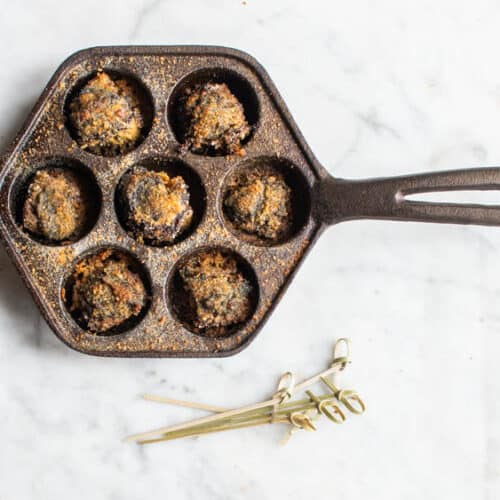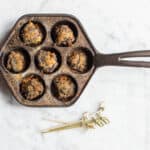 Print Recipe
Baked Morels with Garlic Butter (Escargot)
Giant, end of the season morels cooked like escargot, smothered in garlic-parsley butter and breadcrumbs.
Equipment
1 baking dish or cast iron pan

I used an aebelskiver pan
Ingredients
1

lb

large blonde morels

½

cup

breadcrumbs

lightly toasted, preferably sourdough

1

oz

wild chervil

parsley, or another mild herb, like chervil or cilantro

1

stick unsalted butter at room temperature

¼

teaspoon

fresh ground black pepper

Tiny pinch of ground caraway

fresh ground only, optional

½

teaspoon

salt

1

small clove garlic

A few gratings of fresh lemon zest and a dash of juice
Instructions
Cut the morels in half the long way, then swish in water and inspect for insects, baby snakes, or anything that isn't mushroom.

Trim any small discolored bits of morel, if present.*see note.

Sweat the mushrooms with a pinch of salt and a spoonful of water, covered, until totally wilted and pliable, then remove to a towel to cool and drain.

In a mortar and pestle, mash the garlic with the salt, pepper, lemon zest and juice, and caraway if using.

Work in the herb(s) and mash well, then slowly incorporate the butter, mashing it to a paste until incorporated.

Lay the morels out on a work surface and, preferably using a small off-set spatula, spread the inside of each with a generous amount of the garlic-herb butter and a good sprinkle of breadcrumbs.

Roll each morel up to look like a snail, secure each with a toothpick, and put in a baking dish. Place a small nugget of butter on top of each morel, dust with breadcrumbs, and bake at 425 for 15 minutes, or until golden, sizzling, and aromatic.

Let the morels cool for a bit so you don't burn your mouth. Serve with an aperitif, like a glass of champagne, to celebrate the hunt.
Notes
How old are your morels? 
If your large morels are discolored at all, look patchy, wilted, wet, or at all not perfect and pristine, dehydrate them and save this recipe for another time. Cooking past prime mushrooms is a great way to get sick. 
Nutrition
Calories:
61
kcal
|
Carbohydrates:
10
g
|
Protein:
4
g
|
Fat:
1
g
|
Saturated Fat:
0.2
g
|
Polyunsaturated Fat:
1
g
|
Monounsaturated Fat:
0.2
g
|
Trans Fat:
0.01
g
|
Cholesterol:
0.4
mg
|
Sodium:
277
mg
|
Potassium:
330
mg
|
Fiber:
3
g
|
Sugar:
1
g
|
Vitamin A:
4
IU
|
Vitamin C:
0.2
mg
|
Calcium:
50
mg
|
Iron:
10
mg
More