Last week we had a couple over for dinner and the woman, a friend of my girlfriend I'd met many times before, was, unbeknownst to me, a fly-fishing apex predator.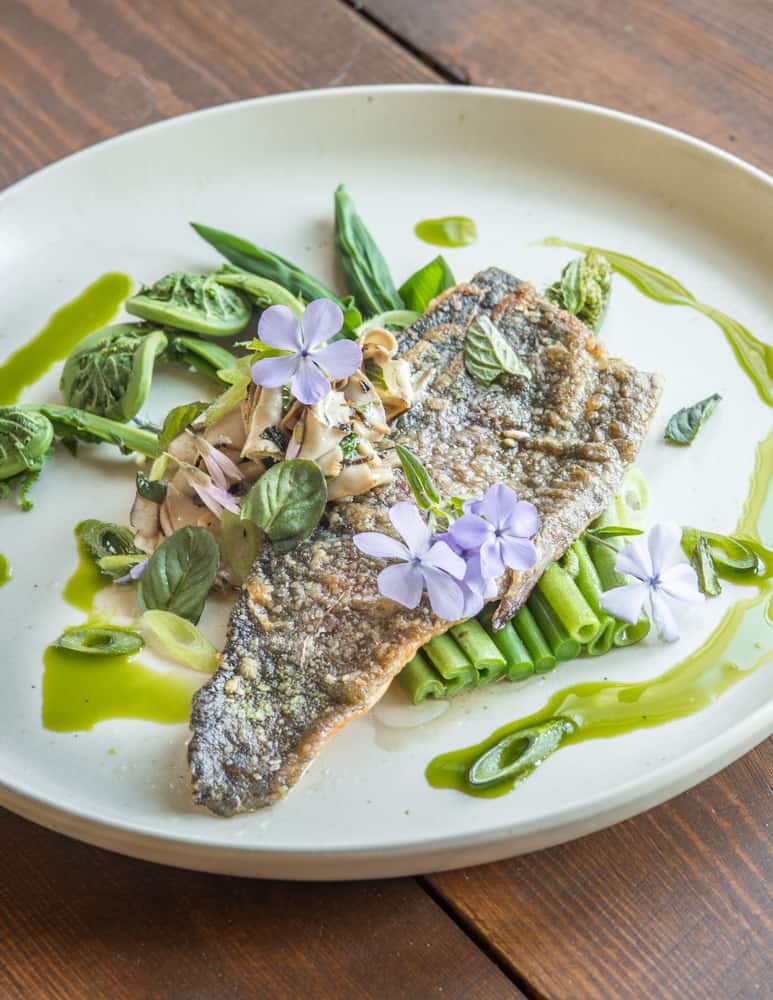 I still have trouble catching anything but rocks with my rod, but she showed up with an entire cooler filled with 8 whole brook trout, still glistening and slippery from the water.
After we had dinner, I begged the last four brookies off her, which she happily gave away, mentioning that she'd be back at the stream tomorrow to catch her limit again.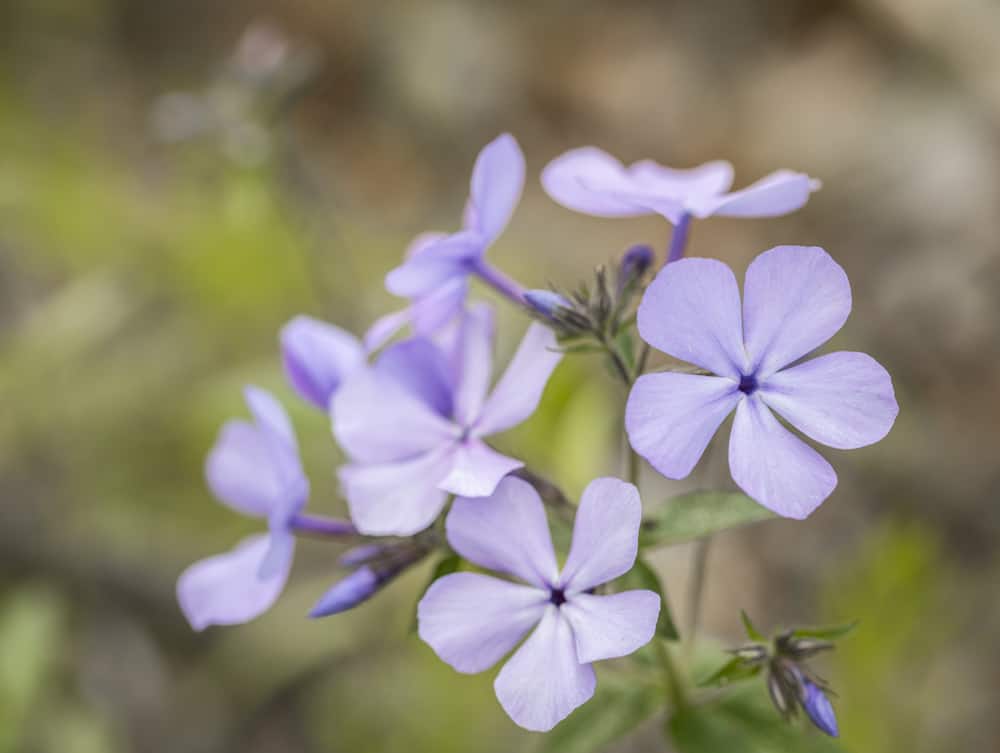 The next day, I gathered a few spring ingredients that were perfect at the moment to cook with them for dinner: the last of the spring shoots (fiddleheads, swamp saxifrage and solomons seal shoots, along with a few tender pheasant backs and wild mint).
It was going to be a great dinner, until I looked in the fridge and noticed all the beautiful brook trout were missing. My girlfriend, wanting to share the wealth, had donated ALL of the trout to her family without consulting me.
Frustrated, I went to town and bought a few local rainbow trout filets from the Driftless area of Wisconsin and made the same dish I'd been intending to eat. It wasn't the same, but, it was the best I could do. Lesson learned. Next time I hide the fish.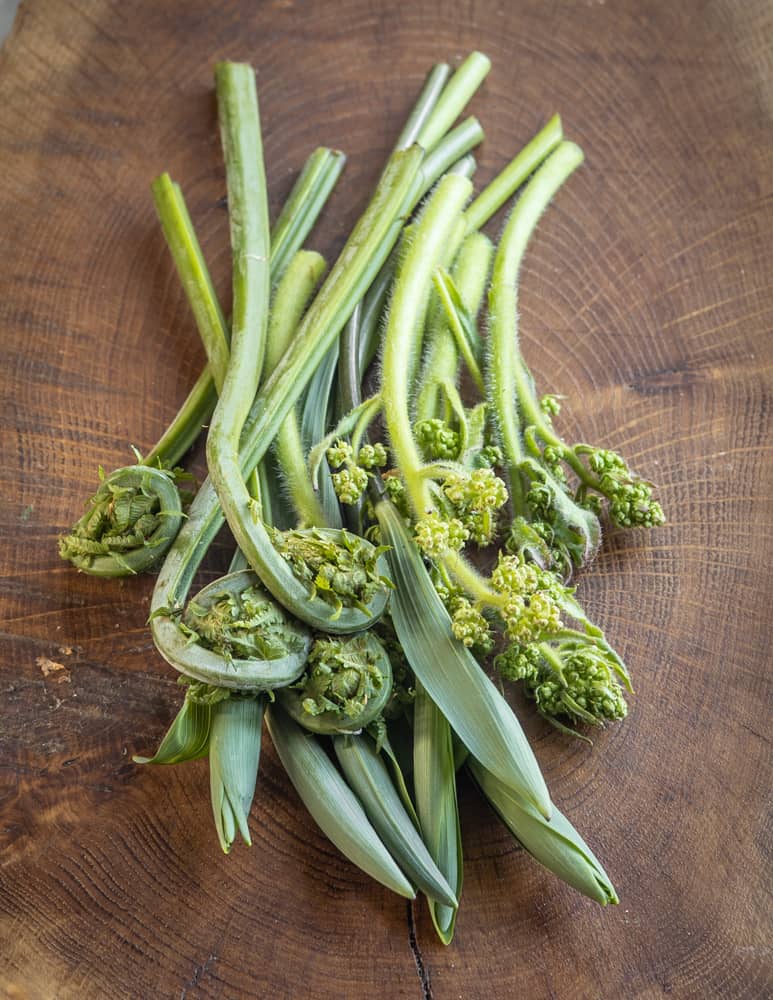 This is just a simple rainbow (or any trout or small pan fish) meuniere, with the addition of a few spring vegetables and mushrooms. If you have some near you, the swamp saxifrage shoots are really great here, as there one of the only spring shoots that you can simply slice raw and eat to enjoy them at their juicy, crisp peak.
The other garnishes are ramp oil mixed with a dash of lemon juice to taste, which is a good example of how I use it for everyday cooking as a sort of quick vinaigrette. The pheasant backs are stewed with a touch of garlic and white wine, and they're good all by themselves too, see the recipe for white wine pheasant backs here.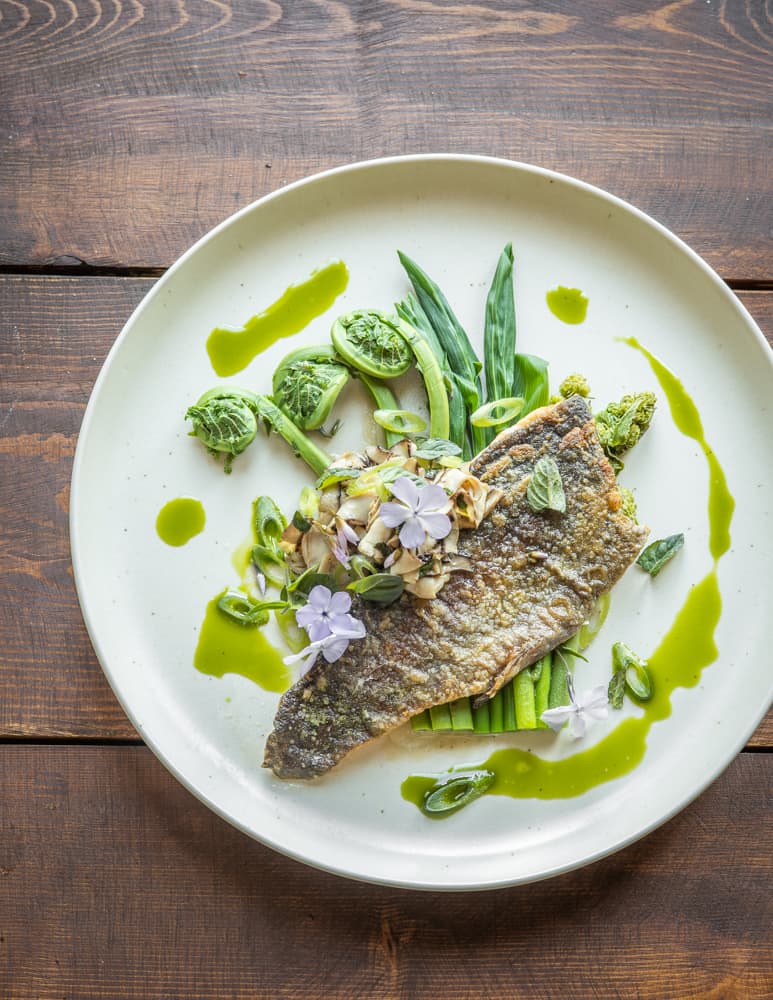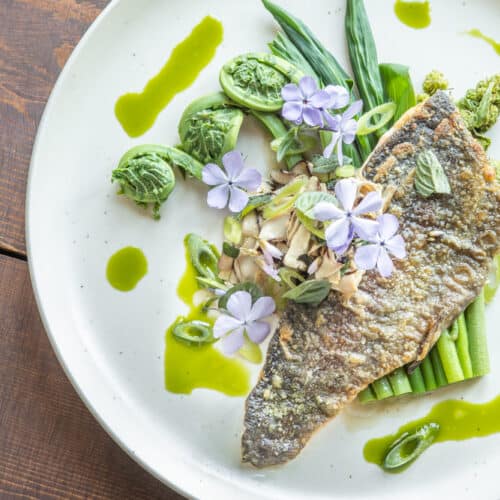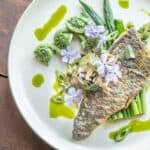 Print Recipe
Trout with Pheasant Back Mushrooms, Spring Shoots, and Ramp Oil
Rainbow trout muenierre style with pheasant back mushrooms, fiddleheads, solomons seal shoots, and swamp saxifrage makes for a celebration of wild spring ingredients.
Ingredients
4

oz

wild shoots

I used fiddleheads and solomons seal shoots

4

(1-2 oz) swamp saxifrage shoots

2

rainbow trout filets

or other similar fish

1

oz

cooking oil

All purpose flour

a tablespoon or two for the trout

Kosher salt and fresh ground black pepper

1

recipe white wine dryad saddles

1

tablespoon

ramp leaf oil mixed with 2 teaspoons fresh lemon juice

to garnish (optional)

Fresh wildflowers

to garnish (optional)
Instructions
Bring a pot of salted water to a boil to blanch the shoots. Meanwhile, when the pot comes to a boil, heat a 10 inch saute pan with oil until lightly smoking.

Season the trout with salt and pepper on the skin side, quickly dust the skin side with flour, tapping off the excess, then put skin-side down in the hot pan.

Cook for about 2 minutes on high heat. Using a fish spatula, carefully lift up one of the filets to gauge the color of the skin-it should be golden brown and crisp. Just before serving, when the trout is nearly done, flip them to kiss the flesh side for literally one second.

Meanwhile, blanch the shoots in the water according to their size and shape. The fiddleheads should be first, followed 30 seconds later by the Solomon seal shoots. Slice the swamp saxifrage shoots on the bias into ¼ inch slices.

Arrange the shoots with the tops pointing in the same direction on two pre-warmed dinner plates. Arrange a trout filet diagonally across the middle of the shoots, with the tail end facing 3'o clock.

Spoon over the dryad saddles, scatter a few mint leaves over the dish, garnish with the green oil and thinly sliced swamp saxifrage shoots and wildflowers, and serve.
More