A basic broth made from pheasant back mushrooms is a good way to use the woody parts you found when you struck out on morels. Read on and I'll explain the details, and how I get a good flavor from roasting the mushrooms.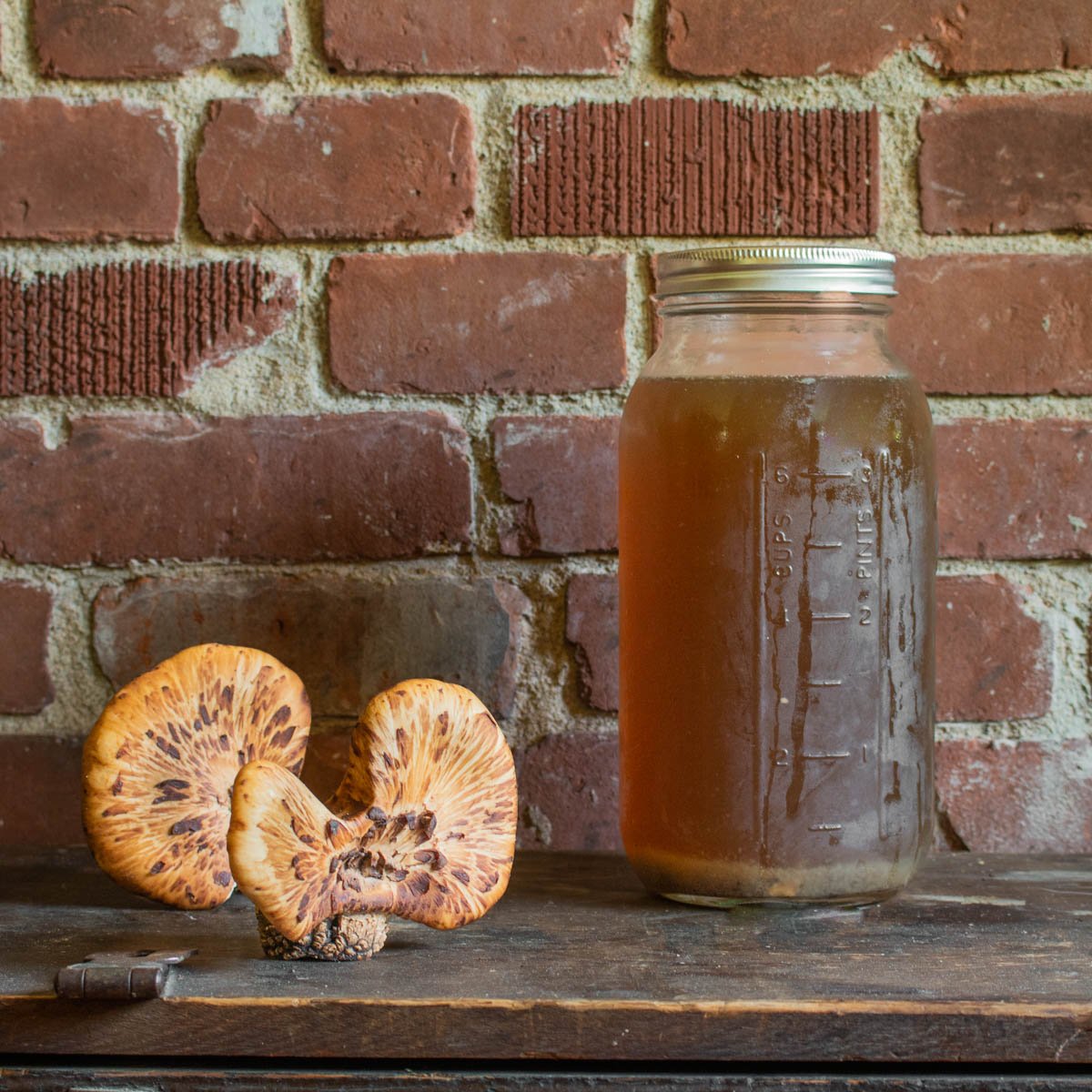 After morel season as we get into summer, the pheasant back, dryad saddle mushrooms (Cerioporus squamosus) will still be out, not in the staggering numbers we see during the height of the late spring season, but still out and plentiful.
They're not spring mushrooms though, and finding tender, succulent ones is far more difficult at this stage in the game. If you can get your knife through them, you can always dry and dehydrate them, but another great thing to do with them is make some good stock or broth, especially for making things like my favorite DIY pheasant back ramen.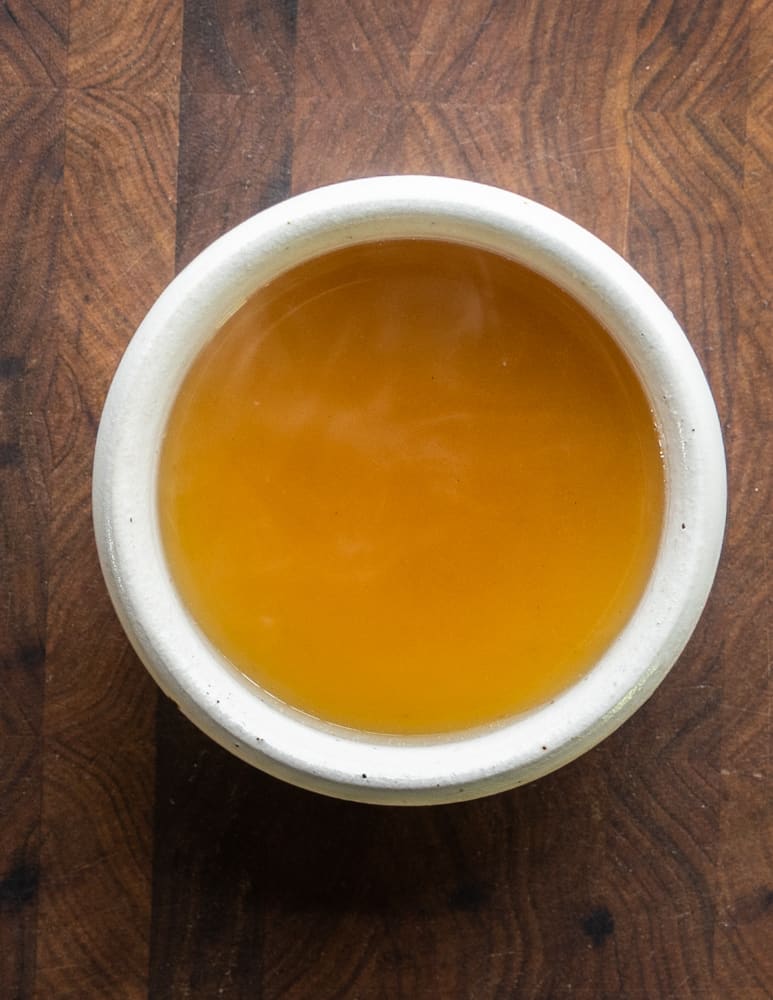 A simple pheasant back broth recipe doesn't require a lot time, ingredients, or skill--it's easy. The best part is that you don't need tender mushrooms either since even the most giant mushrooms you find can still make a great broth, as long as they can be cut with a knife, torn, or otherwise broken up.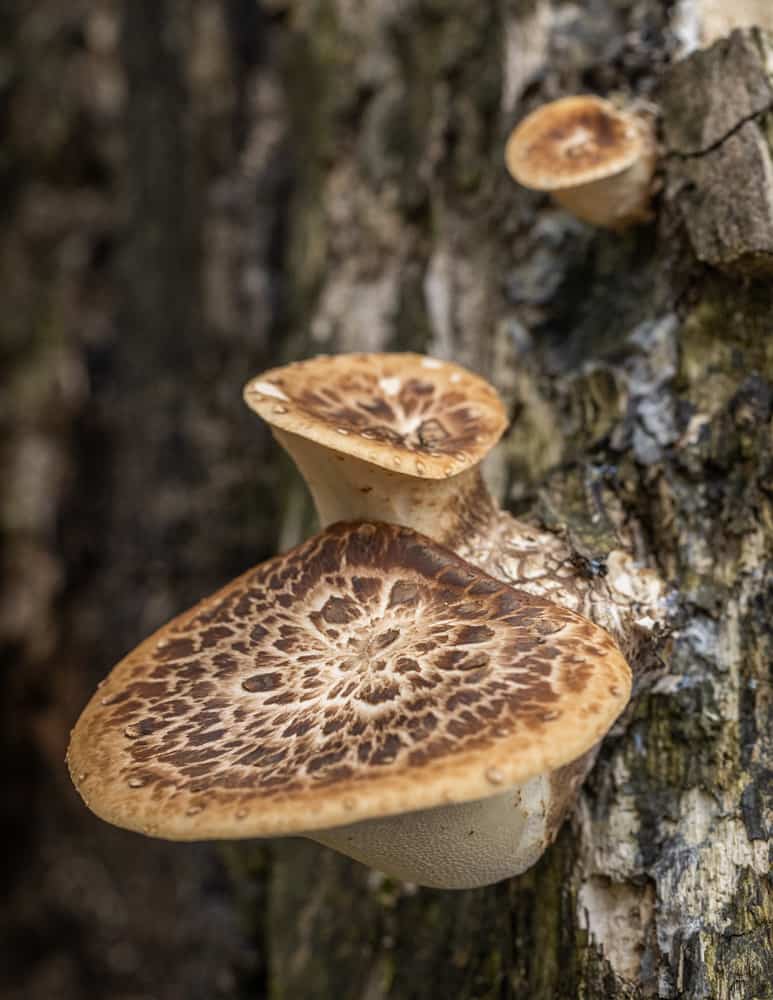 Keeping your broth clear
You can pulverize them in a food processor too, but know that your broth will end up a bit more cloudy. Oh, and the flavor's great too. If you or someone you know doesn't care for the tell-tale farinaceous scent of watermelon rind or cucumber, making some simple mushroom stock or broth with them mellows that flavor out.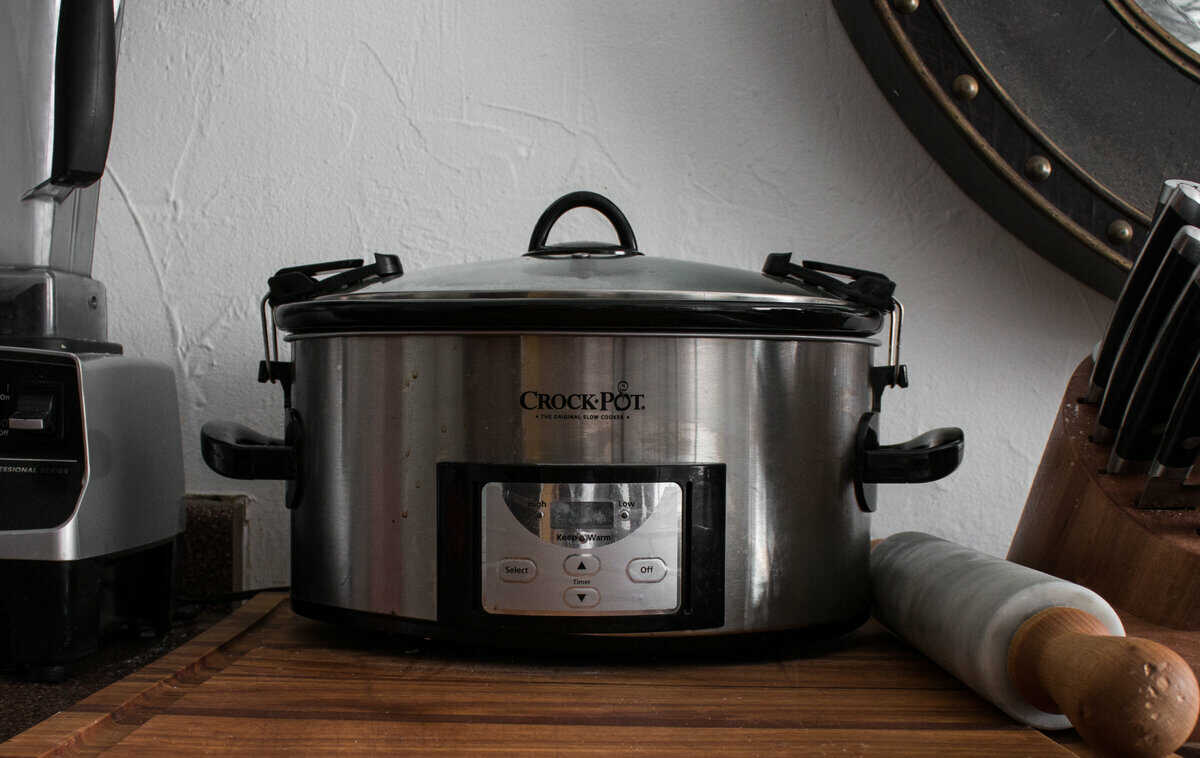 Just make sure to cook them a bit beforehand (I roast them, but you could also sweat or steam them). The flavor of the finished broth will be simply mushroomy, and you'd be hard pressed to say that it was made with only pheasant backs, for better or worse.
It's great used as the base for a simple soup, braise, simple sauces, or wherever mushroom flavor would be welcome.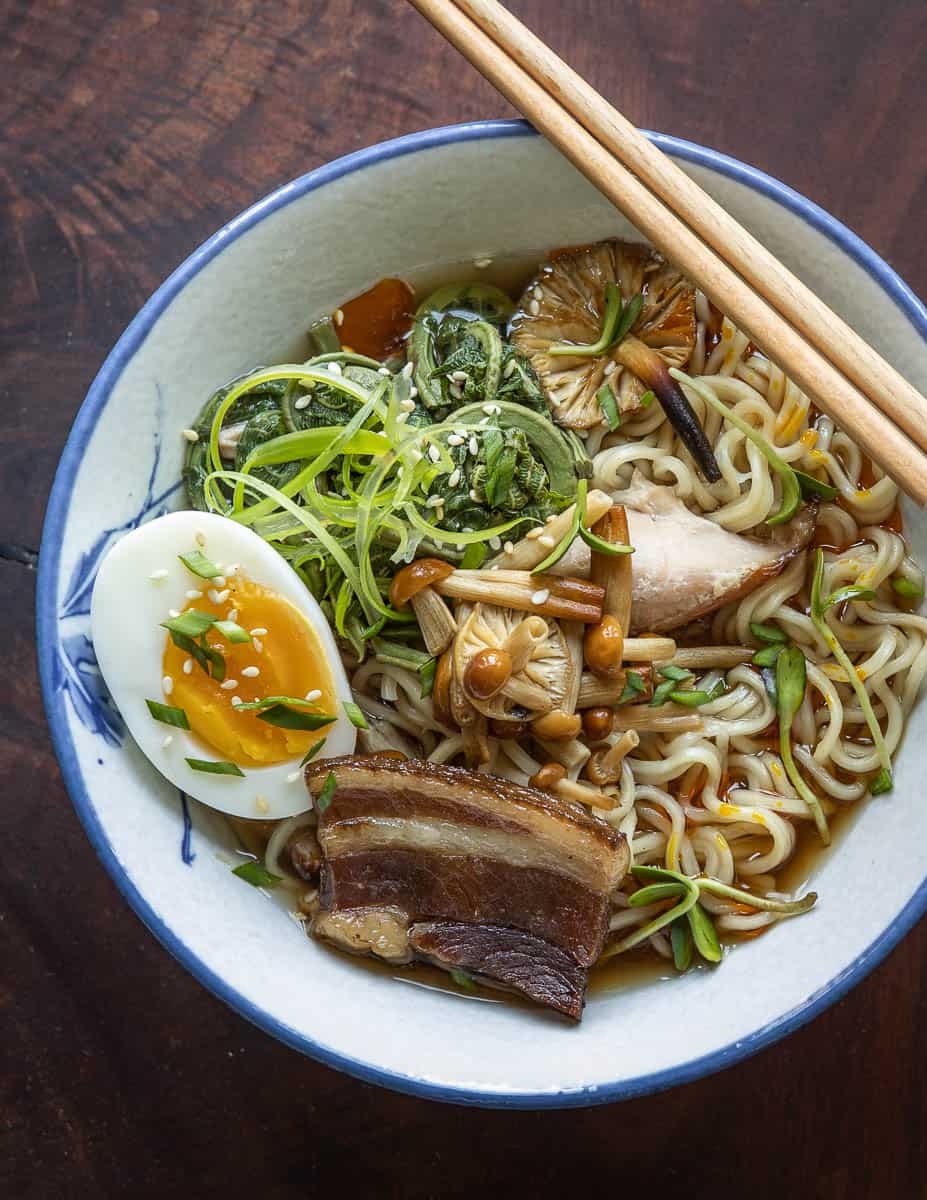 Adjusting the recipe to your taste / needs
This is just a simple wild mushroom broth recipe, and you can adapt it to your needs, with whatever ingredients you have on hand. I like a little ginger in mine, especially if I'm going to be using the broth to make pheasant back ramen, which is delicious but feel free to change up the seasonings a bit if you like, keeping in mind the following
If you think about adding carrots, think again. Carrots are very sweet, and can overpower the mushroom flavor and add too much sugar. If I do add them to mushroom broths, I add a very small amount, or just a whole, uncut carrot.
You can do this in a slow-cooker, and it's one of the best ways to make a good, crystal-clear broth.
You can scale this with a little math for whatever amount you'd like to make.
Do not add too much water or you'll make a weak broth. Pay close attention to the measurements here.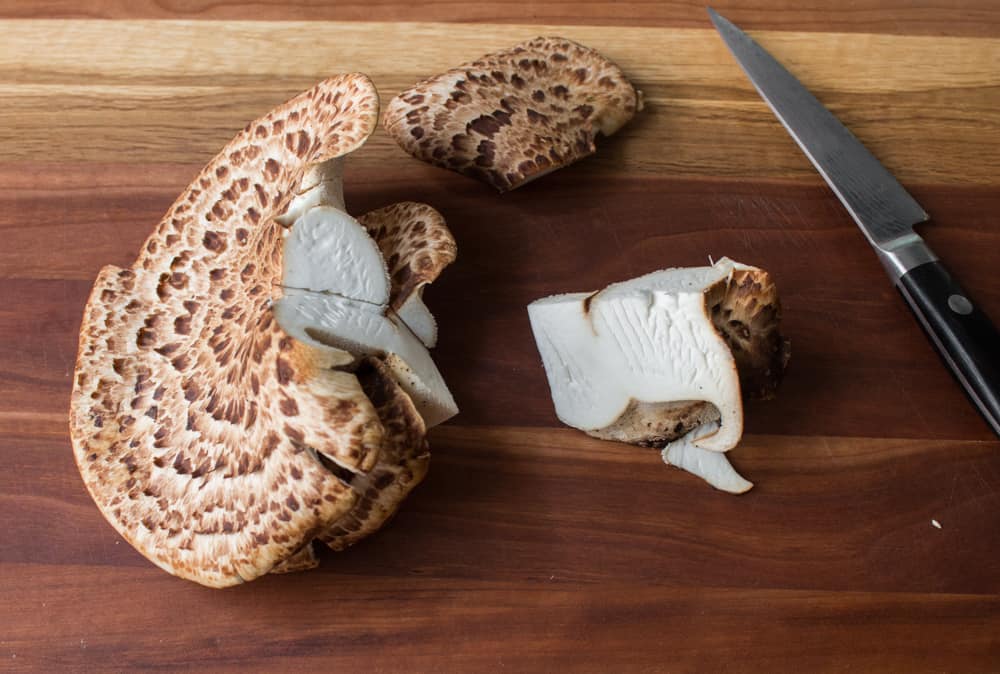 Using the finished broth
This is a nice, mild mushroom broth, and it's so versatile and easy to make. Here's what I do with the finished product.
Use it as the base of a soup or stew, such as cream of mushroom soup.
If you add some crushed galangal, lime leaves, and lemongrass, with some soy sauce at the end, it will be an incredible ramen broth.
Drinking broth. I like to drink broths too, especially when I'm sick. Add some lemon juice or zest to a warm cup of broth, along with salt and pepper to taste.
The broth can be good all by itself, used as a vehicle for pasta or dumplings, as below. If you make a nice clear broth, show it off!
Serve the broth with some rice, wilted greens like nettles, and thinly shaved, pheasant backs for a simple, light soup.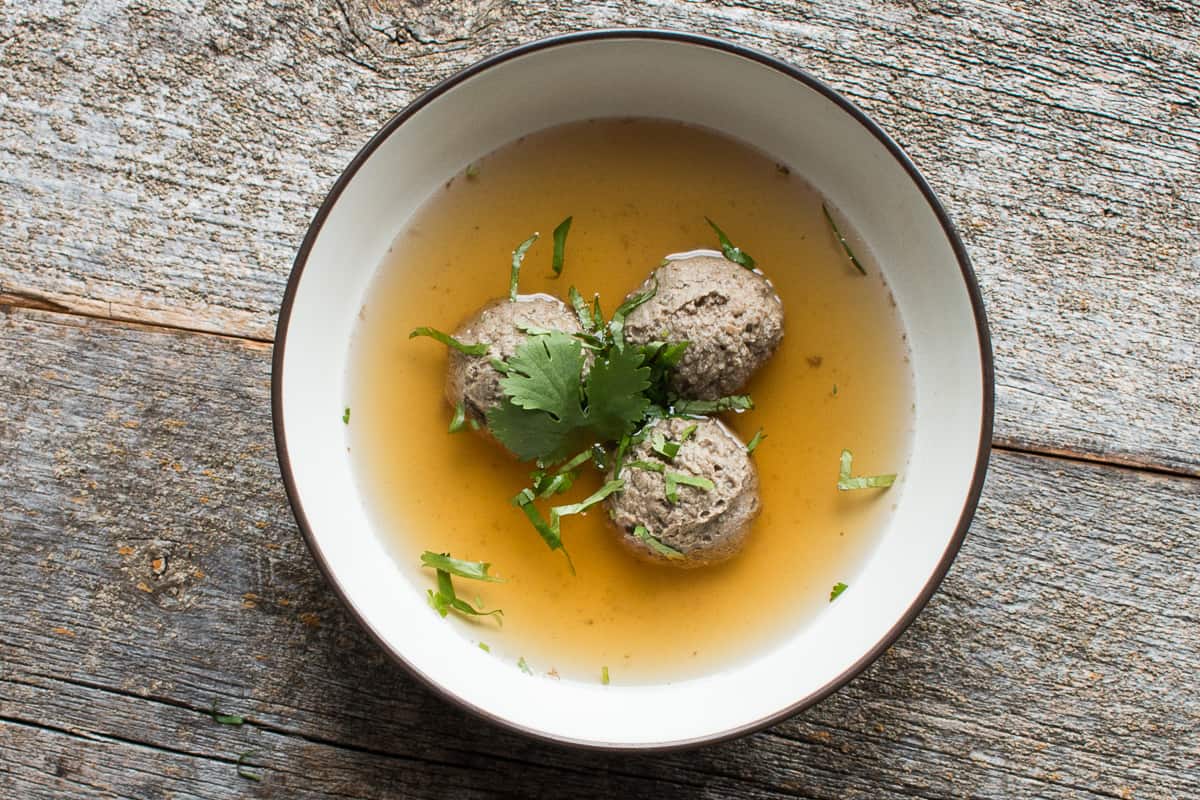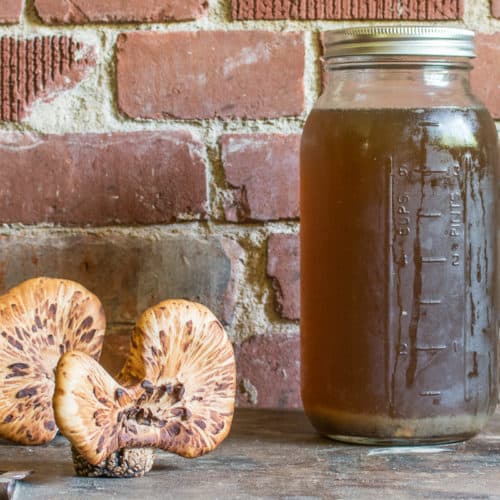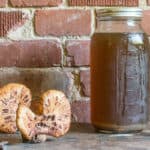 Print Recipe
Basic Pheasant Back Stock / Broth
A simple broth made from Cerioporus squamosus mushrooms. Makes about 8 cups.
Ingredients
2

lbs

pheasant back mushrooms

cut into 1 inch pieces

1

rib of celery chopped

1

small onion

halved

A few cloves of garlic

whole

1

bunch scallions

optional

½

inch

slice fresh ginger

optional

2

teaspoons

salt

100

oz

water

roughly 12-13 cups, just enough to barely cover the mushrooms and vegetables

Small handful of fresh herbs

like chives, parsley, green onion, cilantro, thyme, etc (optional)

2

oz

¼ cup cooking oil
Instructions
Preheat the oven to 350F. Toss the mushrooms with the oil, lay out on a baking sheet, and cook for 30 minutes. This will calm the watermelon flavor of the mushrooms and bring out more mushroom-y notes in the finished broth.

Combine all the ingredients except the salt and bring to a simmer (you just want enough water to barely cover the ingredients) then turn down the heat to as low as possible and cook for 1-2 hours. This is a good thing to do in a slow cooker on low heat.

Cool, strain, add the salt, whisk to dissolve, then refrigerate.

The broth will last for at least a week, and likely longer as it doesn't include meat. Salt is added to extend the shelf life.
Notes
How to use the mushroom broth 
You can use this in any clear soup you like. It's fantastic as a base for miso soup, or anywhere you'd use mushroom broth. The light color also means it works well in clear soups. 
Nutrition
Serving:
1
cup
|
Calories:
255
kcal
|
Carbohydrates:
42
g
|
Protein:
30
g
|
Fat:
3
g
|
Saturated Fat:
1
g
|
Polyunsaturated Fat:
2
g
|
Monounsaturated Fat:
0.03
g
|
Sodium:
4875
mg
|
Potassium:
3179
mg
|
Fiber:
12
g
|
Sugar:
23
g
|
Vitamin A:
182
IU
|
Vitamin C:
29
mg
|
Calcium:
158
mg
|
Iron:
5
mg
More