Morels stuffed with morel sauce is exactly what it sounds like: pretty much the ultimate stuffed morel, at least to me.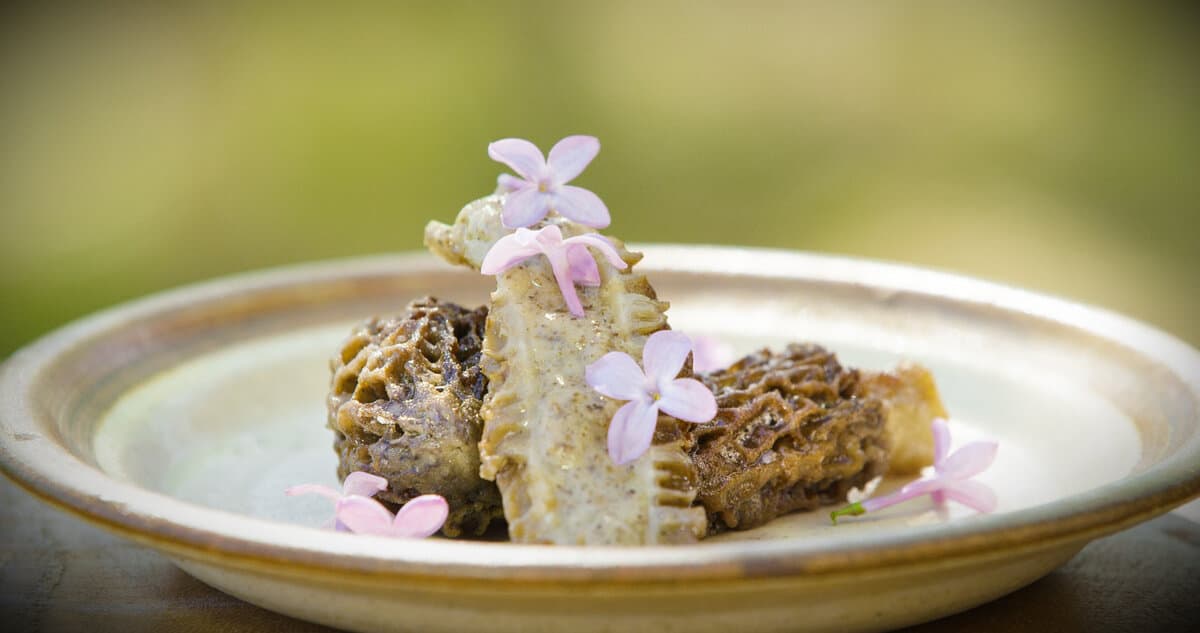 One year during the spring hunting season, I ended up feeling gluttonous (and victorious) as I picked morel after morel, and after bringing them home and drying, I found I'd forgotten about the rest of the previous years dehydrated mushroom stash--a good problem to have.
Having lots of fresh morels and jars of dried morels that will last for years to come is never a bad thing, but something about it struck me and made me think, "you know, I'm not the only one that's experienced this".
Then, the mushroom gods spoke to me and gave me my charge: craft something ridiculously delicious, combining both the previous seasons mushrooms, and the fresh ones I'd just picked--a sort of by the morel hunter, for the morel hunter sort of thing. But what?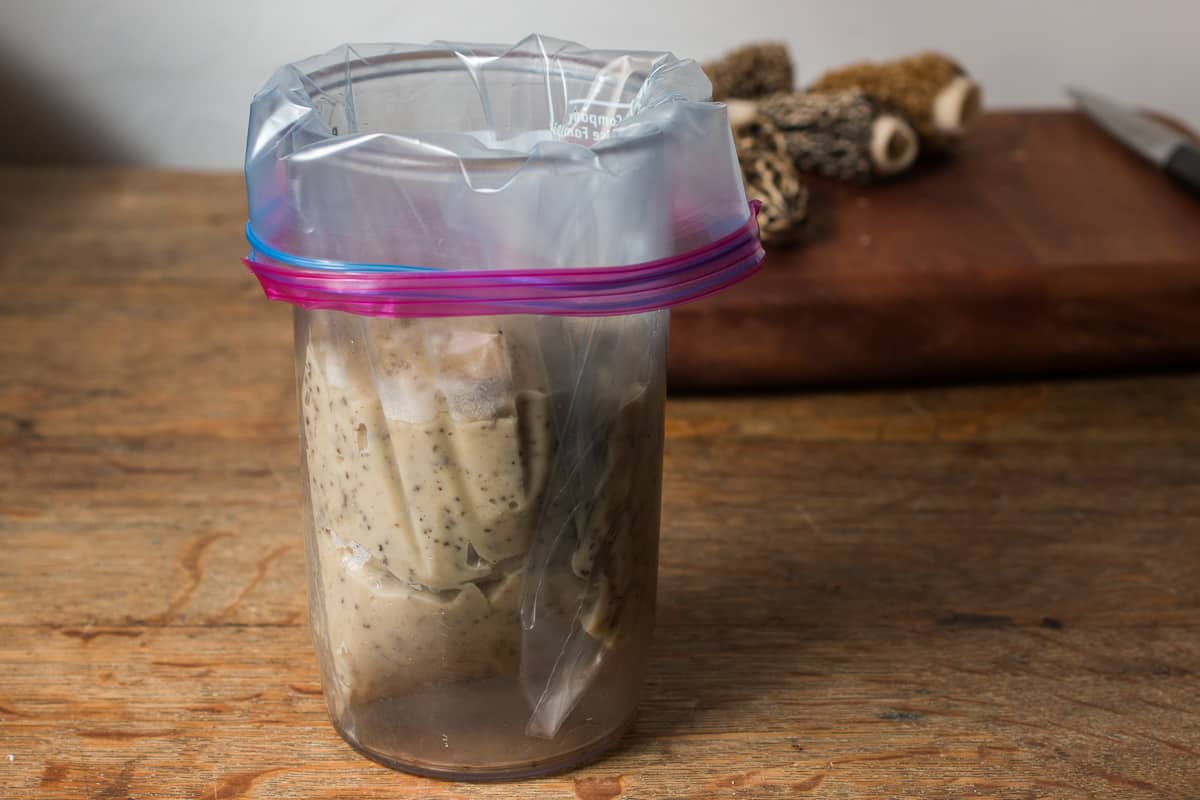 Soup seemed silly, and a saute of both together didn't align texturally. Morels with morel sauce maybe? Nah, too precious. It needed to be functional, delicious, relatively easy to make, as well as novel. Part of the reason dried morels are so good is their liquor, so it was going to need to have a liquid component in some way shape or form, or some kind of sauce.
After noodling it for a while, it came to me: morels stuffed with dried morel sauce. The inspiration came mostly from me, but I remember channeling a snack of tiny black morels stuffed with chevre at San Francisco's lauded Boulevard I'd had a few years prior, too.
I figured I could make a dried morel bechamel, but make it extra thick, piping it when it was still room temperature into the mushrooms and letting it set, then giving them a quick saute, or something similar, letting the sauce ooze out as you ate them.
There would be some hurdles though. Oh the hurdles. The biggest thing I knew from stuffing my big bastard morels back in this post, was that I'd want to pre-cook them beforehand to reduce shrinkage that could cause the stuffing to migrate out during cooking if I stuffed them fresh.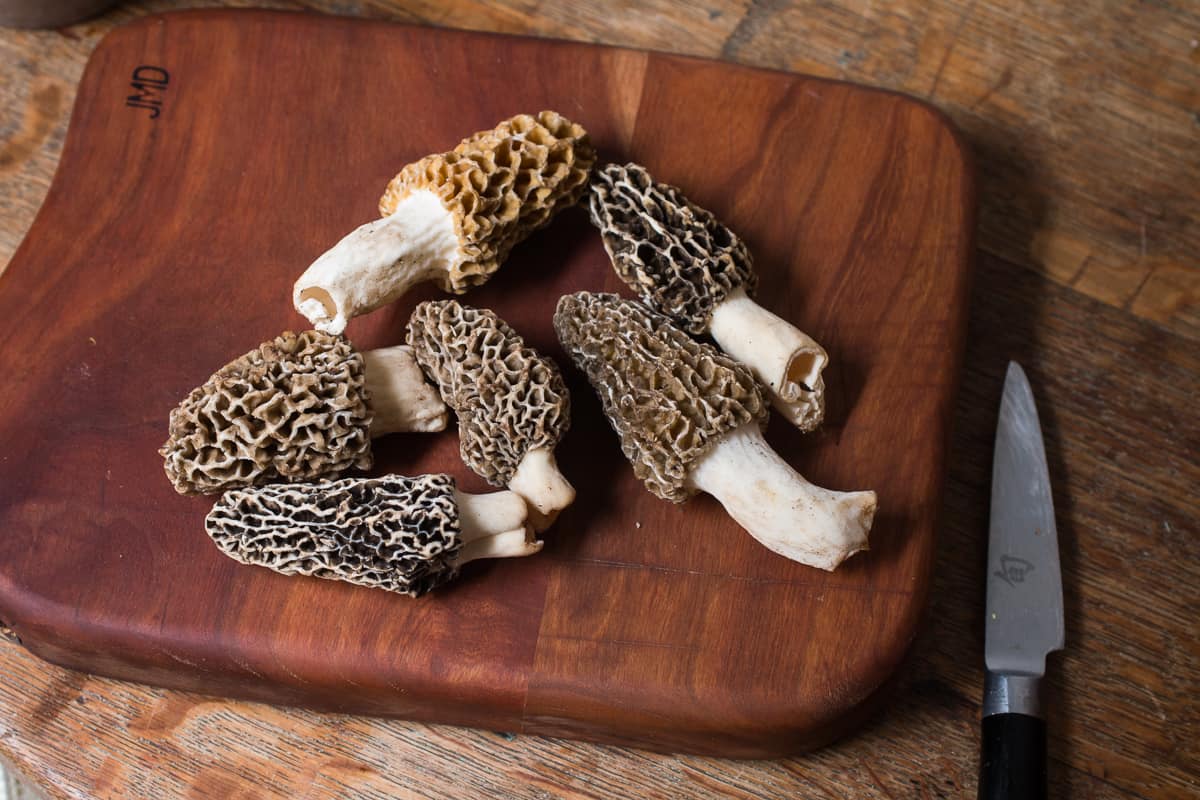 I got to work, made a rich morel bech, wilted and stuffed a few, and fried them up. They were good, really good, and really fun. I jotted down a few notes and proportions, took a few stills and put them in a file. As happens sometimes with me, I forget about things.
Side note, for about the first 6 years of writing this website, I never typed recipes until I was ready to post them, which meant I inevitably had to go back to my morel and butter soaked notebook to try and divine what exactly in the hell I'd done.
It took some time, a lot more morels than it probably should have, and a race to the finish line (near sleepless night or two before we filmed the final dish) but I nailed it again, just in time for us to feature it on episode two of The Wild Harvest.
Next time you want to celebrate morels, and eat one of the most decadent things my kooky brain can come up with, give it a shot, preferably around other people so you don't eat them all yourself.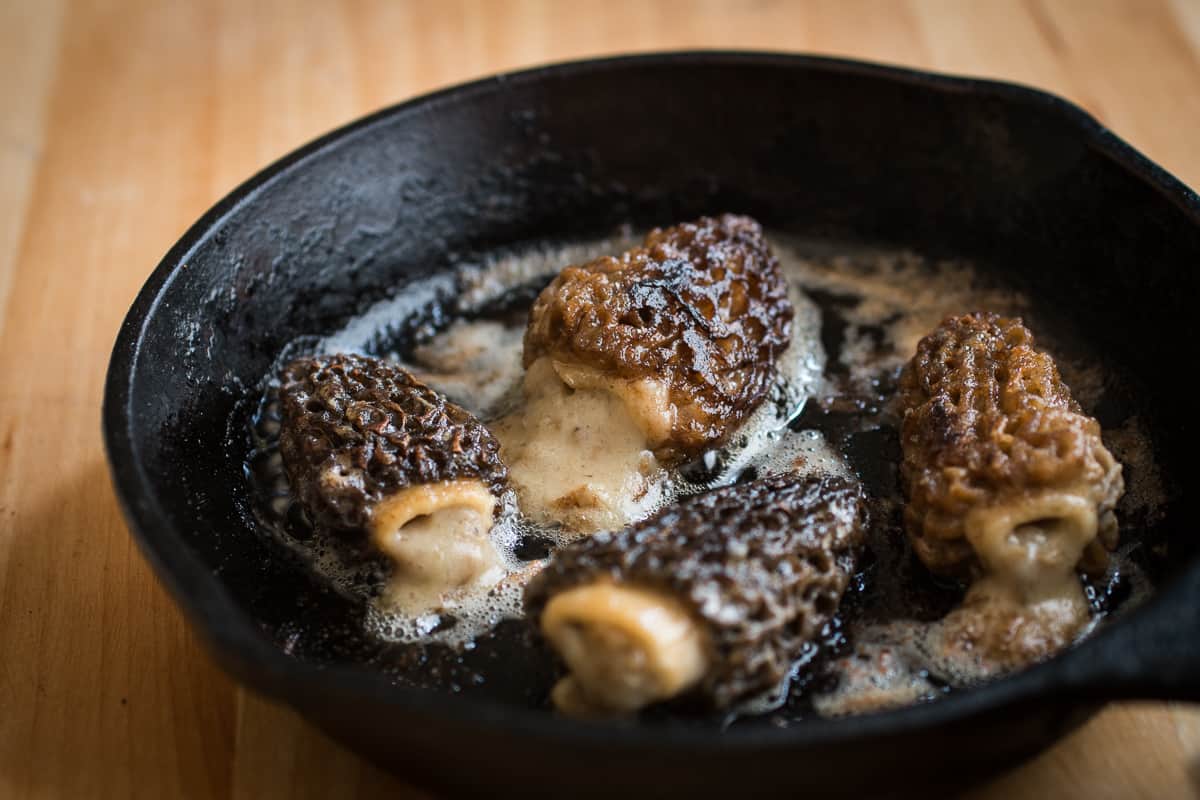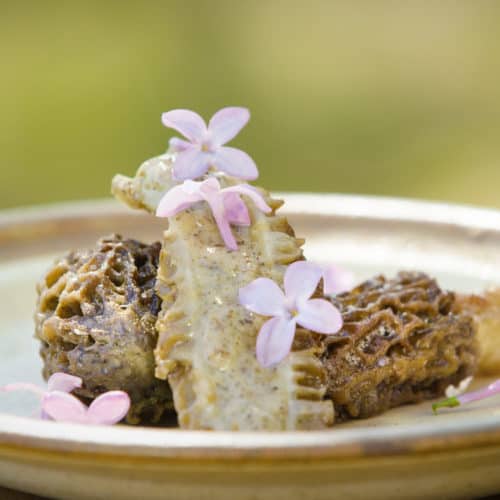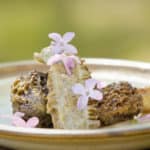 Print Recipe
Morels Stuffed With Morel Sauce
Morels stuffed with a thick, creamy morel sauce. Yield: Enough stuffing for about 20 medium-sized morels.
Equipment
Stick blender / hand blender

1 pastry bag or zip loc bag
Ingredients
1

cup

heavy cream

Water

enough to cover the morels

Fresh morel mushrooms

as needed for stuffing

10

grams

dried morels

or a small handful (good place to use the crumbs from last years jar)

2

Tablespoons

diced shallots or one small shallot

2

tablespoons

unsalted butter

2

ounces

inside of white bread or crustless bread

cubed

2

Tablespoons

high quality grated parmesan

¼

teaspoon

kosher salt

A good splash of brandy or sherry
Instructions
Sweat the shallots in one tablespoon of the butter, then add the morels, cook for a couple minutes until they smell nice, add the sherry and cook off the alcohol.

Add the morel soaking liquid, bring to a simmer and reduce for a few minutes until the pan is nearly dry, then add the cream, bring to a vigorous simmer and cook for a few minutes more to concentrate the sauce.

Puree the mixture with a stick blender, adding the cheese and bread cubes (transfer it to a small pitcher or container if needed).

Return the mixture to the pan and cook, stirring constantly to tighten it up. After a couple minutes the sauce should be very thick, and hold peaks like stiff whipped cream.

Taste the morel "sauce" for salt and adjust as needed. Take a quart plastic bag and place it in a container like a glass, folding the seal over the edge of the container (refer to my picture).

Fill the bag with the morel sauce, seal to prevent a skin from forming, and cool. You can also put the bechamel in a pastry bag using a small tip, which is the easiest way to stuff the morels.

Meanwhile, trim some of the stem off your morels that you've rinsed or meticulously cleaned, leaving as much stem as possible, and peering inside to make sure there are no inhabitants, then sweat them in a pan with a film of water until completely wilted on medium-high heat.

Cool the mushrooms, then pipe the filling inside of them. Chill the morels to set the filling, then dust in flour and saute quickly in plenty of fat until browned on both sides. Sprinkle the morels with salt and serve with toothpicks.
Notes
Serving tip
This is pretty much the ultimate morel appetizer. A tip for serving a bunch of them is that you can fill the mushrooms with the stuffing ahead of time and reheat them in a flash. 
Nutrition
Calories:
201
kcal
|
Carbohydrates:
6
g
|
Protein:
3
g
|
Fat:
19
g
|
Saturated Fat:
12
g
|
Polyunsaturated Fat:
1
g
|
Monounsaturated Fat:
5
g
|
Trans Fat:
0.2
g
|
Cholesterol:
56
mg
|
Sodium:
180
mg
|
Potassium:
61
mg
|
Fiber:
0.4
g
|
Sugar:
2
g
|
Vitamin A:
713
IU
|
Vitamin C:
0.3
mg
|
Calcium:
60
mg
|
Iron:
1
mg
More