Have you ever dreamed about your work? I don't often, but when I do it usually has a message for me in some food related cypher. Sometimes I get lucky and the messages are easy to understand, sometimes they're more cryptic, like the time I was riding a lawn mower on an endless dirt road, the finale of which was being eaten alive by snakes (a symptom of the soul crushing stress of opening my first restaurant).
Rarely in dreams, I've seen complete dishes, or things in the process of being made. I don't remember all of them, but I tell you what, I make sure to write those down. I've found it helps if I repeat simple trigger phrases over and over while searching for a pen.
"Morels stuffed with turkey mousse....Morels stuffed with turkey mousse".
One time I saw a salad of fresh green beans and other ingredients that all had to be green. Another time it was pates de fruits colored with flowers I later made from milkweed. But, the most memorable dream recipe started in my morel patch.
If you're a morel hunter, you might have shared in the hunting dreams that come at the end of Winter, I know a number of my friends have.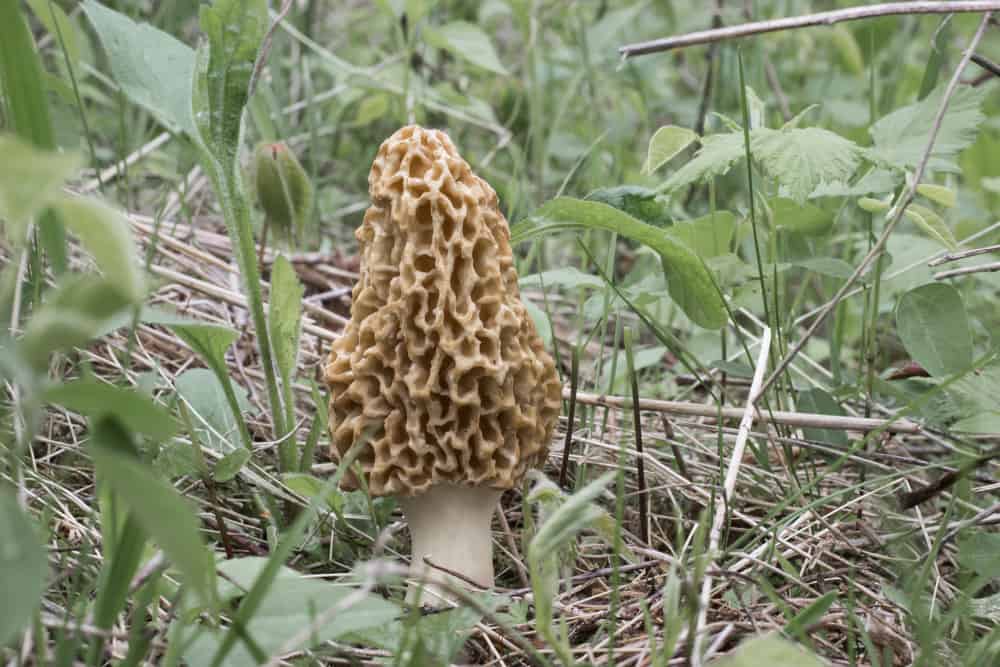 I remember being conscious, walking through fog, that sort of cold, wet fog you get in the spring. I walked up and up over a hill on the way towards my best morel patch, the spot my hunting buddy and I can always count on.
My morel hunting partner with me, I couldn't see him, but I knew he was there. I walked through the patch and the buckthorn slowly, looking through the fog. I don't remember picking many morels, just looking down into my bag and seeing a nice pile, nothing to really brag about, but some were big, big enough to stuff.
The next thing I remember is hearing a sound: a turkey gobble. I looked around back and saw turkeys standing on the hill near the entrance to the patch. There was a whole bunch of them, walking in a line.
The next thing I know I'm in my kitchen. There's a cutting board with morels on it and I'm holding a pastry bag filled with something I'm piping into the morels, stuffing them. I know that the mixture in the bag is turkey mousseline and I'm stuffing the morels with it, after that, I don't remember anything. If you want a quick refresher on meat mousse, (a great way to use tough game meat), see my post on cooking peacock, or my old post on forcemeat.
A few tips for stuffing morels
The best stuffed morels will be stuffed whole, not in half. Cut the base of the stem so you can peer inside the mushroom, then clean/wash/evict critters accordingly.
If you use a filling that will expand, (meat mousse) I found that wilting the morels first in a pan helps the filling not ooze out while cooking, I've had a couple good mishaps with this. Another way to help it not evacuate from the mushroom is to make a mousse without egg white, using only cream.
If you want to stuff the mushroom with meat filling, I like to wrap them in plastic and poach to coagulate the protein filling, then gently brown in a pan to deepen the flavor of the mushroom.
Don't get crazy with the stuffing flavors. Morels are mild, so the flavor partners should be too. A bit of ramp leaves, wild onions, mild cheeses like ricotta, cream cheese, parmesan, etc. Fish mousse made from a white fleshed fish or shellfish would be good too, especially shrimp.
Use a pastry bag to fill the morels precisely. If you don't have a pastry bag, a freezer bag with a corner cut off can work in a pinch.
Small morels are good to stuff too, but there's something special about the sheer girth of the morels so large you can make a meal out of a single mushroom as I'm outlining here.
5 years in the making
Of course I had to make the dish I saw in my dream, and I did, 5 years ago. It's been on my mind to share every year, but every year something else always seems comes up. It's more than a simple stuffed morel mushroom, it also ends up being a kind of collage of my image work, and the progression it's gone through over the years.
I'm a professional cook, not a professional writer or photographer, but I eventually learned that I needed to at the very least, be familiar with all three schools in order for people to look at what I produce, then hear and see the same thing I do in my mind.
Being at peace with old blog posts
The end result is that digging back into the depths of this site will show some of what I call "legacy work" from the early days of the blog. A lot of it is rough: poor images, even worse sentences, and recipes that may have been a little too complicated for someone without a good amount of kitchen experience. Also, the plating and styling was too precious. Now, I find with all the converging arts, the simpler I make things, the less I try to put on the plate, page and screen, the more I like it.
I've weeded out a lot, but there are still a few old relics that still hide out on this site. I try to shine up posts with good info that should stay, re-shooting a picture here, tweaking a few words there, but I'm kind of at peace with a lot of it, there's a natural progression and growth, a story beneath a story. This little stuffed morel is one of my favorite examples.
More