Here's a great, off-the-beaten path salad I did for episode 2 of The Wild Harvest, my online series with James Beard Award winning filmmaker Jesse Roesler.
The salad itself is great, but mores to me it's a statement about how we perceive vegetables in general, specifically shoot vegetables. When you think of a shoot, what do you think of? Unless they're foragers or people experienced with analyzing plants for edible parts, they might struggle a bit, or more likely, they might say...asparagus?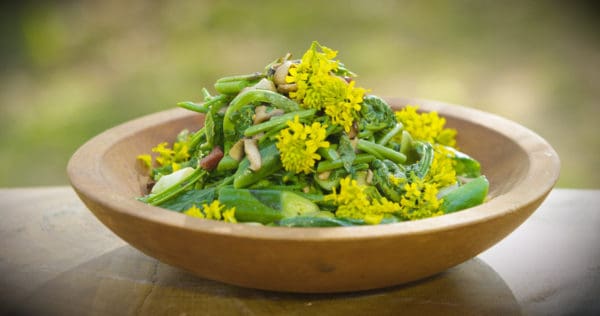 Technically, shoots are just meristematic plant parts, or young growing tissue, most of the time, but not always, a vertically growing part coming out of the ground. Asparagus is one of the best shoots nature's given us, and it is definitely, utterly delicious, but it's only one of many, many different shoots that you could eat throughout the year.
I put together a good variety of wild and cultivated shoots for salad: some wild, some cultivated. To make sure they're recognizable textures and tastes, I usually make sure to use at least some asparagus in this salad, since it's as much of a good addition for it's flavor as it is for the talking points and dinner conversation the juxtaposition of all the shoots together inspires. Here's the shoots we used, and a few extras you could use if you have them near you, hosta shoots are particularly good.
A Few Wild Shoot Vegetables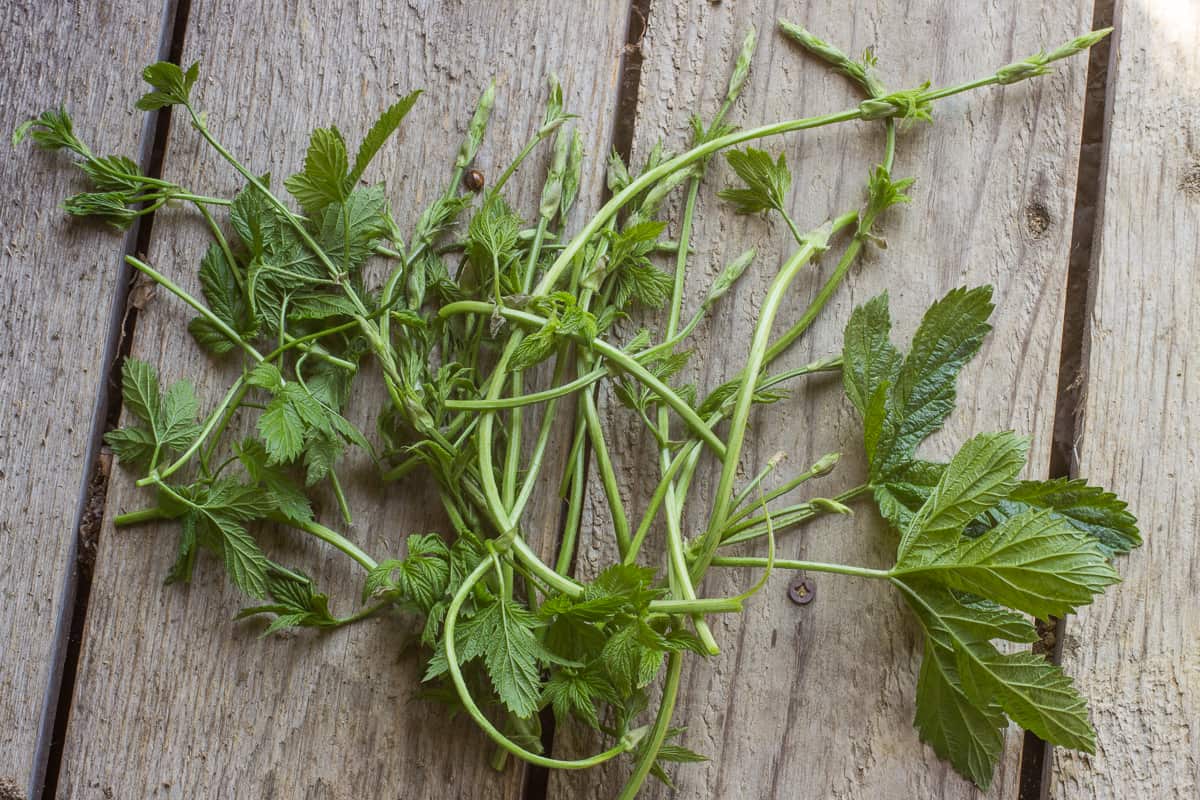 As far as the salad itself, it's really simple, and you can do most of the prep beforehand and throw it together at the last minute. Here's the jist: take some shoots, blanch each of them in salted water until they're just barely tender, remove and cool, then cut each one into different shapes that will fit on a spoon.
Then you cook some chopped bacon in a pan until the fat renders, add some sliced dryad saddles / pheasant back mushrooms, deglaze the whole shebang with a good glug of homemade maple (or your favorite) vinegar, toss the hot bacon-mushroom vin over the vegetables, shower it with wild mint, toss and serve with a few wild mustard flowers (optional). You don't really need a recipe, but I'm listing one for posterity since I know some people feel more comfortable following one.
Feel free to riff and make it your own.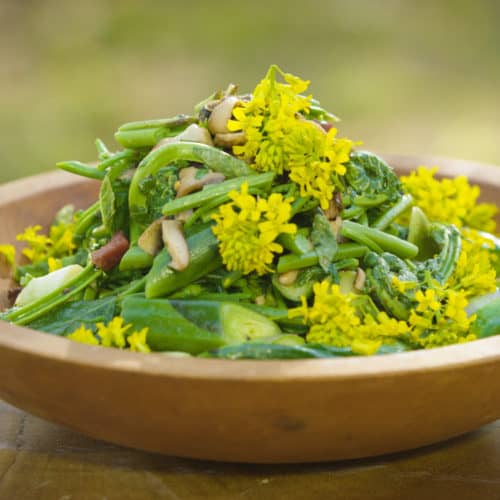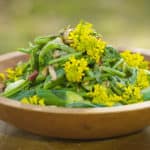 Print Recipe
Shoot Salad with Dryad Saddle Mushrooms and Wild Mint
A salad of wild spring shoots with dryad saddle mushrooms, wild mint, and bacon vinaigrette. Serves 4.
Ingredients
8

oz

mixed wild shoots

Such as hops, fiddle and bracken fern, asparagus, hosta, milkweed, wood nettle, day lily, cattail. 



4

oz

bacon

sliced

¼

cup

maple vinegar

or apple cider vinegar, plus more to taste if needed

Kosher salt and fresh ground black pepper

to taste

Generous handful wild mint leaves

a variety that taste like spearmint, to taste

4

oz

dryad saddle mushrooms

thinly sliced edges only

Cooking oil

such as olive, or another oil you like—a good drizzle

Wild mustard flowers

or another flower, to garnish, optional (I used Barbarea vulgaris)
Instructions
Shoots
Keep each type of shoot separate. Bring a pot of salted water to a boil, then blanch each shoot until just tender. Hop shoots may take seconds, asparagus 30 seconds or so. Fiddleheads 2 minutes. Hostas under a minute depending on size. When In doubt, blanch a little less that you think they'll need, with the exception of something like bracken fern, which should get a solid 2-3 minutes at a boil for safety.

If you like, something like tender asparagus could also be thinly sliced and added raw—play with textures and find combinations that work for you.

After the shoots are blanched, don't shock them, but drain them quickly, then lay them out to cool on a baking sheet or something similar.

When the shoots are cool, cut each one into a different, unique shape so you can tell what you're eating, then combine in a bowl.
Bacon-Mushroom Dressing
Meanwhile, render the bacon until crisp, with a drizzle of extra oil, then add the dryad saddles, a good pinch of salt and pepper and cook until the dryad saddles have wilted and released their water. When the pan is getting noisy and sizzling, add the vinegar, reduce for a few moments, then toss with the blanched shoots and mix well.

Toss in the wild mint, reserving some to toss on top as a garnish . Taste the salad, adjust the seasoning for acid, salt, and mint, then serve.
Notes
Cooking ahead of time
If you want to make the salad ahead of time, blanch the shoots beforehand and have them at room temperature, then just cook the bacon and mushroom dressing before serving when it's needed. The bacon should still be warm when you eat the salad.