One week during the spring at St. Pauls Heartland where the other cooks and I wrote a new menu every day, we wound up with a with what you would call a metric shit ton of cream cheese.
Without being able to return the product, cream cheese festival got underway. There was cheesecake, dips and spreads, stuffings, and, dumplings.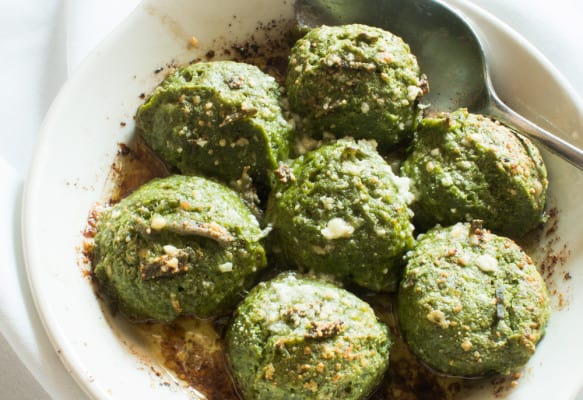 I'd made plenty of dumplings out of ricotta before (see true gnudi, the cousin of these dumplings over in this post) but when one of the prep cooks showed up on my station with a bunch of batter and starting painfully quenelle-ing (making an egg shape with two spoons) batter to poach for dumplings on my vegetarian tasting menu, I learned a new thing.
Lots of different, soft cheeses can be worked with a touch of egg and flour to make a great, tender dumpling (quark, marscapone, and labneh, to name a few).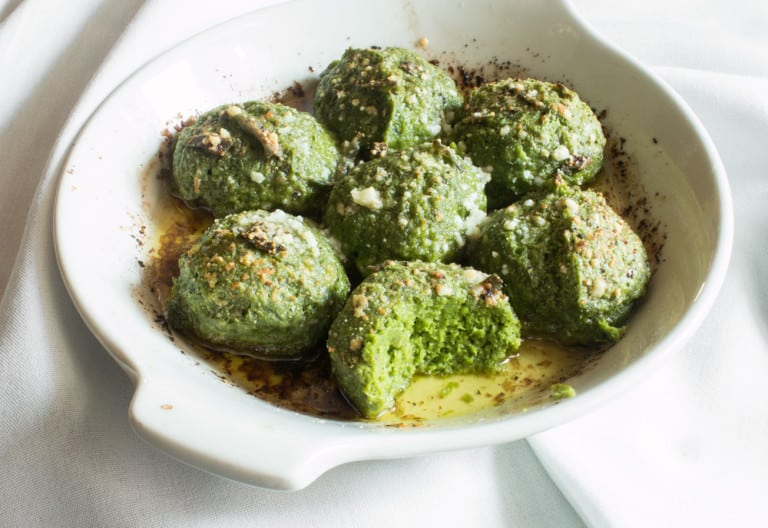 These ramp leaf dumplings are a little different in that they're a deep sylvan green and powerfully (but not offensively) rampy, where most dumplings I see like this might just have herbs mixed into them, since chunks of greens can make the delicate dumplings cook unevenly, and, even fall apart if the pieces are too big.
Instead of using cream cheese, like other dumplings we'd made to get through excess product, the ramp leaf dumplings here use chevre.
Soft chevre is just so versatile, I'd be hard-pressed to find something it wouldn't improve, especially the world-class chevre from Donnay Dairy that I would drive across the state to get during the season.
The gentle tart/sour of the chevre is a perfect foil for the rich ramp leaves, and it's slightly heavier weight on the palette makes for dumplings that eat like a meal. Decadently rampy comes to mind.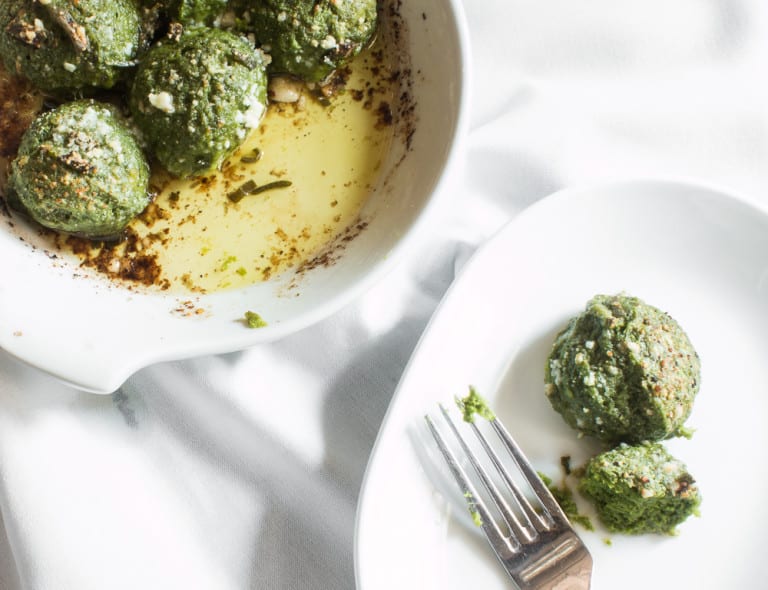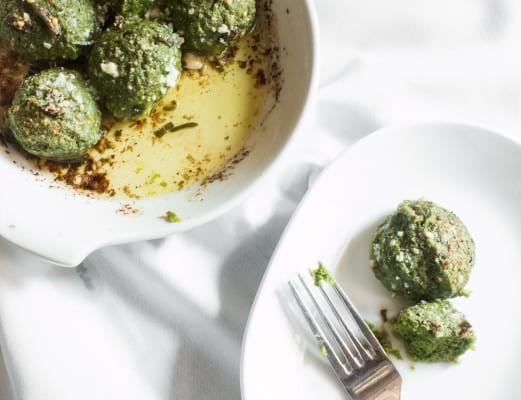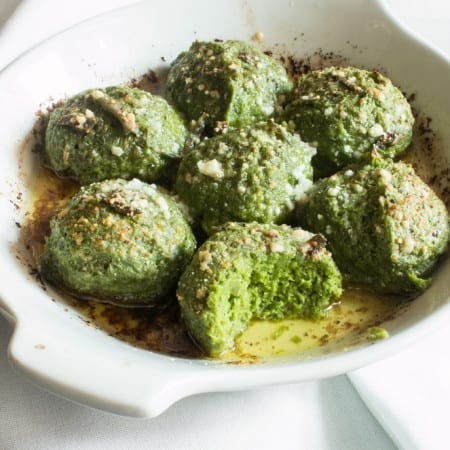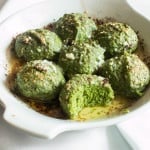 Print Recipe
Ramp Leaf-Goat Cheese Dumplings
The original recipe I made in 2016. It's decadent, and uses goat cheese instead of ricotta. Makes about 30 dumplings, enough to serve 4-6.
Ingredients
12

ounces

ramp leaves

stems removed

16

ounces

soft goat cheese

8

large egg yolks

½

cup

grated parmesan cheese

¾

teaspoon

kosher salt

Pinch

of fresh ground black pepper

1

cup

flour

preferably 00 (substituted all purpose in a pinch)

For serving

optional

4

tablespoons

unsalted butter

2

teaspoons

sliced fresh sage

¼

cup

dry white wine

Pinch

of salt and pepper

2

tablespoons

grated parmesan
Instructions
Bring a gallon of salted water to a boil, add the ramps, cook for 5 seconds, or until just wilted, then remove, squeeze dry, and chop fine. In the bowl of a highspeed blender, combine the ramp leaves and the egg yolks, then puree until very smooth. Alternately, if a highspeed blender isn't accessible, the ramp leaves can be processed in a food processor for a more rustic look.

Transfer the ramp leaf puree to a mixing bowl and add the cheese, salt, pepper, egg yolks and flour, then mix until just combined. Allow the mixture to rest for 20 minutes.

To cook the dumplings, bring a pot of lightly salted water to a simmer, then, using a 1 ounce portion scoop or heaping tablespoons, for balls of the dough and drop them into the water. Cook the dumplings for exactly 5 minutes at a brisk simmer, turning occasionally with a spoon to make sure the top and bottom are evenly cooked. When the dumplings are done, remove them to an oiled pan to cool, then serve immediately or transfer to a labeled, dated container and refrigerate for up to 4 days.
Notes
To serve the dumplings per the photograph, put the dumplings in wide, shallow baking dish, then melt the butter in a saute pan and cook until browned and aromatic. Add a teaspoon of sliced fresh sage, then deglaze the pan with ¼ cup of dry white wine. Drizzle the sage butter over the dumplings, sprinkle with parmesan, and bake at 350 for 10-15 minutes or until hot throughout.
More