A number of years ago I was contacted by a company in Australia to make a few recipes for an e-book on sustainable eating. The first thing I shared with them was this simple recipe for gnudi dumplings made from ramp leaves, which, as far as ethical eating goes, are basically the poster child for sustainability arguments in the wild food world, with the take and no-take groups waging virtual war in the leek patches every year.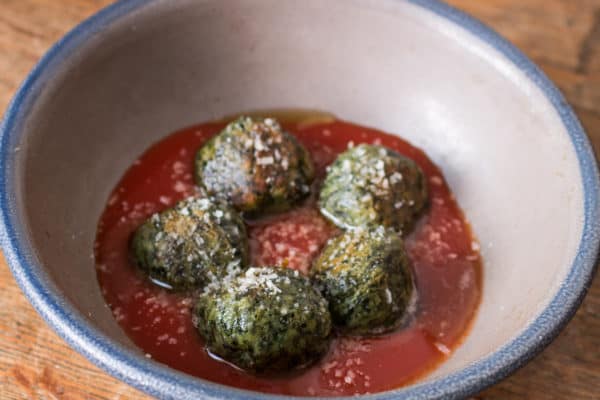 I've been sharing some of my favorite recipes for ramp leaves, and ramp leaves only for years now, since, as someone in the wild food world people listen to, I see spreading the message of conservation as part of my job. If you're wondering, yes, I do harvest some bulbs here and there, but it's from private land, and colonies so extremely concentrated that I'm actually doing the plants a favor by freeing up some soil.
Even so, there might be scores of healthy colonies on the farm where I gather things, where literally hundreds of pounds per year could be sustainably harvested, but, in other places, like around the Twin Cities where most of my friends hunt, ramps have been basically been exterminated from most small parks where tiny patches used to be, and the same can be said for other places like Chicago and New York. Lots of people will say things like there's tons of ramps, or they could never make a dent in their patch if they tried, but, we used to have herds of buffalo as far as the eye can see, and flocks of passenger pigeons so thick they could block out the sky, too. Sustainable harvesting can be done, but not if everyone harvests sustainably from the same patches at the same time.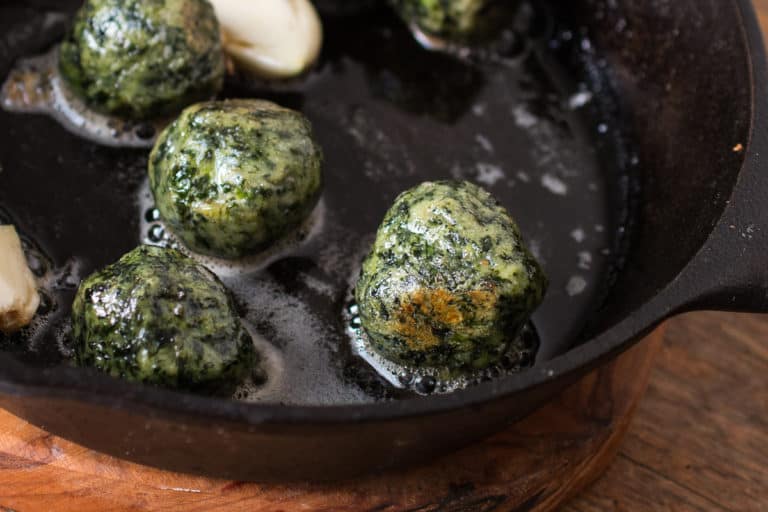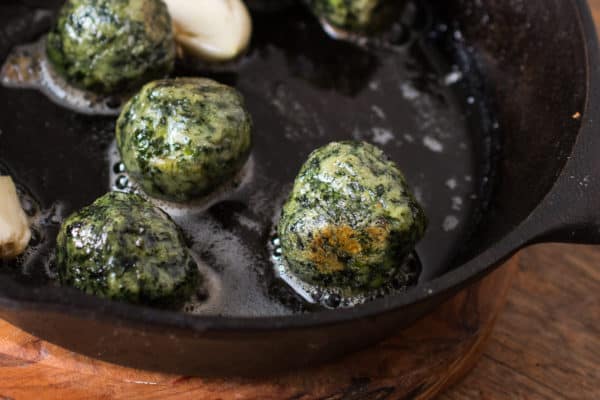 Stepping off the soapbox, if you don't know gnudi, they're in the pasta family, and the name is a cognate, translating directly to naked, as in naked ravioli filling held together with a touch of egg and flour, sans the pasta that would typically surround them. Gnudi have a special place in my heart: they were always there for me, ready to take off some of the burden of prepping rapidly changing menus when I didn't have time to make fresh pasta, or something more intensive. They're a crowd pleaser too: simple, quick, and, delicious. I mean c'mon, they're basically just balls of ravioli filling!
Originally I made these only ramp leaves, but everyones favorite wild garlic is just one example of some you might make, and other herbs and things that can be pureed are great candidates for exploring your local herbs and other plants. Sure you could use something like spinach, but these are a perfect candidate for using wild herbs. Here's a few ideas:
Wild herbs and greens for your gnudi
Wild chervil (Cryptotaenia canadensis)
Monarda fistulosa (wild bee balm) in small quantities mixed with another herb
dark green nettles, or softer greens like dock, violets or mallow that lend themselves to pureeing
Blanched ramp leaves, with their garlicky kiss, are particularly toe-curling though
Simple garden herbs, blanched and pureed, like basil, lovage, parsley, carrot or parsnip tops
A mix of garden herbs, like small amounts of fresh thyme, savory, lovage, chives, tarragon mixed with larger amounts of parsley--make your own blend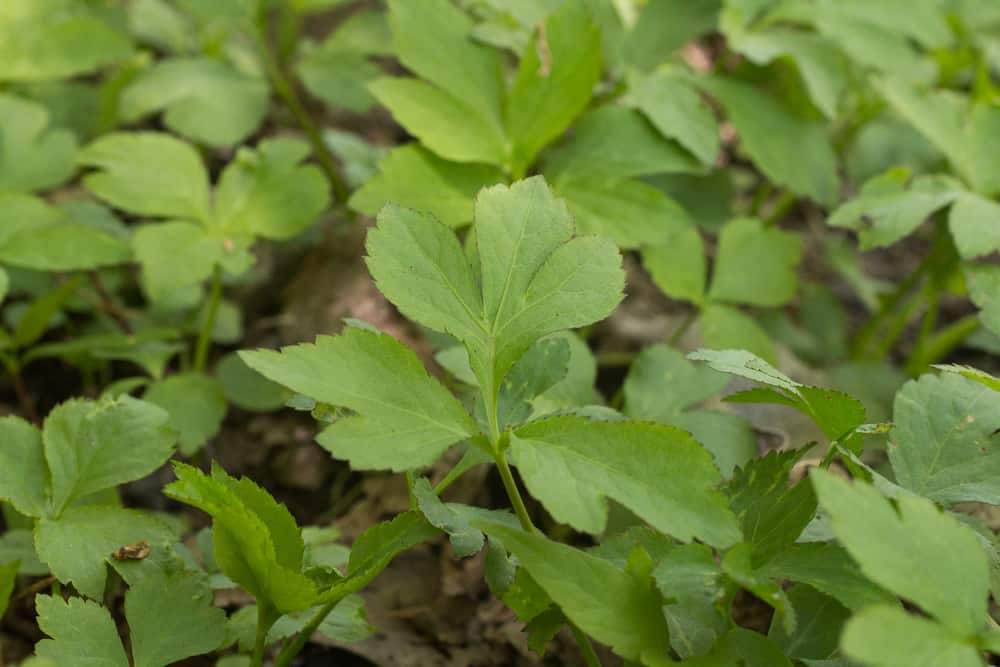 The dumplings themselves are great just baked with a little butter, sage and cheese in the oven, or served with a simple tomato sauce, or, if you like, use both, ladling the tomato sauce in a bowl, and drizzling hot sizzling sage butter and cheese over the top--a preparation I would call "gnudi di magro" (without meat) that I used to make at the now defunct Pazzaluna Urban Italian in St. Paul. Whatever you do, keep the dance partners simple to make sure you can taste the main attraction, whatever flavor you decide that will be.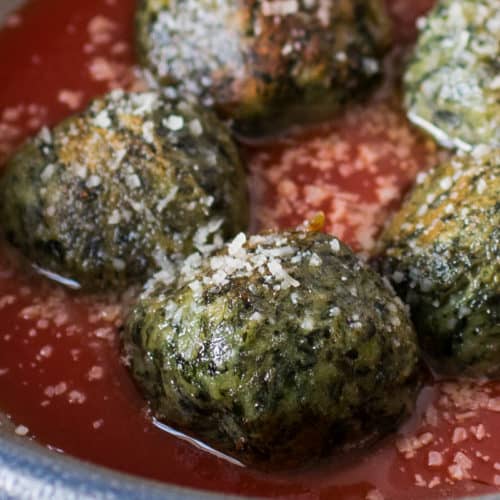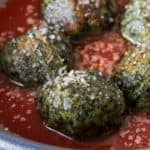 Print Recipe
Ramp Leaf Gnudi Dumplings
Simple dumplings made from ramp leaves. can use other wild greens than ramps here, but make sure they're cooked to a point where they're soft before chopping and adding them to the dough. You can easily double this. Makes about 20 dumplings or 4 small servings.
Ingredients
6

oz

mild wild herbs

ramp leaves, wild chervil, a blend of parsley and other herbs, etc

8

oz

ricotta

1

large egg

¼

cup

flour or equivalent

½

teaspoon

kosher salt

¼

cup

grated parmesan

¼

teaspoon

ground black pepper
Sage sauce, for serving, optional
4

tablespoons

unsalted butter

2

teaspoons

sliced fresh sage

¼

cup

dry white wine

Pinch

of salt and pepper

2

tablespoons

grated parmesan
Instructions
If possible, drain the ricotta for a few hours or overnight. Blanch the ramp leaves in boiling salted water, then chill in cold water, drain, and drain again, pressing down on them with a towel to remove as much moisture as possible.

Chop the greens fine, then puree in a food processor with the egg, salt, parmesan and the ricotta (pureeing them raw without blanching will help keep their flavor strong).

Blend the mixture until it makes a smooth-ish puree, then transfer to a bowl and stir in the flour. Allow the mixture to rest for a few minutes while you bring a wide pot of salted water to a simmer, as for pasta.

Taste a bit of the mixture, and adjust the seasoning as needed. Form tablespoons of the ricotta mixture into balls, then roll in flour, place on a floured cookie sheet, and repeat.

Drop the dumplings into the simmering water, making sure not to overcrowd the bottom of the pan. Cook the dumplings for a few minutes until the float, then cook a few minutes more to help them hold their form.

Meanwhile, melt the butter and sage together until the butter browns. Deglaze the pan with the wine, season to taste with salt and pepper, then add the gnudi to the pan and toss to coat, then serve drizzled with their sauce and parmesan. Spoon the dumplings over a simple tomato sauce, strained of any seeds slightly reduced, with a knob of butter whisked in at the end.