One of my favorite, easy mushroom pheasant back recipes to make in the spring when these mushrooms are available. It's easy to make, and you can use noodles from a package.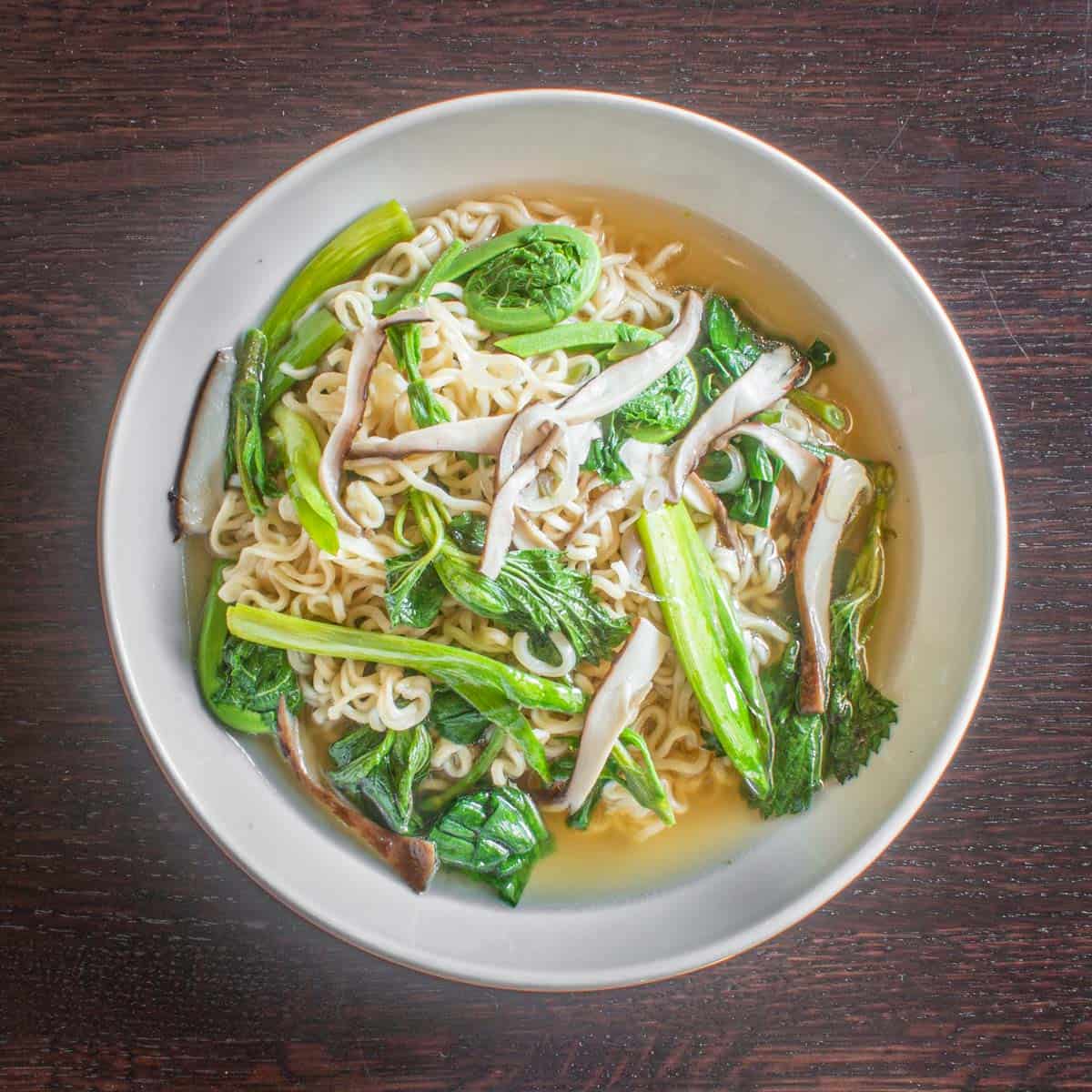 It was a bad year for morels for me. There's a couple kids speaking an Eastern European language that raid the patch in the morning, looking for the"smorchki". If having children with 1000 generations of mushroom hunting in their veins picking my favorite patch wasn't bad enough, there's a groundskeeper that's found that patch too and probably picks on the clock every day, the jerk.
There were plenty of "consolation prize" dryad saddles though, so I put together a good example of how I treat old vs. young ones.
I've seen more arguments about the edibility of these than probably any mushroom online. Some say they're tough and inedible, some say they're tender and soft. The truth is they can be both, it all has to do with timing.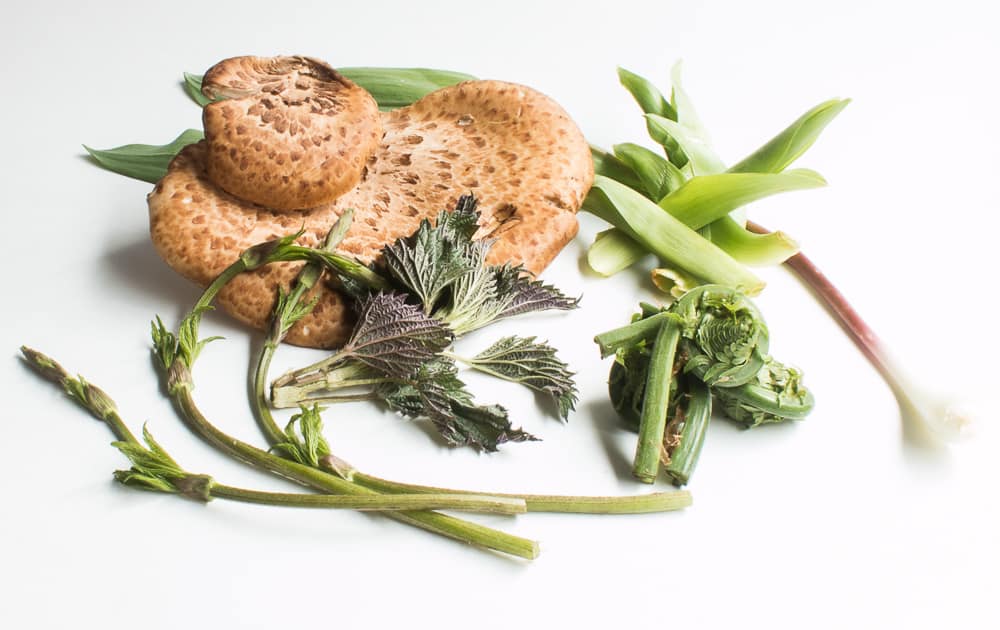 Dryad saddles that've been growing for a while get tough really fast, and are only tender enough to chew when really young. The older ones still have a good aroma though, and make an interesting broth.
It's mushroomy, but lighter, the cucumber-melon aroma begs for fresh, light garnishes like cilantro or mint. The idea for a noodle bowl came around since I love to deck mine out with a pile of the same fresh ingredients at the end to stir into the hot broth.
To mushrooms are used in two ways: the mature, tougher mushrooms got made into broth, while the young, tender ones got cleaned and poached in the broth to finish.
Obviously you can use your favorite noodle bowl additions, but I was excited about the first green vegetables of spring so I used a combination of cooked, wilted vegetables and a fresh greens tossed in at the end. It's a great way to enjoy the old dryad saddle-try it sometime when you come across a bunch.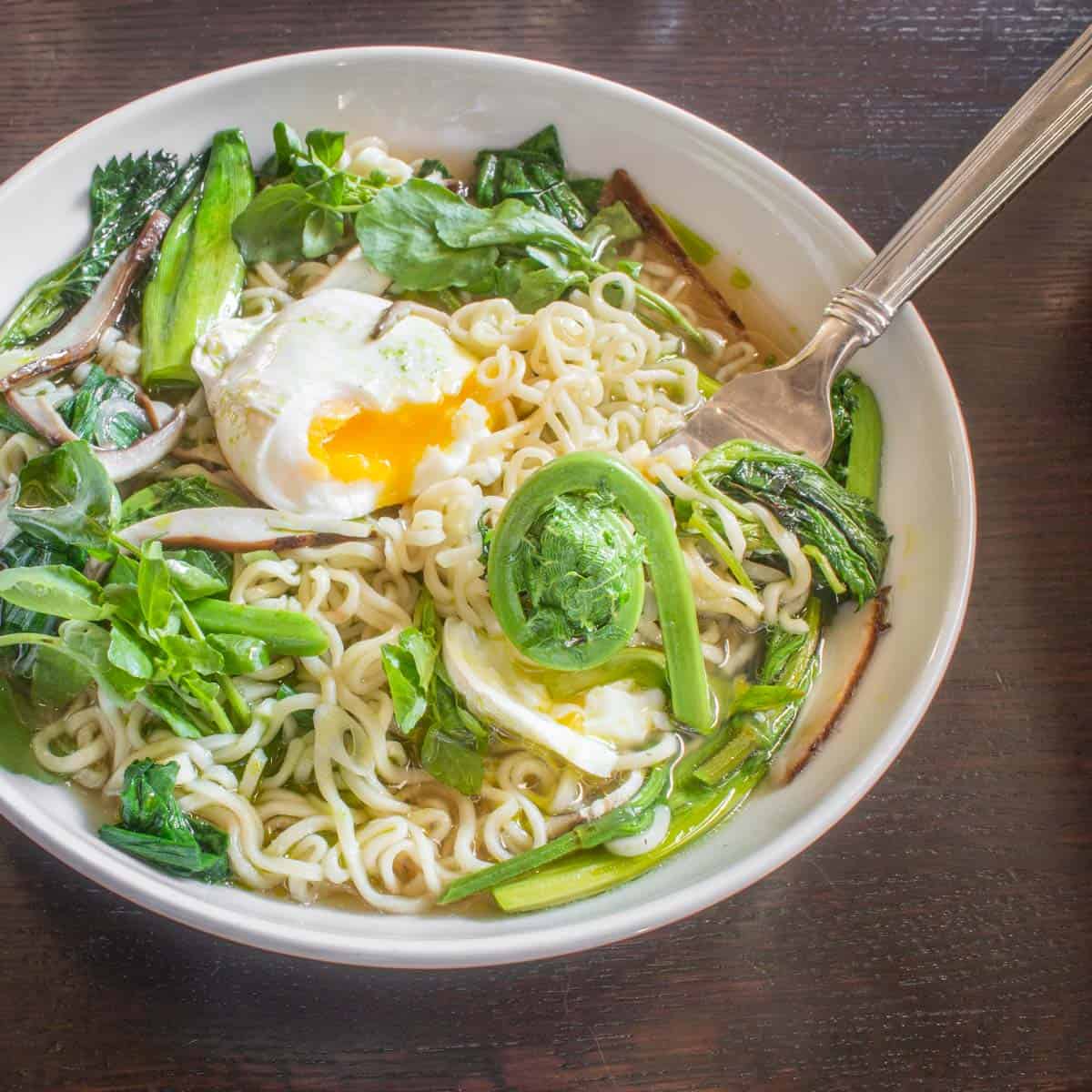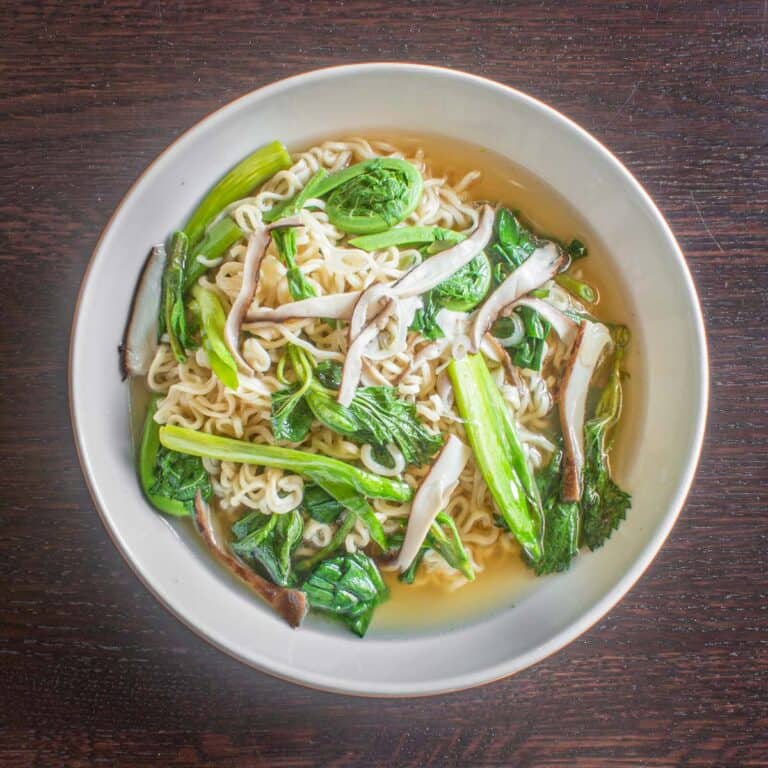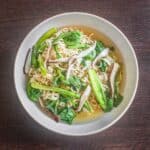 Print Recipe
Dryad Saddle Ramen
Ramen broth flavored with wild dryad saddle mushrooms. Mix and match your vegetables and garnishes with whats available and tastes good to you. You can also just add fresh pheasant back mushrooms to packaged ramen-it's ok!
Ingredients
For the broth
2

lbs

poultry carcasses or meat scraps

like pork

2

cups

each chopped carrot

yellow onion, and celery

1

lb

mature dryad saddles mushrooms

plus 4 ounces that are young and tender for finishing the dish

1

gallon

water

2

tablespoons

flavorless cooking oil
Bouquet Garni:
2

cloves

of fresh garlic

crushed lightly with a knife

2

fresh bay leaves or 1 dried

5

sprigs of fresh thyme

5

black peppercorns

For finishing the dish

12

oz

mixed spring vegetables of your choice

I used fiddleheads, lily shoots, ramps, hop shoots and nettles

3

ounces

young

tender wild greens of your choice, like watercress, ramp leaves, chickweed, mustards or lamb's quarter, etc, for finishing

Virgin sunflower oil

or another flavorful oil like sesame

Fresh chopped cilantro or mint

optional

1

thinly sliced jalapeno

optional

12

ounces

dried ramen noodles

roughly 4 packs

Poached eggs

optional

2-4

tablespoon

Soy Sauce

or to taste
Instructions
Broth
Preheat an oven to 350, roast the carcasses or scraps until golden, then cool and reserve. Roughly chop the mature dryad saddles, then process in a food processor to grind them fine. In a 3 gallon stock pot sweat the vegetables and ground mushrooms in the oil, then add the bouquet garni, roasted pork and bring to a simmer. Cook 1.5-2 hours or until the liquid is reduced by half, then strain through a fine chinois strainer, cool and reserve. From this point the broth can be prepared ahead of time and refrigerated or frozen until needed. Season the broth to taste with a little soy sauce.
Vegetables
Blanch the green vegetables in boiling salted water until al dente, then chill in an ice bath, drain and reserve. Scrape off the pores from the underside of the young dryad saddles, then slice as thin as possible with a sharp paring knife. Clean and wash any greens like watercress and pick the clusters of greens into pieces that will fit on a spoon. Heat the reserved pork-mushroom stock in a stock pot our a wide, deep pan big enough to accommodate all of the noodles.

Heat the reserved stock with the sliced young dryad saddles and heat until wilted. Double check the seasoning of the broth for salt and adjust as needed.
Noodles and Assembly
Meanwhile, Cook the ramen in lightly salted boiling water until tender, then drain and reserve.

Add the vegetables to warm them through, then add the cooked noodles.

To plate the dish, remove the noodles with tongs and divide evenly between four pre heated soup bowls. Use a slotted spoon to do the same with the vegetables. Garnish the soup with the reserved greens, any flavored oil, fresh mint poached eggs and shaved jalapeno if using, then serve immediately with a large spoon and fork.
Notes
Tips 
It's totally fine to skip making the broth and use chicken broth and a package of ramen noodles if you want. 
The vegetables and garnishes are just an example. Try making the broth sometime, then add whatever vegetables and other additions you like.
Nutrition
Serving:
16
oz
|
Calories:
2191
kcal
|
Carbohydrates:
15
g
|
Protein:
8
g
|
Fat:
235
g
|
Saturated Fat:
68
g
|
Polyunsaturated Fat:
50
g
|
Monounsaturated Fat:
106
g
|
Trans Fat:
0.03
g
|
Cholesterol:
193
mg
|
Sodium:
670
mg
|
Potassium:
1061
mg
|
Fiber:
5
g
|
Sugar:
7
g
|
Vitamin A:
18668
IU
|
Vitamin C:
30
mg
|
Calcium:
144
mg
|
Iron:
3
mg
More