Out of all the dishes I created for Slow Food MN's "Where the Wild Things Are" farm dinner, this was probably the crowd favorite, and is one of my all-time favorite spruce tip recipes.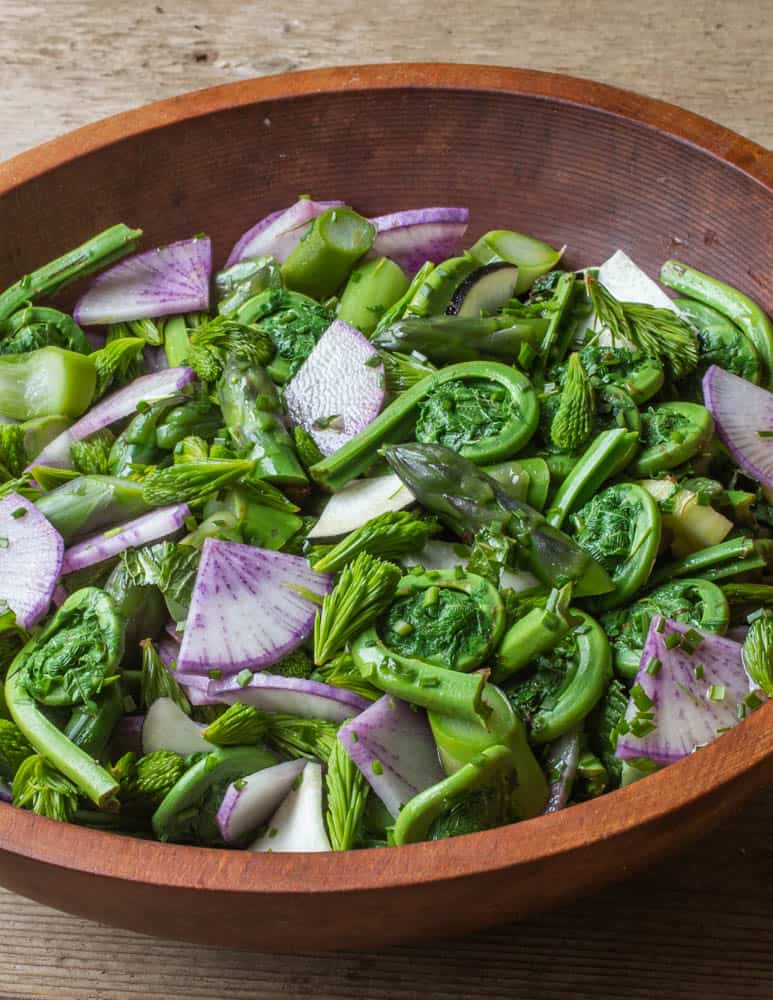 The evolution of it was a little interesting. The hosts of the event looked at my original menu and suggested we add a vegetable side of some kind to appease vegetarians who would be at the event.
At first I was going to do a warm side, similar to the vignarola I did a couple years back, but after considering the logistics of the event, how many people we would be serving, and how much burner/grill space we had, I changed my tune and decided on a cold salad.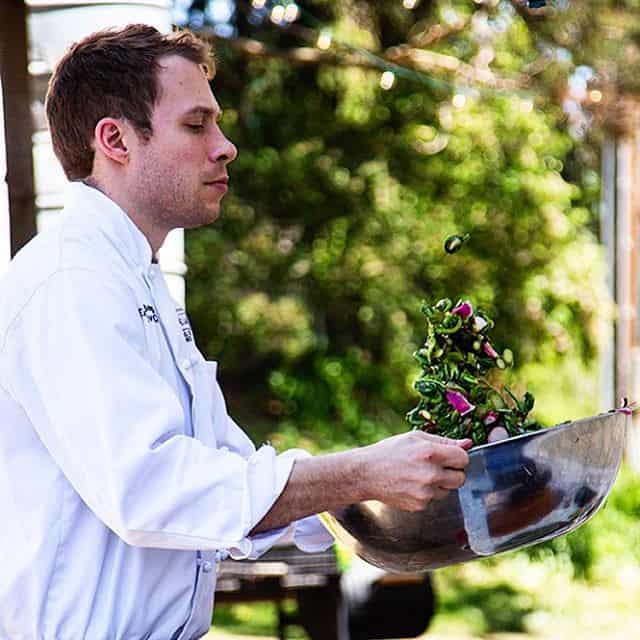 At first it was to be asparagus, fiddleheads, snap peas, and fava beans. As luck would have it, we found out a week or so before that the produce wouldn't be ready in time from any farm in the area.
We would have to stick with asparagus and fiddles, but the fiddle season had just ended. I sourced a couple pounds of fiddleheads quick and kept them under bags of fresh ice for a week.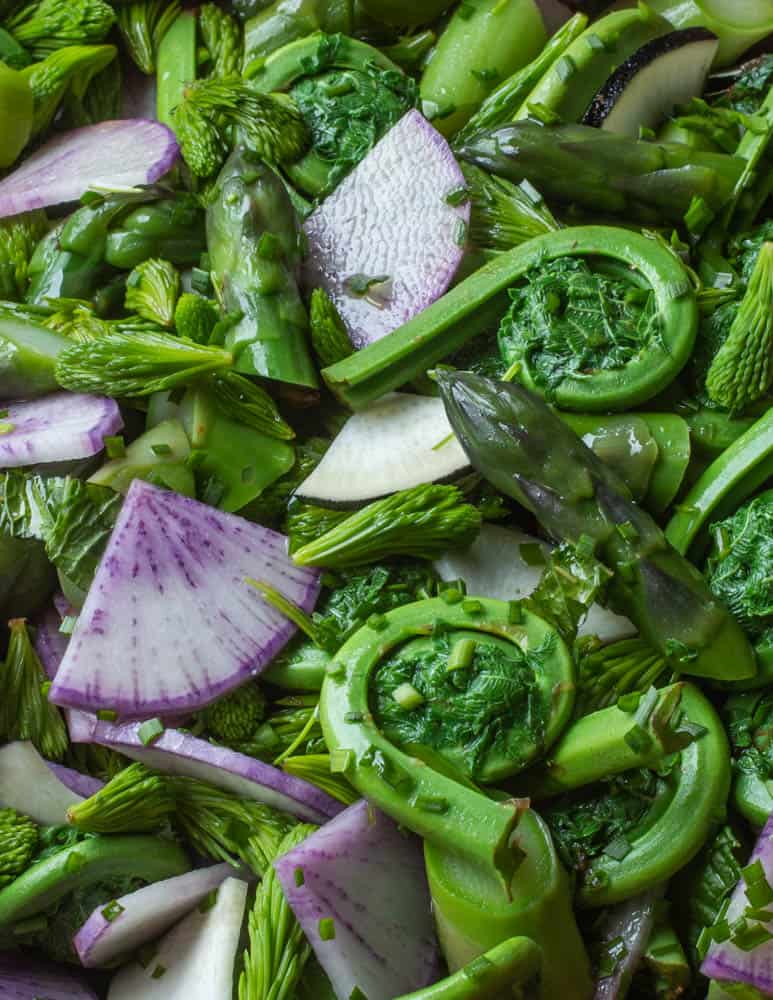 I still wasn't happy with the dish though, and didn't know what it wanted to be. Cold food can be a hard sell, since flavors are muted when foods are chilled.
The event was approaching quickly, and my salad for 120 people was flip-flopping in my head to something different just about every day.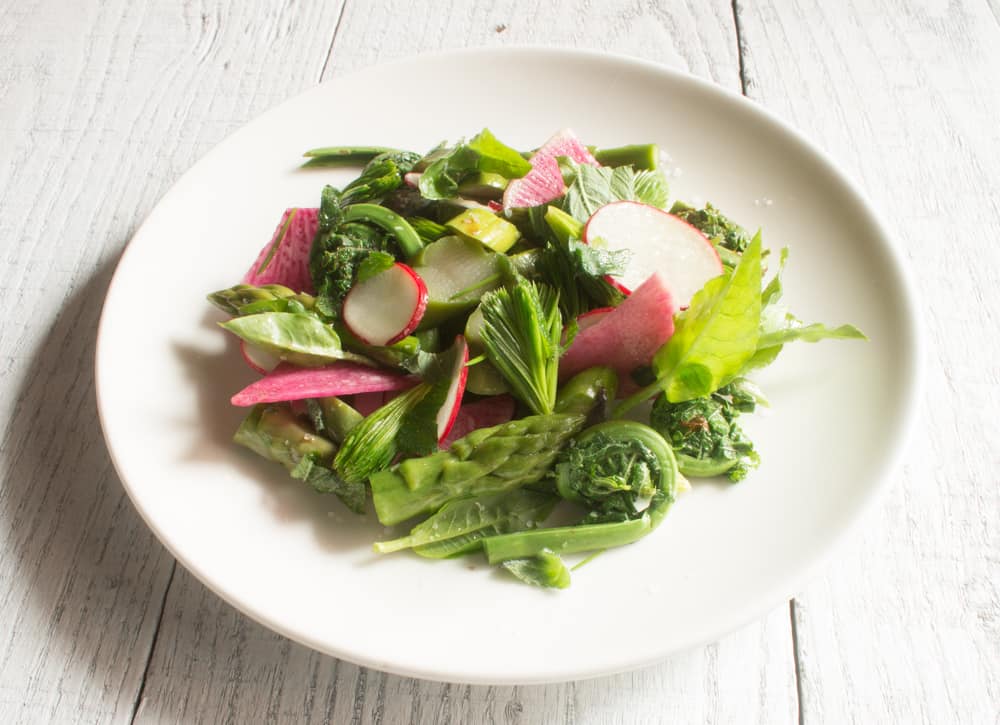 The weeks before the event my staff and I made a couple different variations. What we settled on was a salad of vegetables, some raw, some blanched, tossed with lemon agrumato and fresh mint.
If you've never had agrumato, or lemon oil, you should put it on your bucket list. It's typically olive oil made by pressing whole fresh lemons with the olives in the mill. It shouldn't be confused with lemon infused oil that boutique oil shops sell, which is worthless compared to the real deal.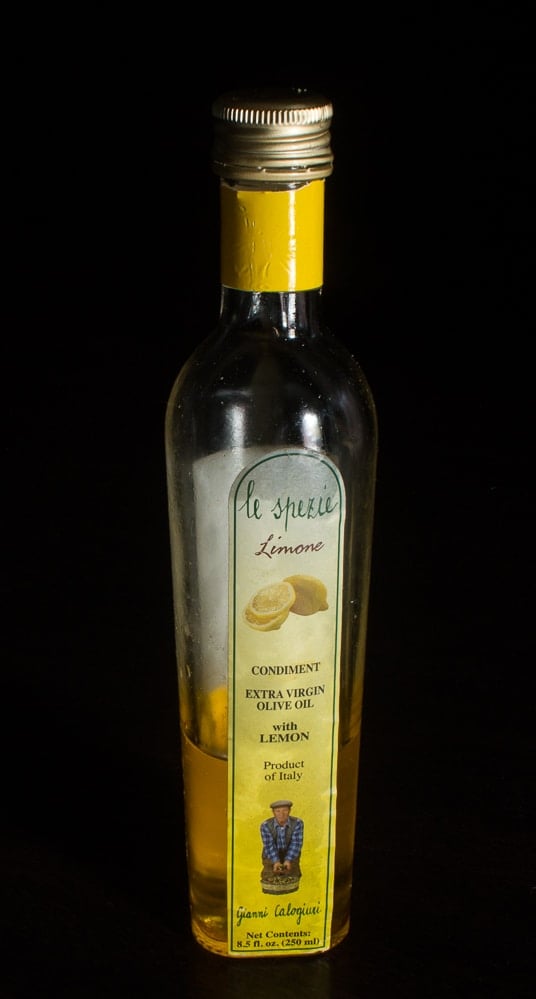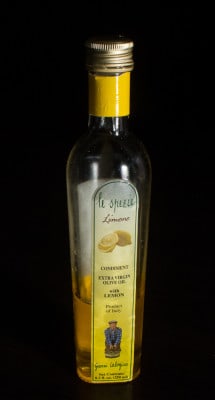 I was happy with the salad, finally. While my staff and I were preparing the dishes at the event, an hour before we were going to serve I saw some of the spruce trees on the farm had perfect looking tips, and I knew they had to go into the dish.
I tried a few to make sure they weren't bitter, then pulled one of my guys off of slicing terrines and cheese to grab a couple quarts of spruce tips from the trees for the salad.
I ended up liking it so much I made another batch for a luncheon the following day, switching up the vegetables a little but keeping the asparagus-radish-fiddle combo at the heart of it all.
The spruce tips in the mix wake it up with a citrusy pop here and there, making an attractive, exciting salad.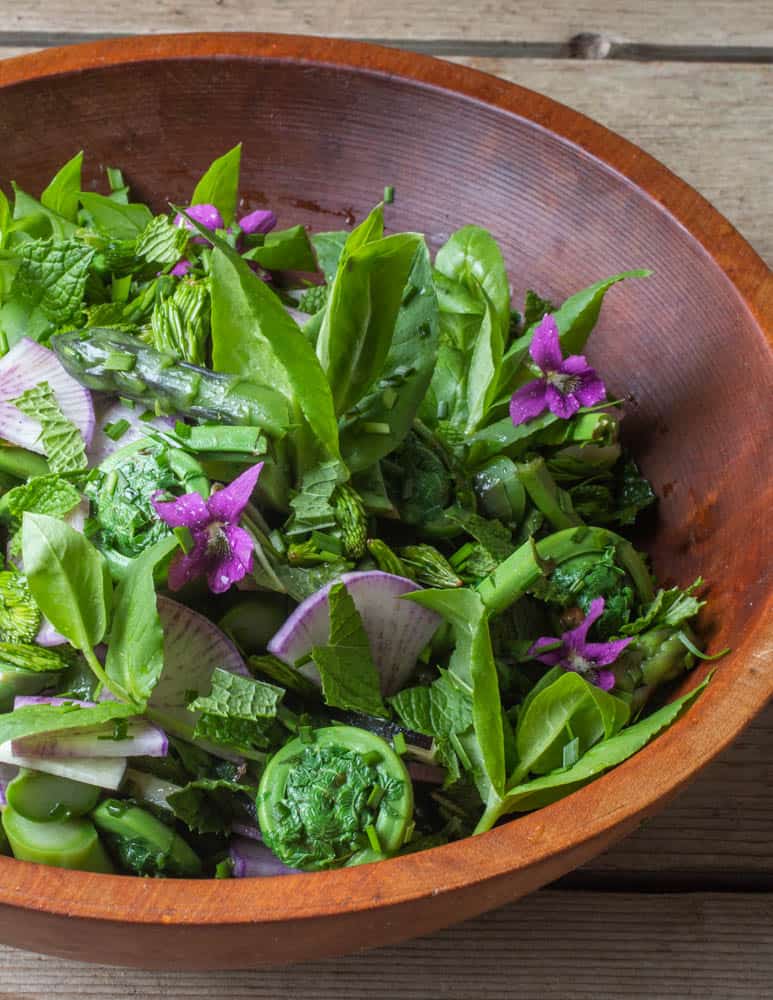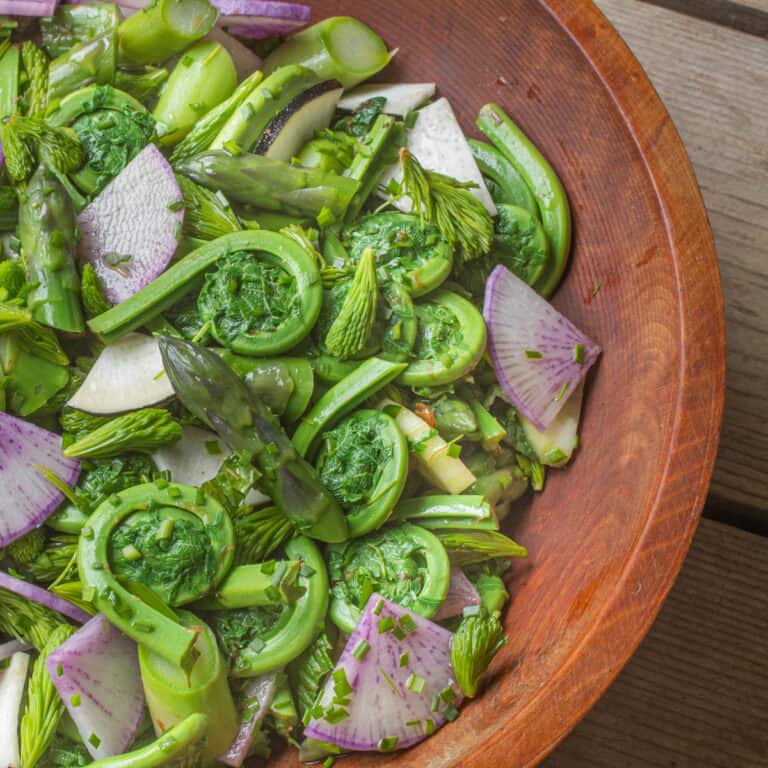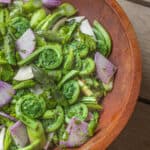 Print Recipe
Spring Vegetables With Spruce Tips and Lemon Agrumato
Mixed spring vegetables seasoned with lemon oil and spruce tips
Ingredients
1

lb

mixed asparagus, radishes and fiddleheads

washed and cleaned

1

cup

young spruce tips

picked over for any papery husk, washed if needed

Lemon Agrumato

to taste

Fresh lemon juice

to taste

Kosher salt and fresh ground black pepper

to taste

Fresh spearmint

to taste
Instructions
Remove all of the asparagus tips. Cut ¾ of the remaining asparagus stems into ½ inch bias-cut pieces, then blanch until just tender, shock in an ice bath, drain and reserve. Blanch the asparagus tips for a few minutes longer than the stem as they take longer to cook. Slice the remaining raw asparagus ¼ inch thick and reserve.

Trim a few of the spring radishes and shave thin using a mandoline or a sharp paring knife. Small radishes can be quartered to add a bit of texture.

If using spicy winter radishes, like the watermelon radishes pictured, peel them down through the skin and white pith to reveal the center, then shave thin on a mandoline and cut into similar sized pieces as the other vegetables.

For the fiddleheads, bring a pot of salted water to a rolling boil and blanch for 1.5 minutes, making sure the water comes back to a boil to ensure they're thoroughly cooked and to prevent them from turning black after cooling. Shock the fiddleheads in an ice bath, then drain well and reserve.

To serve, toss all of the vegetables, including the spruce tips in a mixing bowl and season aggressively to taste with the lemon oil, lemon juice, salt, pepper, and fresh mint. Allow the mixture to marinate for a few minutes, then taste again just before serve, adjust as needed and toss again to coat with the natural vinaigrette that forms from the vegetables juice, then serve immediately.
Notes
All green spring vegetbles are welcome here, but don't miss the fiddleheads if you can, they soak up the dressing better than any of the others.
Nutrition
Serving:
4
oz
|
Calories:
15
kcal
|
Carbohydrates:
3
g
|
Protein:
2
g
|
Fat:
0.1
g
|
Saturated Fat:
0.03
g
|
Polyunsaturated Fat:
0.04
g
|
Sodium:
2
mg
|
Potassium:
153
mg
|
Fiber:
2
g
|
Sugar:
1
g
|
Vitamin A:
572
IU
|
Vitamin C:
4
mg
|
Calcium:
18
mg
|
Iron:
2
mg
More
Spruce Tips: Harvesting, Cooking and Recipes
Simple Fiddlehead Fern Salad with Mint