Traditional spruce tip syrup tastes like maple syrup crossed with a pine tree. It's one of the easiest, most versatile spruce tip recipes I know.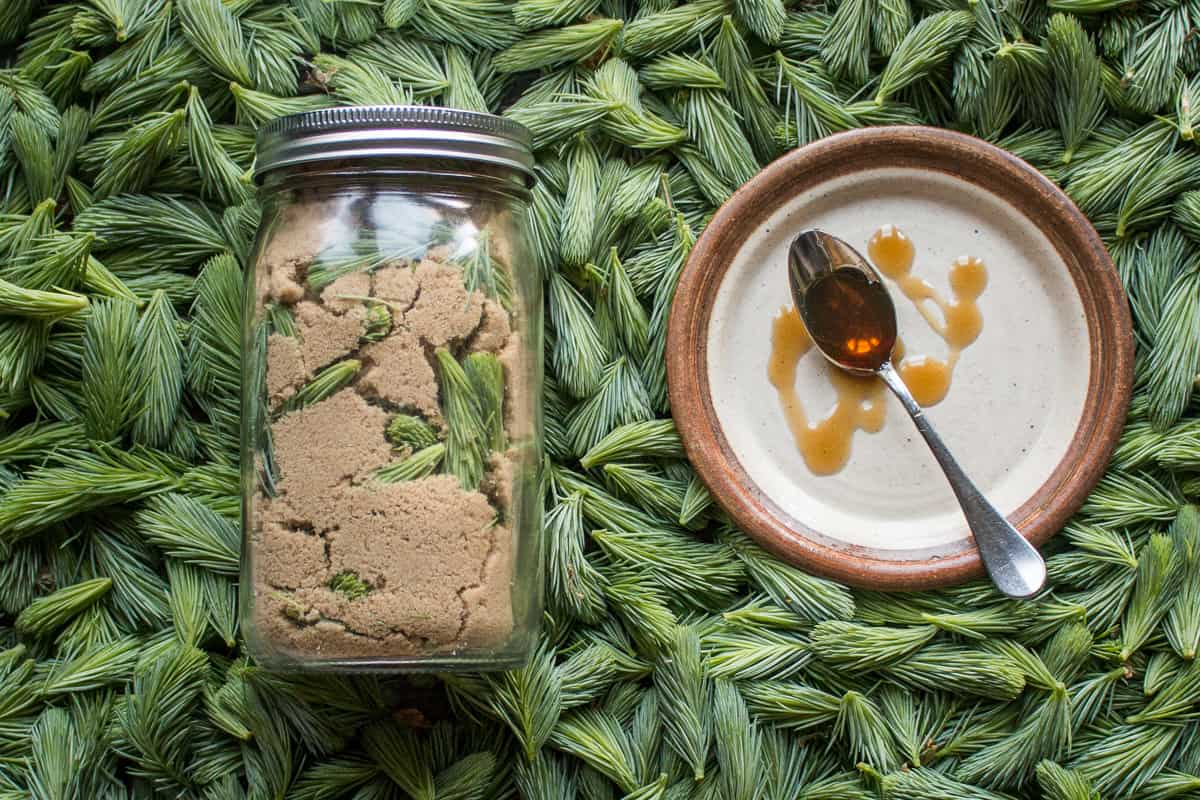 Update
Originally I made this the old way by combining tips and sugar. I've never had a problem, but with the difference in ambient temperature in different places, some people had issues with mold.
I adjusted the recipe so that you process the tips with the sugar in a food processor first, and that's taken care of the issue, although it won't be reflected in the images here.
Original Post
I've been writing this website for years, and although I have a spruce tip syrup that tastes like spruce, it's not the most powerful one you can make--it's a hybrid, a shortcut.
That older recipe of mine was back from when I had bartenders breathing down my neck about running out of spruce tip syrup for the bar, and, in 24 hours, it's a pretty good approximation of the real thing, and handy in a pinch. But it's still an approximation.
This is the real deal, the old fashioned, time honored traditional syrup that most people, especially those who have family from Eastern Europe will recognize. There's two ingredients, well three actually: spruce tips, sugar, and time.
Like I mentioned with my shortcut spruce syrup, you can get some good flavor from the tips overnight using my other recipe. But, the slow, steady maceration of the sugar and spruce tips, and the concentration of aromatic compounds that gets trapped in the jar (along with wild yeast--be sure to burp the jars occasionally) is really potent, in a delicious way.
There's icing on the cake too, in that there's zero tannins. Zip. Zilch. Zero.
If you've ever tasted a pine cone, or eaten something like the Georgian preserve varenye, you'll know eating pine cones can be a resinous, mouth drying experience. (More on general cooking with spruce tips here).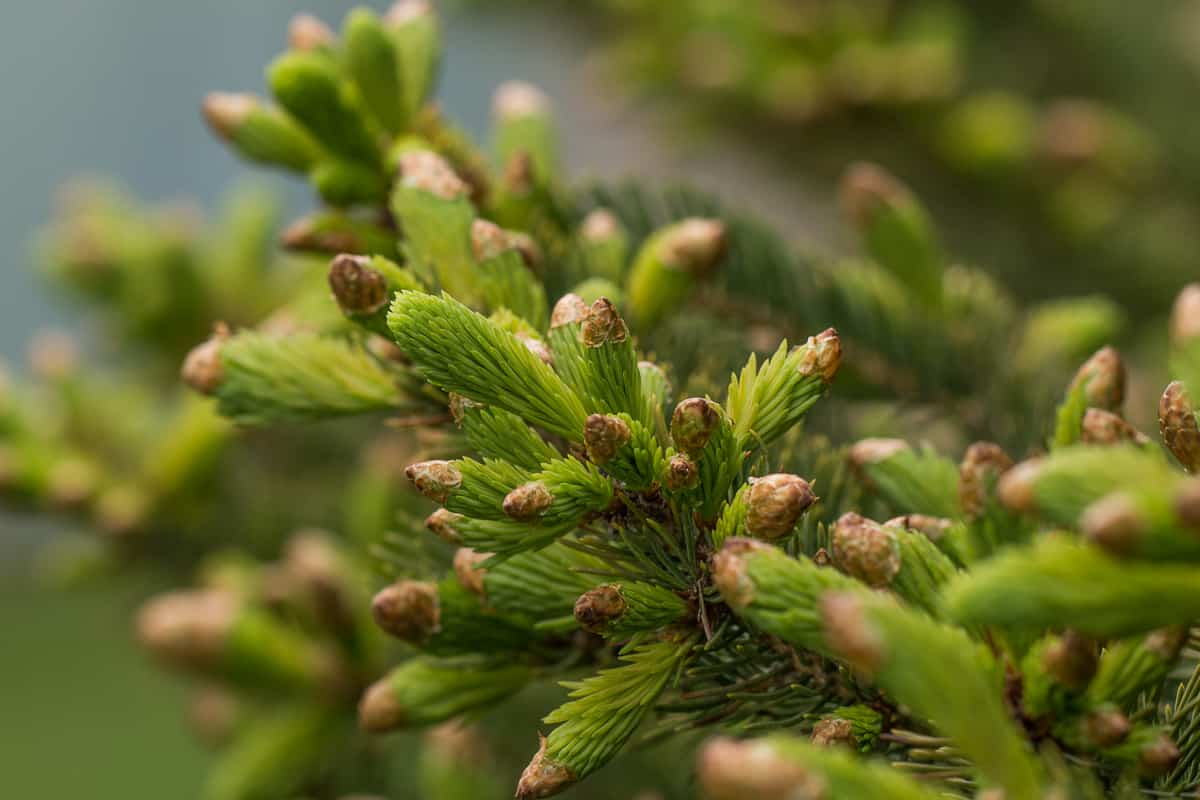 Oh, and the shelf life. The infusion with the sugar alone is strong enough that it will even hold at room temperature for months, without that much of a noticeable decrease in aroma.
I prefer to refrigerate it to keep it bright and zippy, but I'd be lying if I said I hadn't forgotten about a jar here and there, then opened them up to be pleasantly surprised after a few months.
The recipe itself, if it can even be called that, is easy enough that a child can make it (and it's a great thing for kids to make to teach them about edible parts of conifers, along with supplying a dose of vitamin C to prevent scurvy).
You take equal parts spruce tips and sugar--no weight measurements, no finicky scales, and mix them together, put them in a jar, let them sit in the sun for a couple months, then heat, strain, and voila--syrup that tastes like the soul of a spruce tree.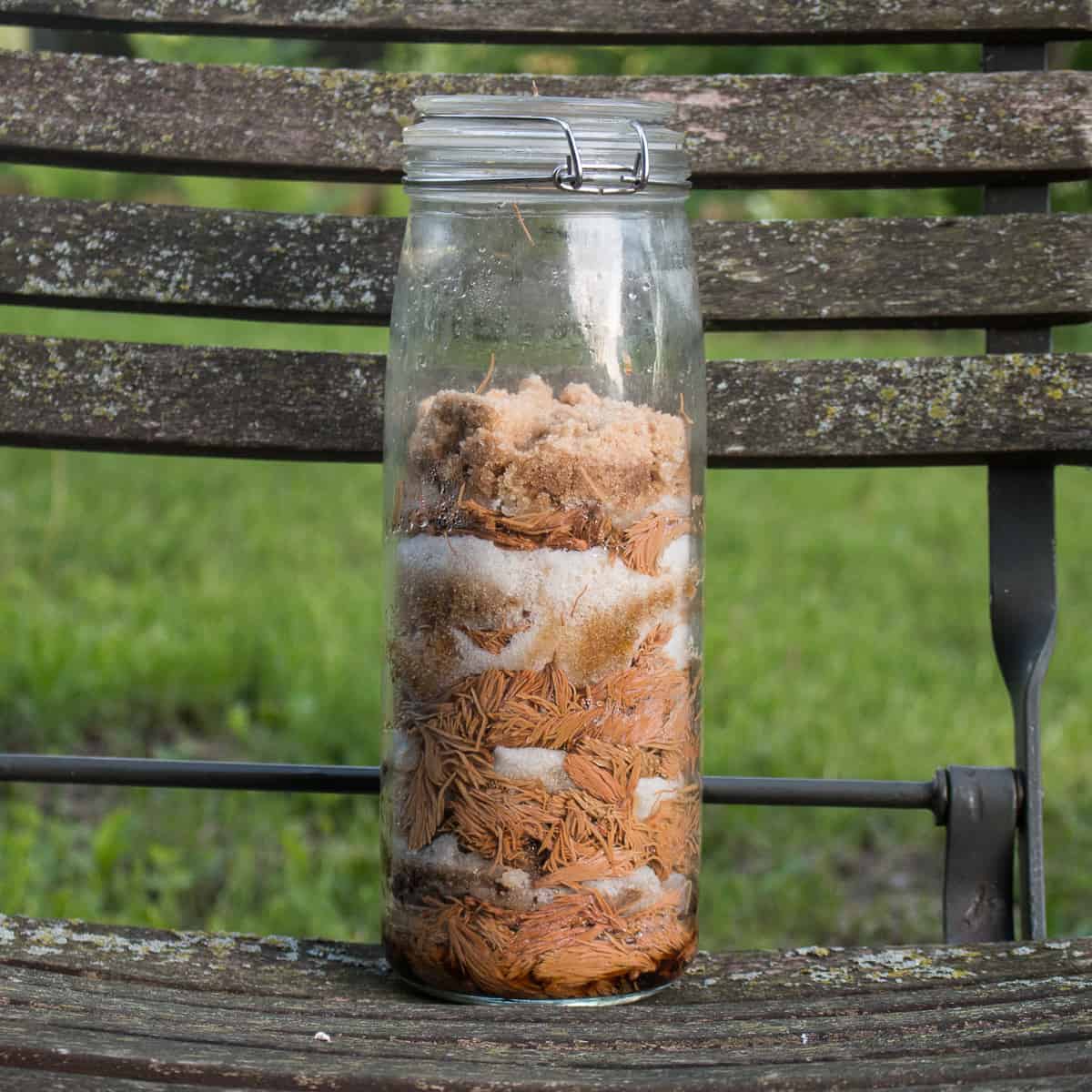 No white sugar
It might surprise you (as it did me) but the type of sugar is really important here.
Originally I almost wrote this method off as a technique, since I'd put jars and jars up of spruce tips and sugar at the restaurant, only to be left with a syrup that was just ok.
Over the years I've watched more than one chef make the exact same mistake. We assume that white sugar would be better, maybe cleaner somehow, but it isn't. The secret is all about harnessing aromas, specifically giving aromas a place to go. Aromas like spruce are very water soluble.
The magic happens when the natural moisture from the spruce tips seeps into the sugar, making a watery slurry which can absorb aromas better than a thick mat of sugar.
Brown or organic sugar are what you want here for two reasons: 1, the color of the finished syrup is more attractive. 2. Brown sugar contains more moisture than white, and more moisture, means a more aromatic syrup. Makes sense, right?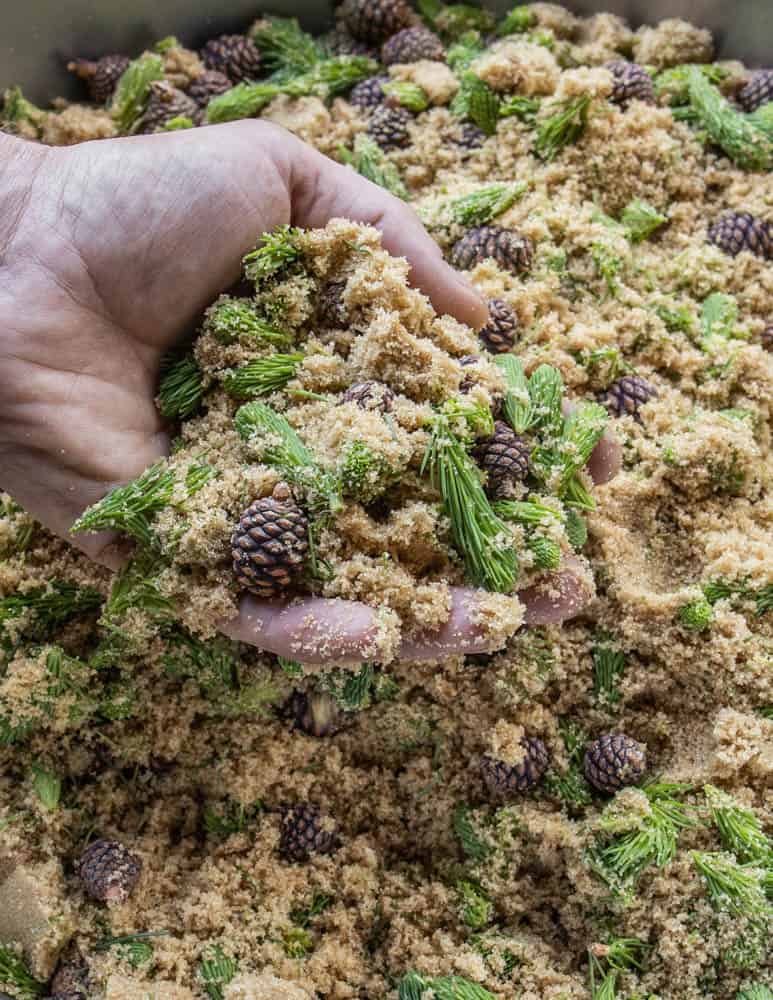 How I use it
No rocket science here. This is a sweet syrup, perfect in place of maple syrup on pancakes or anywhere you'd use maple.
It's also good with other things with it's sharp piney aroma. Here's a few examples of how I'd it.
With cheese. Soft cheese, especially goat cheese, loves the piney kick of spruce syrup, maple on the other hand, might be a little bland.
Drizzled on crepes filled with berries and cream cheese (an old brunch dish I used to run worth revisiting).
With thick yogurt. I often eat a bowl of granola and thick greek yogurt for breakfast, and drizzling on some spruce syrup, along with a handful of berries makes for a great meal.
As a glaze for meats. Think ham, etc. A tablespoon per 1.5 lbs or so meat like fatty ground pork can make a nice breakfast sausage too.
Lining flan molds. Sometimes I'll add a drizzle of honey to the molds of a panna cotta or flan instead of caramel, and spruce syrup works just as good, it will turn into a natural sauce when the custard is unmolded.
Beverage sweetener. Think lemonade, drinks, etc.
Tossed with unsweetened, fresh fruit instead of sugar. Sometimes for dessert I might want just some fresh raspberries tossed with sugar and a dollop of whipped cream. Fresh berries tossed with spruce syrup will eventually give up some of their own juice and make a sort of natural sauce.
Not a 1:1 sugar substitute
Spruce tip syrup is some sweet stuff, and over the years I've seen a couple friends of mine make some very, very sweet desserts (by mistake) using it.
While it might be tempting to say, flavor some ice cream with it, it can be difficult to get it right. Don't use it as a 1:1 substitute for sugar as it's more sweet. Mostly, think drizzle.
Vacuum sealed syrup
A jar with sugar and spruce tips is the old way, and it's a good one, but for those of you who have vacuum sealers, know that you can do the same thing sealed in a bag.
The benefit of this method is that there's no glass and pressure to worry about as the mixture ferments, the drawback being that it can be a little more awkward to pour from, and some people eschew plastic.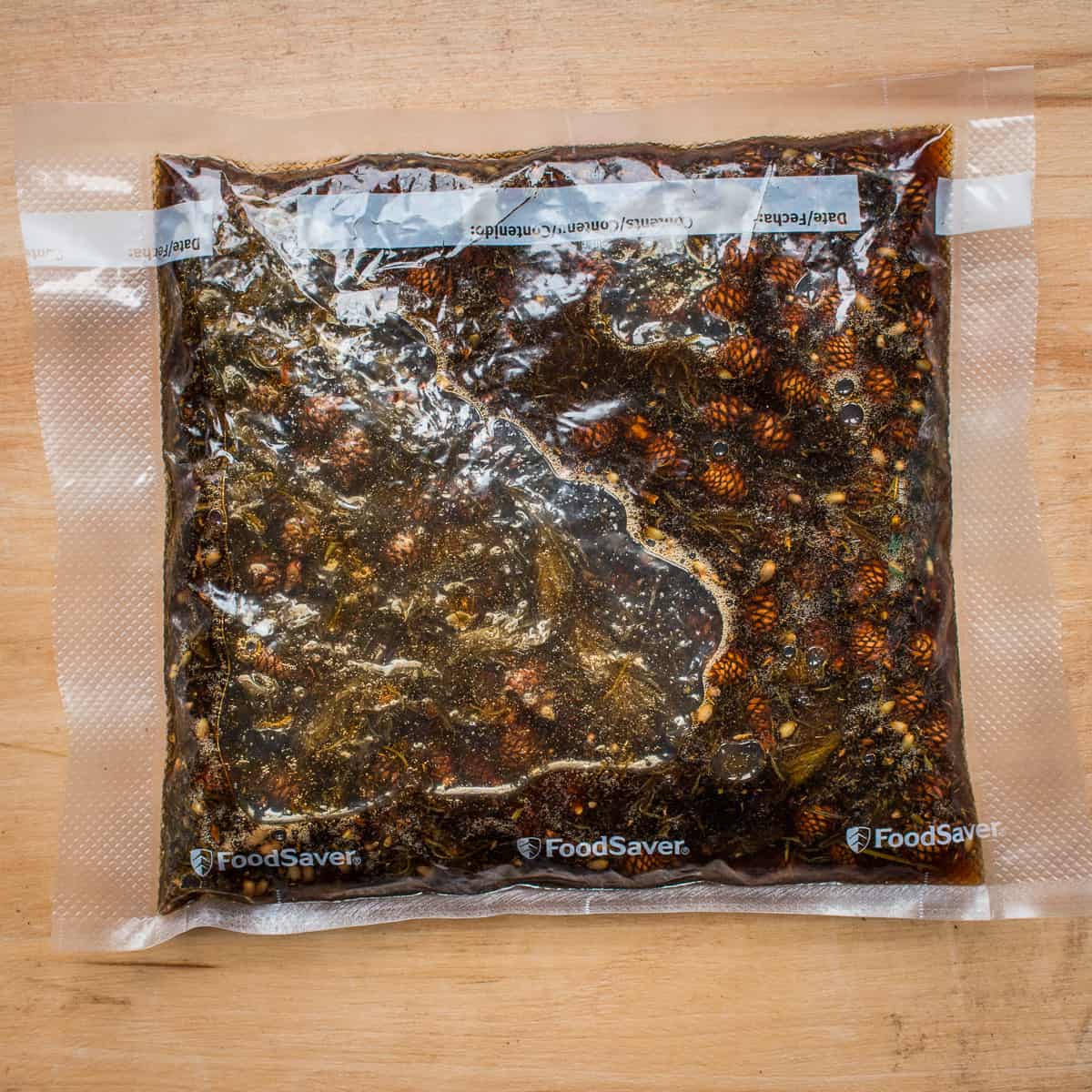 The mixture below was a version with a number of different local herbs, including young pine cones, which are pretty popular in some groups. Before you go making your own franken-syrup though, I'd urge you to make the simple spruce syrup outlined in this post.
I've made a lot of variations on conifer syrups, and other things, and the jist is anyone can take a bunch of random things, mix them in a jar and call it forest syrup, but, that doesn't mean the end product will be something you like.
Personally I like to keep the syrups pure, so I can taste the base ingredient. My advice is to keep it simple at first--less is more. There's a reason the experimental syrup below doesn't have a recipe to try that I like, yet.
Using Pine Tips
Yes, you can use the young, tender tips of pine trees too, it works out just fine, but has a slightly different, and often more resinous flavor (I've only used red pine).
You can also use pine cones, but they contain more water in their green stage, which makes the syrup ferment, making it a slightly different product. Pine cone syrup generally tastes much stronger than spruce syrup too. See more about using pine cones specifically in my post on Pine Cone Mugolio Syrup.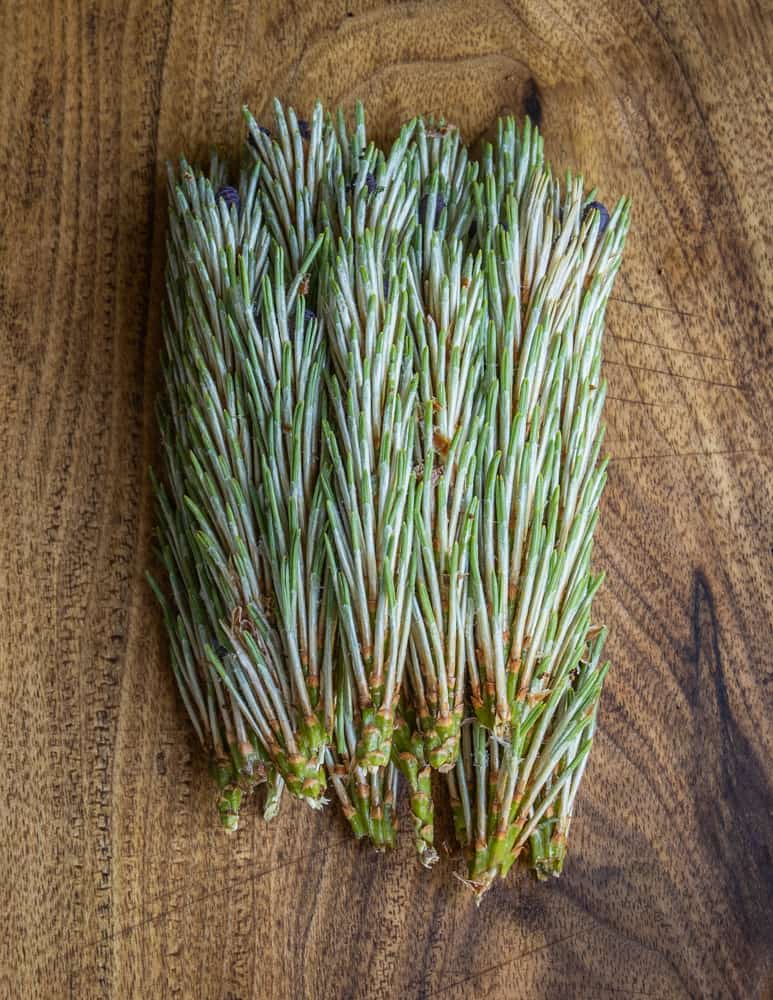 Using alternate sweeteners (honey, maple)
After I put up the original recipe here there's been a number of comments inquiring about using different sweeteners like honey and maple syrup. After testing a few batches I can tell you that, absolutely, it works, and it's fantastic.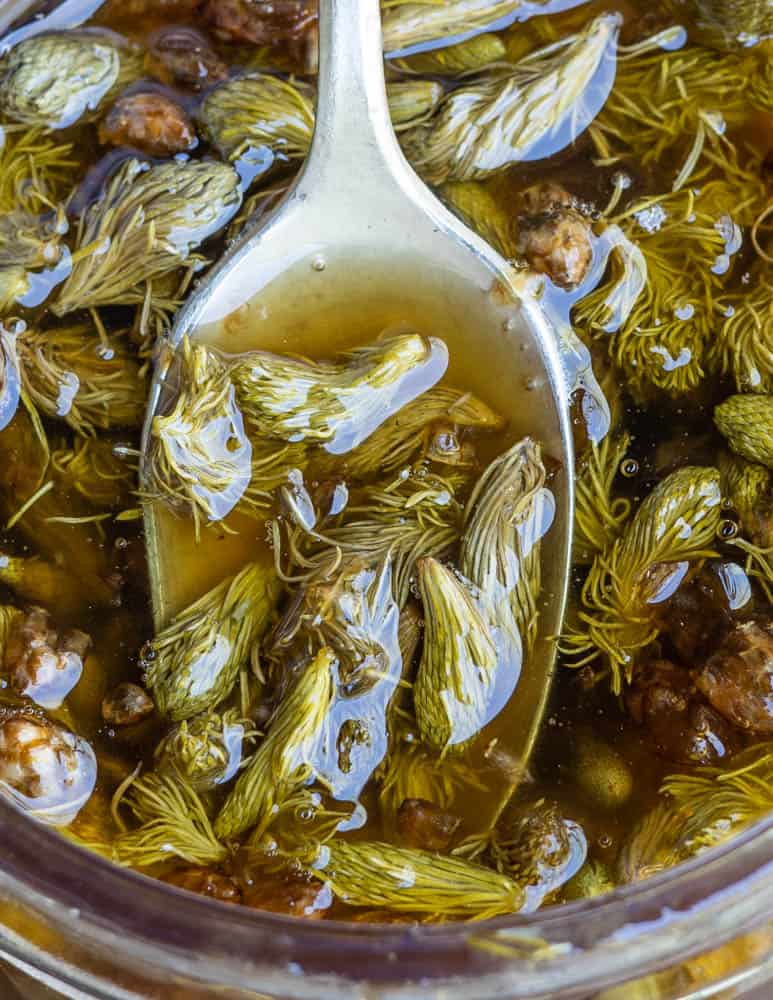 The ratios are slightly different, and the finished syrup will be a bit looser (especially maple as it contains more water than honey) so you may want to reduce it a bit longer than the traditional syrup.
The flavor of alternate sweeteners is very good though, and it's a good alternative to using conventional sugar if you're trying to not consume too much of it, as many of us are.
Fermented Spruce Tip Syrup
The big difference between Spruce Tip Syrup and Mugolio (pine cone syrup) is that green pine cones contain more water than spruce tips, which allow the mixture to lacto-ferment and develop different flavors.
Fermented spruce syrup is good, but is slightly different than the most traditional version I know of I'm sharing here.
To make your syrup ferment, add ½ cup (4 oz) water to the basic proportions below, or just enough water so that the spruce tips are just barely covered with liquid from the get-go. Anywhere from ⅓ to ½ cup of water will do the trick.
Making Large Batches
I occasionally make very large batches of syrup, 2 or 3 gallons at a time. Here's a few tips on doing that if it's something you're interested in, especially as this is such a fun (also cheap) and interesting thing to give as gifts. The tips below are intended for those people making 1 gallon batches and up at a time.
Dealing with foam
When you cook large quantities of syrup, it will begin to froth and foam at the top and will double in size quickly. Here's how to deal with that.
After you bring the syrup mixture to a simmer and strain, put it back in the pot and bring it to a simmer again, then turn off the heat.
Next, let it rest for a minute or two so the syrup can settle and return to it's original volume. If you don't do this, you run the risk of having jars that are half full after settling.
Next, fill the jars nearly to the brim with piping hot syrup, leaving about ⅛ inch headspace.
Working quickly, screw on the lids tight and turn the jars upside down, then allow to cool.
You don't have to water bath-process this as it's basically the same sugar concentration as maple syrup, just make sure your jars are very clean. The jars will seal naturally but should be refrigerated after opening.
My syrup has mold
Spruce syrup is more temperamental than pine cone syrup, likely from the difference in ambient temperature people in different locations may have. Spruce tips don't contain as much water as pine cones either, which means the syrup won't ferment, which lowers the pH. Keep in mind a little white mold is harmless, and the finishing step of cooking also kills bacteria. That being said, if you leave white mold and don't remove it, it can harm the flavor.
If you see any mold on the top of your mixture, here's what you can do.
Pick the mold off and discard, then blot the inside of the jar and the top of the tips with a cloth wet with white vinegar.
Adding water will make the syrup ferment, lowering the pH and making it inhospitable to bacteria. Refer to my directions for fermented syrup above.
Vacuum sealing the mixture before aging. Refer to my notes above.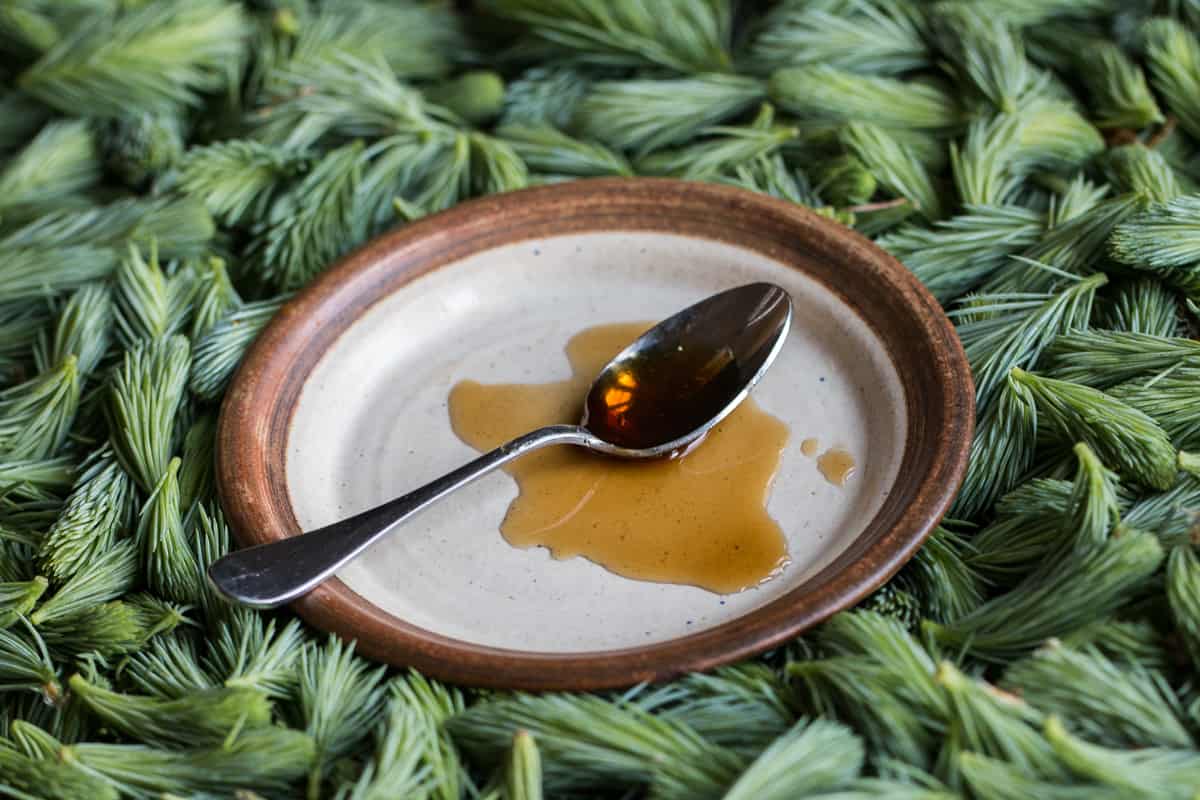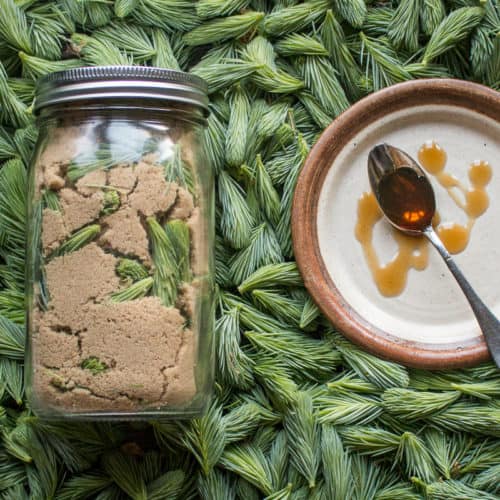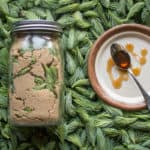 Print Recipe
Classic Spruce Tip Syrup
Rich, aromatic syrup made from spruce tips and sugar aged in the sun. Yields about 2 cups of finished syrup. For large batches, note that all you're doing is combining the spruce tips with twice their weight in sugar.
Ingredients
2.5

cups

(8oz) Spruce tips

2

cups

(16 oz) Brown or organic sugar
Instructions
Combine the spruce tips and sugar and pack the mixture into a quart jar.

Leave the jar out, putting it in a place where the sun will warm it each day. I've left them outside without issues. The warmth of the sun will help prevent mold.

You'll notice the volume of ingredients decrease as the spruce tips release their liquid. If you have more spruce tips and sugar, feel free to add mores in the same raitos-this will lower the amount of air in the jar and defend against mold.

Keep the jar like this for 1 month, or for an old school version, bury it in the ground and dig it up the next spring. Stir the jars occasionally, pressing the tips down to keep them under the syrup with a clean spoon.
To make the syrup
After the initial maceration (aging with sugar) pour and scrape the spruce-sugar slush into a pot.

Bring the mixture to a boil to dissolve the sugar, strain, then bottle and store. Discard the spent tips, and thank them for their service.

If for some reason, your syrup is a bit thick after cooling (over-reducing can stiffen or crystalize in the fridge) warm it back up and carefully adjust the consistency by adding a touch of water.
Storing the finished syrup
Store the finished syrup in the fridge. To preserve it long term (it's totally safe as it's basically all sugar) pour it boiling hot into a jar nearly to the brim, turn upside down and allow to seal, or process in a water bath in mason jars. If held at room temp after opening mold may form on the top, but it can always be re-boiled and refrigerated. This is a very stable product and will last like maple syrup in the fridge-near indefinitely.
Notes
On storage
The syrup is shelf stable and safe as-is, but if you want to preserve it in jars at room temperature, boil it, then pour into jars, turn them upside down, and wait for them to seal. You can also just store it in the fridge. If you store it at room temperature, the flavor will slowly diminish over time.
Spruce Honey or Maple Syrup 
If you want to make this with honey or maple syrup, use the below proportions and proceed as directed. The mixture will ferment as there is a higher water content, which is fine. 
3 oz (90g) 1 generous cup spruce tips
1 lb (1.3 cups) honey or maple syrup 
Nutrition
Serving:
1
tablespoon
|
Calories:
52
kcal
|
Carbohydrates:
13
g
|
Protein:
0.02
g
|
Sodium:
4
mg
|
Potassium:
18
mg
|
Sugar:
13
g
|
Calcium:
11
mg
|
Iron:
0.1
mg
More