When I was planning my spring hunt with Chris Bohnhoff last year, we made a dinner to be part of the video. As luck would have it though, the day was rainy and the lighting inside wasn't up to scratch, so our dinner didn't make the footage.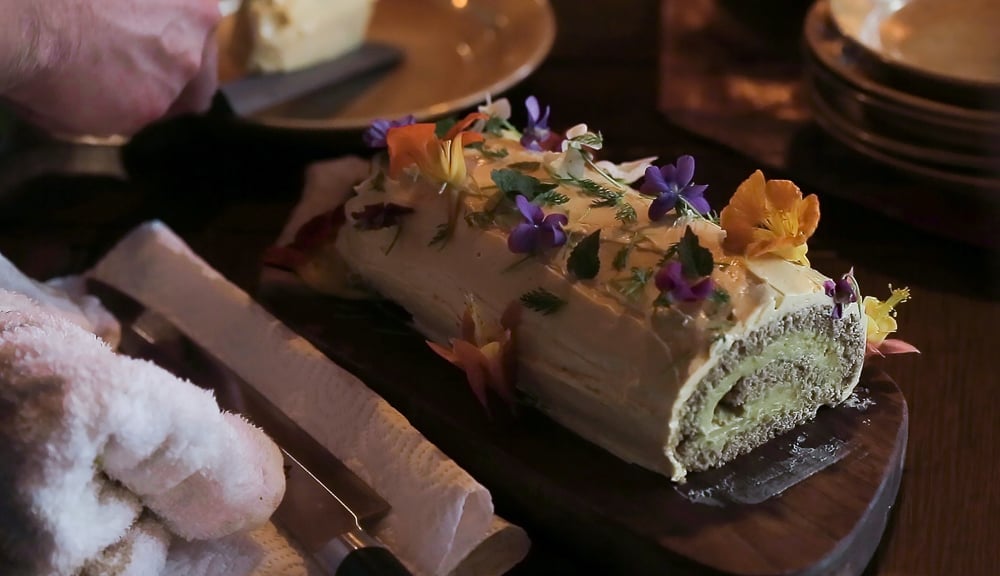 We had a risotto of fresh morels, spruce cured salmon with a fiddlehead salad and lamb loins marinated in wild peppermint. The dinner was just fine, but what I put the most work into was the dessert. I wanted to make something that represented the farm that's taught me so much about the wild foods where I live.
I dreamed up a wild rice sponge rolled around a mousse of knotweed from the garden, frosted with a buttercream sweetened with the farm's maple syrup and garnished with wildflowers and herbs from the prairie on top of the nearby bluff. It took four or five tries for me to be happy with it, but in the end it was worth it. It's a dessert, and an expression of what I've come to love about the farm.
The cake itself is really not too difficult, the wild rice sponge and mousse are just two easy recipes combined and the frosting/garnishing are optional, but pretty. Here's how I made it.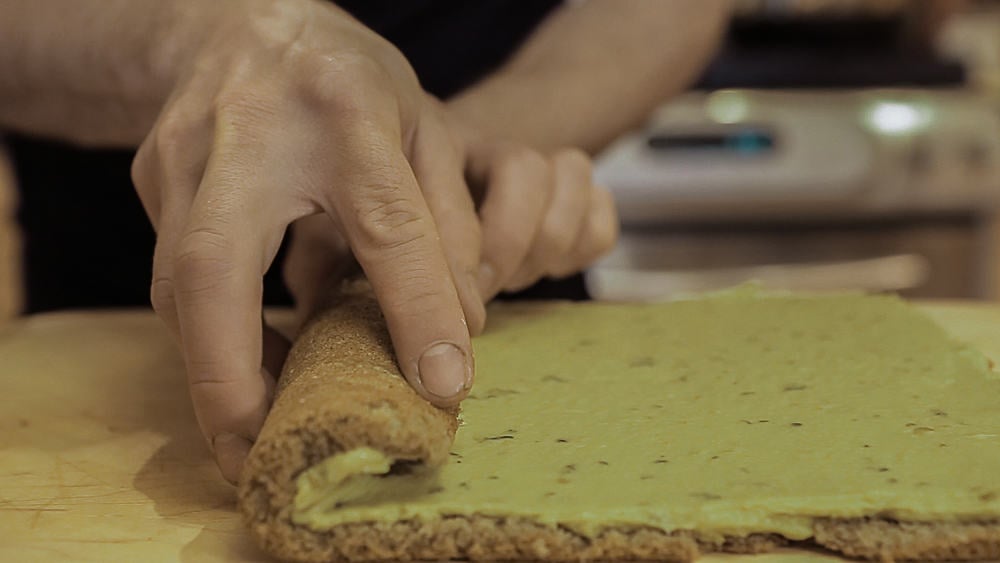 To show a little of the possibilities. I worked on a simpler version with rhubarb sauce, since it and the knotweed are distant cousins and taste eerily similar.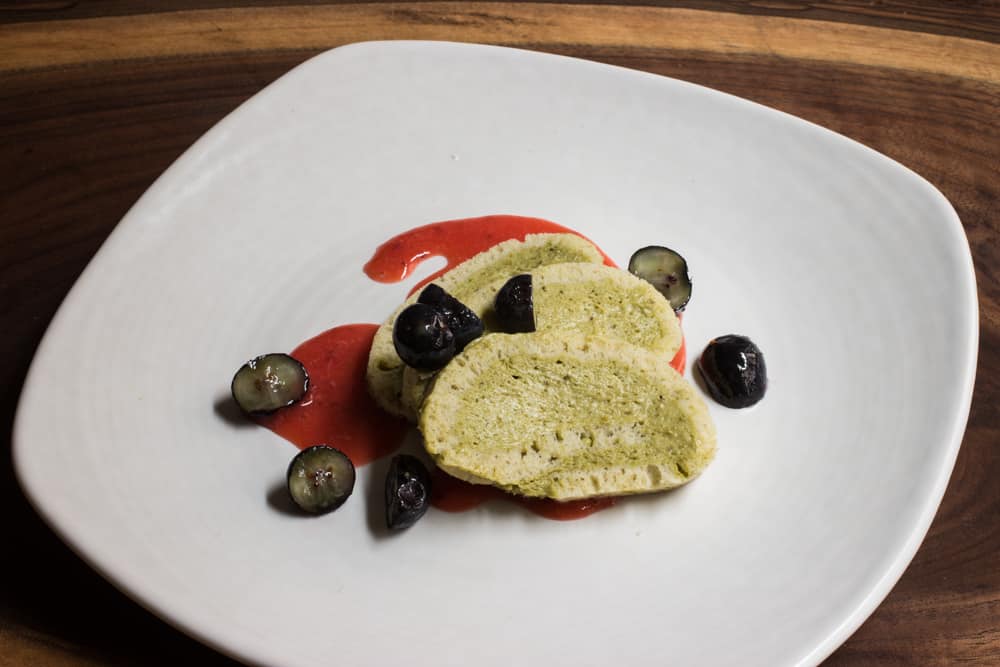 I've listed the 3 sub-recipes for the cake below. To assemble it or something like it, you'll want to make the cake first, then stuff with the mousse, roll and chill to set. Before serving, frost it with the butter cream, then decorate with the flowers (if using) just before serving.
Special thanks to Chris Bohnhoff for shots of the assembly and the frosted cake.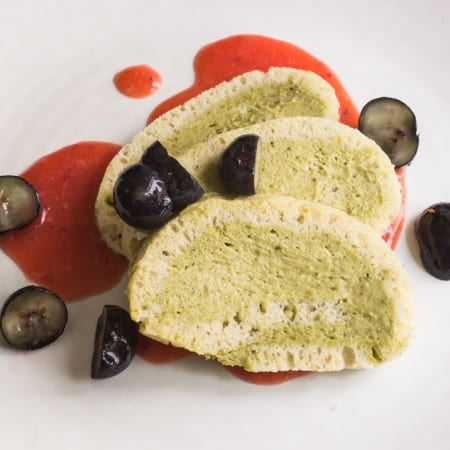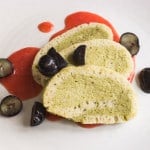 Print Recipe
Wild Rice Sponge Cake
A rolled cake made of wild rice flour with knotweed filling
Ingredients
4

large eggs

½

cup

white sugar

¾

cup

wild rice flour

2

ounces

½ stick unsalted butter

Pinch

of salt

1

teaspoon

of equal parts toasted and ground: cinnamon

nutmeg, allspice, and cloves (optional)

½

teaspoon

powdered ginger

Pinch

of salt
Instructions
Preheat an oven to 350. Melt the butter. In a stand mixer or bowl, beat the eggs with the sugar until light, fluffy, and doubled in volume, fold in the spices, salt, and wild rice flour, along with the melted butter. Line a cookie sheet with parchment and oil it to prevent sticking. Pour in the batter and spread until smooth. Bake the sponge for 12 minutes, then allow to cool for a minute or two. lay a towel on a flat surface, then, very carefully lay the sponge cake on top, removing the parchment. Roll the sponge cake up in the towel to help it form the jelly roll shape it will become. If it tears a bit, don't worry, you can cover it up with butter cream later, or just slice as-is, it won't be too noticeable.
Notes
Instead of knotweed, you could easily make this with a puree of cooked berries or jam. A buttercream flavored with orange, mint, vanilla, or a combination would be great too. You can definitely substitute all purpose flour or a combination of nut flours for the wild rice flour too, which yields a more resilient cake.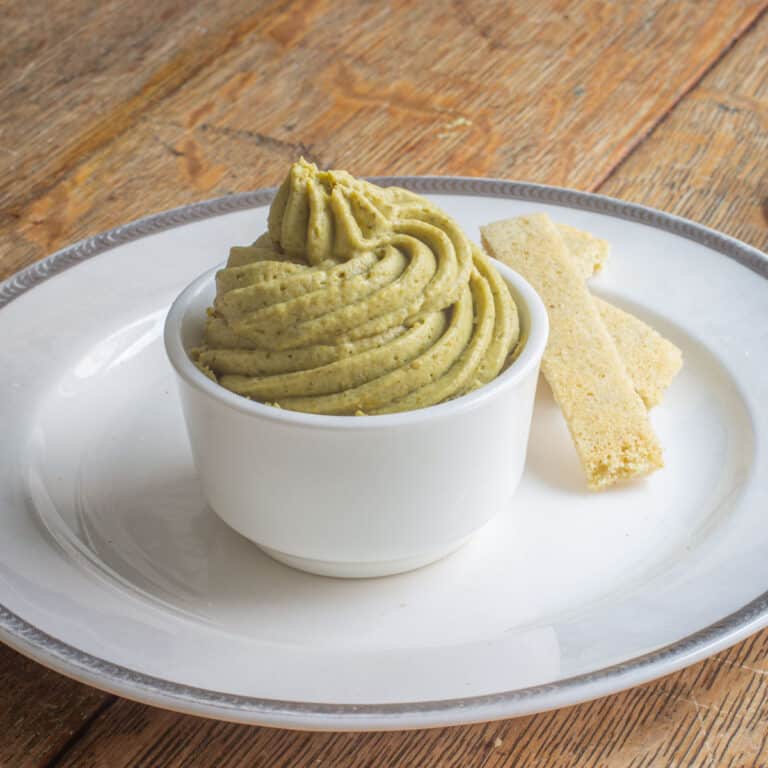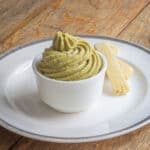 Print Recipe
Knotweed Mousse
Makes enough mousse to fill the wild rice cake, or serve 4-6 on it's own with fruit
Ingredients
2

cups

sweetened knotweed puree

see my recipe here

4

leaves

gelatin

1.25 tablespoons powdered gelatin can be substituted

3

egg whites

whipped until stiff with ⅛ cup white sugar

2

tablespoons

roughly chopped wild peppermint

optional
Instructions
Bloom the gelatin in ice water until soft, then gently heat the knotweed puree and whisk in the gelatin until dissolved. Chill the mixture, whisk to relax the gelatin, then fold in the beaten egg whites and wild mint. Chill again, covered with plastic wrap until ready to use/serve.
Notes
Sweetened knotweed puree (see my recipe here)
Maple Buttercream
Ingredients
½

cup

maple syrup

3

eggs

2

tablespoons

cold water

½

lb

unsalted butter

diced ½ inch

Pinch

of kosher salt
Instructions
Heat the maple syrup and keep warm. Beat the eggs with the water until doubled in volume, then slowly drizzle in the still warm maple syrup, turning the speed to high if you're using a stand mixer.

When all the maple syrup is added, add the butter a couple pieces at a time, until it is all incorporated and the mixture is smooth.

Finally, add the salt, then transfer to a container. Keep the buttercream at room temperature until you're ready to frost the cake. Butter cream can be frozen for months and then allowed to thaw at room temperature and whipped to fluff it up lightly before using.