Smoked venison chili is a great take on the classic. Deer chili is one of the most trusty recipes people who cook game keep around. It's a great place to use a few pounds of ground venison or stew meat: just forget about it in a crock pot and come back to find dinner ready to go.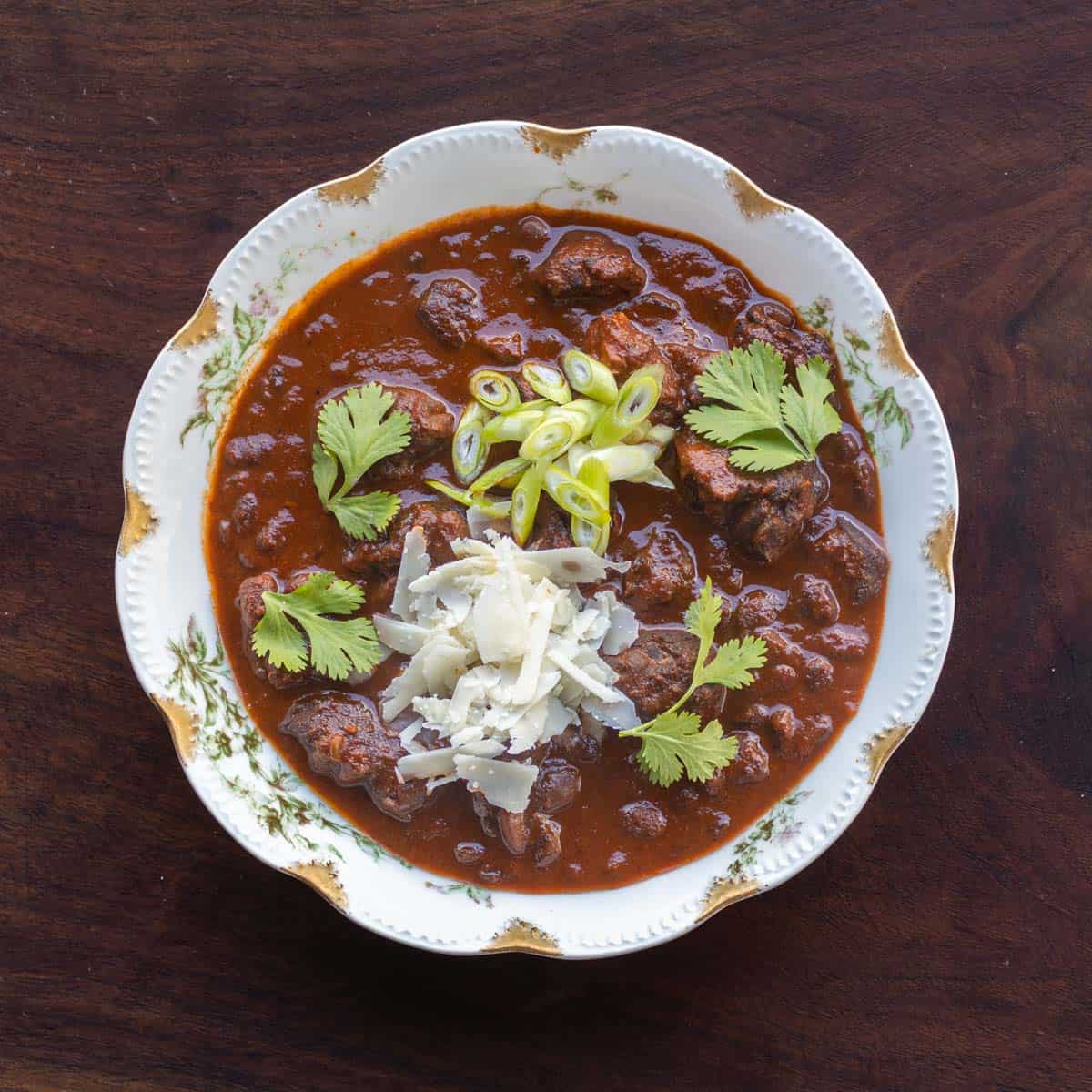 I'm particular about my chili though, and, it might come to a surprise to some people that I don't often use ground meat. I'm not above ground venison chili, and I'll still crush a bowl if you put one in front of me, especially if it has a good handful of grated cheddar and some onions and sour cream on top, but, chili with hunks of meat in it is my preference. That being said, doing a combo with ground and diced meat is fun too.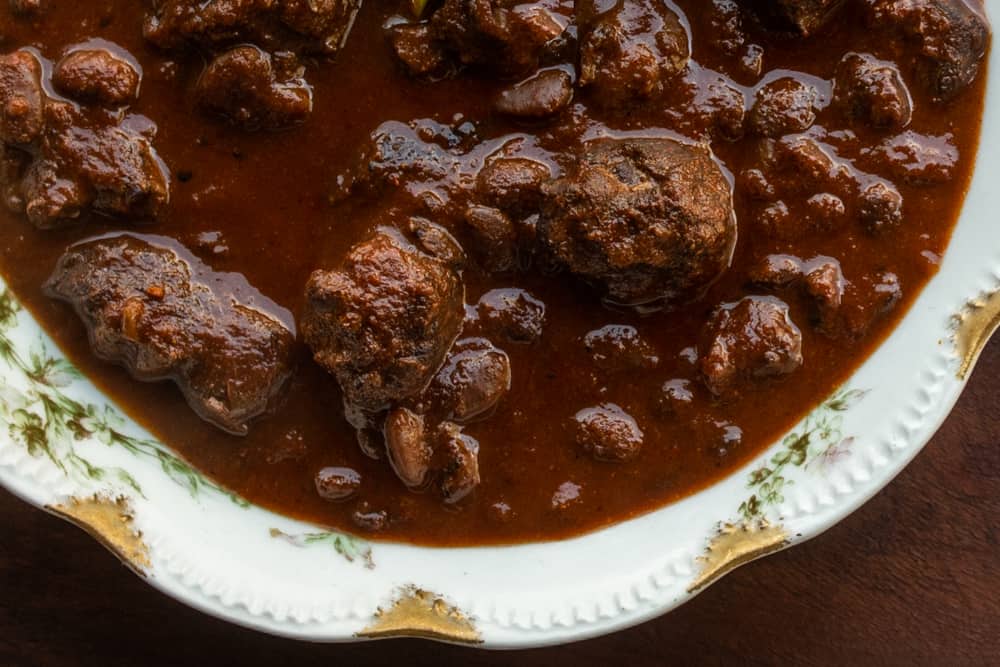 As far as what cut to use, I'll make stews occasionally out of muscles cut from a leg of venison in a pinch, but those muscles are lean, and better for quick cooking, or use as roasts. For a long, slow-cooked stew, what you really want to use is diced shoulder, a shank, or, my favorite: venison neck.
Venison / deer neck is arguably my favorite cut from the beast, and I include backstraps and tenderloins in that. Why? Because it's the ultimate stew and slow-cooking meat. Venison neck is a hard-working muscle, and that means it's got all kinds of fun connective tissue and collagen that breaks down and adds succulence to whatever it's cooked in.
And venison neck is versatile. You can take a fileted deer neck and make something elegant, like the rolled, braised and seared roast I made a video of here. Or, you can simply cut it into pieces and make it into soup, pulled meat, or what have you. It's truly one of the hardest working cuts on the deer, in more ways that one.
For this simple chili, I take a whole (or half, depending on the size of your deer) venison neck, smoke it, then cut it into large pieces and brown it, dice those up, and simmer them with all the usual suspects. It's a great way to use a neck of any similar animal, too, like lamb, goat, pork, or even beef neck if you can manage to find one. Try it the next time you have a chili craving.
Chef's Secret to Browning Meat
Real quick, I have to tell about one of the secrets I use for browning meat. Chili is one of the places where you really want a good, deep browning on your meat, but it is almost impossible to get it browned properly.
The problem is that the meat will give off water and want to steam when ground or cut into pieces. So, the workaround here is one I borrowed from J. Kenji-Lopez Alt in his wonderful book The Food Lab. It's genius! You take your meat and leave it in large pieces, and sear it (my salting and smoking helps here too) then you cut it into pieces after browning, ah voila. Try it.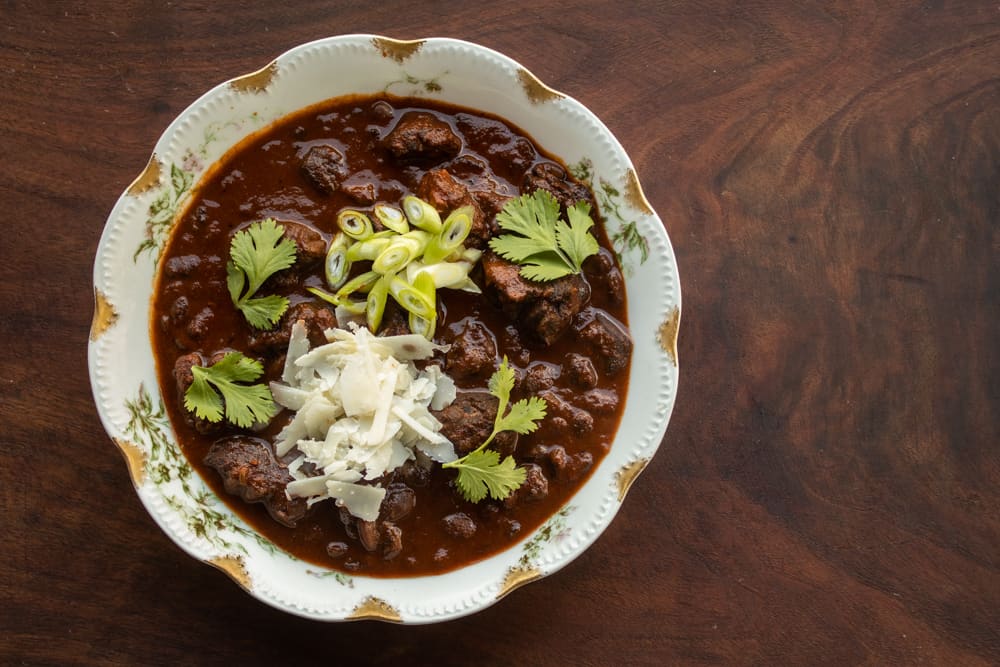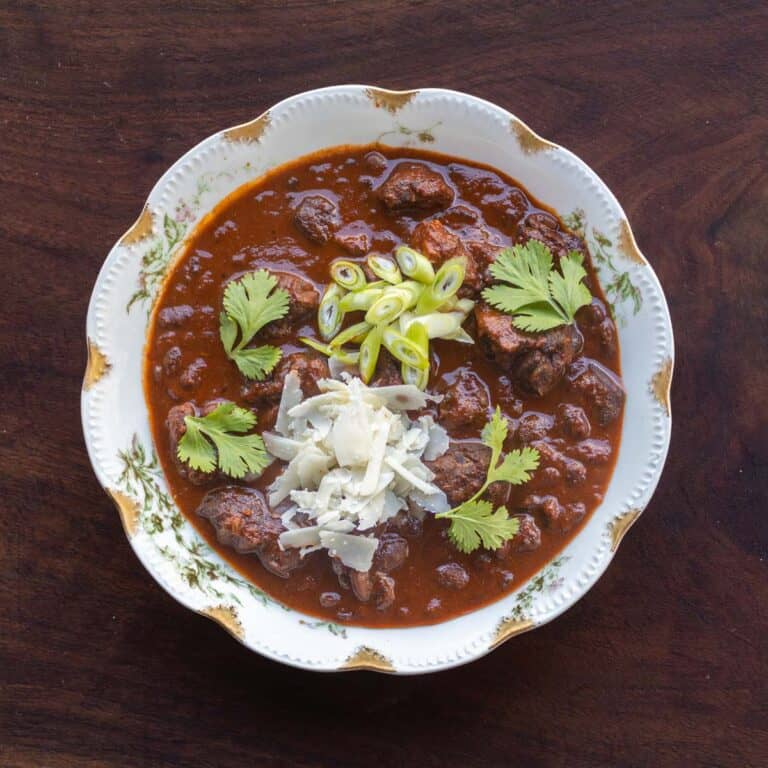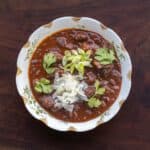 Print Recipe
Smoked Venison Neck Chili
A solid bowl of chili made with smoked venison neck, dried chilis and beans.
Ingredients
Dried Beans
1.5

cups

dried beans

8 oz (I used black Tepary beans from Ramonas)

3

cups

water
Neck
2.5

lbs

venison neck

in one piece

2

teaspoons

salt

plus more to taste

Fresh ground black pepper

to taste
Chili
1 15

oz

can tomato sauce

unseasoned, or use ¼ cup tomato paste thinned with 1.5 cups water

3

tablespoons

venison fat or other lard

1

tablespoon

ground cumin

1

tablespoon

cocoa powder

unsweetened

2

dried bay leaves

2

tablespoons

sweet paprika

4-6

large cloves garlic grated

minced or pressed m

1

large onion

diced ¼ inch or roughly chopped

15

dried chilis

such as ancho, guajillo, pasilla, etc or ½ cup chili powder

4

cups

venison stock or water

warmed
Garnishes (pick and choose your favorites)
Grated quality cheddar

Fresh cilantro

Chopped green or red onion

Sour cream or Mexican crema
Instructions
Soak the beans
Soak the beans overnight in the water, or soak for at least a couple hours by pouring boiling water over them.
Season and Smoke the Venison Neck
Season the neck with the salt and pepper and leave uncovered in the fridge overnight (optional). The next day, smoke the venison neck for 1 hour at 225. Remove the neck from the smoker and cut into large pieces, roughly 8 ounces each, or whatever can fit into the bottom of the pan you'll cook the chili in.
Chilis
Meanwhile, toast the dried chilis in an oven or in a cast iron pan until aromatic, about 5-6 minutes in a 350 F oven. Don't burn them, just toast them a bit. When then chilis cool, they'll be brittle, break them in half and empty out the seeds. Discard the seeds. Take the toasted chilis and crumble them into a blender with the stock, then puree until smooth. Reserve the chili-stock mixture.
Browning the meat and building the chili
Put your game face on, because you're going to brown the venison like it owes you money. Heat the lard in a heavy pan until smoking. Brown the large chunks of neck very well. Crack a beer, heat the pan until it's hot as hell, open a window, use a hood vent or a fan if needed, and take your time.

Once the chunks of meat are well-browned, remove them to cool, then dice into soup chunks.

Add the onion and garlic to the pan and cook for a few minutes more. Add the chili powder, cocoa, cumin and paprika and cook for a minute more. Add the tomato, beans and chili-stock mix, along with the bay leaves. Bring the pot to a simmer, then turn the heat to as low as possible, cover ½ way with a lid, and simmer for 2-3 hours, or until the beans are just tender.
Finishing and serving
From here, double check the seasoning for salt, adjust as needed, and serve with all your favorite fixings. The chili will taste better the day after it's made. Thin it with a splash of water to adjust the consistency if it gets thick on you.
Notes
Cuts of Venison to Use 
I used a smoked neck to make this, but you can substitute an equal weight (more or less) of many different cuts. It's best to use slow cooking cuts here like shoulder, neck, breast or shanks. 
Nutrition
Serving:
8
oz
|
Calories:
478
kcal
|
Carbohydrates:
35
g
|
Protein:
55
g
|
Fat:
13
g
|
Saturated Fat:
3
g
|
Polyunsaturated Fat:
3
g
|
Monounsaturated Fat:
6
g
|
Trans Fat:
0.03
g
|
Cholesterol:
161
mg
|
Sodium:
600
mg
|
Potassium:
700
mg
|
Fiber:
10
g
|
Sugar:
4
g
|
Vitamin A:
1822
IU
|
Vitamin C:
8
mg
|
Calcium:
79
mg
|
Iron:
12
mg