venison / Deer ribs are good to eat, but they take a little practice to get right. If you follow my directions here, you might never throw them out again.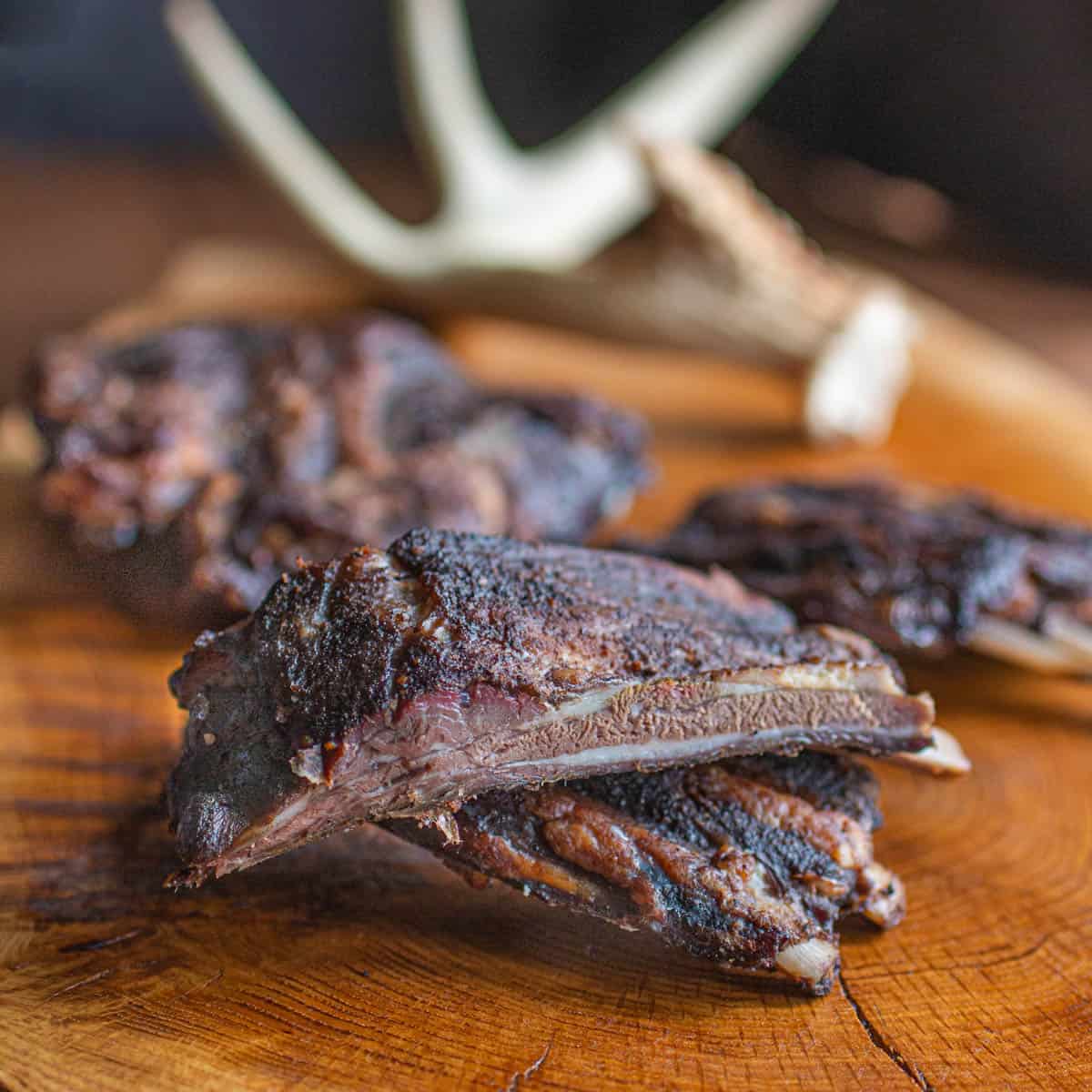 There's a lot of overlooked cuts on a deer, but ribs are probably one of the most commonly left on the carcass or tossed into the coyote pile. It's a shame, since they can be great if they're prepped right, but I also understand why a lot of people don't harvest and cook venison ribs.
1.Cut ribs to a size you can eat
Harvesting the ribs from deer isn't as easy or clean like fileting off a backstrap. You need to have a saw on hand, and with either a hand saw and a sawzall or reciprocating saw (my preference) it's still a challenge to cut nice looking, clean cuts, especially if you're processing your deer alone, as many people still do, including myself more often than not.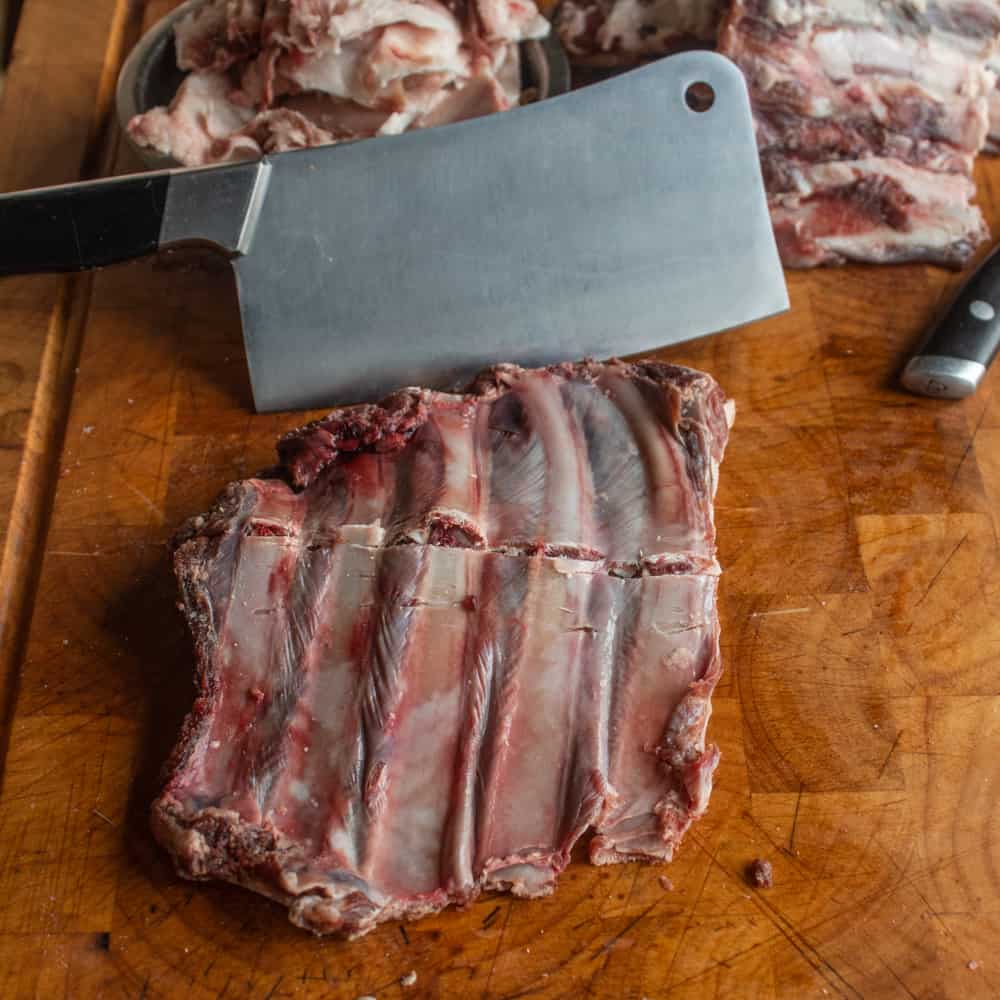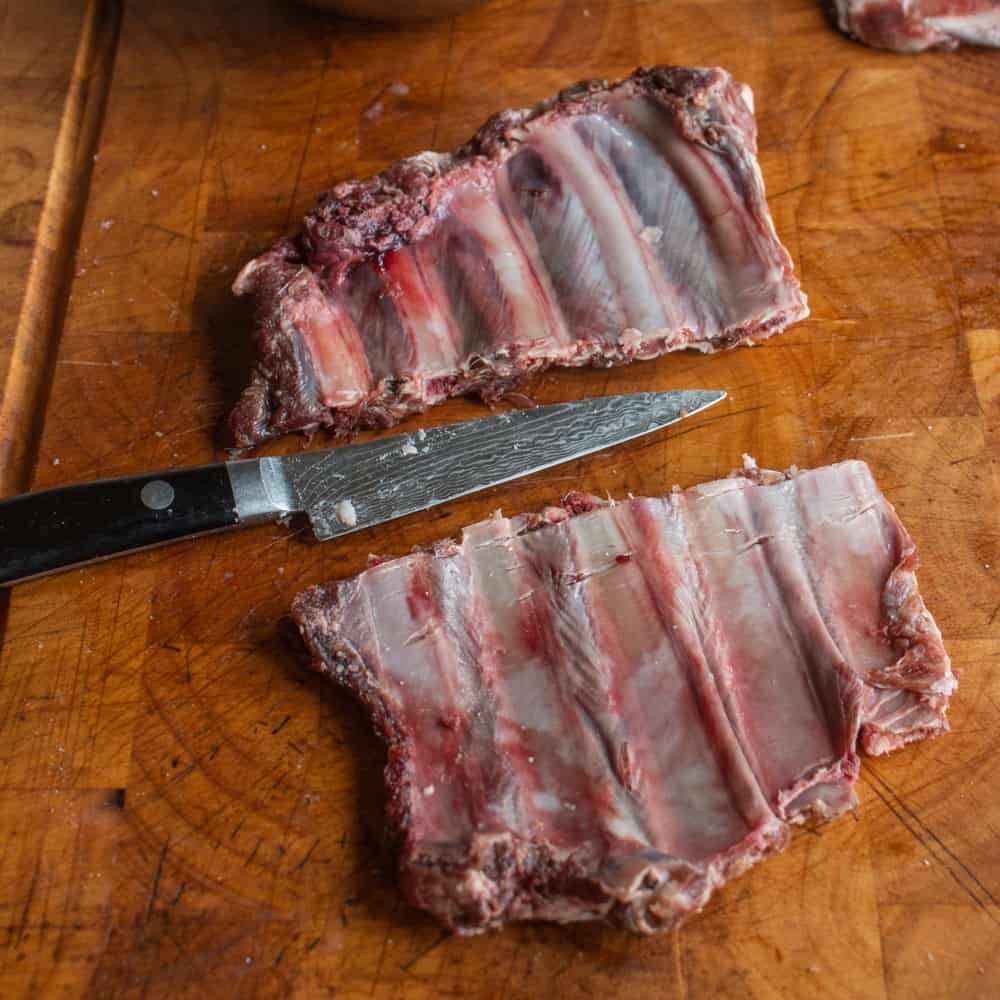 The exact size you cut your deer ribs can be a matter of personal preference, but I will say that just cooking the whole rack like a caveman is sloppy, and is pretty much guaranteed to turn off diners of a more delicate palate, say, a significant other who you may be trying to turn to the wild side, for example. With venison ribs, good things come in small, or at least modest packages.
2.Trim them *really* well
Secondly, venison ribs are generally very lean as far as meat goes, but they have plenty of fat on them, and, unless you like the taste of deer chapstick, or are looking for food that will instantly put you to sleep, you're going to want to trim them, meticulously.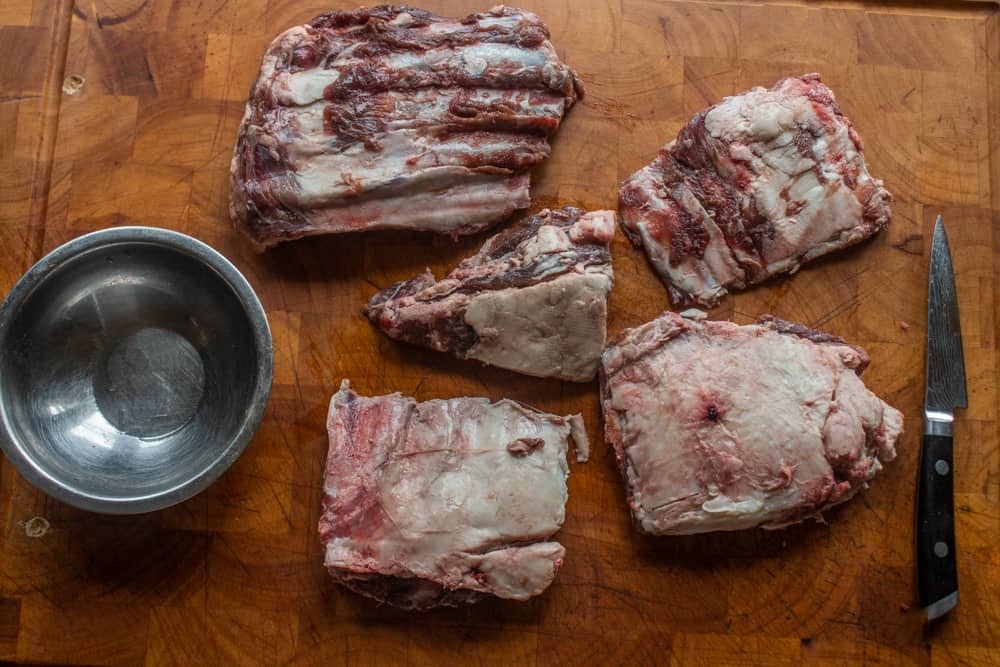 Years of restaurant work (and more importantly diner feedback) taught me a few things. With lamb ribs, there's generally more meat on them but even then, there's a large vein of fat that runs through them that I prefer to trim off.
Diners liked the look of big, bountiful lamb ribs, but when the plates came back, there were always piles of fat and trim that went untouched. Eventually I got the idea to just trim the heck out of them, and it made all the difference. Deer ribs are the same.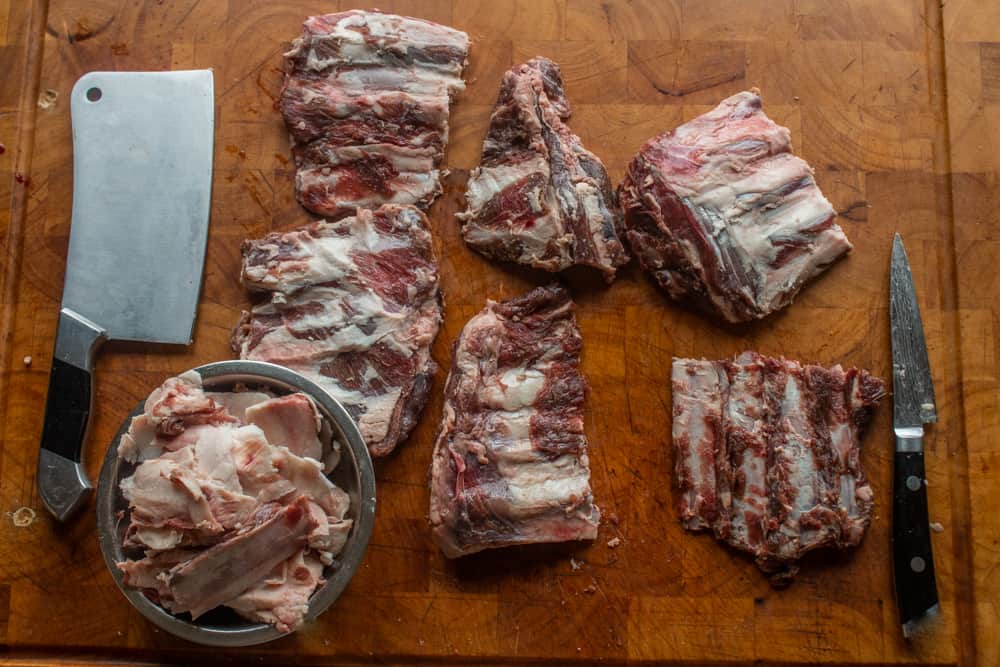 The tricky part though, is that for the best tasting deer ribs, you know, the type where you could sit down and eat an entire rack, you need to trim the ribs of fat really, really well.
After trimming, the racks of ribs you end up with won't really resemble the meaty, chunky pork ribs most people think of when they think ribs. What you get, rather, are ribs that honestly look a little measly, or wimpy, and you might find yourself wondering "where's the meat on these things?!". Patience is a virtue though, and the small amount of meat that's left in between the bones is worth it's weight in gold. Trust me.
3.Remove the membrane (optional)
The other, slightly less-important thing to mention about preparing venison ribs for cooking is the membrane on the side of the ribs that houses the organs. Venison, pork, lamb, beef--whatever ribs you cook will have the membrane, and, for the most professional result, you'll want to remove it.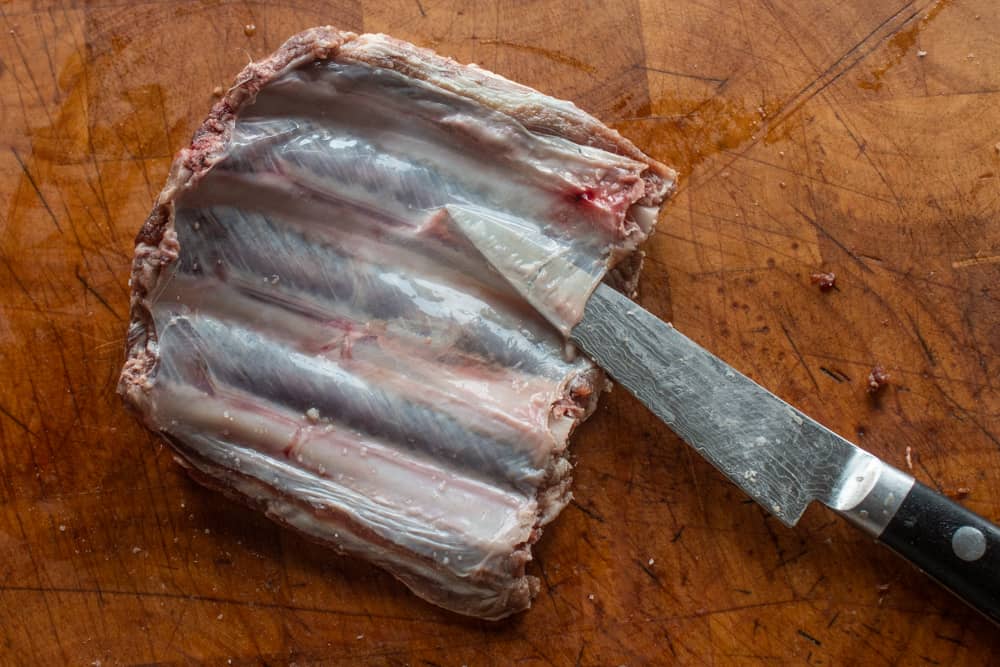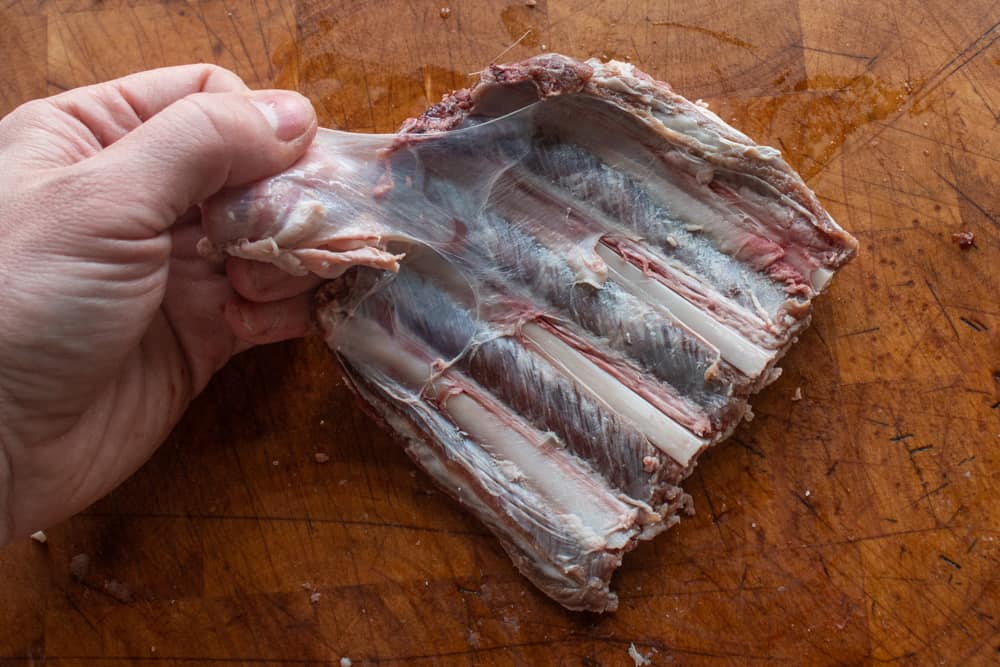 It's not that hard, slip a paring knife under it to loosen it and from there most of it can simply be peeled off with your hands. That being said, many people don't mind the membrane, and, most people won't notice if you can't get them 100% clean. Just something to consider.
4.Use a combo of wet and dry cooking
Lastly, cooking. After trimming the ribs to an inch of their life, you're going to be left with some lean ribs--really lean. Lean enough that if you're not keeping an eye on them, it can be easy for them to dry out. With that in mind, I recommend a slightly different approach to cooking them than pork or lamb ribs, which I generally cook all the way on the smoker.
There's a number of ways you can ensure juicy, tender venison ribs, but here's one of the easiest ways I do it: take the ribs, cut them into small racks about 3-4 bones a piece, then season them up with whatever your poison is (I like my friend Chef Mike Germans 14 Spice, but my blackening spice here would be great too) and let them sit for 12-24 hours in the fridge.
If you don't have time, you can cook them right away, but, the flavor will be much better if you let them sit and dry brine for a bit if you can--even just a couple hours can make a big difference.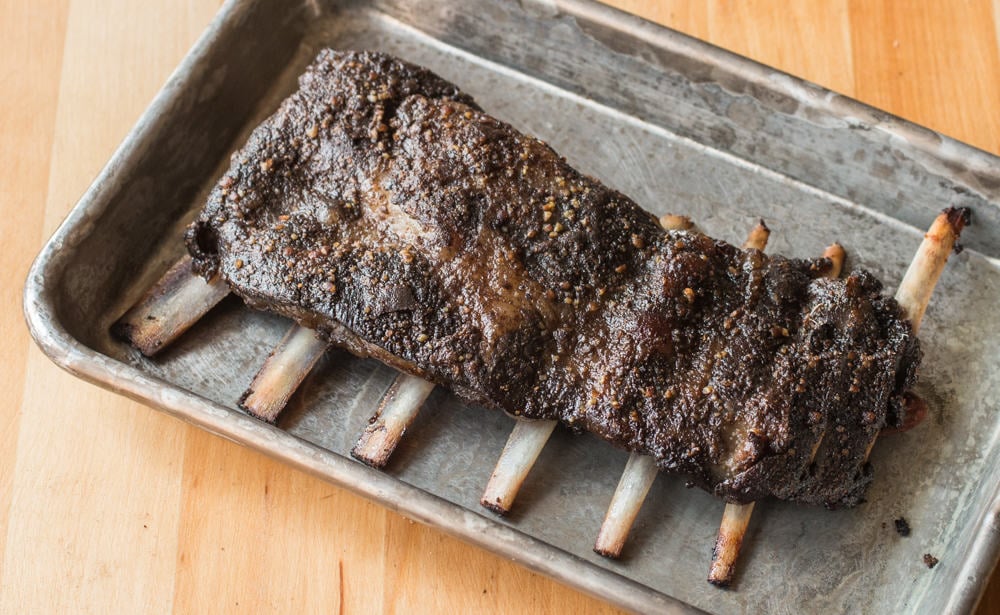 Next, put your ribs on a cookie sheet with a lip on it to prevent drips, top with a piece of parchment, add a splash of water to the pan (½ cup for a standard cookie sheet) wrap in foil, and bake at 250 for 1 hour. Next, remove the ribs, and smoke for another 1.5 hours at 250, or until the meat just barely gives from the bones.
5.Try not to over cook them
I don't like my ribs falling off the bone, and, if you were to enter ribs in a barbecue challenge, you'd get docked point for sloppy, fall-off-the bone ribs. You should have to barely work to pull the meat off.
If you have a way to keep ribs moist while cooking, say by putting a steam tray full of water in the smoker, that can work too, and you wouldn't have to par-cook them in the oven. Like I said, there's a number of ways to baby the ribs while they cook.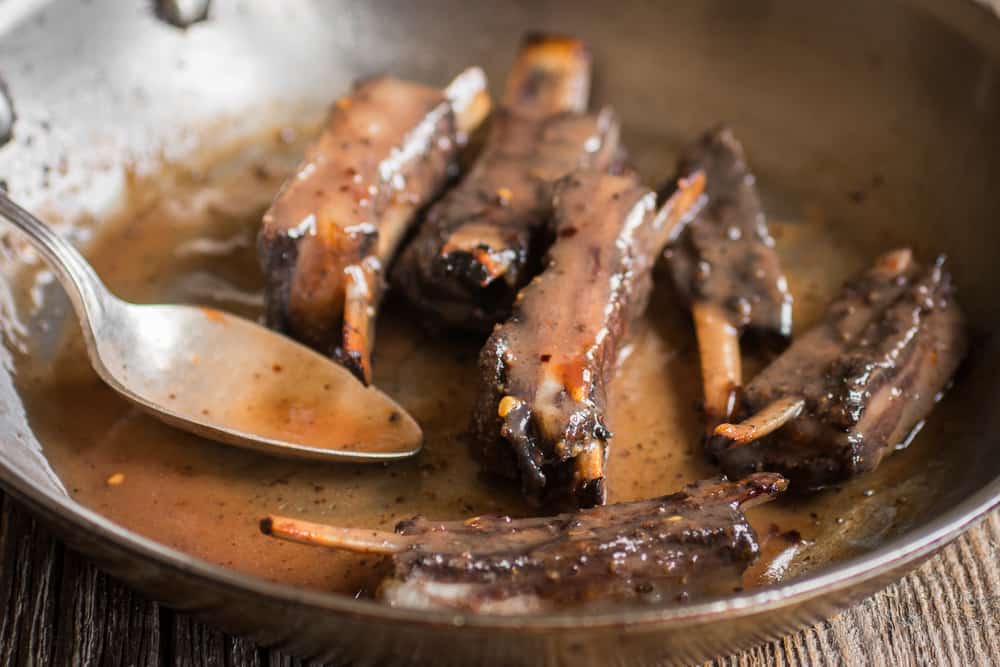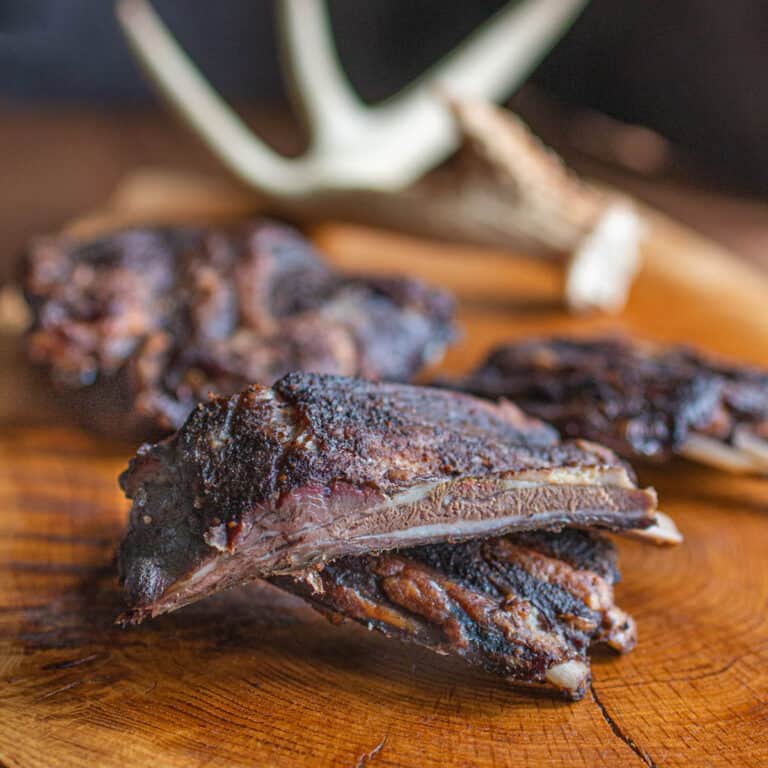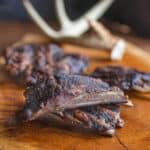 Print Recipe
How to cook venison ribs
A walk-through of how I cook venison ribs
Ingredients
Venison ribs

as needed

Seasonings, like your favorite dry rub, or just salt and pepper
Instructions
Cut the ribs into manageable sections
Using a saw, cut the ribs off the deer into 5-6 inch wide racks. If you took the ribs off in large pieces, you may need to whack them with a cleaver as pictured. This takes some practice.
Trim the fat
Using a trusty paring knife, trim as much fat as you can from the top of the ribs.
Remove the membrane (optional)
Slide the end of a paring knife under the membrane on the underside of the ribs, then pull off and discard the membrane.
Par Cook and Smoke *(See note)
Season the ribs with your preferred seasoning (a like a good dry rub) then refrigerate overnight or at least for a few hours.

Preheat an oven to 250F. Put the ribs on a cookie sheet or tray with a lip to catch liquid, top them with parchment, add ½ cup water to the pan, cover tightly with foil (you want them to steam) and bake for 1 hour. Remove the ribs and smoke for 1.5 hours at 250F, or until the meat barely gives from the bone.

Serve the ribs as-is, or, trim thick ones into single bones, and saute slowly to render out more fat.
Notes
 *If you don't have a smoker, you can cook the ribs all the way in the oven, uncovering them for the last hour to lightly brown them (or turn up the heat a bit).