What kind of tools can chefs not live without? The answers might surprise you. If you know someone that likes to cook and need to get them a gift, or just need something yourself, read on.
Above: a peek into my test kitchen studio. I have oodles of tools, but I've hand picked the most applicable to home scenarios for you here: no fluff, no widgets. Simple, cheap things like a good peeler and a professional pair of tongs that will make you want to cook.
With the holidays coming up, I've gotten a number of requests from readers asking for a list of my favorite kitchen utensils / equipment the cook in their family might like—the little things I swear by that I'd want on a deserted island, you know, that sort of thing.
I don't do many lists here, but I jotted down only the bare essential kitchen gadgets and tools I can't live without for you. If I could buy you something for the holidays, it's probably in here.
So, whether you're looking to treat yourself with a new kitchen tool or utensil, or trying to find a practical gift for that special cook in your life who already has everything (yes, I consider industrial clingfilm a legitimate Christmas gift), I present you, in no particular order: Chef's must-have kitchen tools and equipment. Some of them might surprise you! Most are budget friendly besides the Vitamix. The kitchen humor, is on the house.
Chefs have a spoon fetish, and if there's a spoon you could draw from a stone and hold it into the sky while people cheer your name as you perfectly anoint something with sauce it's the Kunz spoon. Named for the chef that designed it (Gray Kunz), and originally only given to professional chefs who worked in his kitchen, the Kunz spoon has a cult following among chefs. You don't use a Kunz spoon, you wield it.
It's a joy to hold, and so elegant you'll want to put it under your pillow at night, not to mention they're tough as nails and reportedly made with a proportion of adamantium mined in the halls of Moria.
It's not just one of the best utensils for cooking, either: legend has it Kunz spoons were tested so that two chefs, both holding a spoon by the bowl, could pick up a filled, 20 gallon (approximately, read as huge) stock pot, using just the spoon's handles. There used to be a gold plated model, too. Knock-off brand Kunz-style spoons will bend and aren't as good.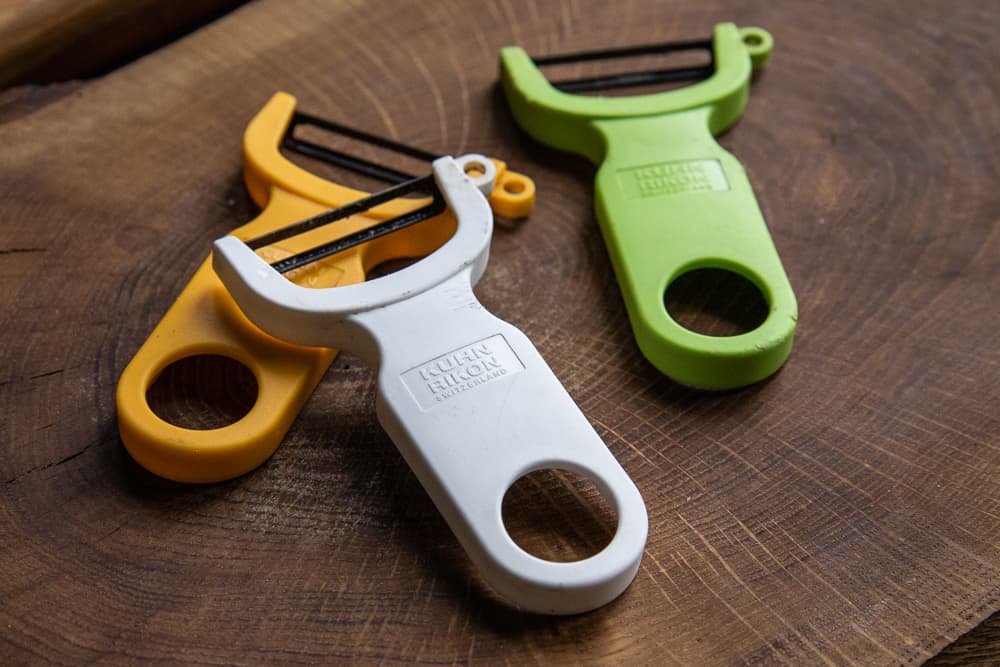 If you've worked in a restaurant, just seeing a pair of Kuhnz just makes you smile. Kuhn Rikon changed the veg peeler game with their sturdy, pleasurable-to-hold, y-shaped peelers that are cheaper than buying your favorite line cook a shift beer and a shot of Jameson.
They're sharp enough that I use them to peel everything from winter squash to hard cheese. Even the most expensive straight vegetable peelers are clumsy and awkward in comparison, and you'll marvel at how such a small tool can improve your utensil lineup. Get the 3 pack and share.
One knife to rule them all. The ol'carbon petty has a spot in the knife block, it's just never in there. Even put up against my other knives, some over 10 times more expensive, this'll be the knife I reach for, if I only get one. 150 mm is the perfect size for most common tasks, and afterword prep, you can take it outside and skin a deer, filet a fish, carve a turkey, shave the cat, or practice cutting carrots into ⅛ inch dice.
And, it's carbon steel. Carbon's sharper than stainless, the only draw back being that it will stain if you don't keep it clean. The bonus is that it's a razor. The blade has a 70/30 bevel, but a knife sharpener will adjust the bevel for you to a standard style for a couple dollars.
Stainless petty knife
If carbon steel sounds like too much, consider a stainless Japanese utility knife from a different brand, like Misono or Yoshihiro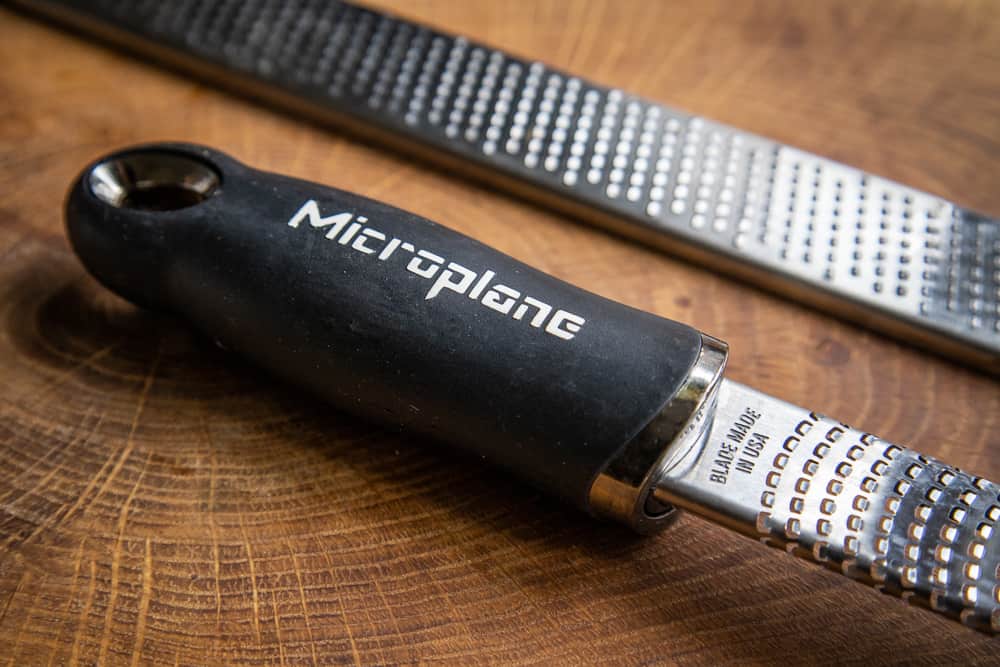 Besides your knuckles, Microplanes can be used to grate just about anything (they were invented by a woodworker). You'll love the cheese clouds and feather light shavings of nutmeg and cinnamon, but the real game changer is grating garlic.
Garlic is stinky, and the juices cling to everything. My favorite's the garlic strawberry trick, where the cook on the salad station forgets to wash his paring knife, giving your dessert dessert that "jous no sais quae". Grate your garlic into whatever you're cooking and never suffer from a stinky cutting board again—just don't use it to grate chocolate afterword.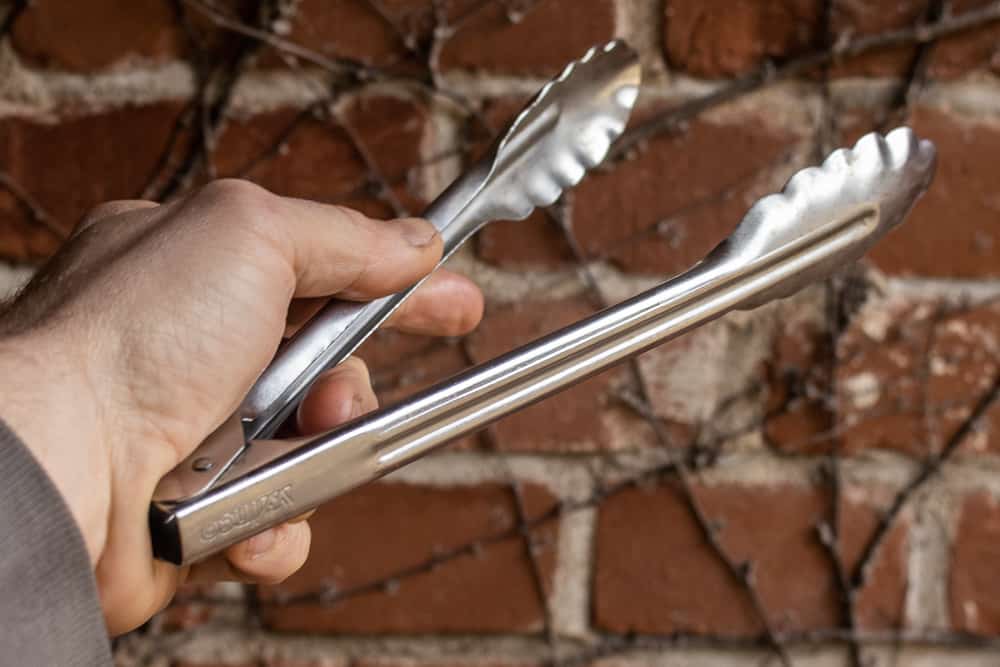 You can judge a cook by their kitchen tongs. If someone's tongs have rubber handles, grips and/or hands on them, I know it's amateur hour, and I won't be expecting anything special from dinner.
Winco is a no-frills, rugged, restaurant industry standard, and these metal arms of precision will become an extension of your body like a dextrous crab-claw-tong-hand you never knew you were missing that feels so right. I use them for everything from grilling and picking up hot pans, to general serving, and, most importantly twirling and plating the perfect bowl of pasta.
Good kitchen tongs are also fun to spin while you wait for orders to come in, or need to retrieve that potato that fell under the fridge. The factory tension in the springs of professional tongs is something you can feel right away, and is strangely pleasing.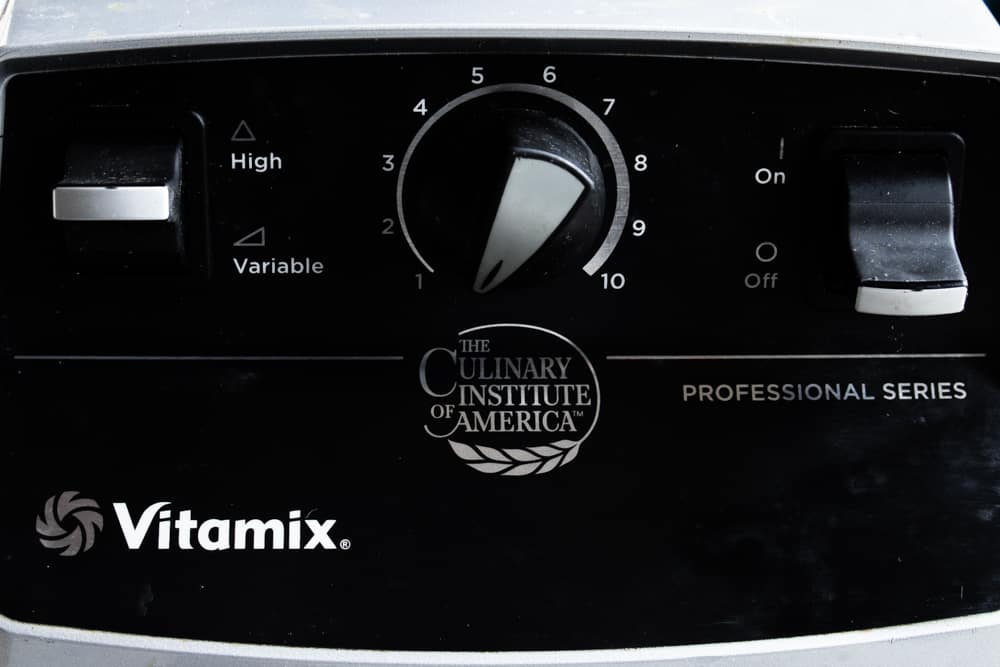 In kitchens I've worked in, this machine, specifically the all-black model, is so loved it's been given names like The Borg, and Black Beauty.
The Vita, in many restaurants, can be the most used tool besides the stove, and in pro kitchens you may have to put your name on the waiting list during prep time just to be able to use it. It's not a blender, it's the greatest piece of professional culinary equipment your home-cooking keester will ever behold!
Ok, I mean sure, it' a blender, but it's an AMAZING blender. It does all the things you want: smoothies, nut milk as smooth as silk, soups and sauces, but, it also purees solid things, like chopped carrots onion and celery for tomato sauce. They even have a special bowl for making flour, or grinding even harder things, like dried acorns, which would demolish normal, mortal blenders.
I use mine to grind pounded hickory nuts, shells and all into a paste to make hickory nut milk. You could probably Office Space your current blender into pieces and use the Vitamix to make it into a smoothie. Ninjas, and other, cheaper models aren't good enough to hold the Vita's jewelry.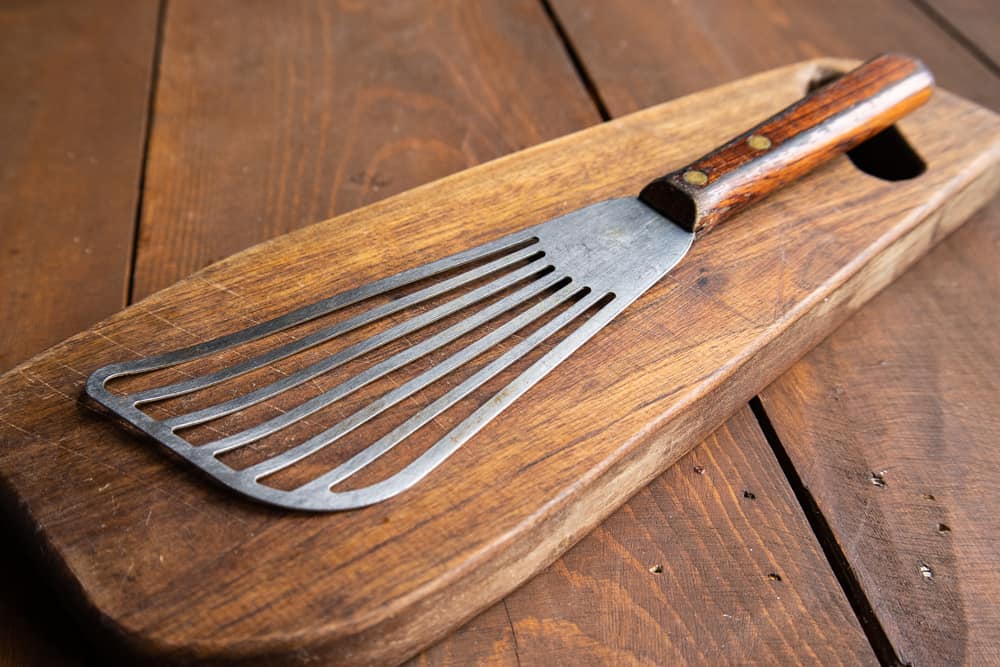 Spatulas are for everything, not just pancakes. Think about the spatulas in your utensil drawer. Are they all plastic? Long handled and awkward? If so, consider throwing them all in the garbage and replacing them with a single decent one.
This is the standard issue, quality fish spatula you'll find in kits given to culinary graduates, since they're relatively cheap, and will last a lifetime. Flexible, dexterous, and perfect for gingerly lifting a thin filet of fish from a pan, chicken breasts, vegetables—you name it—onto a plate. Once you have one, like professional kitchen tongs, it'll become an extension of your hand.
Note: I'm referencing "turning spatulas" here. Professional grade rubber spatulas, especially high-temperature models are useful for baking. For rubber spatulas, you want one like a Vollrath.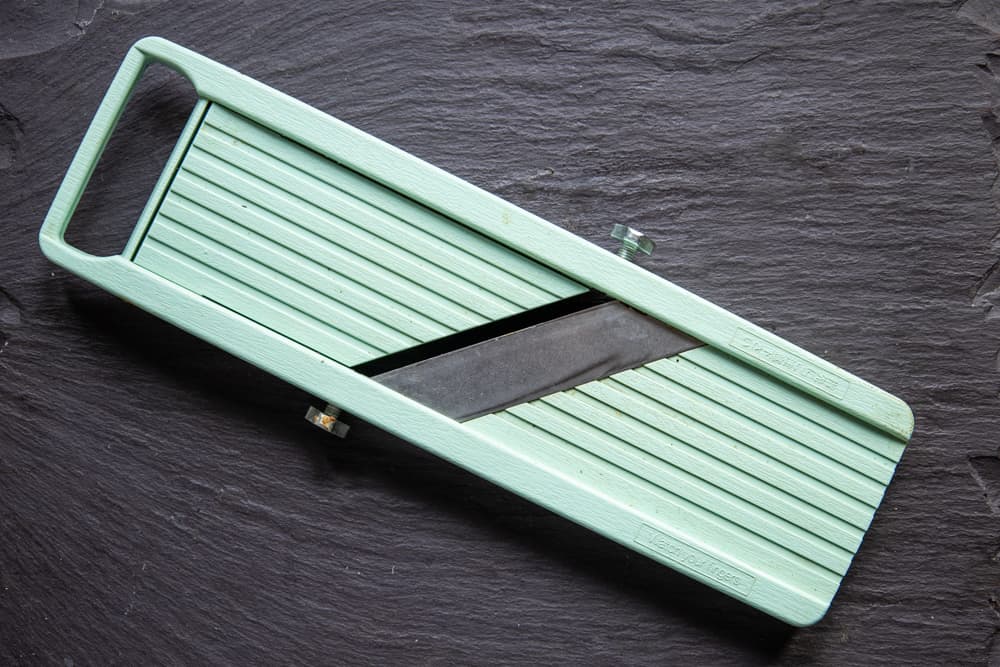 If you don't have a mandoline yet, just buy one and ask questions later. If you're in a pro kitchen, make sure to mark yours since these are one of the most stolen tools of all time in the culinary industry.
A proper mandoline ranks right up there with the Vitamix for tools I use the most, and it's my go to for all kinds of things. The adjustable thickness is effortless to use and turns vegetables into paper thin slices faster than you can say "where did all this blood come from?!".
This is your go-to for making slaw out of everything and everything, shaving paper thin potato slices for that perfect gratin, or, just about anything else you can think of. Under no circumstances do I recommend French style mandolines, which are exorbitantly expensive for the most part, large, clunky, and so notoriously dangerous we usually just referred to them as "finger-takers".
I once had the top of the line De Buyer mandoline that came in it's own plastic briefcase like a firearm. It looked nice, but was a worthless waste of money and space.
Proper Wood Cutting Board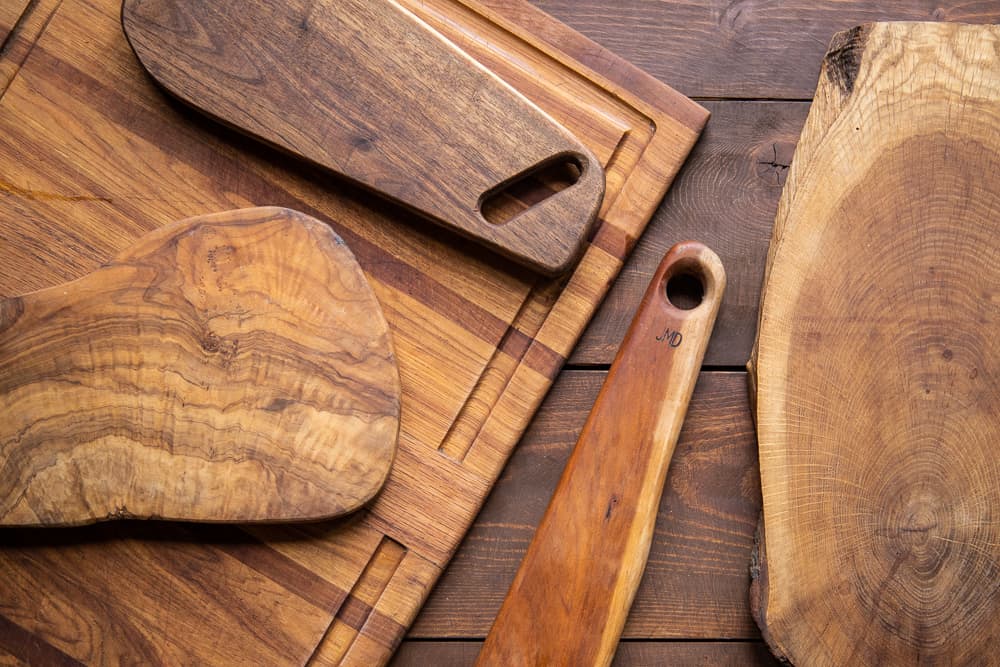 The lowly cutting board gets over looked, but is a good way to get yourself excited to cook. I was indoctrinated into the restaurant industry philosophy that you need to have color-coded plastic boards for different things to be sanitary, but when it comes down to it, wood has been, and will always be superior to plastic.
Plastic is too sterile, and is a vector for molds. Wood, on the other hand, is naturally anti-bacterial, and it looks nice. One of the above boards are my go-to wedding gifts, along with a single, nice chef knife (as opposed to a collection of 15 civilian ones).
Two options here: cheap and spendy. Bamboo boards are great as they're light, durable, and cheap enough I don't care if I nick one with a sawzall cutting up a whole carcass on one. End-grain boards are the cadillac of wood boards, and won't suffer from splitting like boards made from strips of wood.
If you have plastic cutting boards, consider an upgrade. If you have glass cutting boards, please unsubscribe from this website.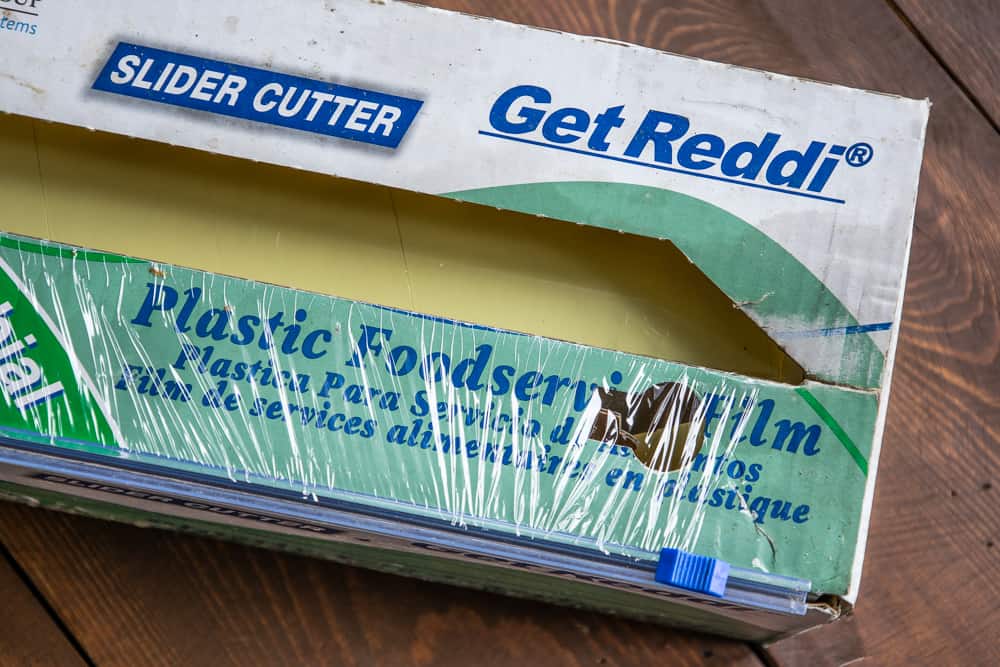 Hi, my name is Alan, and I'm addicted to industrial strength cling film. Nearly as high on the pleasing list as tension on factory fresh tongs, cracking open a new box of industrial strength cling film is a joy. Nice cling film. Pretty cling film.
Cling film that sticks to itself, not like awful, civilian Saran Wrap. A single box will probably last you at least 6 months to a 1 year. Don't accept imitations: Interplast with the slide cutter and waxed box (other brands have boxes that break down quick) is what you want. Pro tip: I often put a sheet on the counter to function as a meat-seasoning station if my cutting board is full.