There's not much better than a good piece of smoked wild game meat, especially a smoked venison / deer leg roast. If you're a long-time reader of this site you'll know that I love charcuterie: sausages, salami, terrines and pates, as well as the cousins like whole muscle cures and brined chunks of meat like pastrami and ham.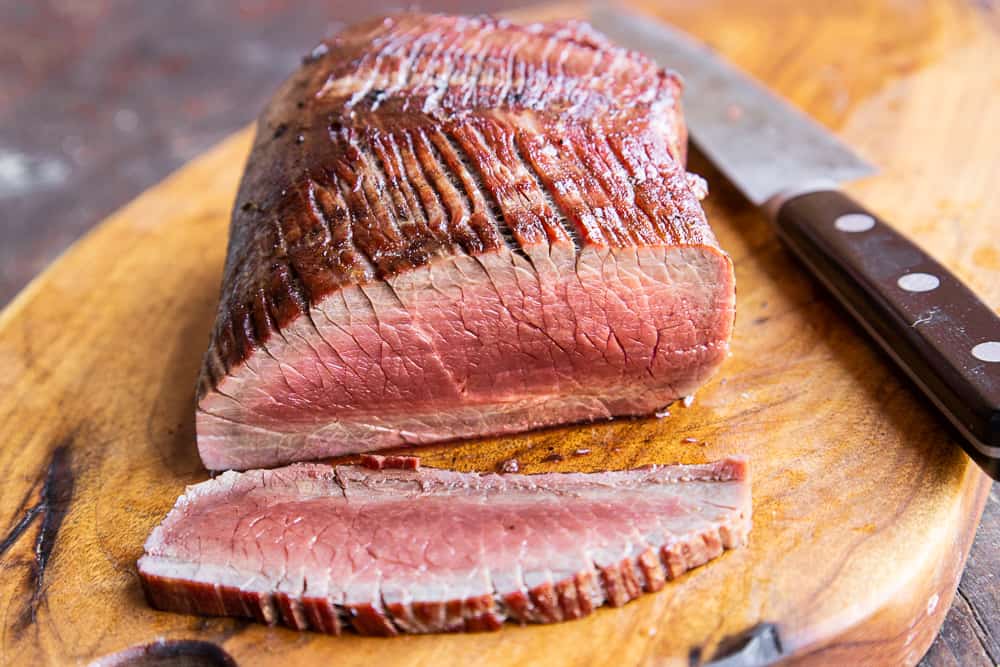 This is a simple smoked venison roast recipe, really simple. It's a little different than most of the others. Simply put, it's more casual, good for a beginner whose smoked meat-curious or for the hardcore eater who wants to satisfy that smoky meat craving.
Cuts of Meat to Use
I like to use a whole muscle from a venison leg for this, but you could do something similar with a rolled neck, or even a chunk of backstrap if you want. The football roast or sirloin tip, as well as the top butt are all excellent.
How to make it
It's easy to make, just make a good brine with vegetables and herbs, chill it down, then submerge the venison roast in it for 12-48 hours. Afterword you smoke the roast on a nice, low heat, and finish it with a good, hard sear after smoking.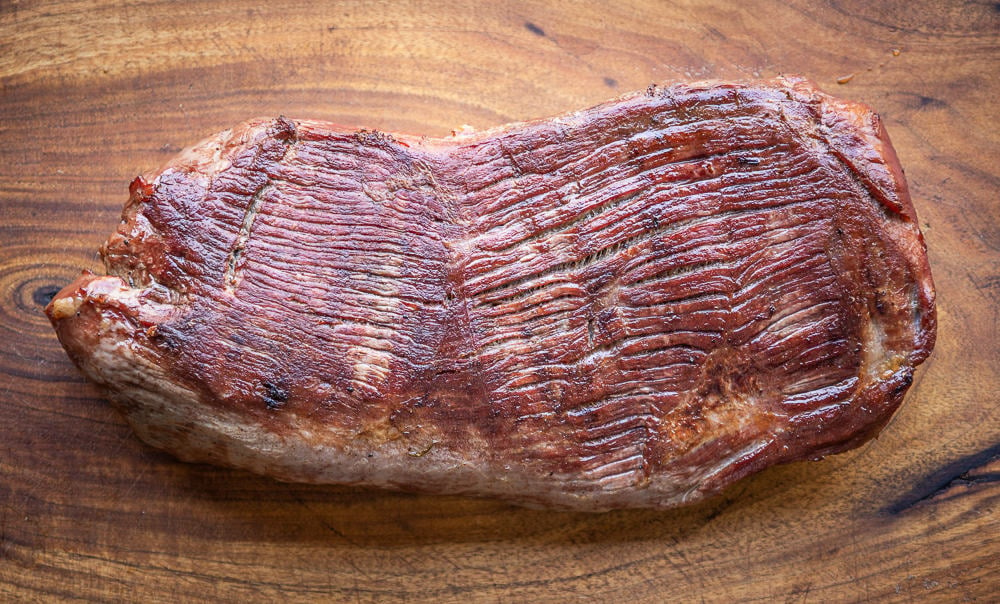 The importance of searing
Searing the venison roast after smoking is part of the secret of a good meaty crust. If you take the roast out of the brine and try to sear it right away, it won't work as good, since the meat is wet. Time in the smoker dries out the surface of the meat, helping to make the dark smoky crust we all know and love.
After it's seared, you let the meat rest, and you could serve it right away, keeping it in a warm place and flashing it in the oven before carving off slices. Or you can chill it (makes slicing easier) and eat it cold on sandwiches, chopped up in salads, etc. It goes without saying that it's great paired with horseradish in any form. Here's a few ideas.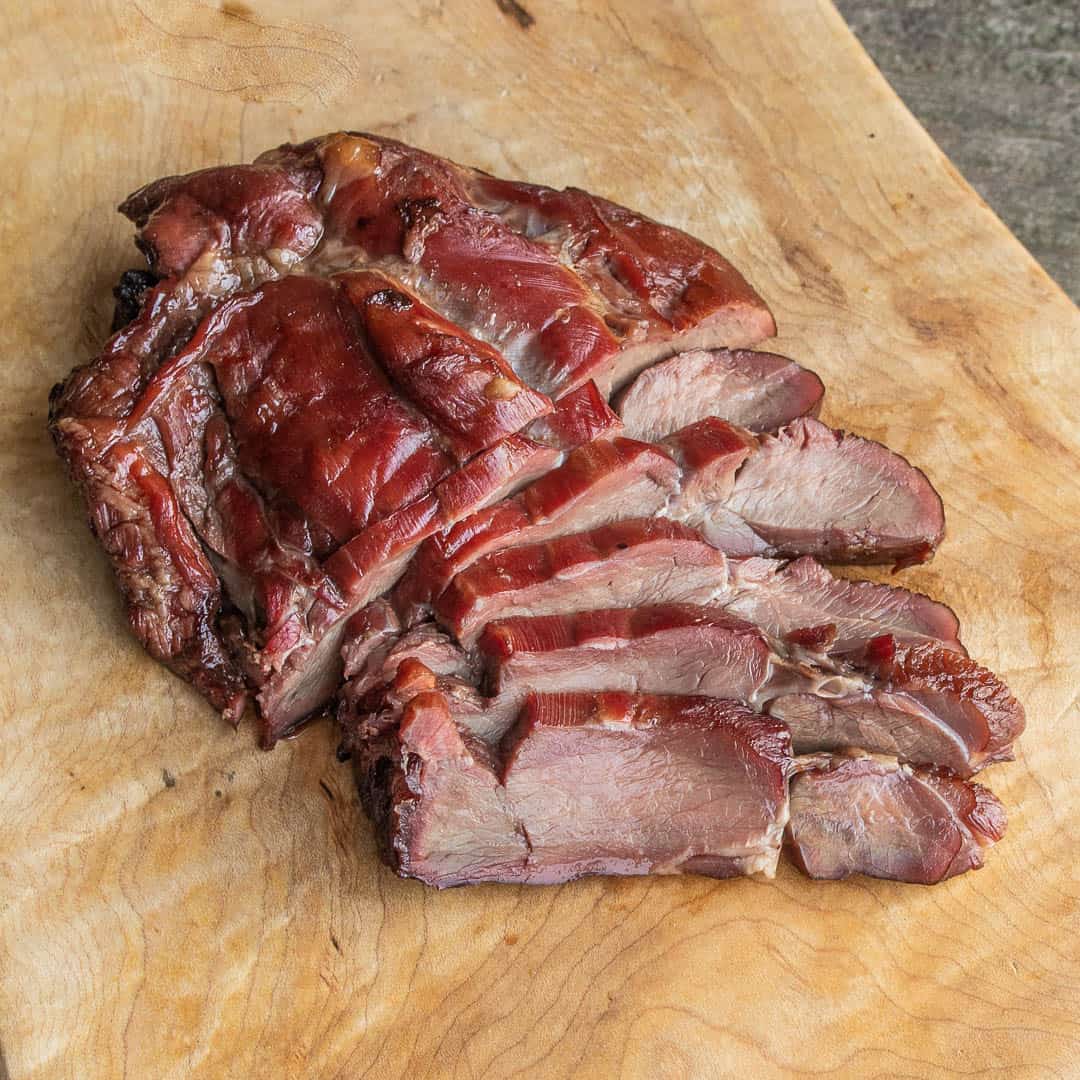 How I use it
Carved and served hot like any other roast with mashed potatoes and all the fixings
Chilled and sliced for sandwiches, preferably with horseradish sauce
End pieces are great diced and tossed in soups, or mixed in with things like fried potatoes for hash
Sliced thin, it can make a great smoked venison carpaccio or simple dish of cold smoked venison with mustard.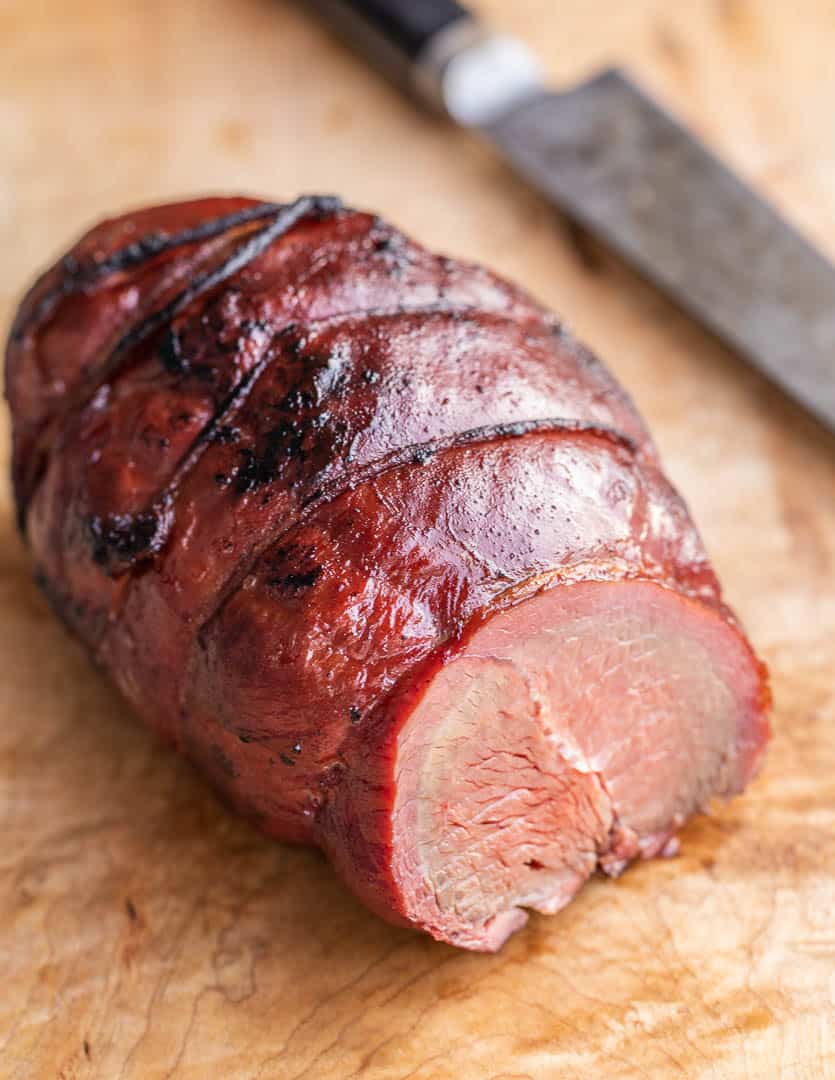 Sugar or No Sugar?
Should you put sugar in your brine? Sugar is not necessary, and will prevent you from being able to properly sear the meat.
But, it all depends on what you want to do with it. Most recipes will probably have sugar in them.
Cooking to the right temperature
If you want to eat the venison like a roast use my brine without adding sugar, cooking to your desired temperature, I like it when a meat thermometer hits 130-135F.
If you want to have cold roast venison for sandwiches, use the brine with sugar in it and cook the meat to 135-140F for medium.
Why is the meat not pink?
Smoked meat that stays pink after cooking is made from long-brined meat relying on pink salt (sodium nitrate) in the brine. Any meat that looks bright pink after cooking (hams, hot dogs and sausages, pastrami, corned beef, etc) has all been treated with pink salt.
I make a lot of charcuterie, so I use plenty of pink salt, but for some preparations, I don't want it to have that look or taste. This is one of those times. If you want a pink salt or brine version of this, refer to my other smoked venison recipes below.
Other Smoked Venison Recipes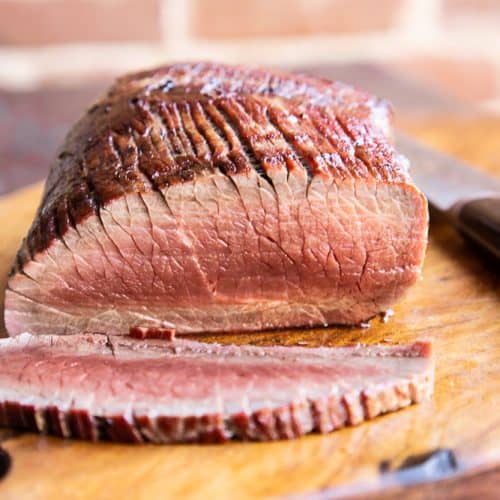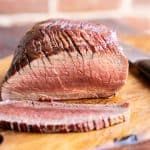 Print Recipe
Smoked Venison Leg Roast
A simple smoked venison leg roast cooked low and slow. You can carve and eat like a roast, or save to slice thin for sandwiches, etc. Pass the horseradish!
Equipment
1 Smoker

1 Cast iron skillet
Ingredients
3

lb

venison leg roast

trimmed of sinew, or multiple, smaller roasts. I like the sirloin for this one, the long rectangle with the visible grain
Brine
2

3 inch strips

lemon peel

use a vegetable peeler to do this

2

dried bay leaves

10

Tbsp

kosher salt

this is ½ cup plus 2 Tablespoons

2

qt

water

1

small onion

chopped

2

large cloves garlic

crushed with the back of a knife

1

teaspoon

black pepper corns

1

rib celery

chopped

1

carrot

chopped

A few sprigs of fresh rosemary or thyme

optional, use a good pinch of dried if you don't have fresh

½

cup

brown sugar

Optional *see note
Instructions
Brine
Bring the brine ingredients to a boil then cool completely. Submerge the venison in the brine in a small pot or similar container where it can fit snugly, covering all sides of the roast with brine. You can also use a thick plastic bag set into a flat tray or Tupperware to prevent spills.

You may not need all of the brine. Refrigerate the venison roast in the brine for at least 12 hours, and up to 5 days. I like to aim for a solid 24 hours.
Smoking
Remove the roast, pat dry, rub with a light coating of olive oil, then cold smoke at 225F until an internal temperature of 130-135 F. Remove the roast, pat dry, and prepare to sear it.
Searing
Heat a heavy cast iron skillet, grill or other surface until nearly smoking hot, brown the roast on all sides until golden with a drizzle of oil, about 1 minute per side.
Slicing and Serving
Remove and rest in a warm place for AT LEAST 15 minutes before slicing against the grain on a cutting board. After resting, this should give you about a medium-rare to medium doneness.*see note
Notes
Serving Hot
If you keep the roast in a warm place covered with aluminum foil, you can reheat it in an oven a bit to flash it before you carve and serve it.
Adding sugar to the brine 
Only add sugar to the brine if you want to slice the meat cold to serve like ham. If I add sugar, I also add 1 teaspoon of pink salt (sodium nitrate) to the brine to keep the meat pink. 
Nutrition
Serving:
5
oz
|
Calories:
279
kcal
|
Carbohydrates:
2
g
|
Protein:
52
g
|
Fat:
6
g
|
Saturated Fat:
2
g
|
Polyunsaturated Fat:
1
g
|
Monounsaturated Fat:
2
g
|
Cholesterol:
193
mg
|
Sodium:
300
mg
|
Potassium:
768
mg
|
Fiber:
1
g
|
Sugar:
1
g
|
Vitamin A:
600
IU
|
Vitamin C:
1
mg
|
Calcium:
36
mg
|
Iron:
8
mg