Do you grind up your venison shanks? Feed them to the dog? Wonder what could ever make them taste good? After you try my smoked venison shanks recipe it might become your new favorite way to cook this underused cut of game meat.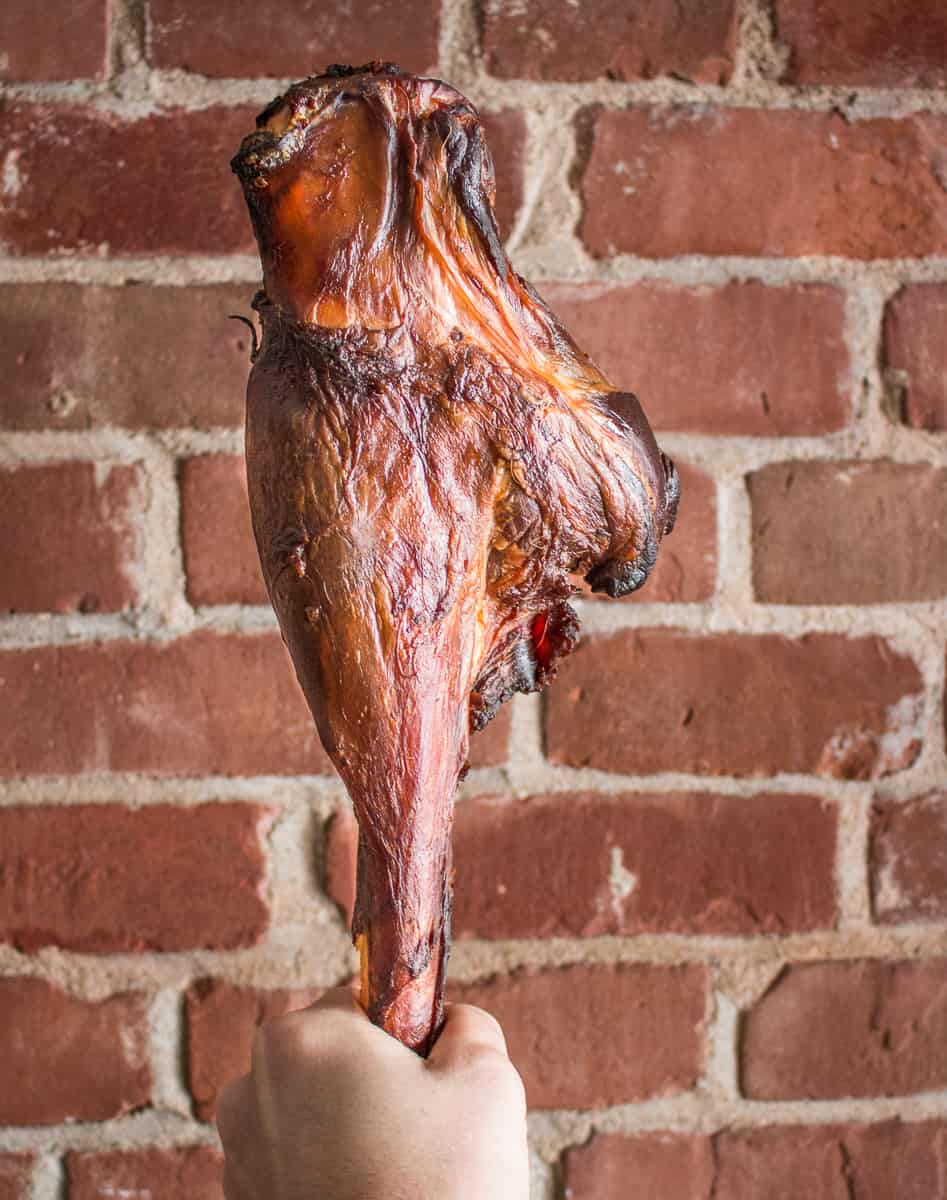 Cure, Smoke, and Freeze for later
The basic idea is this: right after I butcher an animal, I'll take different parts that benefit from slow cooking like shanks, chunks of shoulder, or bones, and season them with salt for "un-cured" shanks or toss them in a plastic bucket filled with ham brine outside—I'm in Minnesota and Wisconsin, so our falls our very cool and it's very safe.
The version that's pictured in this post is a cured version that you can cook like a ham bone. After curing in a brine with sugar, spices and sodium nitrate (pink salt), the shanks go in the smoker for a couple hours to par cook them, then I vacuum seal and freeze. When I want smoked shanks to cook with, all I have to do is take them out of the freezer, just like a smoked ham hock, but venison.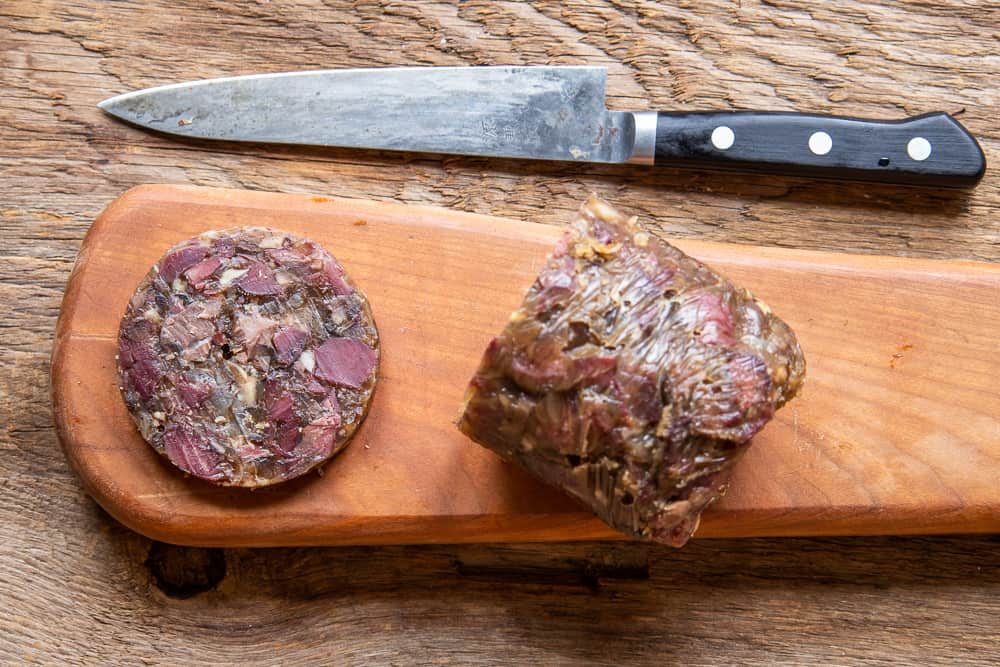 Shanks can be tender, and delicious
Some of you might be thinking: "Sure Alan, you eat all the boot-leather tough deer meat you want--but it's not for me". Trust me here, after a cure, smoke, and a slow braise, you won't recognize the end product. The cure is the really special part.
The sugar and salts in the cure denature the meat in a way, the same way it does ham and corned beef, turning it from boot leather tough, to delicious, rich, gelatinous gold.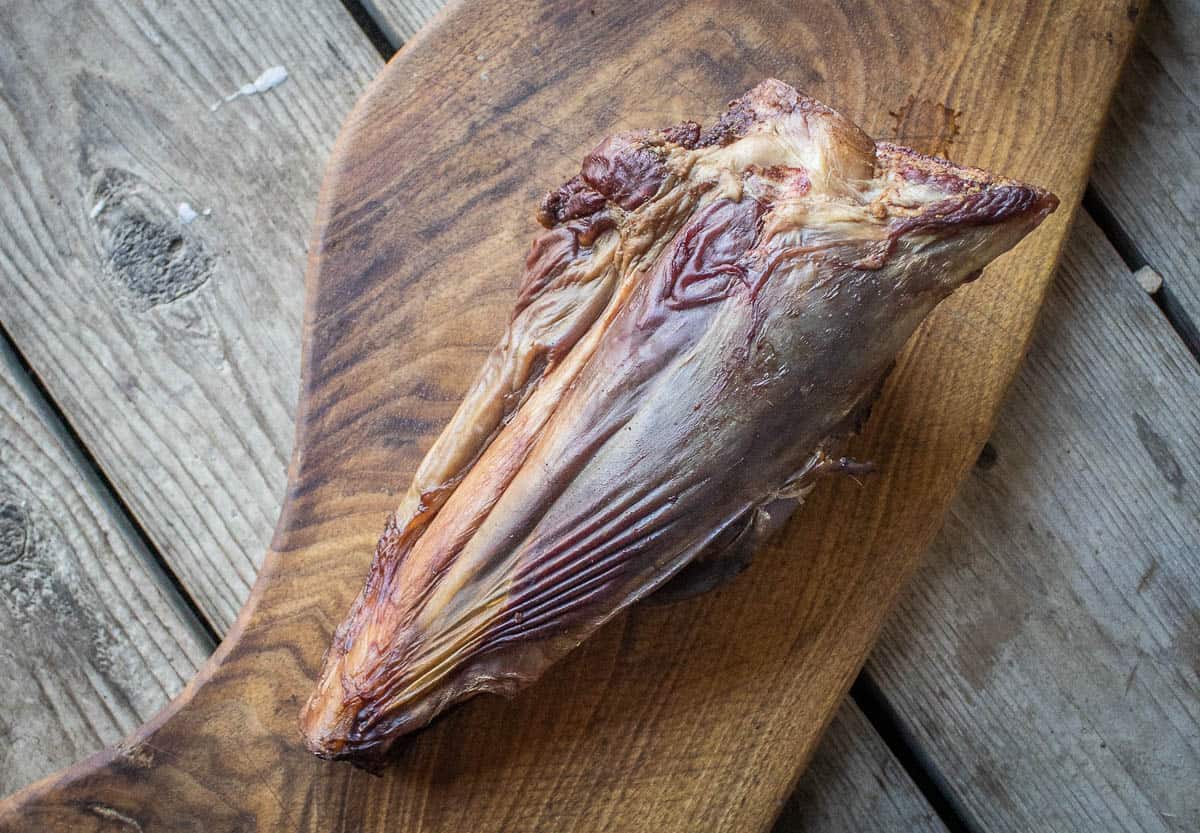 There will be a little picking apart and removing of tendons, etc, after it's braised and cooked, but no more than something like a chuck roast. Also, know that I'm not going to eat the whole shank here glazed like a Renaissance festival turkey leg--it's for cooking wet, in broth, soup, stew, etc, and afterwords I'm always going to be dicing or slicing it up.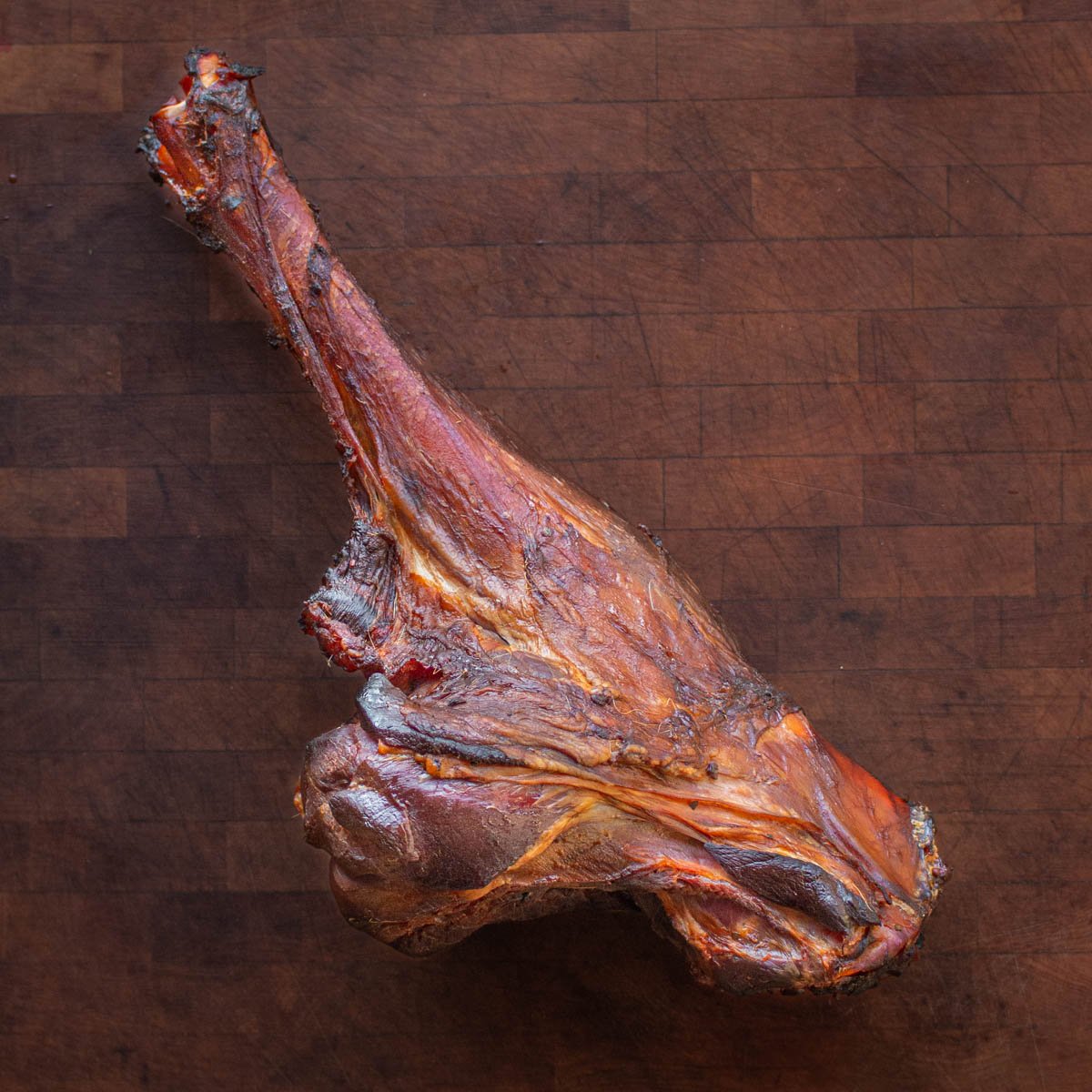 It may sound like extra work, during butchery time, and it is, but it's easier doing large amounts of stuff like that in batches than one at a time, and it saves me from having to fire up the smoker in the winter.
Whenever I want a big bowl of smokey broth, a pot of beans, or whatever else, all I have to do is reach in the freezer and pull out one of my smoked golden nuggets. If you want to see an example of how I use the shanks specifically, see my smoked venison shank ramen.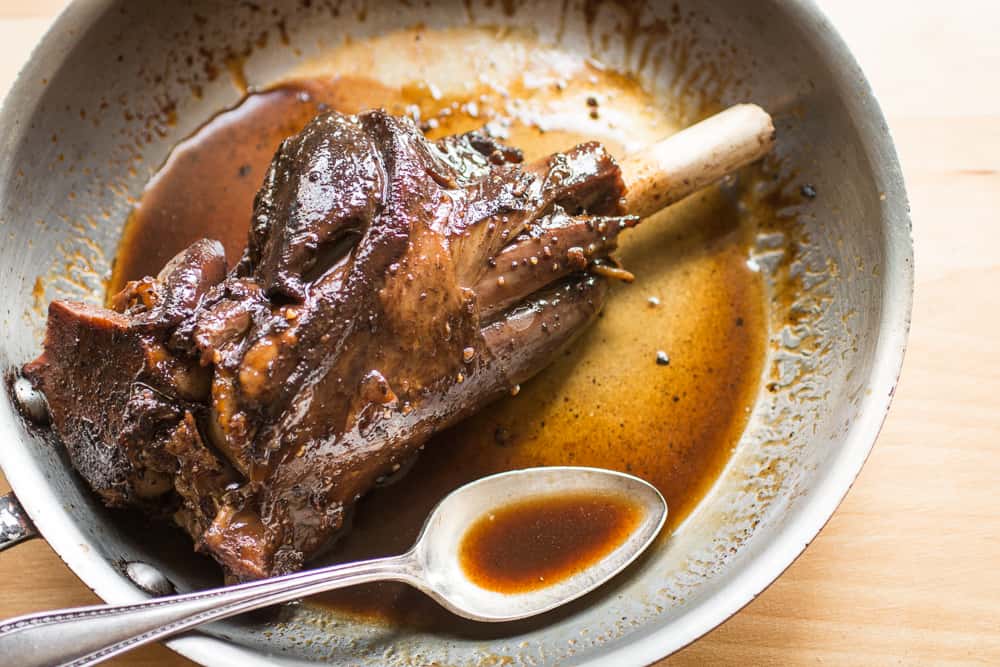 Two ways to smoke, endless possibilities
Cured
Cured shanks are made by immersing cut shanks in a brine, or rubbing with a cure like you would bacon. Both dry and wet methods will take at least five days of soaking/curing for the cure to penetrate.
Shanks cooked like this will have a texture after cooking similar to ham and corned beef, and they're great used to flavor a pot of bean soup, cabbage, or cut into pieces and used anywhere ham or corned beef would be welcome.
Uncured
If you want to eat a whole shank, this is what you want. Uncured is what I call shanks smoked without using prague powder (sodium nitrate) and sugar. An uncured shank can be dry or wet brined, and involves nothing more than brining a shank by immersing it in salt brine (wet) or seasoning heavily with salt (dry) and allowing it to rest for a few hours before cooking.
When I cook shanks like this, since they're not as highly seasoned and "hammy" like the other, more heavily cured shanks, they're better for serving whole as an entree like smoked osso bucco, or a simple braised venison shank.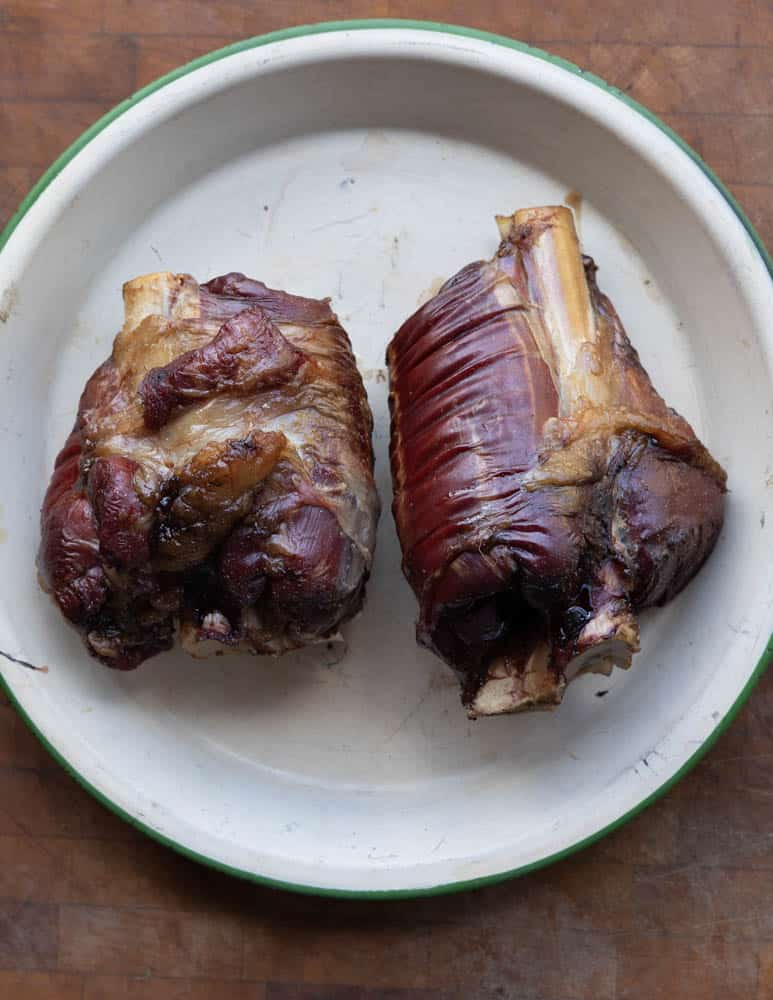 Cutting shanks into manageable sizes
No doubt about it, femurs are tough bones, and they're long, making it difficult to fit them into freezer bags, crock pots, or baking dishes. for easier storage, cut your shanks with a reciprocating saw (Sawsall) while you're butchering. The cut femur bones are great seasoned and smoked along with the shanks. Afterword you can add them to stocks and soups. Can you say smoked venison shank bone-ham and bean soup? I can.
One-handed cordless saw
My favorite reciprocating saw for butchery is this small, cordless, one-handed model.
Un-painted meat blades
You'll also want special, un-painted meat blades for cutting bones.
Removing the fascia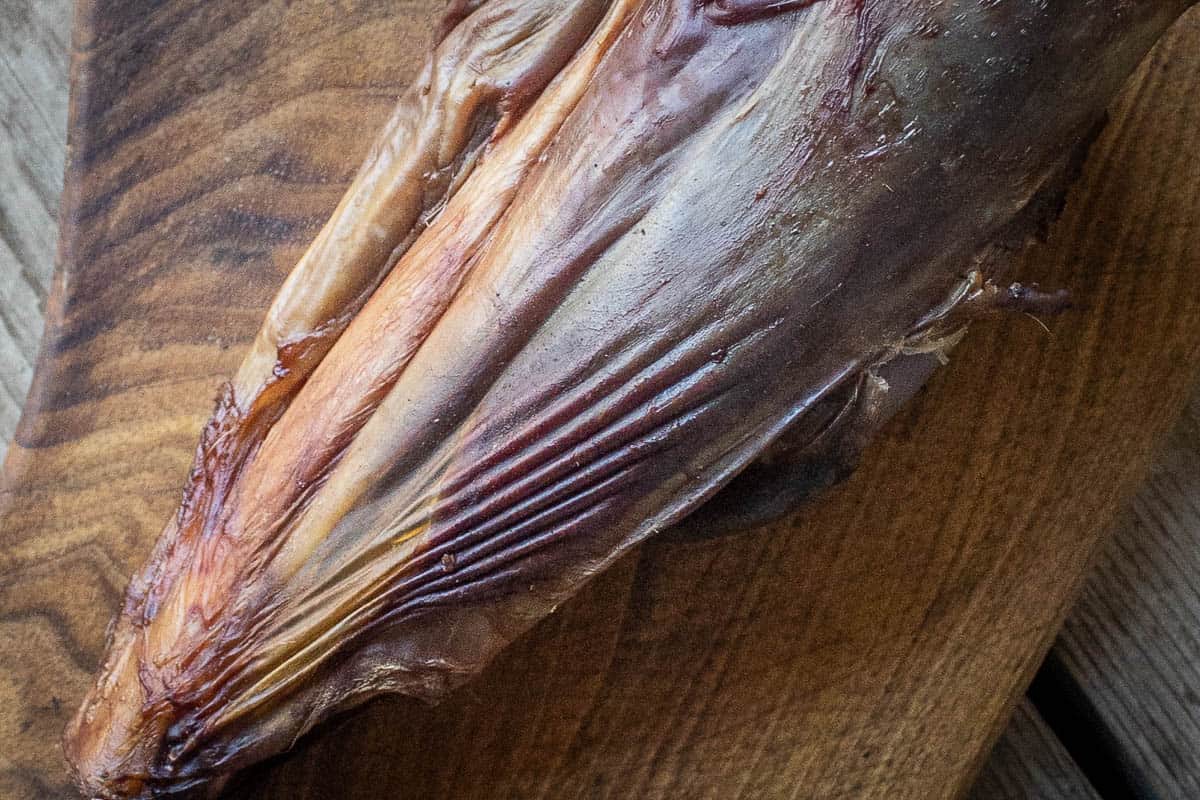 One big question is whether you should remove the fascia, or tissue you can see stretched over the meat on the picture of the shank trimmed with an oscillating saw above, can be tricky. This stuff is chewy, and as it's notoriously difficult to remove while the shanks are fresh, I remove it after cooking when the shanks are soft and pliable.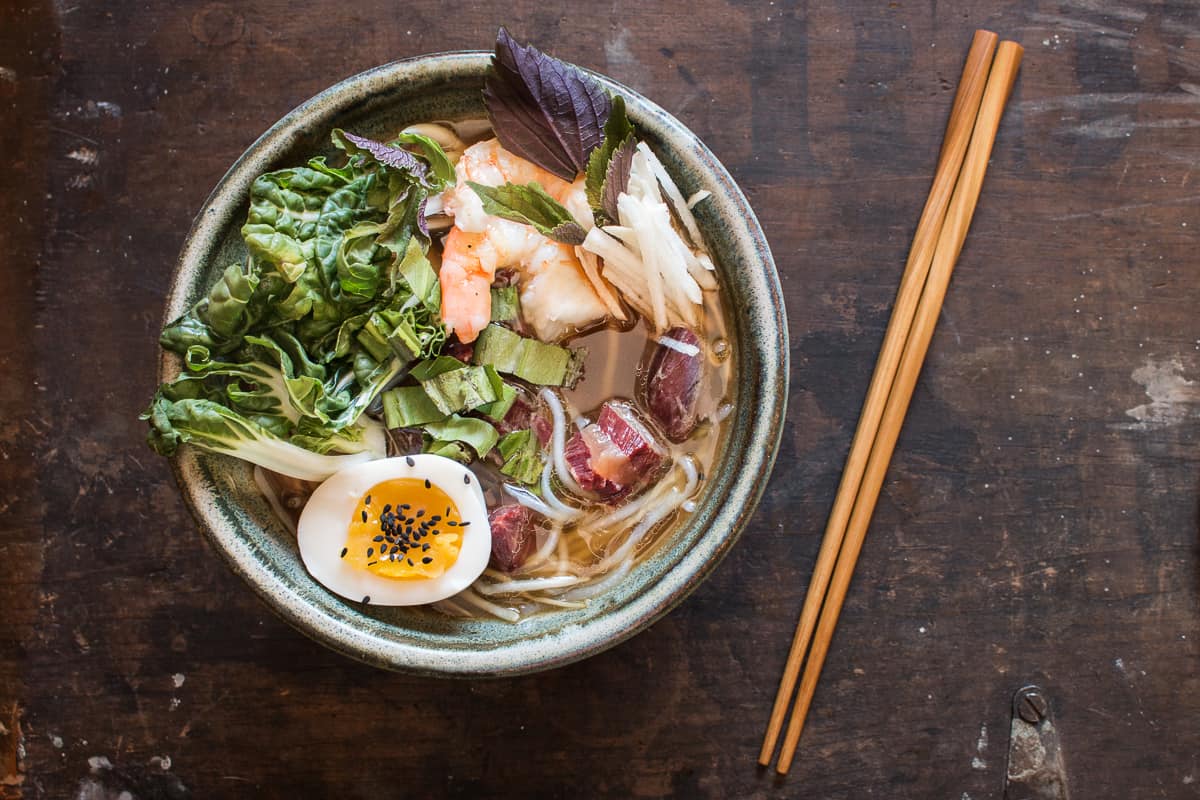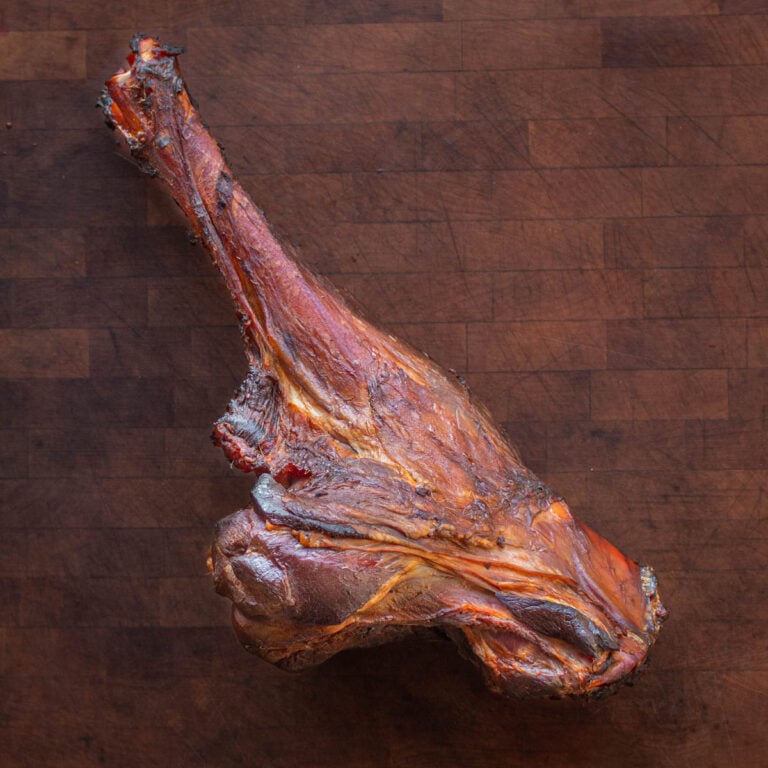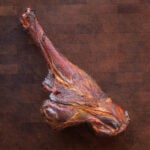 Print Recipe
Smoked Venison Shanks
Smoked shanks are delicious, easy project to do at home. You can add the smoked shanks to soups and stews, or braise them and serve whole.
Equipment
1 Smoker

1 gallon stock pot
Ingredients
1-2

venison shanks

either hind or foreshanks
For the brine
3

quarts

water

260

grams

salt

roughly 1 cup + 2 tablespoons

1

oz

pink curing salt

sodium nitrite

3

Tablespoons

pickling spice

2

cups

dark brown sugar

1

large yellow onion

sliced

3

dried bay leaves

1

bulb garlic

halved horizontally
Instructions
Combine the ingredients for the brine and bring to a simmer in a stock pot. After the mix boils, chill completely, then immerse the venison shanks in the brine and weight it down in a large plastic container.

If no containers are large enough to hold the ham, a stock pot will work. Keep theshanks in the brine for 3 days, then remove.

To cook, smoked the shank at 225 Fahrenheit or so for 3 hours, then cool and refrigerate or freeze for later.
Notes
The brine here is all-purpose--throw whatever meat you want into it, give it a couple days, and it'll be transformed. 
Nutrition
Serving:
5
oz
|
Calories:
565
kcal
|
Carbohydrates:
111
g
|
Protein:
26
g
|
Fat:
3
g
|
Saturated Fat:
1
g
|
Polyunsaturated Fat:
1
g
|
Monounsaturated Fat:
1
g
|
Cholesterol:
96
mg
|
Sodium:
200
mg
|
Potassium:
557
mg
|
Fiber:
1
g
|
Sugar:
35
g
|
Vitamin A:
29
IU
|
Vitamin C:
2
mg
|
Calcium:
164
mg
|
Iron:
5
mg