When I was in college, I cooked constantly (not much has changed). One of the things I often made for my roommates in our cramped house, besides big bowls of hummus, was colored scrambled eggs.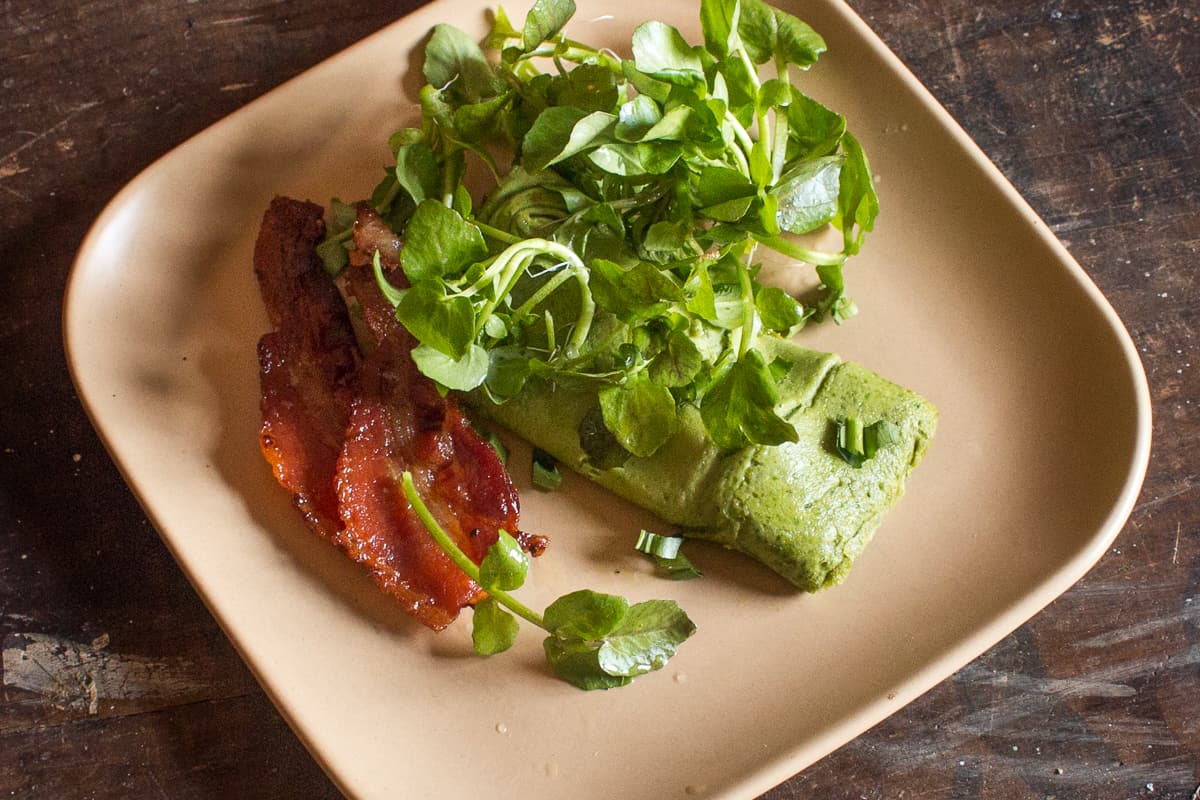 Typically they were red eggs, with a little tomato puree, or hot chili. To this day, I don't really understand why I made them--it was a little weird, and now I'd much rather just have scrambled eggs with a little tomato or chili condiment on the side. Less is more, you know?
One thing I did learn with my egg experiments though, was that cutting eggs with different ingredients loosens the protein bonds, and makes the eggs struggle to hold themselves together.
Too much extra something, be that tomato sauce, or wild watercress like I've used here, and the eggs will be watery curds, just a little bit though, can make for a nice, tender omelet.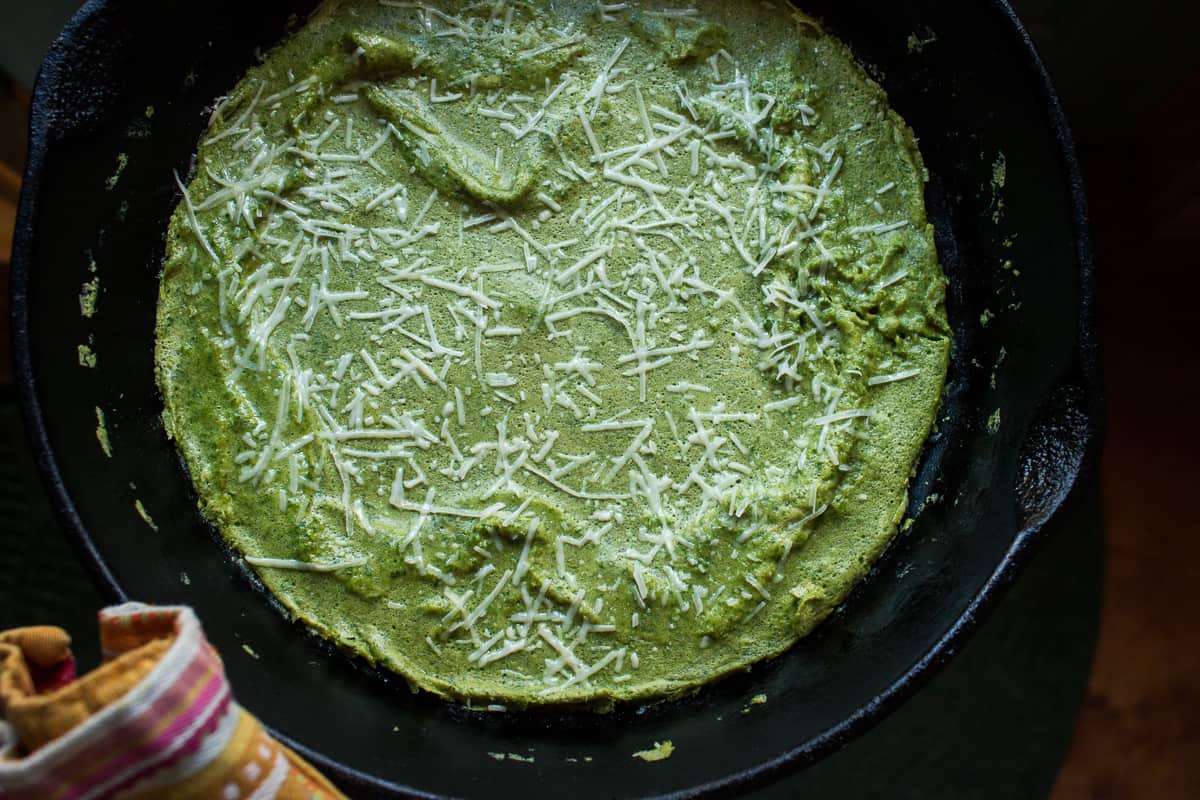 The other goal here, was to make some green eggs and ham. Child or not, I don't care who you are, there is no denying the novelty of eating green food.
If Doctor Suess was part of your childhood, you remember green eggs and ham, and you're lying through your watercress eating teeth if you say you don't want to try them, just once. It's not scary, it's just a green omelet, and, yes it tastes mildly of watercress.
The real key though, is adding some herbs to the mix here. Cilantro, basil, dill (I used some culantro I had in the fridge) whatever you have--use it. The lift the herbs add is nice, and helps bring everything together.
There's just something about seeing a plate of literal green food just makes me think herbs, and I'd be disappointed if there was nothing bright and herby in it.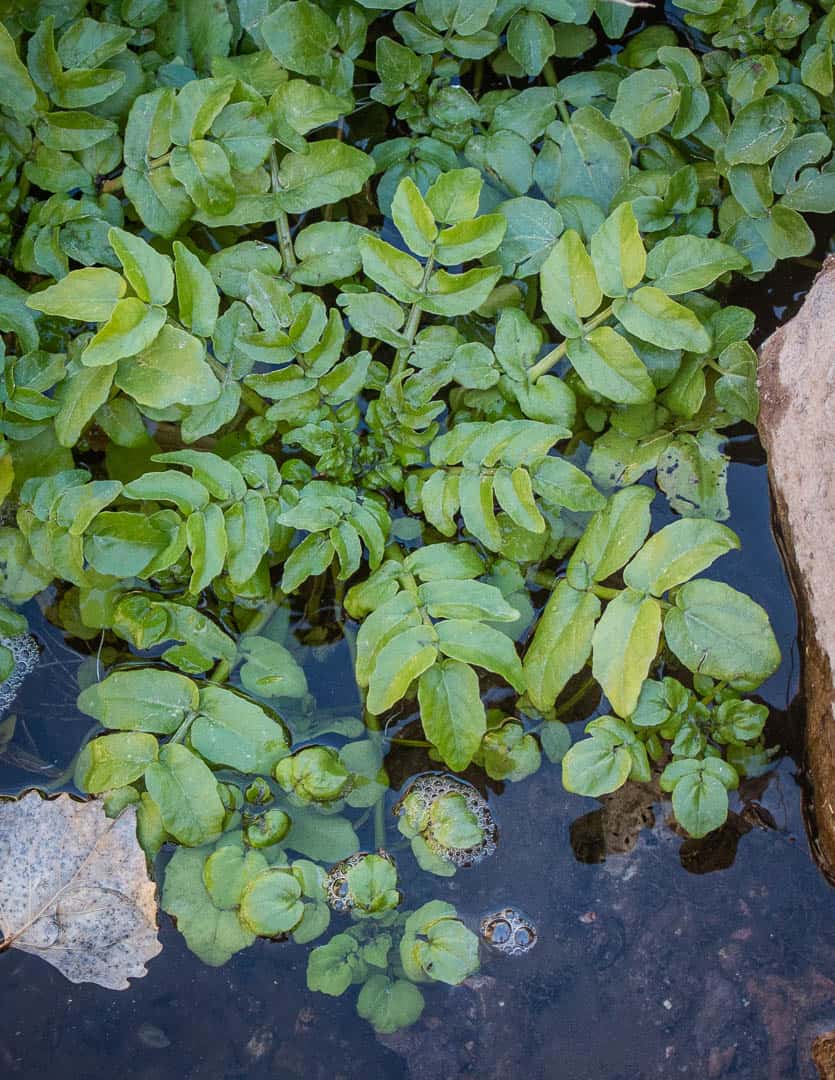 General Cooking Notes
Harvesting from a clean source
If you purchase watercress you can ignore this. If you harvest wild watercress, make sure to always harvest it above the waterline to avoid the chance of getting liver fluke. Cooking watercress makes it safe, so if you're in doubt, omit the salad garnish and serve some cooked cress on the side.
The Heat
You don't want to color this, so don't even think about medium-high, or high heat. The omelet should be a pretty pale green.
Variations
Green frittatas can be fun. To make one, double the quantities here.
Scramble. These look a little strange, but can be a way to get kids excited about eating eggs.
I don't add much in the way of fillings here besides a sprinkle of cheese, and I think it's better like that. If you want to add fillings, keep it very simple. A little handful of cooked watercress or some finely chopped mushrooms would be nice.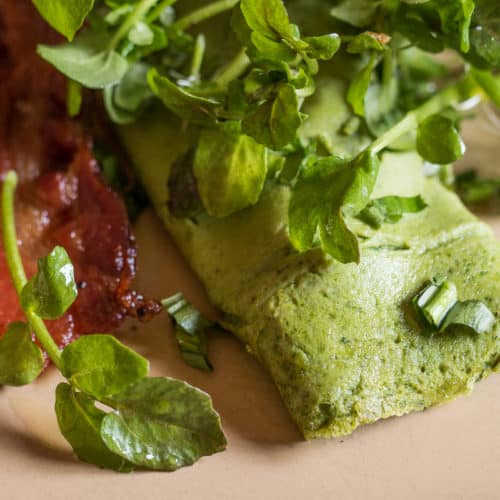 Print Recipe
Watercress Green Omelette
Green eggs and ham, made with watercress.
Equipment
Nonstick 10 inch or similar pan
Ingredients
Green Omelet
4

oz

fresh watercress

two large handfuls separated in half

2

large eggs plus one yolk

2

tablespoons

heavy cream

Sprinkle of parmesan

optional

Pinch

of kosher salt

freshly ground black pepper

to taste
For the watercress salad
2

tablespoons

bacon grease or light olive oil

Fresh herbs

like cilantro or basil—a small amount

Fresh lemon juice or vinegar

to taste

Dash of salad oil

such as extra virgin

Kosher salt and pepper

to taste

A few strips of bacon

optional
Instructions
Heat an oven to 300. Roughly chop half of the watercress. Combine the chopped watercress with the eggs, yolk and cream in a blender with a pinch of salt and pepper and puree until very smooth, about 15-30 seconds.

Meanwhile, heat the bacon grease in a 10 inch, non-stick frying pan, such as a cast iron skillet on medium heat.

Add the green egg mixture, and cook gently, tucking in the sides here and there for a minute or two. Sprinkle with the cheese if using, then transfer to the oven for a few moments just to barely set the top.

Remove the pan, and slide a spatula around the edge to free the omelet, then gently roll it up.

Cut the omelet in two, and serve with the watercress tossed with lemon juice, the herbs, salt, pepper and oil, and a few slices of bacon, if using. Serve on a warm plate.
Notes
Herbs 
The herbs are important here to give things a lift, I wouldn't make the dish without them.
Eggs 
I puree this to make it pure green. If you don't want to you can simply beat the eggs with some finely chopped watercress and the herbs. It won't be quite the same though. 
Nutrition
Serving:
1
half omelette
|
Calories:
244
kcal
|
Carbohydrates:
1
g
|
Protein:
7
g
|
Fat:
24
g
|
Saturated Fat:
7
g
|
Polyunsaturated Fat:
3
g
|
Monounsaturated Fat:
13
g
|
Trans Fat:
0.01
g
|
Cholesterol:
181
mg
|
Sodium:
90
mg
|
Potassium:
262
mg
|
Fiber:
0.3
g
|
Sugar:
1
g
|
Vitamin A:
2267
IU
|
Vitamin C:
24
mg
|
Calcium:
103
mg
|
Iron:
1
mg