A smoked venison shank is an investment that pays dividends in your future. Delicious dividends. During butchery season, sometimes it can get tricky to figure out what to do with bones and oddparts (note that I don't save venison spines for stock, but I do from lambs I butcher).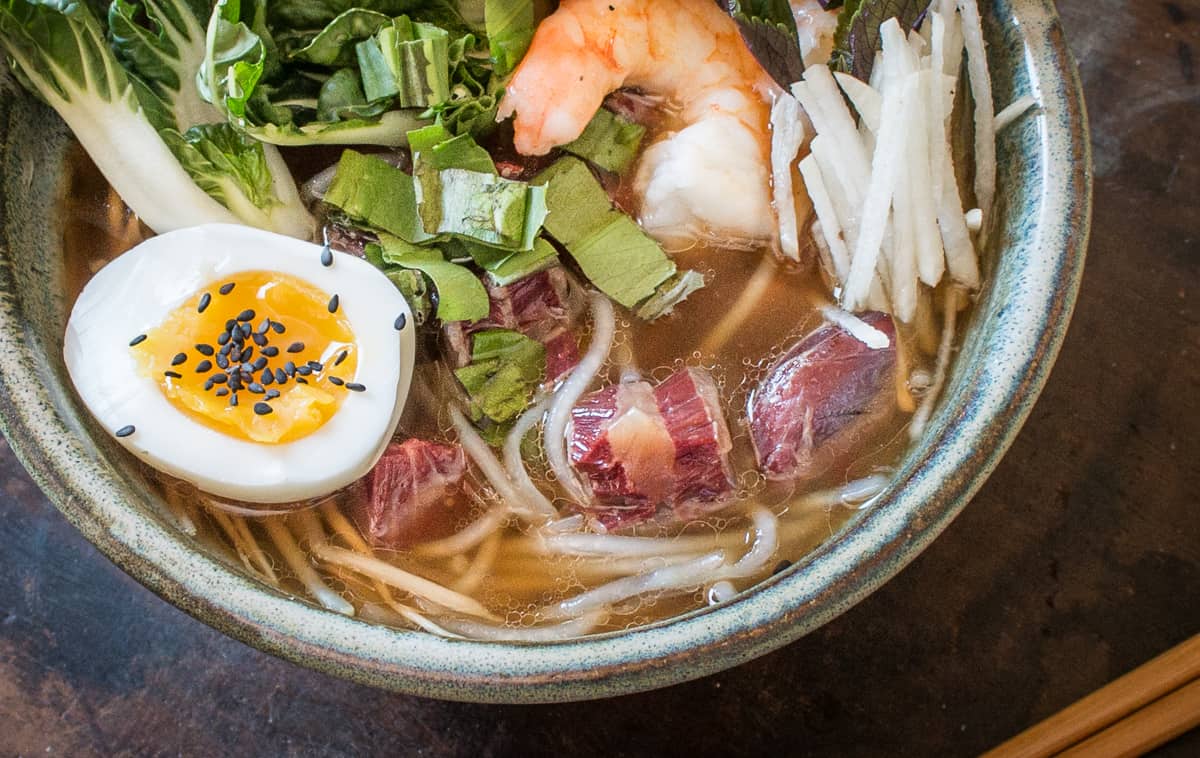 One trick I've kept with me over the years is a solid brine, derived and tweaked over the years from Charcuterie by Michael Ruhlman and Brian Polcyn--one of the great texts of cured meats, even if it's a little heavy on the pink salt (sodium nitrate) sometimes.
Now, when I know there'll be large amounts of fresh meat in my future, I get the cures ready beforehand, which might be a brine, or a simple dry rub depending on how much time I have. From there, the meat goes in the brine, or gets rubbed down immediately after cutting, then, after a couple days, they all get smoked, vac-sealed and frozen for cooking during the winter.
The magic of ham brine, or a rub for bacon, is that there's a sort of protein denaturization that comes with the salt and pink salt. Err, let me put that in layman's terms. Let's say you freeze a piece of raw meat, then thaw it a month later and cook it.
With the exception of fish (the texture of many kinds suffer from freezing, most notably salmon) there isn't too much of a difference in how things taste after they're cooked. But, if you cooked the meat, and then freeze it for later, it's going to suffer, and it just won't taste the same. Cured meat that's been cooked is a little different, and you can get away with freezing. Take Christmas hams for example, They're usually cured, fully cooked, frozen, and need only a little heat before serving.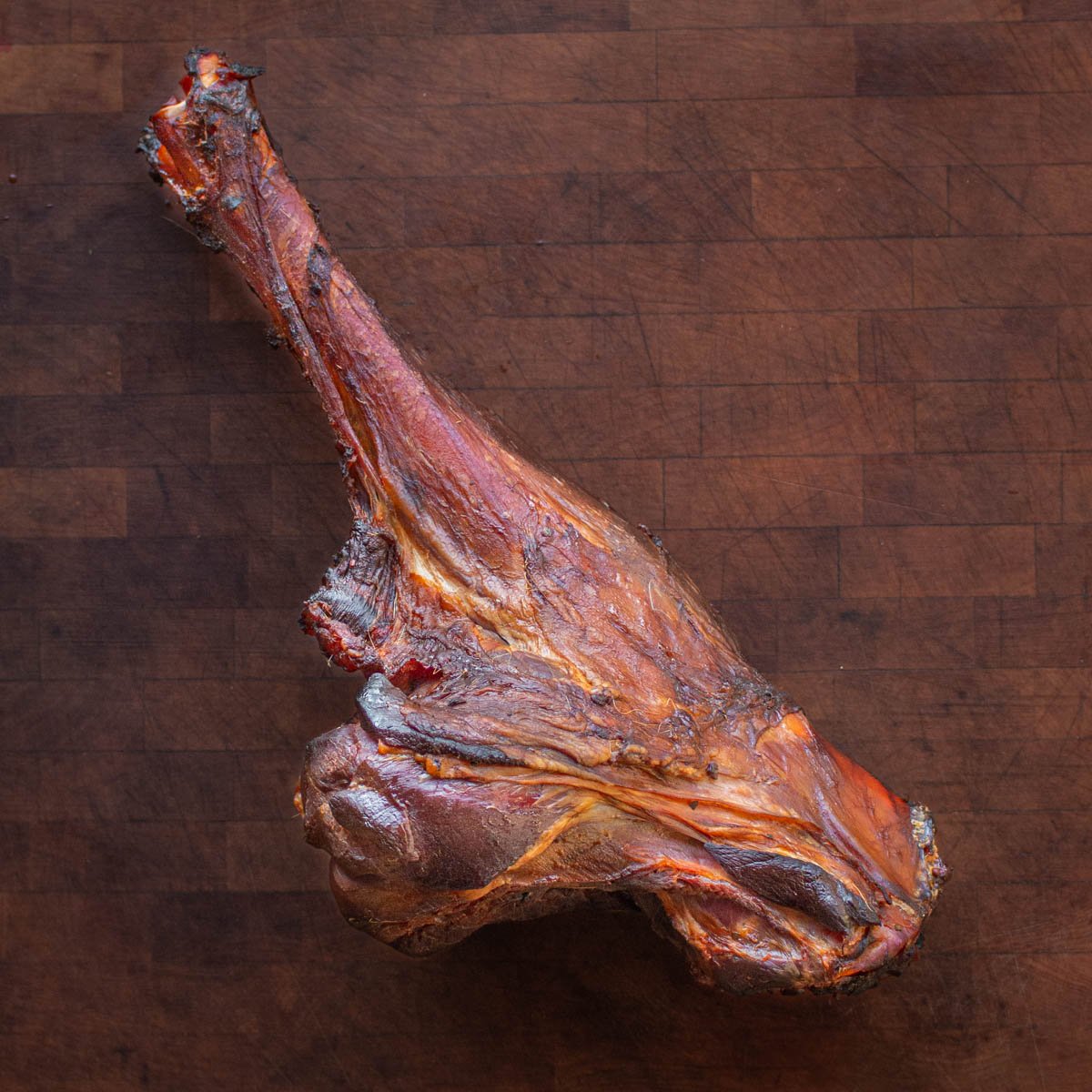 The smoked shanks, necks, scrap and trim I make and freeze are basically for one purpose: flavoring liquid. That could take the form of throwing the bones in a pot of beans like cassoulet or chili, or making a really killer ramen or soup broth, like I've done here--a dinner I had a few weeks ago that was just too good not to share. To be honest of course, this isn't necessarily ramen for a purist, my food being rather Euro-centric, but it is damn good.
Think of the soup ingredients as a suggestion, and make your own with whatever ingredients you have on hand. If you have an Asian market near you, it's a great reason to stock up on good noodles, kombu/dried kelp, miso, bean sprouts, herbs like shiso, thai basil, culantro or mint, baby bok choi, and fermented bamboo shoots that are great thrown in here.
Here's the basic recipe for smoking shanks and the ramen. The brine can be use for any meat, although the flavors aren't Asian, you could definitely steer them that way, maybe by bumping up the ginger and adding some star anise instead of, or in addition to the American-tasting pickling spice.
If you have space, the brine can be re-used a couple times, if you get down like that--restaurants would poo-poo it, but I've been known to cure food outside in a pot sitting in the snow, since the salt and sugar can keep it from freezing, to a point. Don't tell my chef friends though.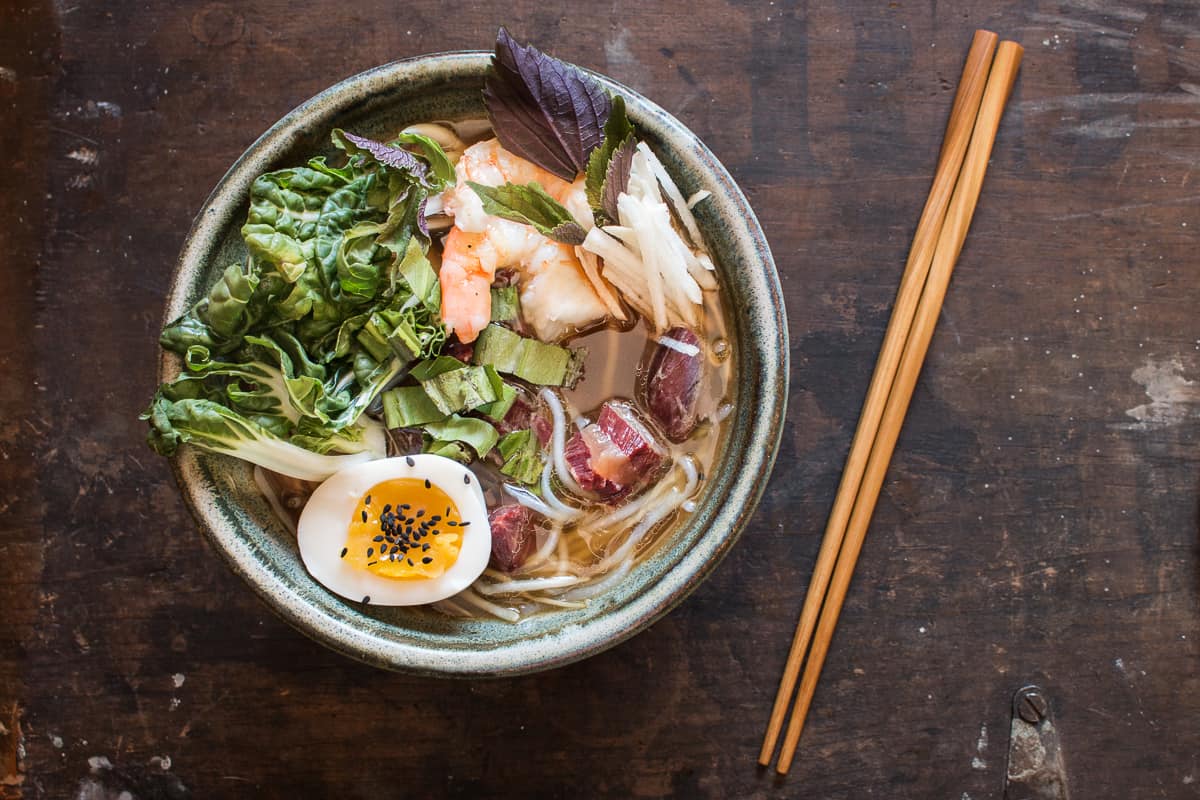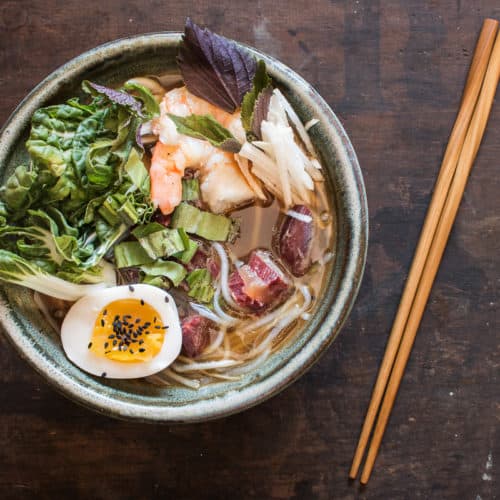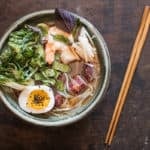 Print Recipe
Smoked Venison Shank Ramen
DIY restaurant-style ramen made with a smoked venison shank
Ingredients
Smoked Venison Broth
1

smoked venison shank

either hind or foreleg, see recipe

Water

as needed to cover

½

oz

sliced galangal or ginger

20

grams

kombu

dried kelp either in knot or sheet form (optional)

1

tablespoon

miso

or more to taste if your stock isn't already salty

12

oz

ramen noodles

3oz/person or 4 packs

Soy sauce

to taste

1

oz

dried shiitake or other mushrooms
Garnish Ideas
Baby bok choi

Sauteed shrimp

Soft boiled eggs

Fresh Herbs

Sour bamboo shoots
Instructions
Put the venison shank in whatever it will fit into, I used a stock pot. Hind shanks will comically stick out of most pots as they cook unless you saw off a good hunk of bone--don't worry about it, as long as the meat is covered, you're good, and it's better to have a little less water, than a little too much. Barely cover the shank with water (about 8-10 cups should do) add the shiitake, galangal, lemongrass, shrimp shells and kombu and simmer or bake, covered, for 4 hours, or until the meat is falling off the bone.

Allow the shank to cool in the liquid, or if you're in a time crunch, remove it and wrap in cling film so it doesn't dry out, then pick the meat and chop roughly, discarding any connective tissue that won't taste good. Strain the liquid and reserve. Taste the liquid, the whisk in some miso and soy sauce to taste—I usually season it pretty aggressively.

To plate, Boil the ramen noodles until tender. Meanwhile, have the stock simmering, adding fresh ingredients at the end you want to cook, such as bok choi, etc, along with the reserved pieces of venison shank. Drain the noodles, add the to deep bowls, pour over about 2 cups of piping hot stock, garnish with your choice of fixings and serve.
Notes
Notes and Ideas 
Build flavor with both meat and shellfish in your broth if possible. Just like a lot of other cuisines around the world, combining forces of meat bones and things like dried crayfish, shrimp paste, or, in this case, shrimp or crab shells adds a great depth of flavor. 
Aromatics in the broth are great too. Ginger, lemongrass, galangal, garlic or shallots, star anise, lemon zest are all good things to look at, especially if you're going to the Asian market. 
I like to think of the garnishes as a challenge to use up random things in the fridge, the last two eggs in a carton, a slightly tired radish, whatever herbs I have, etc. Whatever you use, try to imagine how the ingredients will get picked up by chopsticks as you eat--I like to keep things chunky so I can pick up individual ingredients. 
I always have some flavorful oil for garnishing. Typically it's sesame, but Smude's brand sunflower oil is great, as is roasted peanut, or another nut or seed oil. Take your pick. Chili oil is always good too.