A venison tasso recipe may not exactly be a traditional piece of charcuterie, but, if you like spicy smoked ham, you'll love it.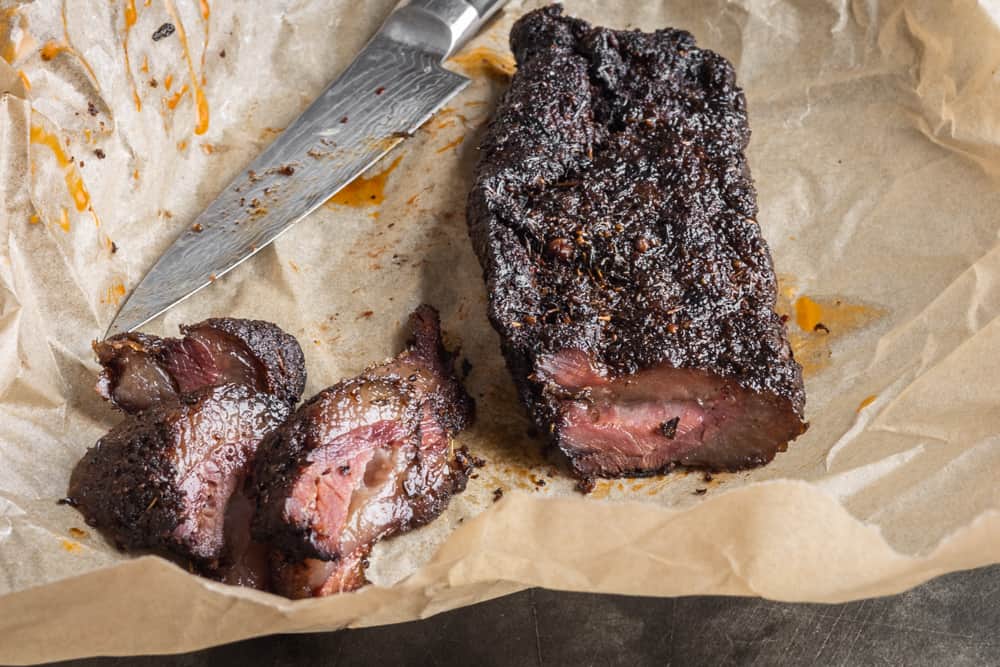 If you're not familiar tasso is a smoked Creole ham that typically has a spicy rub of paprika and cayenne, among a bunch of other things.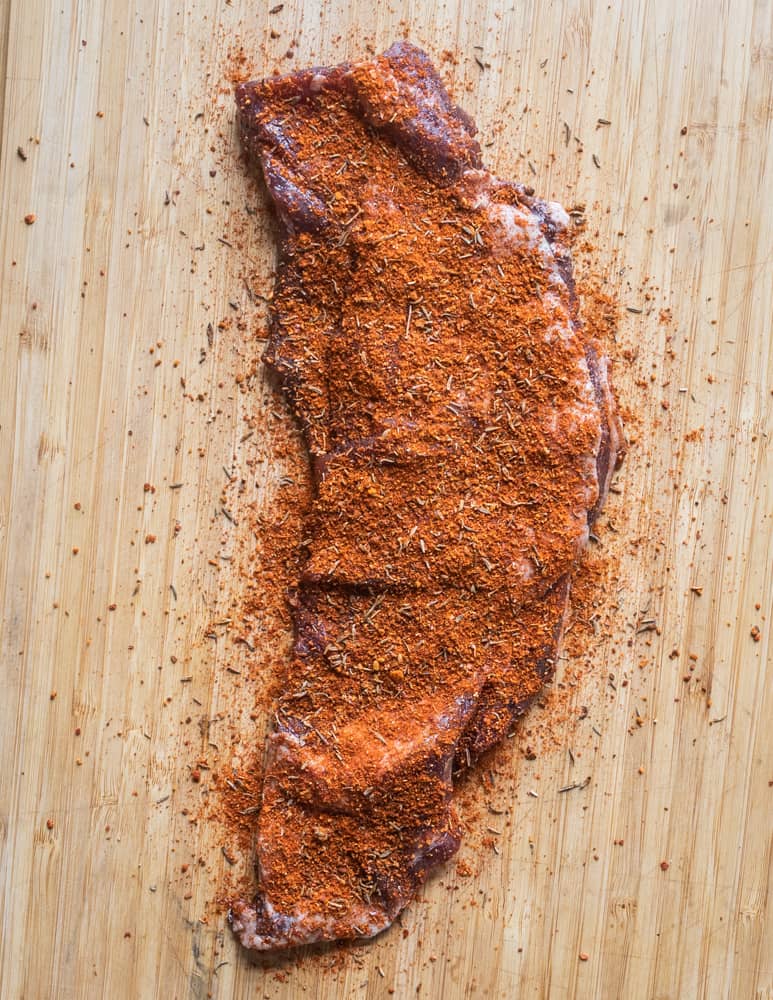 When I made traditional tasso at my first restaurant, I would always use what's called the "eye" of the pork shoulder, a perfectly cylindrical piece of meat also used to make coppa ham.
Tasso is awesome made with pork shoulder, but nicely marbled cuts of any well used muscle from many animals can make a great version. All you really need to know is the basic spice rub and a simple method.
If you like things like this, you also need to dry my venison bacon, and if you haven't tried that, I would recommend you do that first before making this.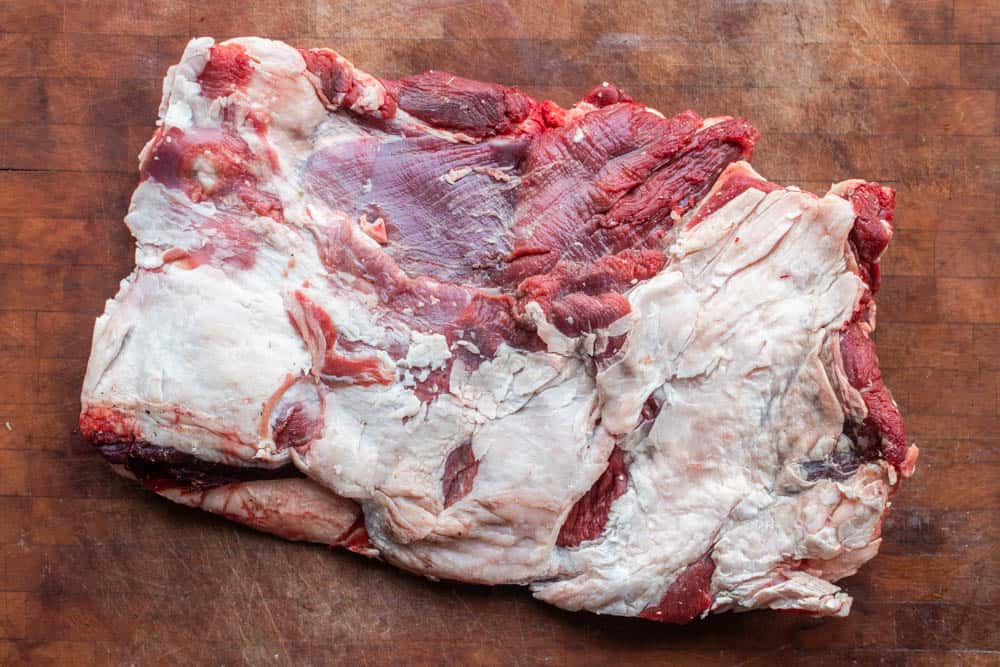 Cuts of venison I use
Breast
Any and all rib meat
Belly
Flank
Shoulder (as well as the meat around the "armpit" on the bone, or what I call the "saratoga venison roast".
Neck
Basic method
There's more than one way to make a deer ham, but here's my method. First, I rub the meat with a mix of curing salt, kosher salt, and maple sugar (although originally I was taught to brush the meat with honey) then I vacuum seal it.
After it's seasoned and has rested for 2 days, I coat it with the spice rub, then smoke it low and slow at first for 1.5 hours, finishing it in the oven wrapped in parchment to allow it to gently steam until it's fork-tender.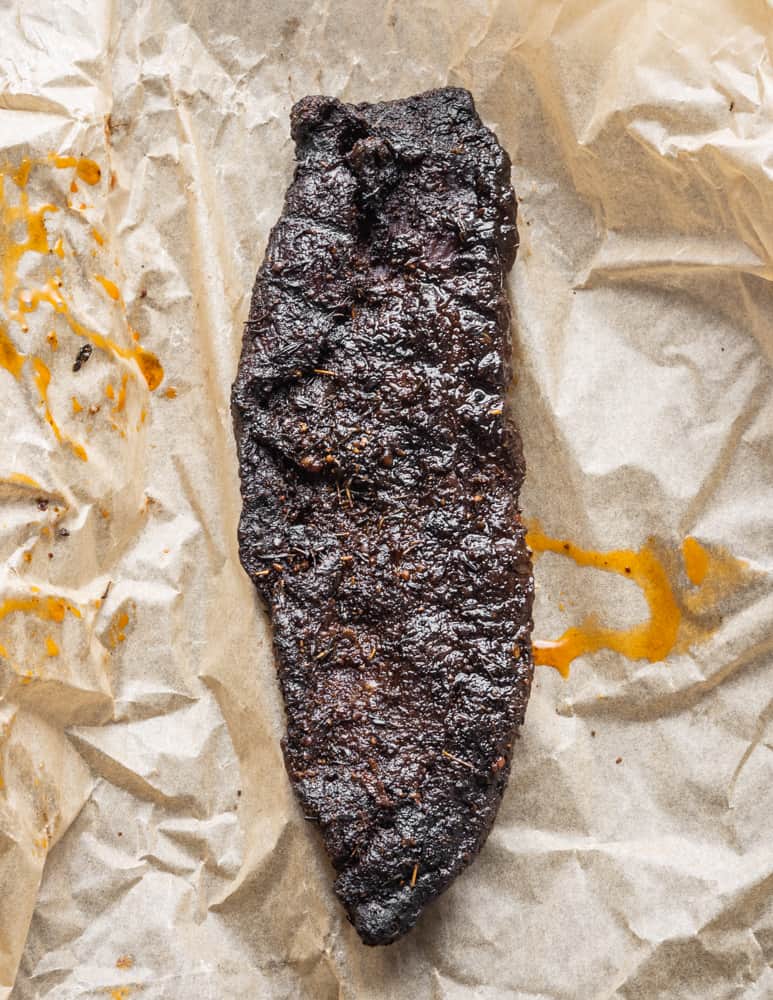 Venison is lean and can dry out so I finish it in the oven. You can get away with doing it on the smoker, and I have, but If you've never attempted something like this make sure to try the recipe as written first.
How to use
The finished ham is smoky, spicy, and rich. Typically I dice it into small cubes before cooking to remove some of the fat, as you would bacon. It'll be delicious in your favorite creole recipe, tossed with some roasted potatoes, crisped up and added to gumbo or some fried greens.
Venison hams and other things using the breast and other fatty cuts I always serve hot, since some people, myself included, find cool venison fat a little too rich.
What about the fat?
Most hunters I know of are terrified of venison fat. Curing and smoking changes the structure of the fat, but it's also important to know how I cook with the finished ham.
Brown it lightly, discard the fat, and add to a recipe in which the ham will be consumed warm. Soups and stews, especially Creole ones, are excellent places to use it.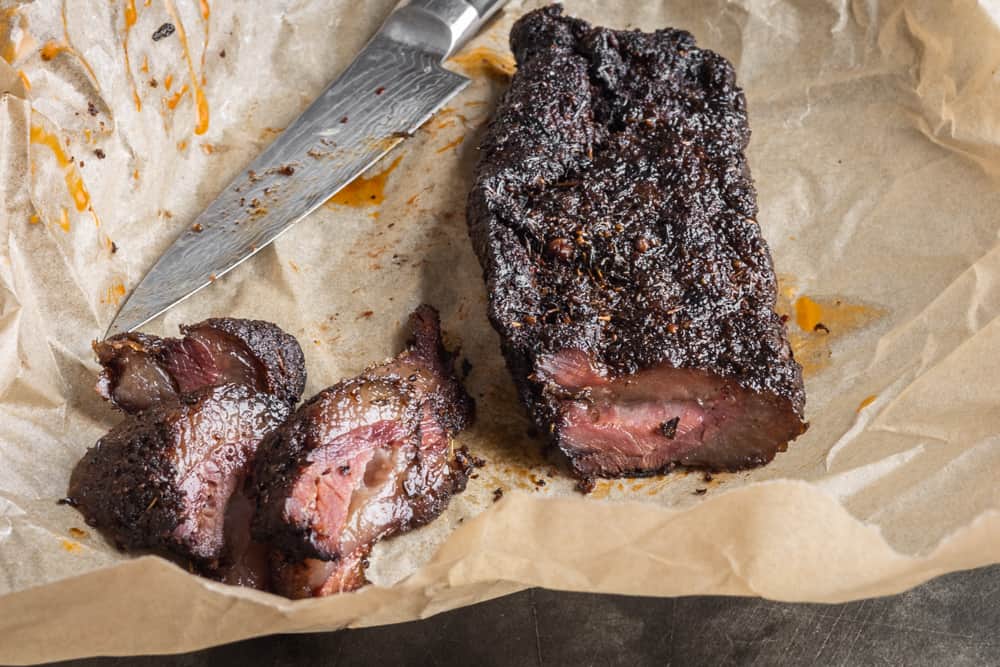 Related Posts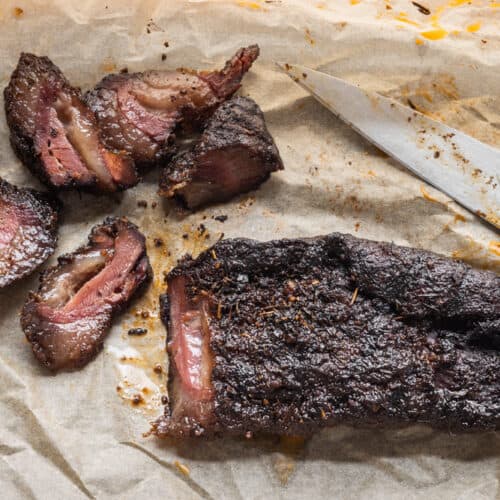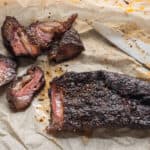 Print Recipe
Venison Tasso Ham
Spicy smoked venison ham inspired by classic Creole tasso. The rub recipe will make enough for about 5 lbs of ham.
Equipment
1 Container for brining
Ingredients
Rub
1

Tbsp.

cayenne pepper

2

Tbsp.

sweet paprika

½

teaspoon

ground allspice

1

Tbsp.

ground sage

1.5

Tbsp.

dried thyme

1

Tbsp.

fennel seeds

½

Tbsp.

ground white pepper

½

Tbsp.

cumin seed
Ham
2.5

lbs

venison breast

rib meat, or neck, in whole pieces at least 8-16 oz each. You can also use a whole leg muscle, trimmed of sinew.

2

% Kosher salt

½

teaspoon

Instacure no1

¼

cup

maple sugar or brown sugar

you can also brush the meat with warm honey before applying the spice mix as another option
Instructions
Rub
Toast the fennel, white pepper and cumin in a dry pan until aromatic, then grind and mix with the other rub ingredients and reserve.
Cure the meat
Season the venison with salt, sugar and instacure, mix well, then vacuum seal and allow to rest for 48 hours.
Smoking and finishing in the oven
Remove the meat from the smoker, pat dry, then lightly coat with the spice mix and smoke at 250F for 1.5 hours. Rotate it 180 degrees half way through the smoking process.

Remove the meat from the smoker, warp tightly in parchment, and bake at 250 F for another 1.5 hours or until fork-tender. If you use a whole muscle from the leg, smoke it until it hits an internal temperature of 150F (you will not need to transfer it to the oven).
Notes
Cuts of Venison to use 
I use venison breast here, but many cuts can be used. Rib and flap meat, as well as brisket or even shoulder or venison neck will all work good. 
Using a brine 
This venison ham recipe uses a dry rub. If you want a traditional ham, refer to my Lamb or Goat Ham. 
Nutrition
Serving:
3
oz
|
Calories:
17
kcal
|
Carbohydrates:
3
g
|
Protein:
1
g
|
Fat:
1
g
|
Saturated Fat:
0.2
g
|
Polyunsaturated Fat:
0.2
g
|
Monounsaturated Fat:
0.2
g
|
Sodium:
42
mg
|
Potassium:
85
mg
|
Fiber:
2
g
|
Sugar:
0.3
g
|
Vitamin A:
1127
IU
|
Vitamin C:
2
mg
|
Calcium:
51
mg
|
Iron:
2
mg