Large, elegant parasol mushroom caps (Chlorophyllum rhacodes) are basically the hot cousin of regular portobellos from a store.
With their cup-shape, both types can make for good stuffed mushrooms, but shaggy parasols in particular are one of the more popular wild mushrooms for stuffing, and friends from the U.K. and Germany have both mentioned to me I should try them.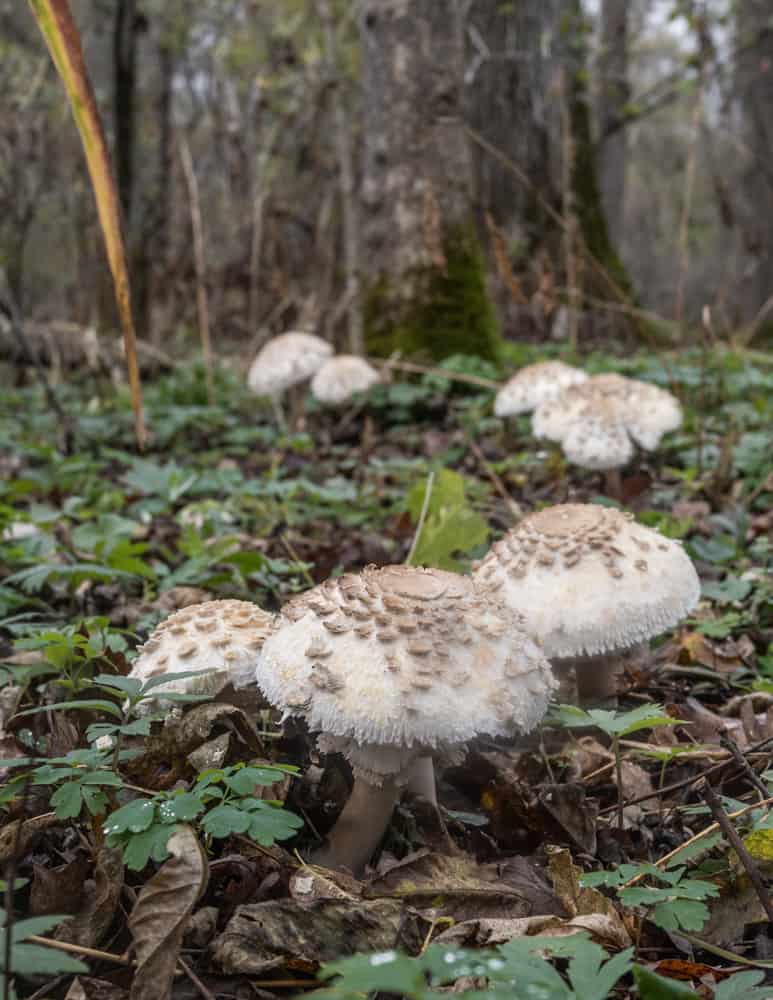 Wild mushrooms that are perfect for stuffing were, at least for me, additions to my foraging skill set that came years later than some of the easier to identify mushrooms like chanterelles, puffballs, and chicken of the woods.
Once you get them down, some of the gilled wild mushrooms, especially shaggy parasols, are easy to identify. When you're comfortable with them, picking some for the table won't feel any different from taking a banana off the shelf in a grocery store.
Using the stems
In my mind, a good stuffed mushroom recipe should use the stems. With shaggy parasols there's often lots of stem. As the stems are a little tougher than the caps, they're great finely chopped and added to the stuffing. Take a look at the pictures below to see exactly how I cut them for a nice, clean dice.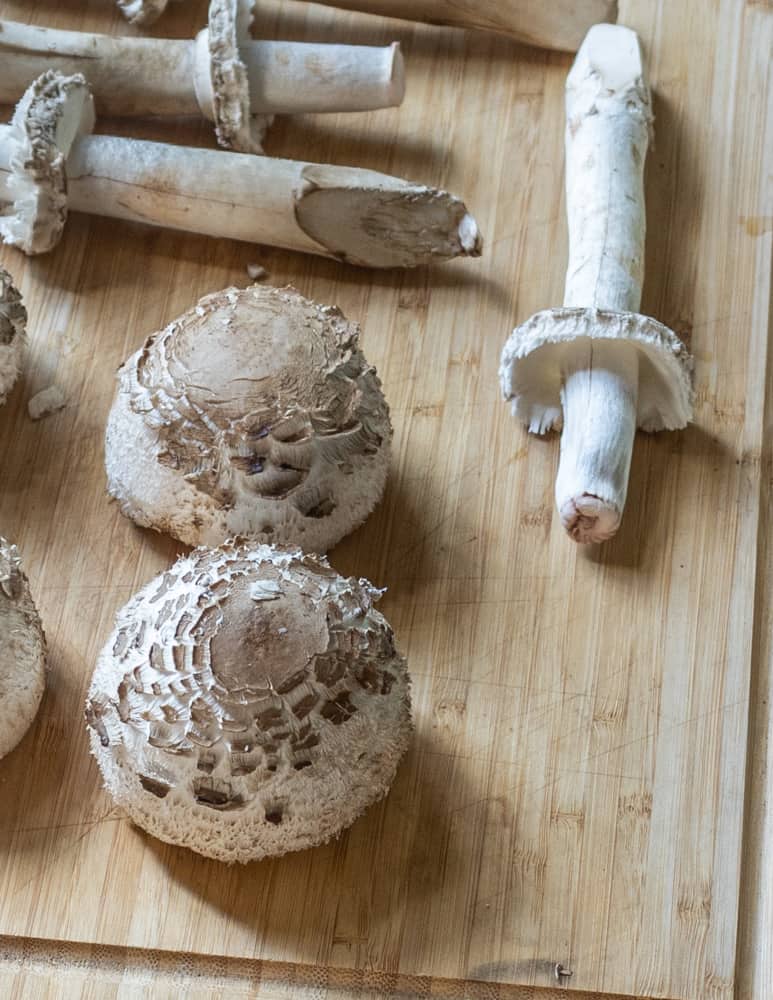 Tips
Stuffed mushroom caps are delicious, and can be rich enough to be a light meal in themselves, preferably with a salad. I have a things I always keep in mind when throwing some together, here's the most important as I see them.
The stems, if available, should be chopped, cooked, and added to the filling.
Use good wild rice, often labeled "natural" or "wood parched". If you don't know the difference between the two, I explain it here.
Breadcrumbs are necessary to help bind the filling and hold moisture.
Cheese. Because cheese. Preferably good parmesan like grana padano or parmigiano reggiano.
Meat is optional, but this is a perfect place for a leftover hunk of bacon, a couple slices of ham or a bit of crumbled sausage.
Some kind of starch. Here I use wild rice, but bulgur, white rice, quinoa or other grains work well too.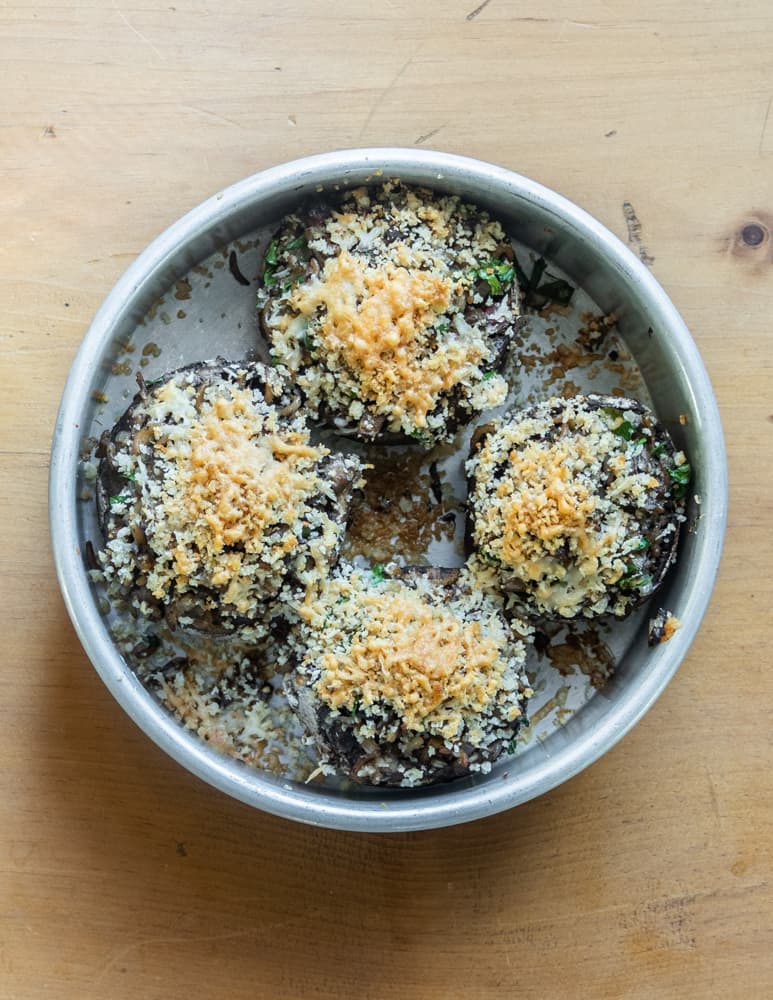 Variations
I used what I had on hand here, and some of the ingredients (venison ham) you may not have, or may want to skip. Feel free to adjust things to your taste. Instead of a little ham, you can add some crumbled sausage, or just skip it.
The herbs help make this special. I love fresh thyme with mushrooms, but you could use savory, oregano, or another fresh herb you like, just stay away from rosemary here as it's a little strong.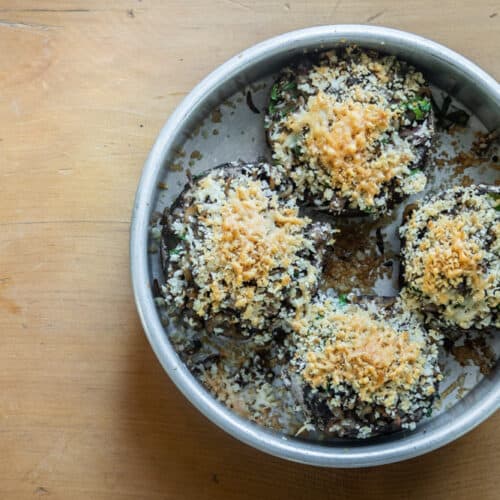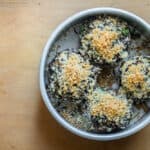 Print Recipe
Parasol Mushroom Caps Stuffed with Wild Rice
Wild parasol mushroom caps stuffed with wild rice, venison ham, and parmesan
Ingredients
4

stuffable parasol mushrooms with long stems

about 11 oz in total, expect some variation, with smaller mushrooms you may want anywhere from 6-8 caps

1

small shallot

1oz

½

cup

cooked natural wild rice

2

Tablespoons

unsalted butter

Fresh thyme

about 1 teaspoon chopped, or to taste

1

oz

bacon

finely diced or finely chopped (I used venison bacon I make)

2

T

breadcrumbs

2

T

quality grated parmesan

Kosher salt and fresh ground black pepper from a mill
Instructions
Remove the stems from the mushrooms and dice them as fine as possible by cutting them into thin strips (refer to my images here).

Dice the shallot as fine as you can or finely chop it.

In a shallow, wide pan, such as a cast iron skillet or in an 8 inch saute pan, Sweat the bacon and shallot in the butter, without letting the butter brown. Add the mushroom stems, thyme, a few good cracks of fresh pepper and a pinch of salt, and cook on medium-high until the mushrooms are wilted and have released their liquid about 5-10 minutes. Add the wild rice and warm just to heat it through, then add the breadcrumbs and parmesan. Taste and adjust the seasoning for salt and pepper.

Sprinkle the tops of the stuffed mushrooms with parmesan, bake in a preheated 400 F oven for 5 minutes, then turn down the heat and cook for another 20-30 minutes more, or until the top is golden and the mushrooms are thoroughly cooked.

They're great with a fresh green salad and/or soup, or with cooked greens alongside as an entrée.
More