The shaggy parasol mushroom (Chlorophyllum rhacodes) is a delicious wild mushroom you should know. An intermediate-level mushroom for foragers, these require a little extra time to understand and identify.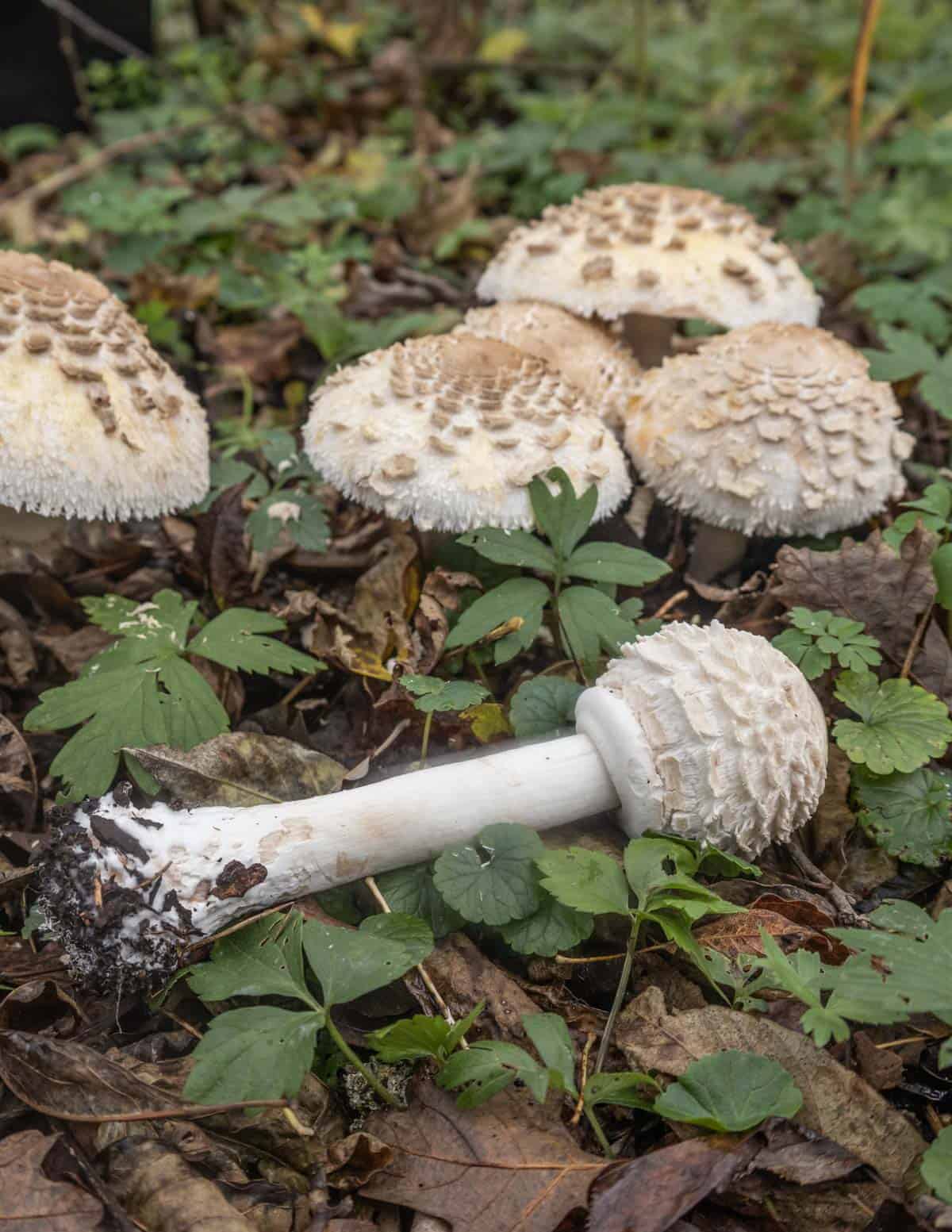 Parasols have been eluding me for a while. One day this fall though, I got a picture message from my boss's wife with a question I get often: "what is this mushroom, and can I eat it?". 99% of the time the answer is no, but this picture was of a mushroom I had studied long and hard.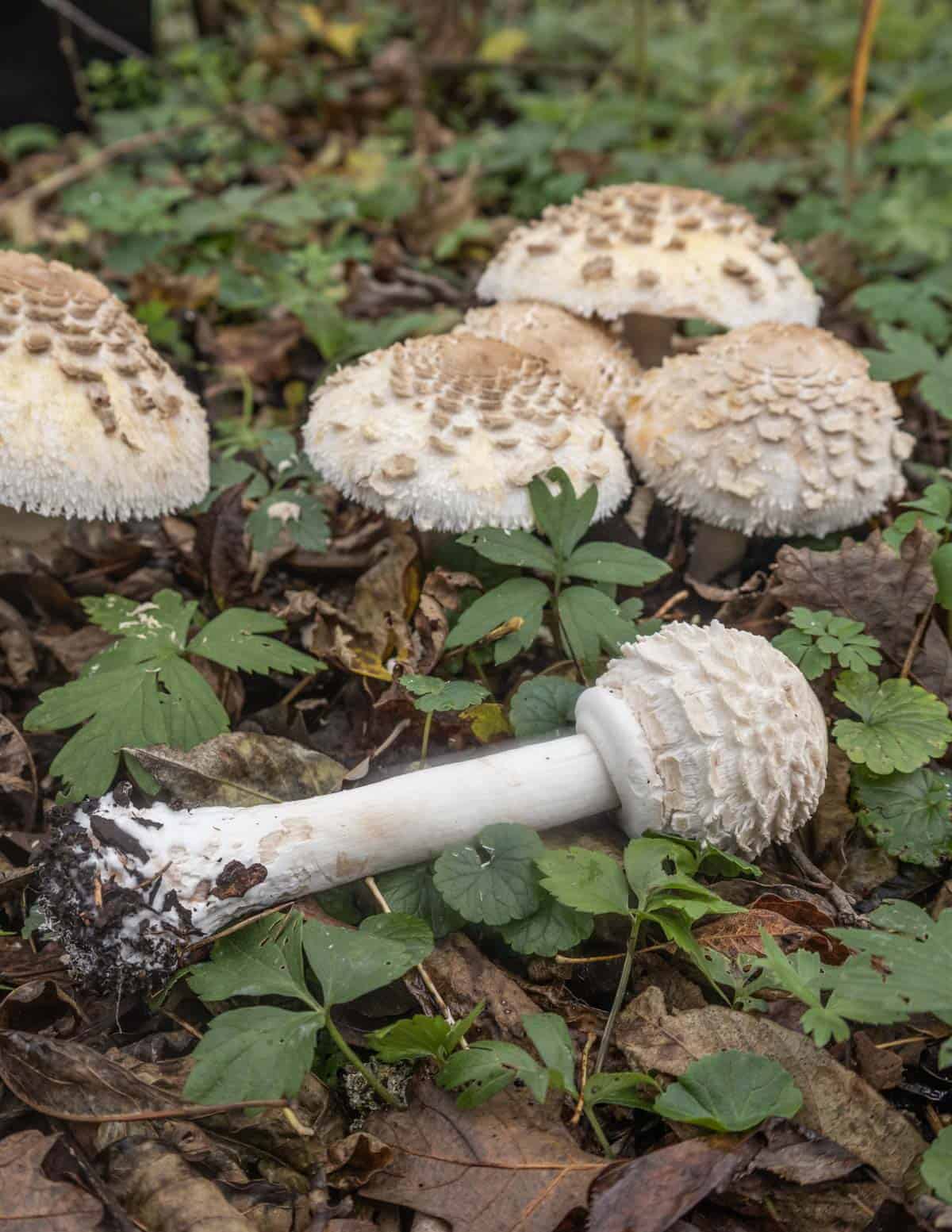 Look a-likes
The tricky part is that parasols have a nasty cousin that's in just about everyone's yard: Chlorophyllum molybdites, formerly known as the green-spored lepiota. Molybdites is the dime-a-dozen, large parasol you see all over the place. It's pretty much the poster child for online mushroom id questions, since people see them all over the place during mushroom season. One of my line cooks even brought some in this year, after asking the old question: "what is this and can I eat it?". I showed him how to spore print, and that solved that conundrum.
Molybdites is worth being afraid of too, it won't kill you, but It'll make you wish you were dead. Don't worry though, if you do your homework, there is nothing to be scared of. However, these do take a little more work to snuff out than something "easy", like a chicken of the woods, so show'em a little respect-don't throw them into a pan before you know exactly what parasol you have.
That being said, there is one other edible look alike to mention that I haven't seen personally-Lepiota americana.
Identification
Getting down to business, here's the characteristics of the shaggy parasol that stick out to me the most:
The most important trait is that these have white spores-molybdites has noticeably green ones. This means you have to collect a few mature mushrooms with opened caps for spore printing to know exactly what you're eating. You need to see the color of their spores. Since there are usually varying ages in the same patch, this isn't difficult at all. You can of course look for a "natural" spore print on the top of caps surrounding mature mushrooms too.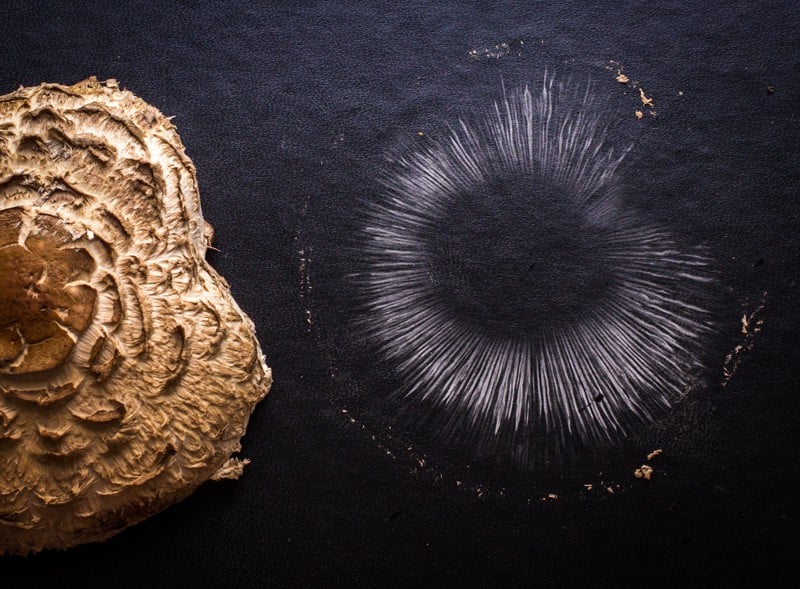 Mature shaggy parasols will not have a broad, cone-like shape to their cap
The cap is shaggy, really shaggy, meaning it's covered with little bits of fluff. If you know the difference between a shaggy mane and an alcohol inky, you won't have a problem here. Molybdites doesn't have brown scales as pronounced as our tasty parasol from my experience. Here's a picture of what I mean.
Young will bruise a saffron color when their stem is sliced, which eventually turns to dark red.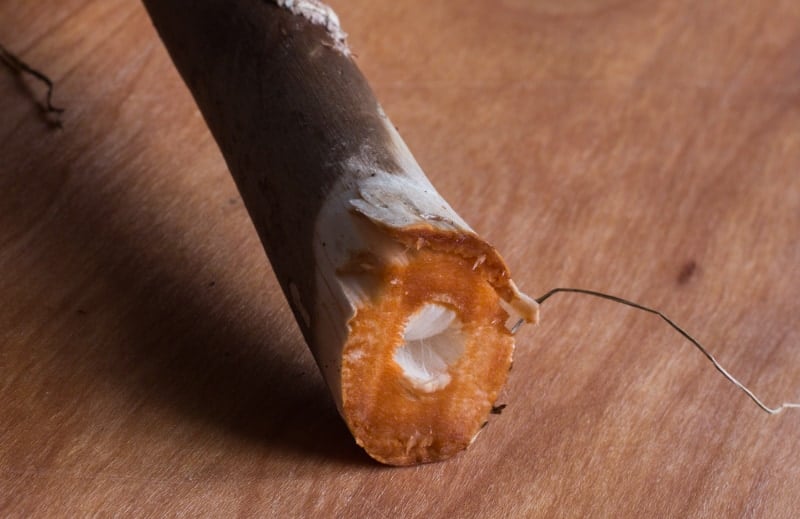 The bottom of the stem should be a bit bulbous.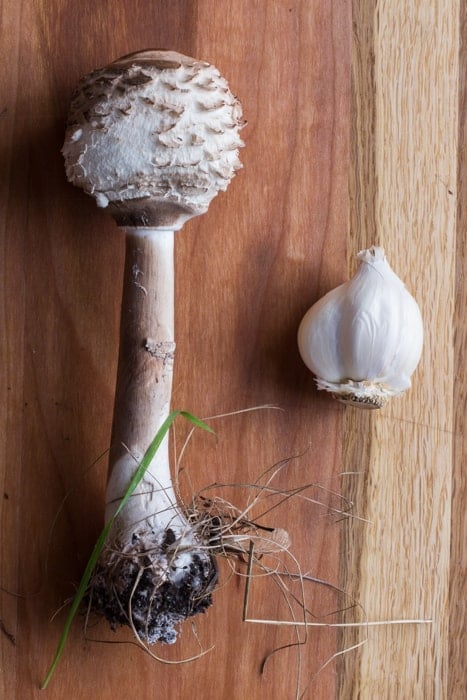 Individual sensitivity/allergy
Unfortunately, even if you come across some of these and they're true shaggy parasols, unfortunately, like morels, lobster mushrooms and chicken of the woods, some people will have allergic reactions to them. Don't be scared, but remember to enjoy small amounts at first to make sure they agree with you.
Cooking
They're excellent, and like most shrooms, the younger they are, the better they eat. Their flavor is similar to Agaric species, I've tried, like the meadow mushroom, mild and pleasant, and rich when caramelized-the biggest difference is heir long stem needs a little tlc.
Just like Leccinum species, the stem is tougher than the cap, and requires longer cooking. To get by this you can trim the stem down a few inches, or simply twist the stem off, then dice it, and cook it alongside the caps, or incorporate the cooked stem into a stuffing for the caps, which is traditional. The stem can also be peeled gently like you might a large honey mushroom, which helps it cook evenly, and is the technique I employ in the recipe below.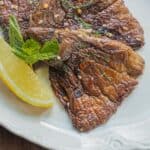 Print Recipe
Cornmeal Fried Shaggy Parasols
A simple way to enjoy these. First the stem is peeled to help it cook at the same speed as the cap, then the mushrooms are lightly battered, dredged in seasoned cornmeal and fried. Less is more. I like to use a mix of fine and coarse cornmeal for frying stuff like this, the combination of both is better than using only corn flour, and much less irritating on the teeth than using just coarse ground cornmeal. 
Ingredients
8

shaggy parasol mushrooms

harvested before the caps open, brushed clean, stems peeled

Fresh ground black pepper

to taste

1

tablespoon

smoked paprika

or more to taste

1

teaspoon

garlic powder

or more to taste

2

cups

fine cornmeal

2

cups

coarse cornmeal

polenta

Unsalted butter

as needed for frying the mushrooms

4

large eggs

1

tablespoon

water

Wedges of lemon

to serve, (optional)
Instructions
Beat the eggs with the water and reserve. Mix the cornmeals, paprika, pepper, and garlic powder and reserve.

Halve the mushrooms.

Melt a tablespoon or two of butter in a cast iron skillet or a wide saute pan on medium heat, when it's hot, place the mushrooms in the beaten egg to coat. then dredge thoroughly in the cornmeal. Tap off excess cornmeal from the mushrooms, then place in the pan. Season the mushrooms with salt, then fry until golden and crisp. Flip the mushrooms and caramelize the other side.

When the mushrooms are fully cooked and hot throughout, about 5-10 minutes, remove them and place on paper towels to drain excess fat, then serve immediately with a lemon wedge on the side.
More