Reading Jean Louis Palladin was when I first saw the importance of language in writing a menu. It's a tangent from our puffball recipe, but my favorite example is how he described cooked testicles to diners. If he knew them, he told them they were sweet breads, if he didn't know them, he told them they were "white kidneys".
There's countless other examples, but most are not as funny. The point is that there's a certain balance as a chef you need to find between what you want to describe creatively, and what the majority of diners will actually comprehend, or be willing to eat.
Getting to our puffballs, foods described as caviar are a great example of describing something with a little of the aforementioned poetic license. Think of eggplant caviar. Is it truly caviar, or does it resemble the flavor of fish eggs in any way? No, but calling it caviar is much more of an easy sell than calling it roasted eggplant goop.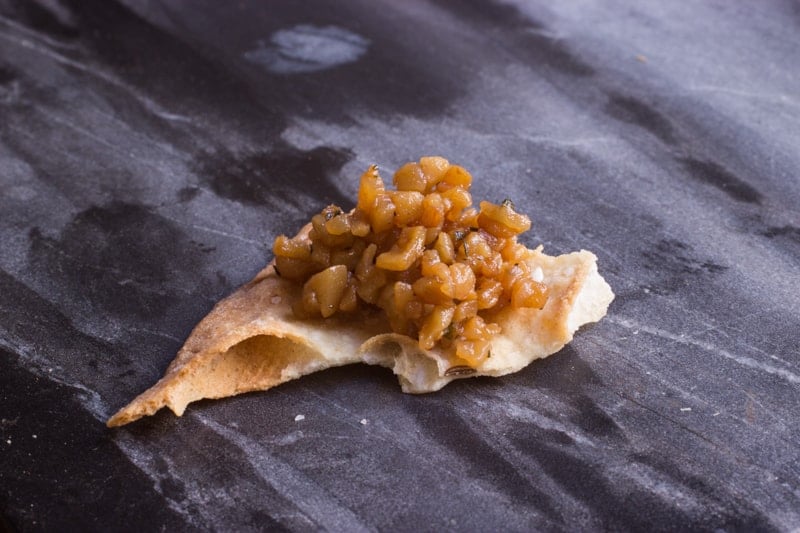 It's important to follow some rules though. When I think of a "caviar" preparation, I generally think of the following:
The food in question has been cut into small, tiny shapes, typically brunoise or ¼ inch dice, or it could be type of chunky spread, as with eggplant caviar.
It is served on toast or another vehicle
Other than that, there really isn't much more to this recipe. You saute some finely diced puffballs with a teeny bit of garlic and herbs, then de-glaze the pan to moisten, then cook it down to remove any excess liquid and voila, the foundation for a terrific appetizer, ravioli filling, or even a vinaigrette or sauce. It's a bit like duxelles, just with a little fine knife work involved.
As with duxelles too, the "caviar" could even be frozen, and is a great way to preserve puffballs since most of their water weight is cooked out.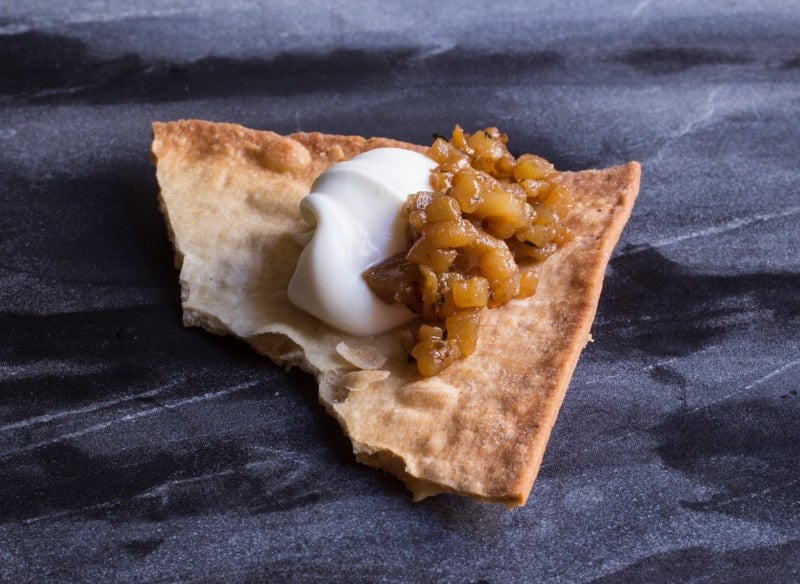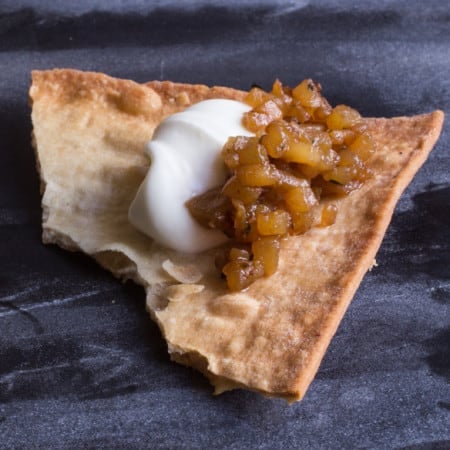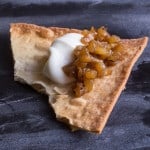 Print Recipe
Puffball Caviar
A simple appetizer to eat with crackers made from puffball mushrooms. Yield: ⅓ cup
Ingredients
4

cups

puffballs

diced ¼ inch

2

tablespoons

cooking oil

1

tablespoon

wine

2

tablespoons

strong chicken stock

preferably homemade

Kosher salt

to taste

1

teaspoon

fresh chopped thyme

Crackers and creme fraiche or sour cream

for serving.
Instructions
Slice off the bottom of the puffball to remove any dirt. Using a paring knife, and then your fingers, remove the tough outer skin from the puffball. Cut the puffball in half and inspect for insect damage, or any discoloration, it should be pure white.

Lay each puffball half cut side down on a cutting board, then, using a long, sharp knife, cut the puffball into slices as thin as possible, attempting to keep the slices whole

Lay the puffball slices on top of each other and dice into tiny squares.

Heat the oil in a wide saute pan, you will need a very wide 20inch pan, or two 10 inch saute pans could also work. When the oil is hot, add the diced puffball and cook until lightly browned, then add the garlic and thyme and cook for two more minutes, stirring occasionally.

Season the puffballs lightly with salt, then deglaze the pan(s) with the wine, then the stock. Continue to cook until the pan is nearly dry, then transfer to a container, stir in some sour cream or creme fraiche to taste, a tablespoon or two, label, date, and refrigerate until needed. It'll last for 3-4 days in the fridge.
Notes
Excellent served with a little sour cream on a cracker.
More