There's a lot of boletes out there to hunt, and they can be mystifying to try and identify if you're trying to make a meal out of them. Scaber Stalks, also known as Leccinums, Aspen or Birch Boletes, are one of the more easy boletes to identify. But, there's a few things you need to know if you want to cook them safely.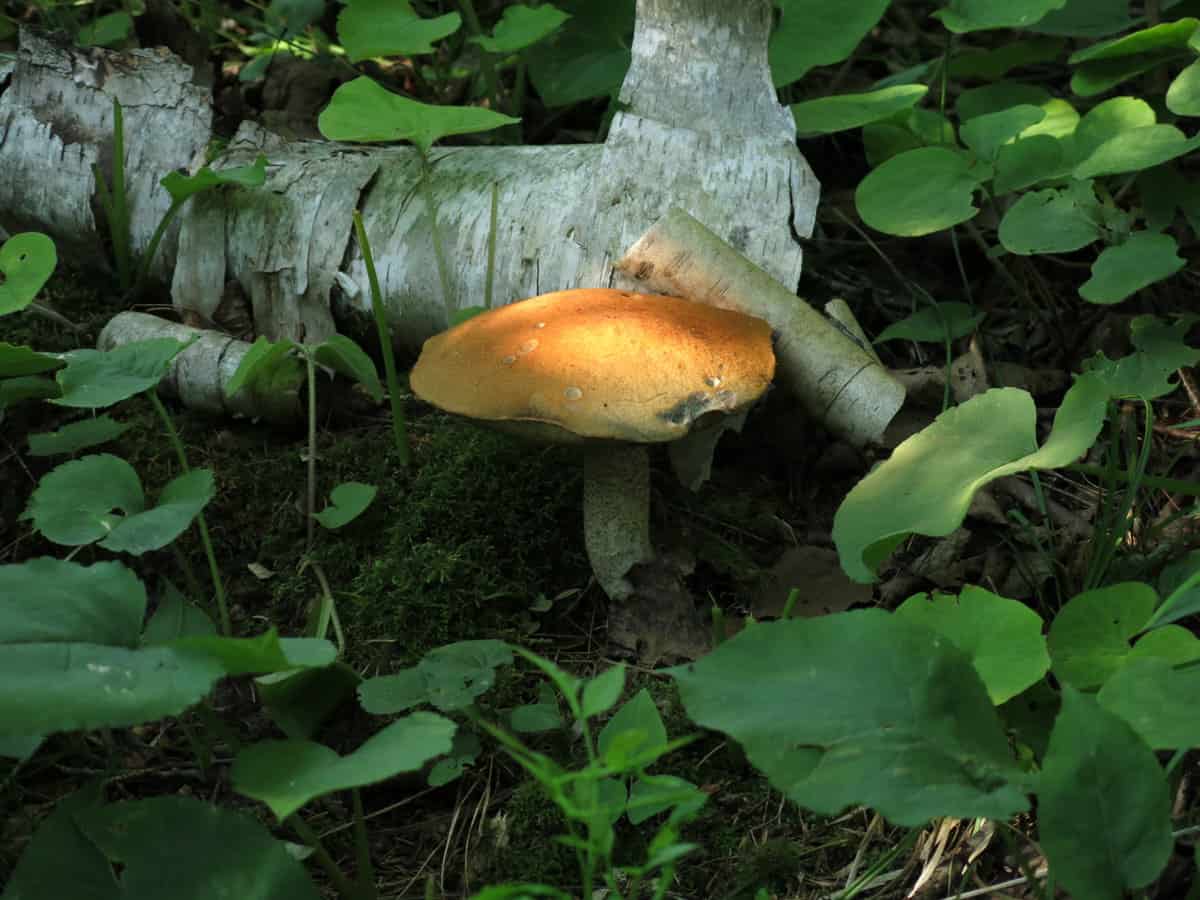 Well, hold on, saying that they're easy to identify though is a little misleading, but, basically, It's easy to tell if a mushroom is a Leccinum, but it can be difficult to tell exactly which species of Leccinum it is.
For the most part, with the exception of one species I'll go over, Leccinums tell you immediately what they are by the markings on their stems, also known as "scabers".
Scabers
The picture below is a great example of typical-looking Leccinum. Notice the scabers, or black markings on the stem, which are a dead giveaway.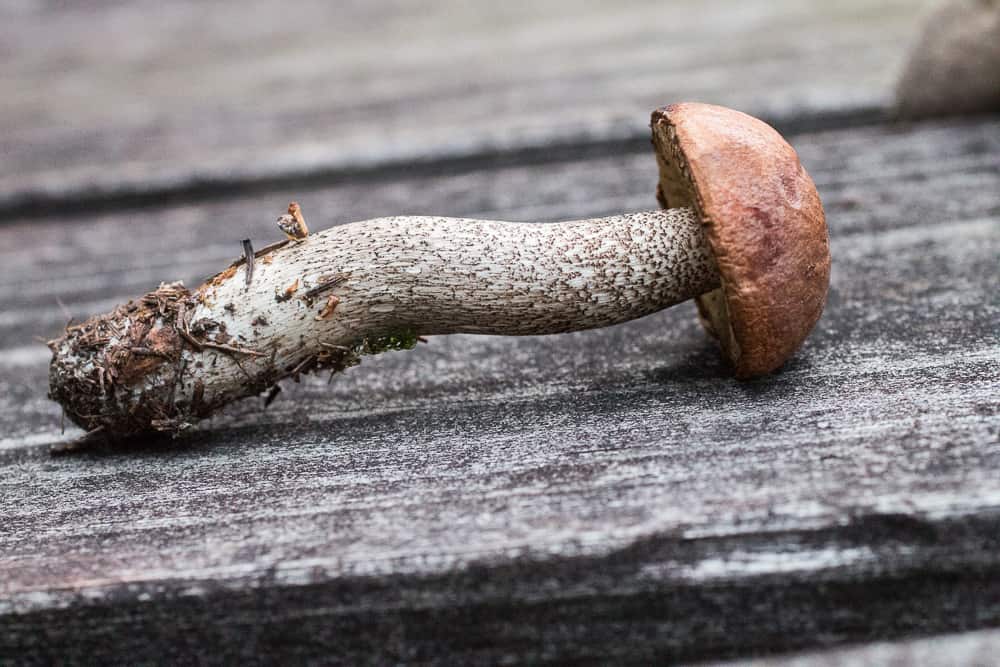 Exceptions to the scaber rule
Of course, mushrooms don't know that they're supposed to play by rules, so, of course there is an exception to the scaber ID trick. Luckily, so far these are the only one I know of, and once you've picked them a couple times, they're easy. They're name is Hemileccinum subglabripes, or what I call the yellow Leccinum, and they are the only mushroom I know of with the word Leccinum in their name that doesn't have the black markings on the stem.
Everything else is similar though: they're heavy, weighty mushrooms, and they enjoy the same habitat as other Leccinums. They're also good eaters, and have a great resistance to bugs. See more pictures of these here.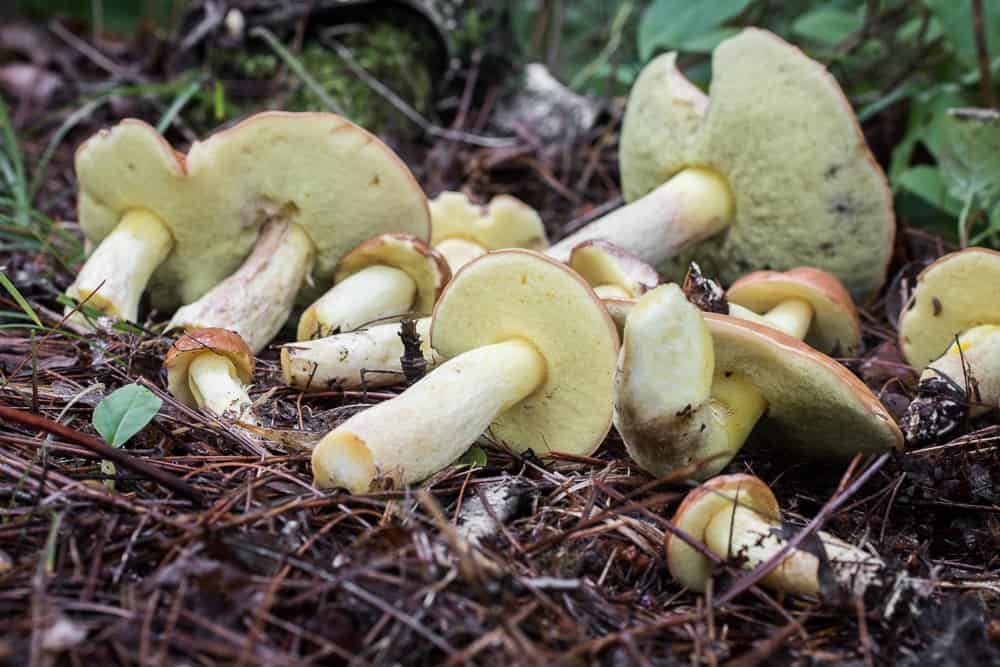 Habitat
These will start to fruit in the summer where I'm from in Minnesota, just as the chanterelles start to fruit in early July.
As their name implies, more often than not when I see them, they're growing with aspen or birch, although I've seen species with the dark red cap growing in stands of pure Norway pine as well in Northern Minnesota. The species below I usually see in areas that include both aspen and oak.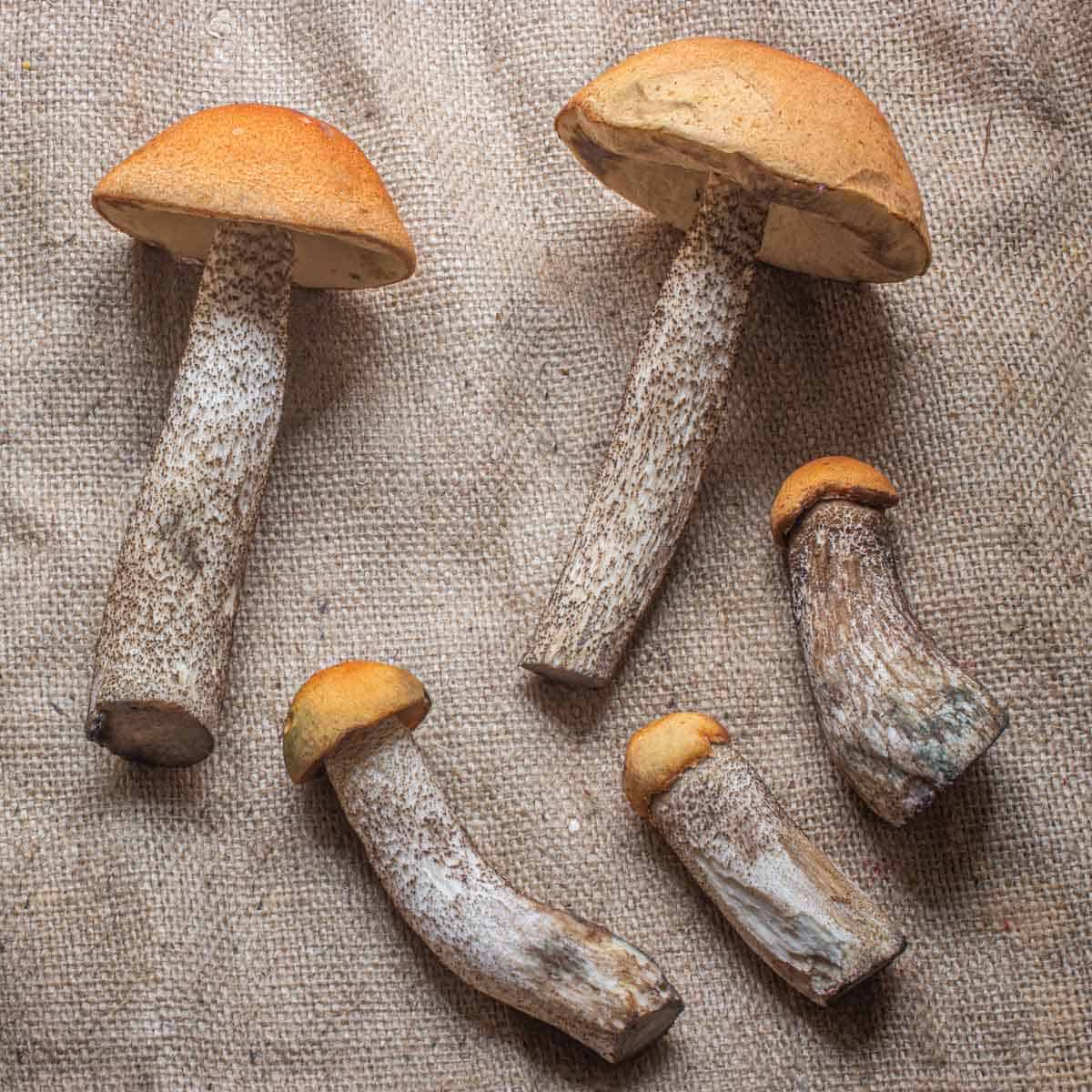 Orange-Capped Leccinums: edible, poisonous? Or Both?
Boletes in the Leccinum family have been used as a food for a long time, and they're especially popular in Eastern Europe, and with Immigrants in the United States from those countries. But, current field guides do not recommend orange cap-leccinum mushrooms for the table, citing a number of different poisoning cases over the years.
However, just because a few people were poisoned, in my mind, doesn't necessitate that we toss out a group of mushrooms that are delicious to eat. Modern, alarmist claims that certain food plants and mushrooms that have been known to be eaten for a long time by different groups of humans, need to be taken into consideration, and balanced, with ethnobotanical evidence and accounts of consumption. Modern science is extremely valuable, but so are the human food traditions that often predate it by thousands of years.
"It wasn't the mushrooms fault that I didn't cook it long enough"
I should know, as Leccinum is the only species of wild mushroom I've poisoned myself with. The thing was, I had been eating Leccinums cooked fresh, and I didn't cook them long enough.
After a night full of horrible vomiting and cramps, I learned my lesson. It wasn't the mushrooms fault that I didn't cook it long enough. I dry ever Leccinum I harvest now, since, besides improving their flavor, it negates gastro-intestinal worries. Dehydrating, in my opinion has been, and always will be a first line of defense against the most common, mild toxins found in edible mushrooms.
It might sound weird, but orange-capped Leccinum are what I would call technically poisonous, and edible at the same time, just like Morchella and Gyromitra mushrooms. It's my opinion that orange capped Leccinums, after dehydrating, are just as safe (not to mention rich and delicious) as any most other wild mushrooms you'd like to eat. To be clear: I dehydrate every Leccinum I harvest.
Cooking
There are definitely a couple tricks to know here. The first thing I'll mention is that I don't typically eat them fresh unless they're very small buttons. I prefer to dry them, since I think it concentrates their flavor, and also bypasses any danger of under-cooking. When eaten fresh these are good, but a bit mild.
Separating the caps from the stem
One thing you'll notice straight away, is that these can be heavy, dense mushrooms, well, the stem that is. As the mushrooms age, the stems stay very firm (and often bug-free), but, the caps can become flimsy, and often full of intruders.
This means that the cap and stem will cook at different rates, so you'll need to add the stalk to the pan first, before adding the cap, if you want to do something like saute them, which I generally don't do any way.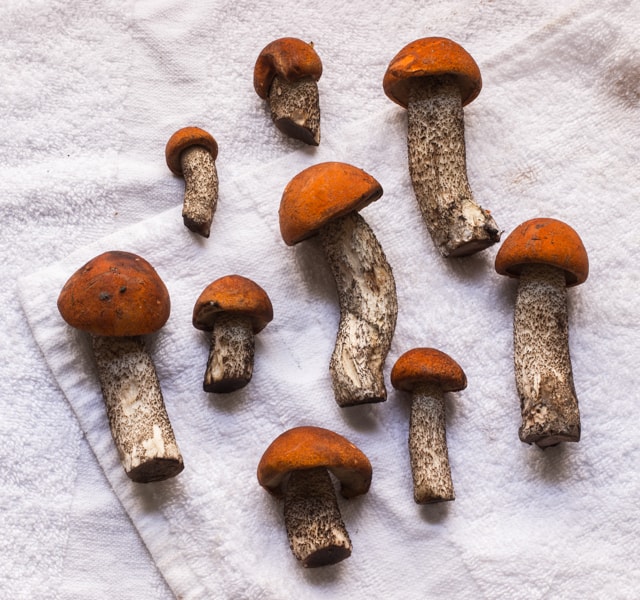 Recipes
Here's some favorite recipes I like specifically for Leccinums, or boletes in general