This is a very special recipe to me. At first glance it looks like some shrimp with vegetables and mushrooms. In reality, it's a snap shot of my formative years as a cook, when I was working under a man from Rome I adored; trying to learn all that I could from him.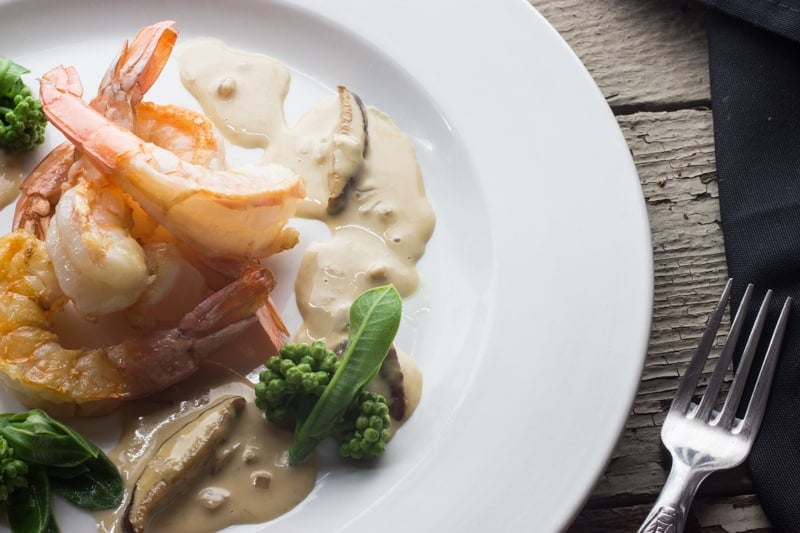 I was up in the big Twin Cities, at a "real" restaurant, and I would have wet myself had they even given me the chance to try my hand at their saute station. Of all the dishes though, there is one that comes to mind besides risotto that only the sous or head chef Angelo Volpicelli (who I admire so much) would make, the signature dish of the restaurant: "Gamberoni Portofino".
One of the things I like most is the name. It translates to something like "shrimp of the final port", evoking the thought of a nice meal at the end of a journey or something, I would think.
I'm saying this tongue in cheek, since the word "Portofino" is really just a name catch-all name slapped onto tons of dishes in mid-price range Italian restaurants. Chicken portofino, clams portofino, pasta portofino, I've seen plenty. (Google "chicken portofino" for some retro recipe gems!)
The secret to the sauce is the soy, it adds this umami-ness to it that's surprising, you can't even tell it's there, but it will leave your friends crooning. Alongside the shrimp and mushroom sauce, it was served with asparagus and a rotating starch, typically some potatoes, usually mashed or roasted.
I've been waiting to make this dish again, to relive a bit of my past. I modified a few things to deepen the flavors and add interest, here's what I did:
Instead of asparagus, I used some milkweed clouches, since they are in season right now. If you're wondering what a "clouche" is, it's a term I learned from my friend to describe the tender, top growth from plants.
I have yet to find a culinary or botanical example of it in a guide, but it's a term he brought with him from the CIA, so I trust that. You can certainly pick off milkweed buds, but picking off the entire top potion of the plant gives it more of the effect of a small vegetable, as opposed to just a broccoli like floret.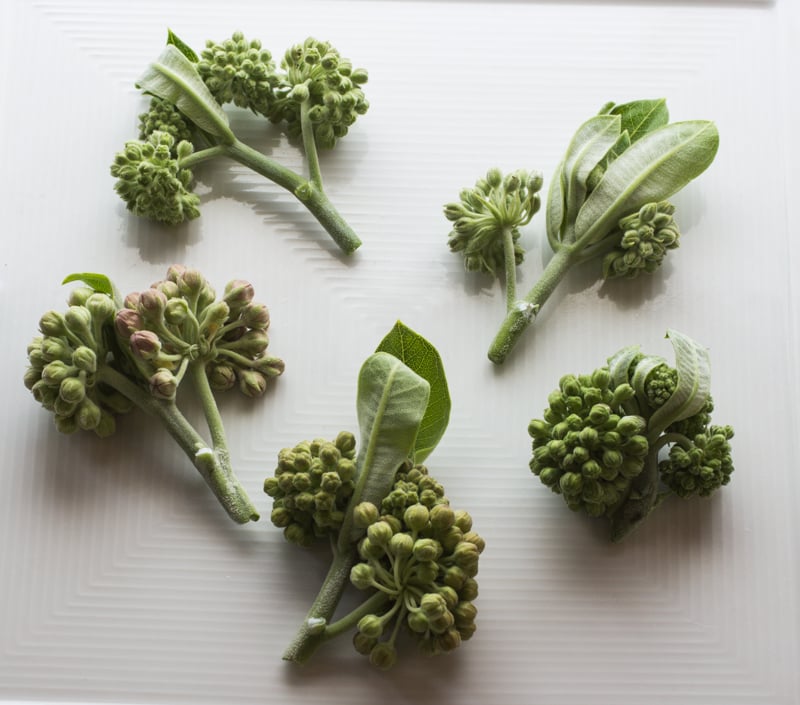 Instead of portobello mushrooms, porcini are incorporated here in two different ways. First, they are substituted for the portobellos themselves in the sauce, but the real treat here is that I substituted dried mushroom soy sauce for the regular soy.
Given that dried porcini are easily found in supermarkets, it makes this dish really approachable for home use as well. Even if you don't feel like making the whole thing, at least give the porcini-soy cream a try sometime, it'll knock your socks off.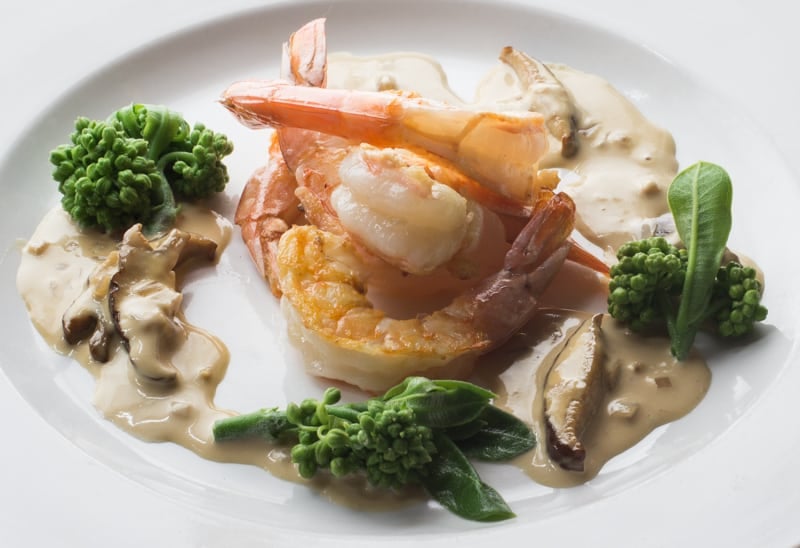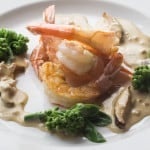 Print Recipe
Gamberoni Portofino, With Porcini-Soy Cream
Serves 4 as an entree. We would usually serve this with a starch on the side, like mashed or roasted potatoes, rice would be good too.
Ingredients
20

large shrimp

like U/10  (under 10/pound)

Kosher salt and pepper

1

cup

heavy cream

3

tablespoon

shallot

½

cup

shrimp stock or chicken stock

8

oz

Milkweed clouches

asparagus, broccoli, or another green vegetable could be substituted

Grapeseed or another high heat oil for searing the shrimp

as needed

1

tablespoon

soy sauce

1

tablespoon

unsalted butter

chilled
Instructions
Clean the shrimp by removing their shells and intestinal tract. Reserve the shells. See a video of trimming shrimp here.

Heat a pot of lightly salted water for blanching the milkweed or other vegetables.

In a large saute pan, heat 3 tablespoons of the grapeseed oil until lightly smoking. Add the porcini and cook for a few minutes on high heat, until the mushrooms are golden brown. Season the porcini lightly with salt and pepper, then add the butter and the diced shallot and cook until the shallots are no longer raw, about 2 minutes.

Add the brandy or cognac to the pan and cook until the pan is nearly dry. Add the shrimp stock to the pan and reduce until nearly dry. Lastly, add the cream and porcini soy sauce to the pan and heat gently until it is thick enough to coat the back of a spoon, about 3-4 minutes. Turn the heat off of the pan and reserve the sauce until needed.

In a separate large saute pan, heat 3 more tablespoons of the grapeseed oil until lightly smoking. Season the shrimp with salt and pepper and sear 2 minutes on each side, until caramelized and almost cooked through. Do not over cook the shrimp.

Blanch the milkweed clouches in the boiling salted water for 2 minutes, then drain on a paper towel and keep warm.

When it's time to serve, reheat the sauce and whisk lightly, making sure it is looks slightly thickened and velvety. On each of four pre-heated dinner plates, arrange 5 of the shrimp, drizzle some of the mushrooms and sauce around the shrimp, then garnish each plate with some of the blanched milkweed clouches and serve immediately.