Depending on where you are, white chanterelle mushrooms can be a few different things. Mostly people will know these as Cantharellus subalbidus, but there's others as well. One thing that's for certain is that they're all delicious. In this post I'll tell you everything I know about hunting, identifying and cooking them.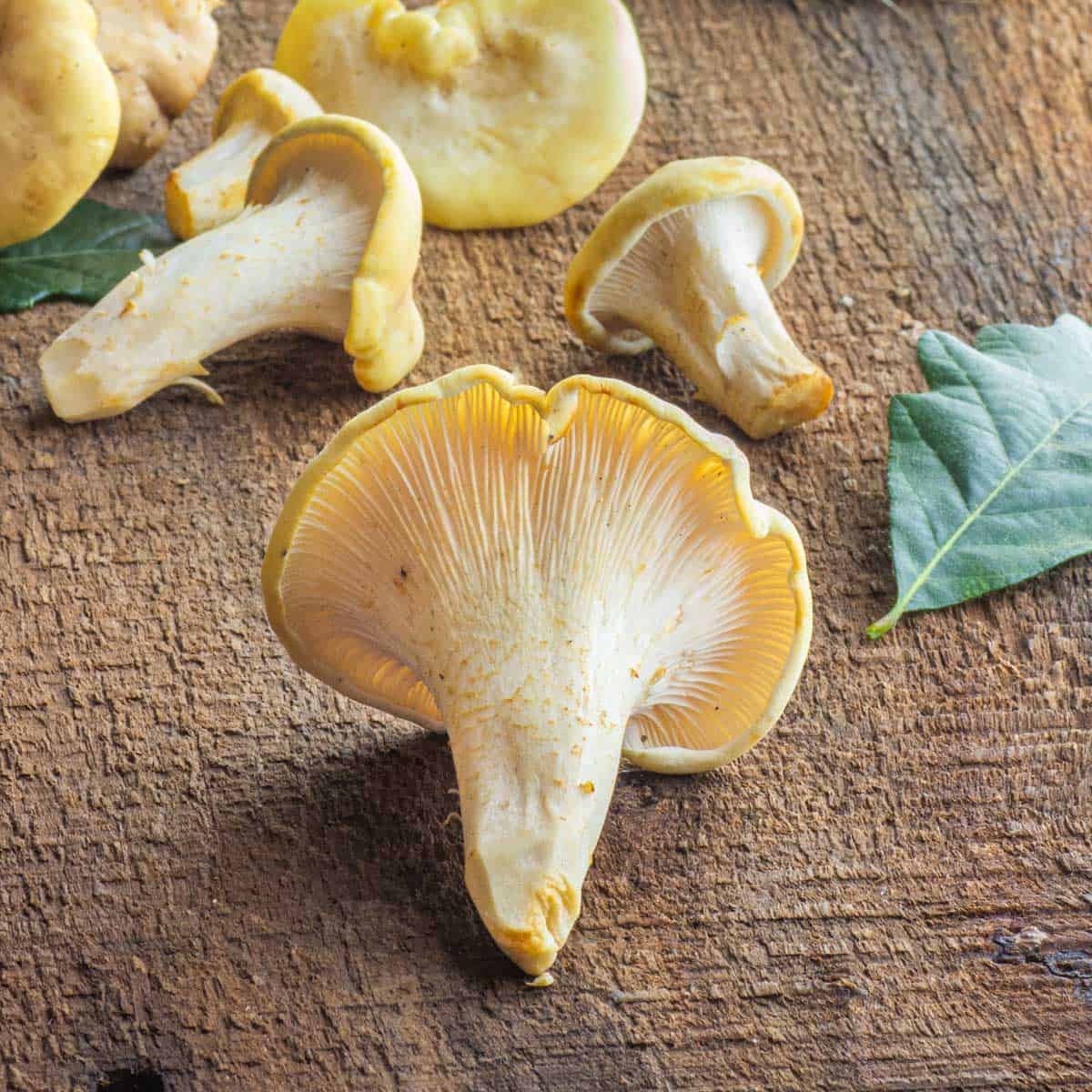 White Chanterelle Varieties
Cantharellus subalbidus is the chanterelle harvested in Northern California and the Pacific Northwest, it grows in the fall with douglas fir in old growth forests. In Europe, there's Cantharellus pallens. which I've harvested in France.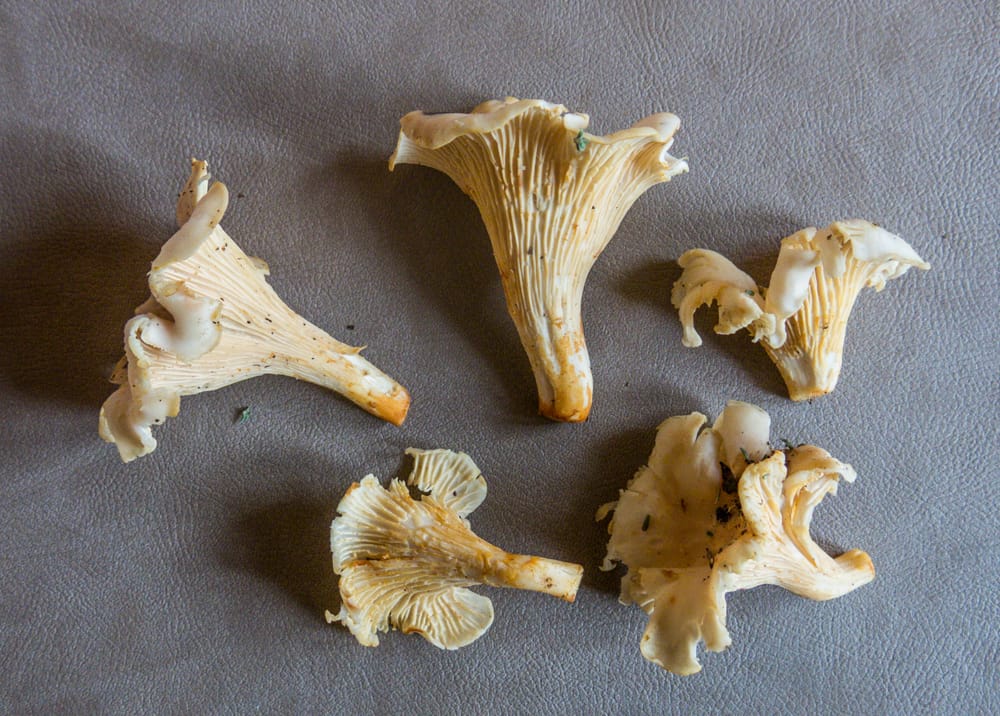 Albino Mushrooms
In the Midwest, Minnesota and Wisconsin, white chanterelles grow as albino mushrooms. This happens with many chanterelles, including C. enelensis, C. phasmatis and others. Depending on the species they could grow with oaks, red pine or jack pine.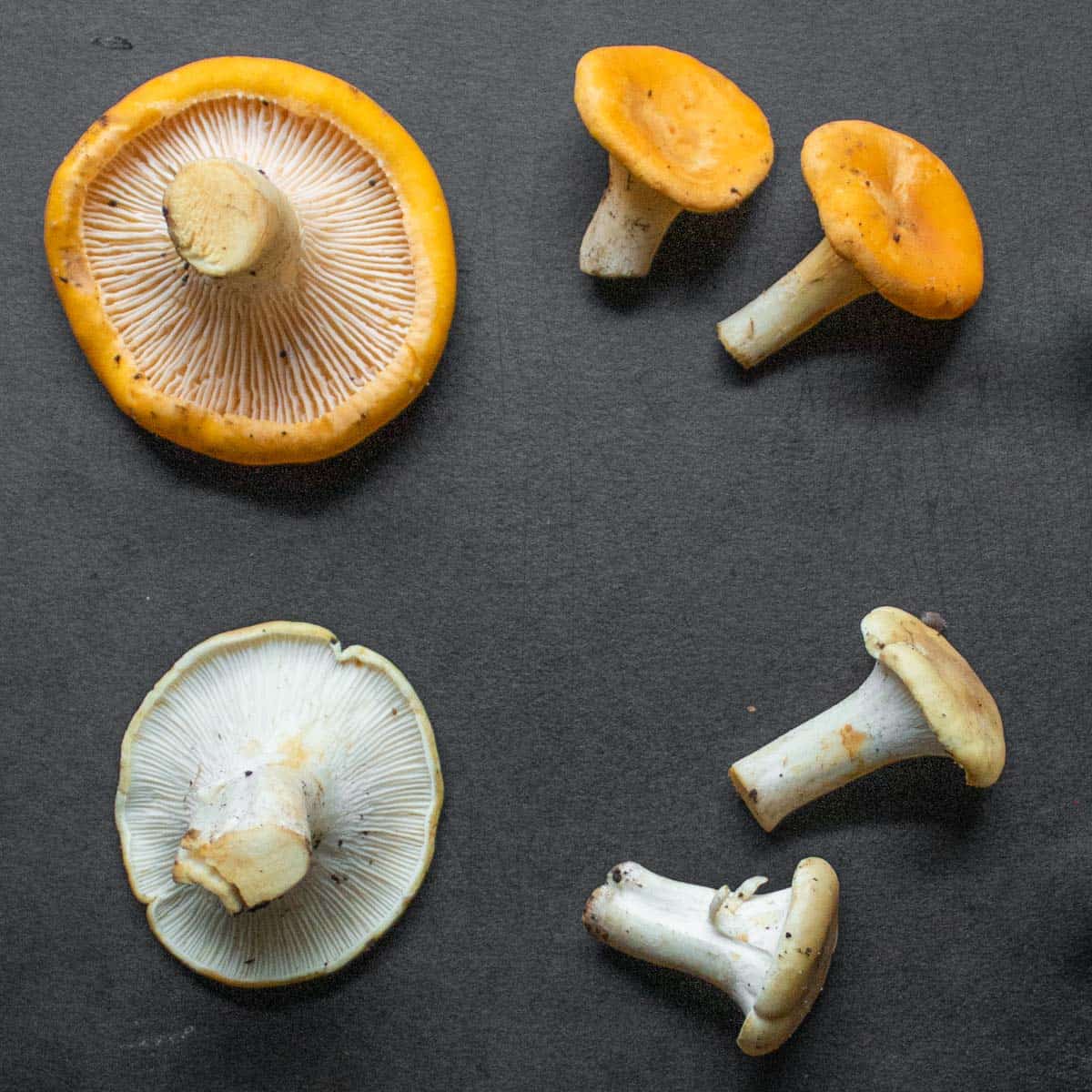 White Chanterelle Mushroom Identification
Identification is easy. Just like others, true chanterelles will always have false gills vs true gills, and a white spore print. Unlike golden chanterelles, whites will be slowly bruising yellowish when rubbed or cut.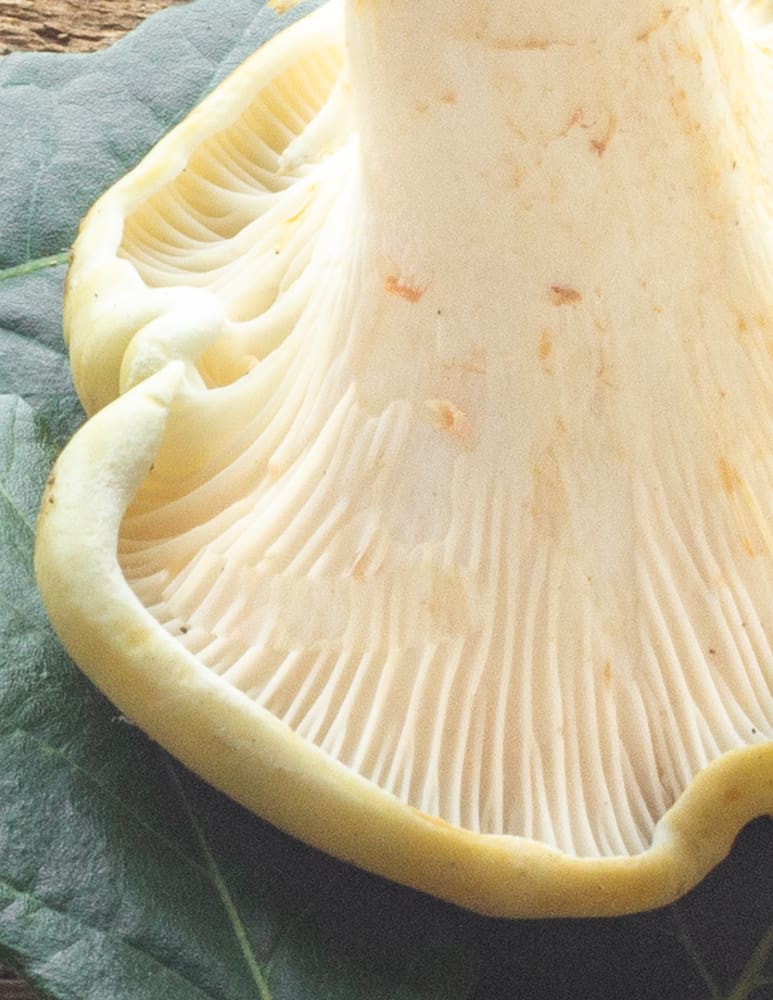 White Chanterelle vs Gomphus flocossus
Gomphus floccossus is an inedible white chanterelle look alike that also has false gills. Some people eat them, but they're not recommended and can make you sick.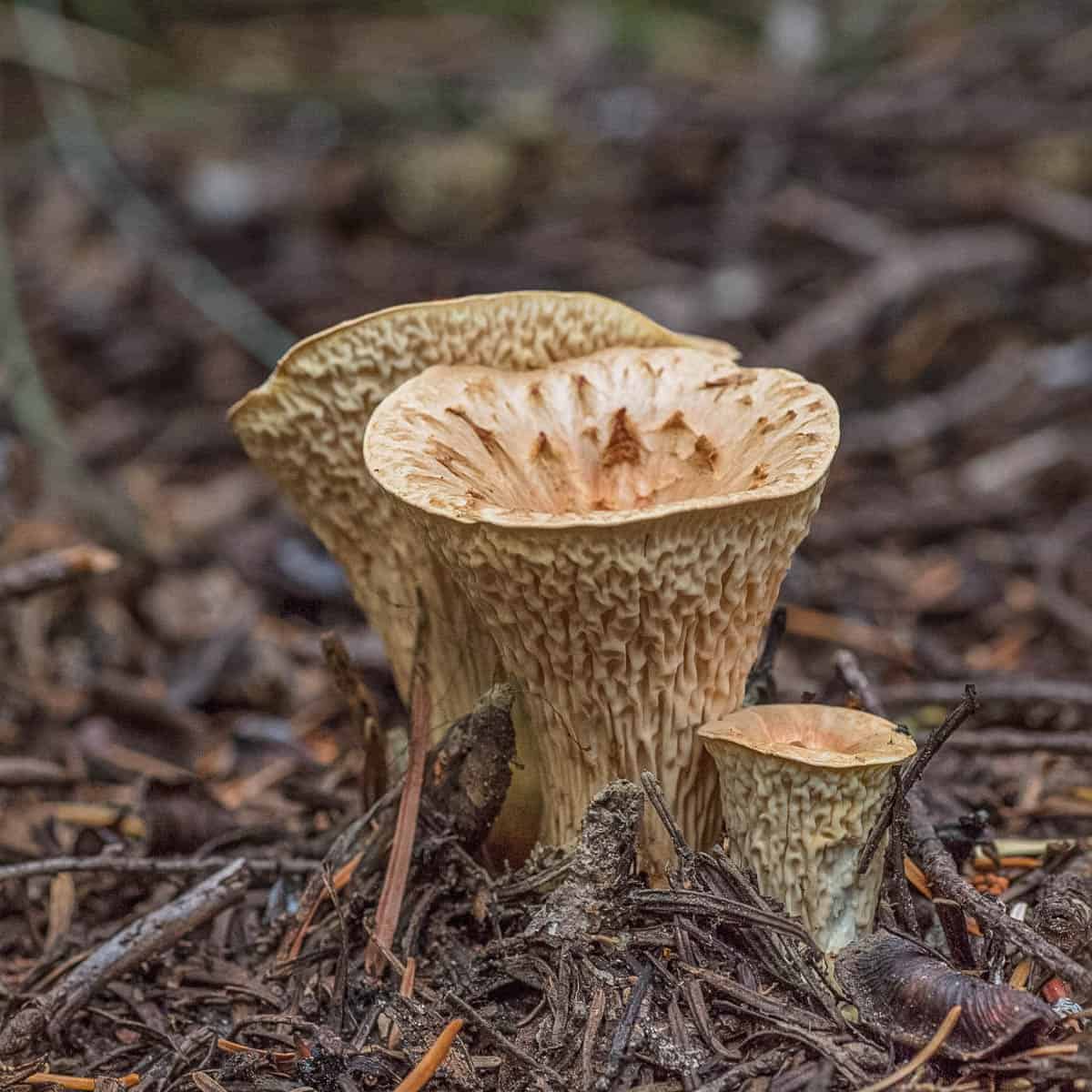 Buying White Chanterelles
White chanterelles are sometimes sold commercially. Foods in Season and West Coast Wild Foods occasionally carry them. The price of white chanterelles is usually $20-30 per pound. Contact them and get put on a list for chanterelle season.
Cooking White Chanterelles
White chants are just like others, but they have a softer, slightly milder flavor and fruity aroma. The albino varieties also have a slightly more firm texture. Young buttons should be cooked whole, larger mushrooms can be cut into pieces. They take well to a wet saute.
More White Chanterelle Recipes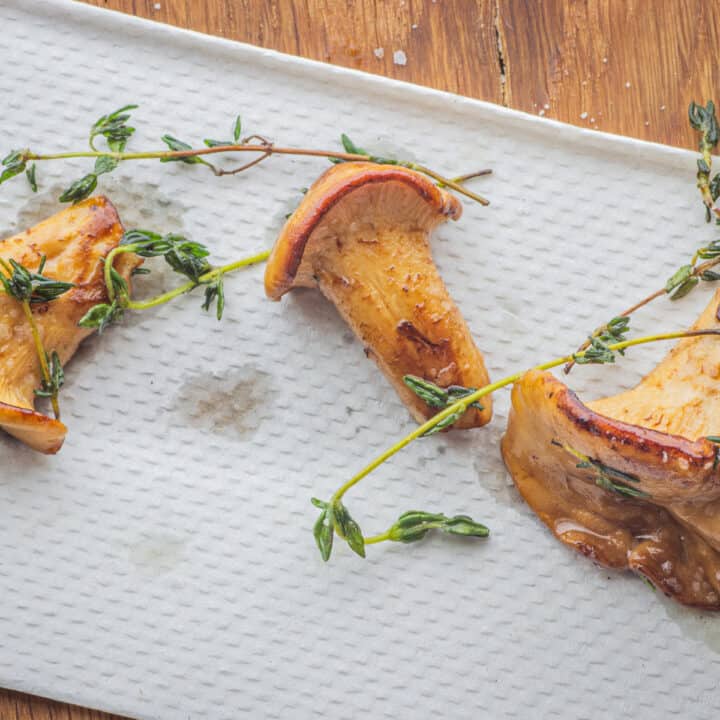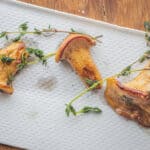 Print Recipe
Pan Roasted White Chanterelles
Fresh chanterelles, simply pan roasted with salt, pepper, and fresh thyme lets you taste the special flavor of the mushrooms.
Equipment
1 10 inch saute pan or cast iron skillet
Ingredients
8

oz

fresh white chanterelles

preferably not too large

Kosher salt

to taste

2

tablespoon

Grapeseed oil

2

tablespoon

unsalted butter

a few small

whole sprigs of thyme
Instructions
Preheat the oven to 400 degrees.

Heat the oil in a large skillet until nearly smoking.

Add the chanterelles and cook until starting to brown, about 4-5 minutes.

Season with salt and pepper and add the thyme. Put the pan in the oven for 4-5 minutes more.

Remove the pan from the oven, add the butter and cook on medium heat. Taste a mushroom and adjust the seasoning for salt and pepper until it tastes good to you.
Nutrition
Calories:
191
kcal
|
Carbohydrates:
4
g
|
Protein:
1
g
|
Fat:
19
g
|
Saturated Fat:
17
g
|
Polyunsaturated Fat:
0.2
g
|
Monounsaturated Fat:
1
g
|
Trans Fat:
0.2
g
|
Cholesterol:
15
mg
|
Sodium:
6
mg
|
Potassium:
289
mg
|
Fiber:
2
g
|
Sugar:
1
g
|
Vitamin A:
175
IU
|
Calcium:
10
mg
|
Iron:
2
mg