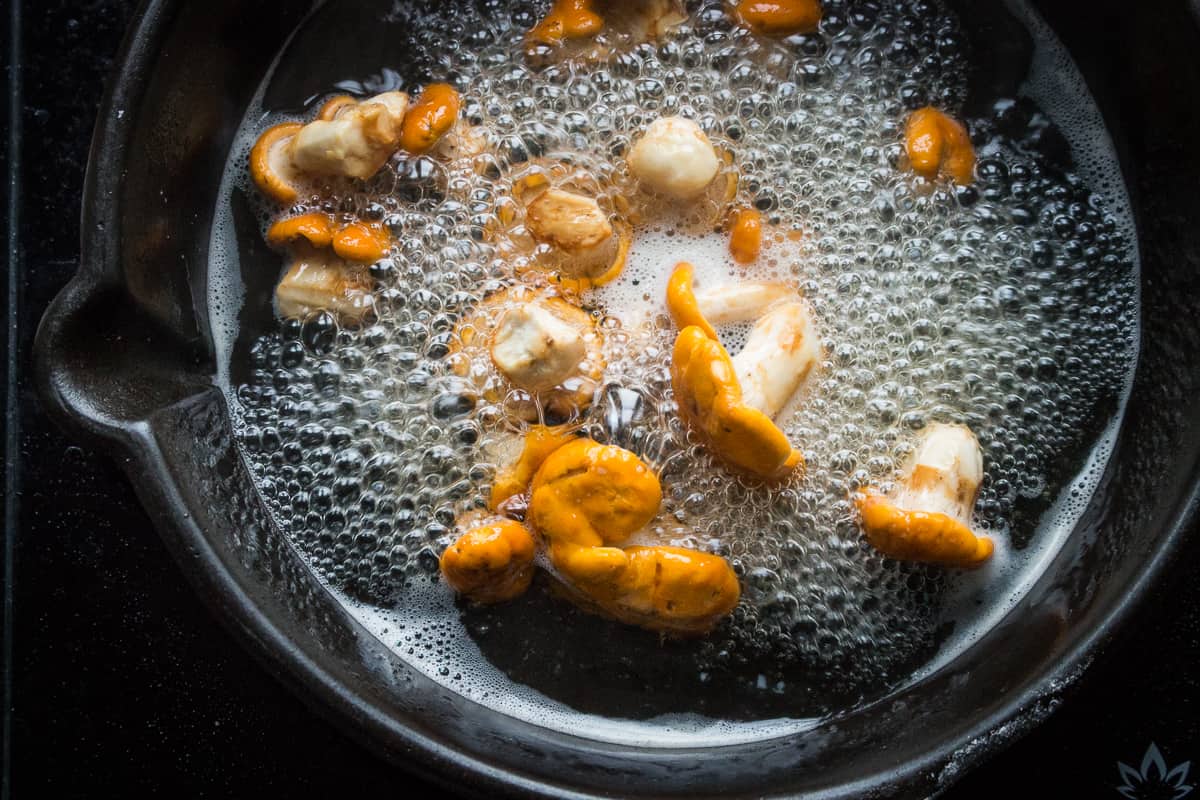 A while ago a video on cooking mushrooms started circulating in the online community that turned a lot of heads, at least in my world. In a nutshell, the video discussed the benefits in depth (see the video) of adding water to mushrooms before they're sautéed.
At first, I thought l "ok science guy, the next thing I know you're going to tell me there's a better way to cook meat too".
A friend sent it to me, and I passed it off as clickbait, then another friend sent it. Finally I saw a mycologist I respect share his opinion of it, and I decided I had to see what the fuss was about.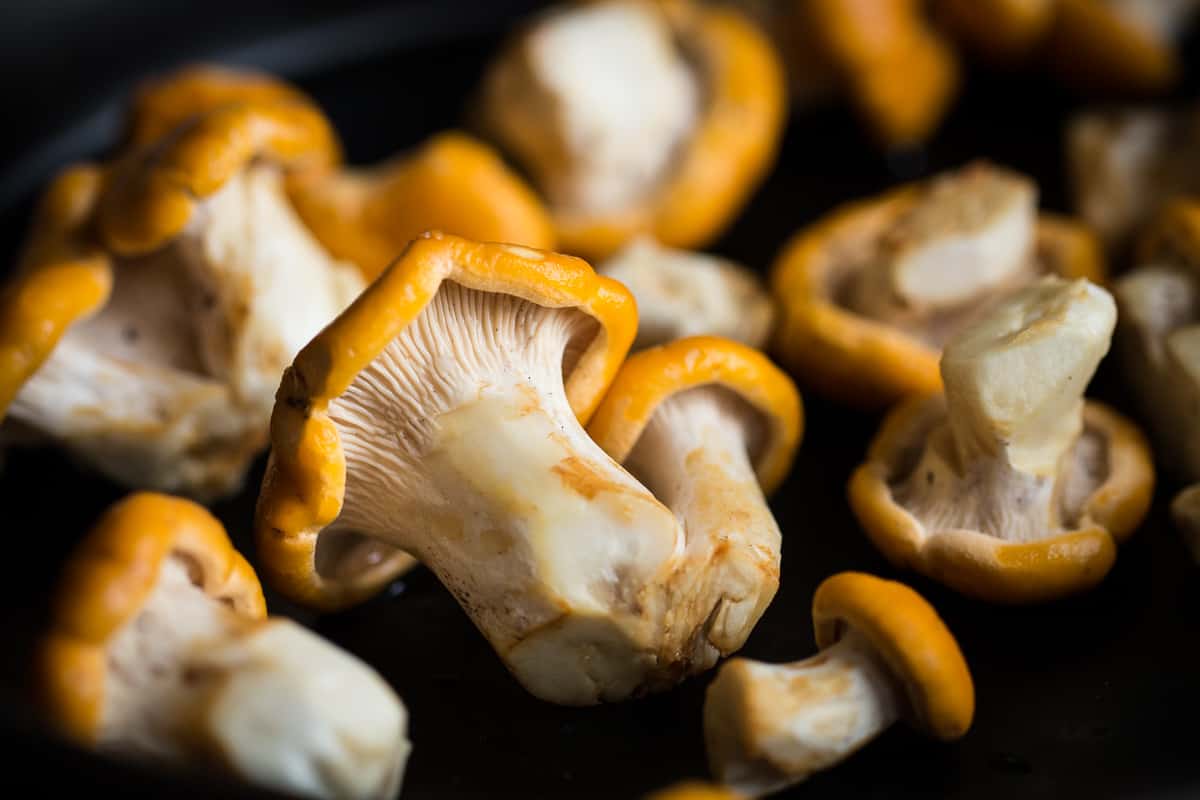 Mushroom cooking wisdom generally holds that mushrooms and water shouldn't be mixed, since mushrooms act like sponges and absorb water, but, I do usually rinse most wild mushrooms unless they're perfectly clean from the field (often the case with polypores like chicken of the woods and Ischnoderma resinosum).
After rinsing or swishing, I put them between towels to help them weep some of the water they've absorbed. The mushrooms usually absorb some liquid, but that just means it takes a bit longer to cook them when they hit the pan, a technique one chef explained to me as "expunging".
I've personally cleaned and cooked hundreds upon hundreds of pounds of wild mushrooms like this over the years, but the act of purposefully adding extra water to a dry pan before cooking was new to me.
In short, the technique is great, and, if you cook a lot of mushrooms, especially chunky, thick ones, it can be game changing. Here's the pros and cons as I see them.
Pro
Even cooking
The water, steam and evaporation helps the mushrooms cook evenly. Chanterelles are a great example here, especially the young buttons.
If you were to toss tiny chanterelles and larger ones into a pan at the same time with fat alone, by the time the larger ones are cooked, the smaller ones could be crisp and overdone.
Fat control and absorbed (not soggy)
The preliminary boil with liquid also avoids what can be a frustrating, confusing scenario. Say you harvested some chicken of the woods mushrooms during a dry spell, and, maybe the mushrooms were a touch older than you'd like.
Putting them in the pan with fat, those dry polypores can soak up an incredible amount of oil if you let them, conversely, getting those chickens very young after a rain storm might mean they're waterlogged. With this method, either mushroom could be cooked the same way, or, even at the same time, together.
Thorough cooking
Besides promoting even cooking, the preliminary boil exposes the mushrooms to high heat, for extended amount of time, perfect for those species that need thorough cooking.
Morels are the perfect example here, as undercooked, even slightly, they could give people tummy aches, nausea, vomiting, or worse, depending on the species and the person in question.
Seasoning is evenly distributed
Adding water to the pan in the beginning of cooking allows you to do season the mushrooms, too. If you've ever victoriously sprinkled salt on a pan of freshly cooked, well, just about anything, and watched as the salt flakes bounced around the pan, you'll love this.
A pinch of salt dissolves in the water quickly, seasoning the mushrooms evenly as they boil. Just make sure not to add too much salt!
Adding additional flavors
Of course you can skip the water and add other things, like a drizzle of stock, or other flavorful liquid, but, since you're cooking the pan to near dry, you'll want to keep a close eye on it.
Variation: Blanching and making mushroom nectar
In one of mushroom author Joe Czarnecki's books, he mentions a method for preserving mushrooms where they all get blanched in water beforehand, after which the liquid is reserved for adding to soups, stocks, and sauces.
If you have larger amounts of mushrooms you want to saute, you can par cook them, working in small batches, in a small amount of water, which, eventually will turn into a rich mushroomy nectar/flavorful stock. It makes a great soup base.
Cons
Honestly, there's so many benefits to cooking mushrooms like this that I'm splitting hairs here trying to come up with cons. But, for the sake of posterity, here's what I've seen making a few batches so far.
Burning the solutes in the pan
Mushrooms have delicious solutes that transfer to water. As the level of liquid cooks down in the pan, it will form a fond, crust on the bottom, which, if you're not watching carefully, could burn. This is more of a warning for making sauces and things in the same pan that the mushrooms are cooked in. If you're paying attention to the pan, avoiding dry skillet isn't that difficult.
Loss of solutes
This is real. The thorough, even cooking this method gives you is great, and absolutely worthwhile for all kinds of wild mushroom species, especially thick and chunky mushrooms. But, boiling in water will transfer some of the mushrooms tasty solutes into the water, no way around it.
While the liquid in the pan cooks down, some of those solutes will return to the mushrooms, but it will be on the outside of them, and, like it or not, there will some difference in flavor compared to, say, a fresh mushroom that didn't need rinsing, as in the case of very clean chanterelles that can go straight to the pan. With enough butter and salt though, most people would be hard pressed to know the difference.
Not necessary for every mushroom
This is a really useful technique for thick and chunky mushrooms, but, I don't see myself using it for everything.
Think of the wet sauté as one tool in a kit of many that you can use. For example, sometimes I like to keep the mushrooms dry during cooking, like when grilling. Some mushrooms are so delicate and quick-cooking that the quick boil is overkill (black trumpet mushrooms).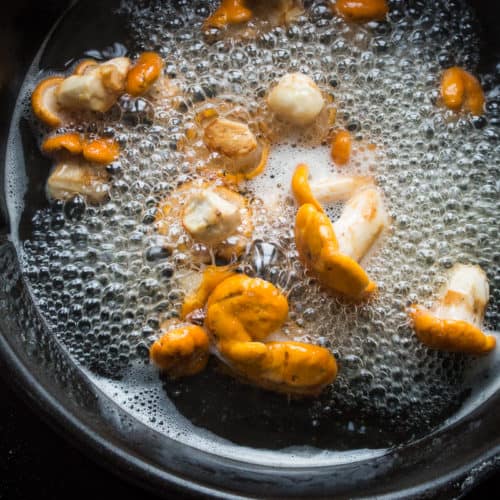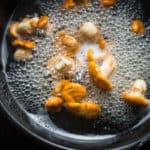 Print Recipe
Wet Sauteed Mushrooms
Cooking wild mushrooms with a small amount of water in the pan before sauteing has a number of benefits, and is a great technique for chunky, thick mushrooms like chanterelles and lobsters.
Ingredients
Fresh, clean wild mushrooms, as needed

Kosher salt, to taste

fat, preferably unsalted butter

additional aromatics for finishing, like chopped shallots, garlic, and or herbs (optional)

Small amount of water
Instructions
Put the mushrooms in a saute or other pan, then add a tiny film of water to the bottom of the pan. Add a touch of salt.

Bring the pan to a boil, and cook until the liquid has evaporated, the pan is nearly dry, and the mushrooms are cooked.

When the pan is nearly dry, add your fat of choice, along with any aromatics, if using, stir and cook for a minute or two more, taste, adjust the seasoning and serve.