A simple recipe for roasting whole chanterelles with thyme is a great way to enjoy the pure flavor of the mushroom.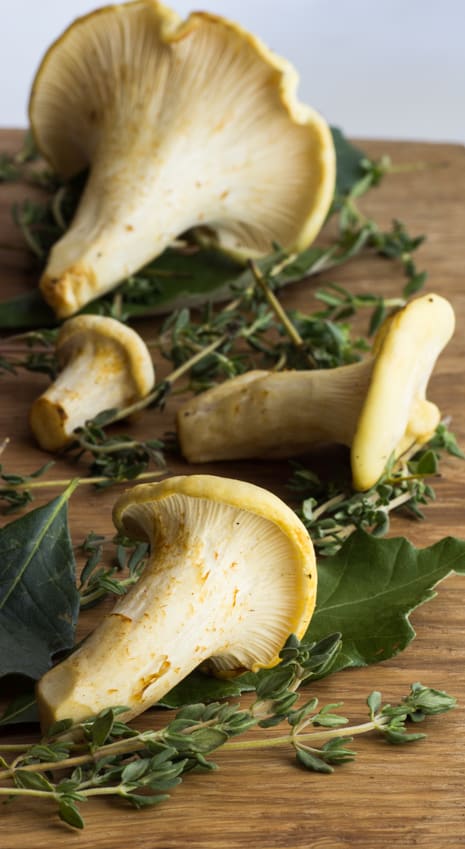 When I brought the white chanterelles to the kitchen to play, I wanted to make something that would highlight their identity, something really simple. There are a couple things about them I wanted to showcase: their texture, and aroma.
Texture wise Chanterelles have a meaty tooth to them, they're dense and weighty, and take longer to cook than other mushrooms. I'll cut up chanterelles if they are mature, or big and floppy-too large to be eaten in a bite or two. But for the most part, if they're modestly sized, I like to leave them whole.
Leaving chanterelles whole shows off their natural shape and texture. If you slice, or worse, have to chop them all up, you'll still get some chanterelle flavor, but their interesting texture is lost- you end up getting only half of all that a perfect chanterelle can be.
The exception to this is that a duxelles of chanterelles is very good, but mostly I like to use larger, flimsy chanterelles for this, since cooked whole they might be a bit too large to fit on a fork.
The other thing to take into account is their aroma. Chanterelles have a fruity smell, It's easily lost or overpowered by cooking with things that are spicy or smoked. As a general rule, the less ingredients the better.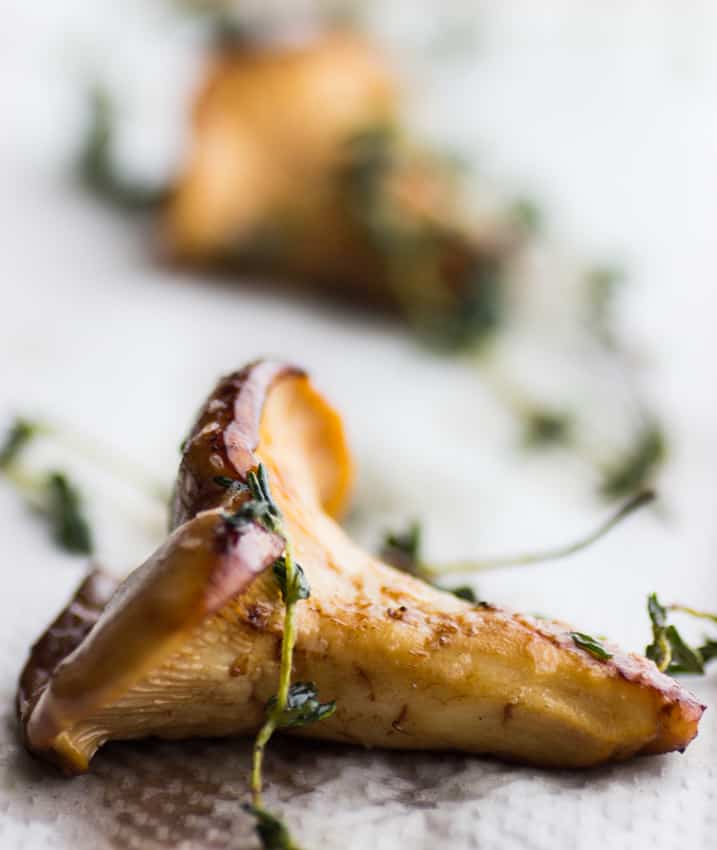 Since the white chanterelles were new to me, the first thing I did was just saute them by themselves. First off, I noticed that the aroma of them wasn't as powerful as the typical golden varieties I pick, don't get me wrong-it smells great, but it's more subdued and earthy, noticeably different. The texture was the same though, just as good as any other meaty chanterelle I've had.
Since their flavor is more mellow, keeping it simple is what I aimed for. The chanterelles are cooked whole, caramelized in a little grapeseed oil. After they've cooked for a bit, some thyme is thrown in the pan. Finally they're finished with a little butter and salted at the end. It's a very straightforward way to cook them.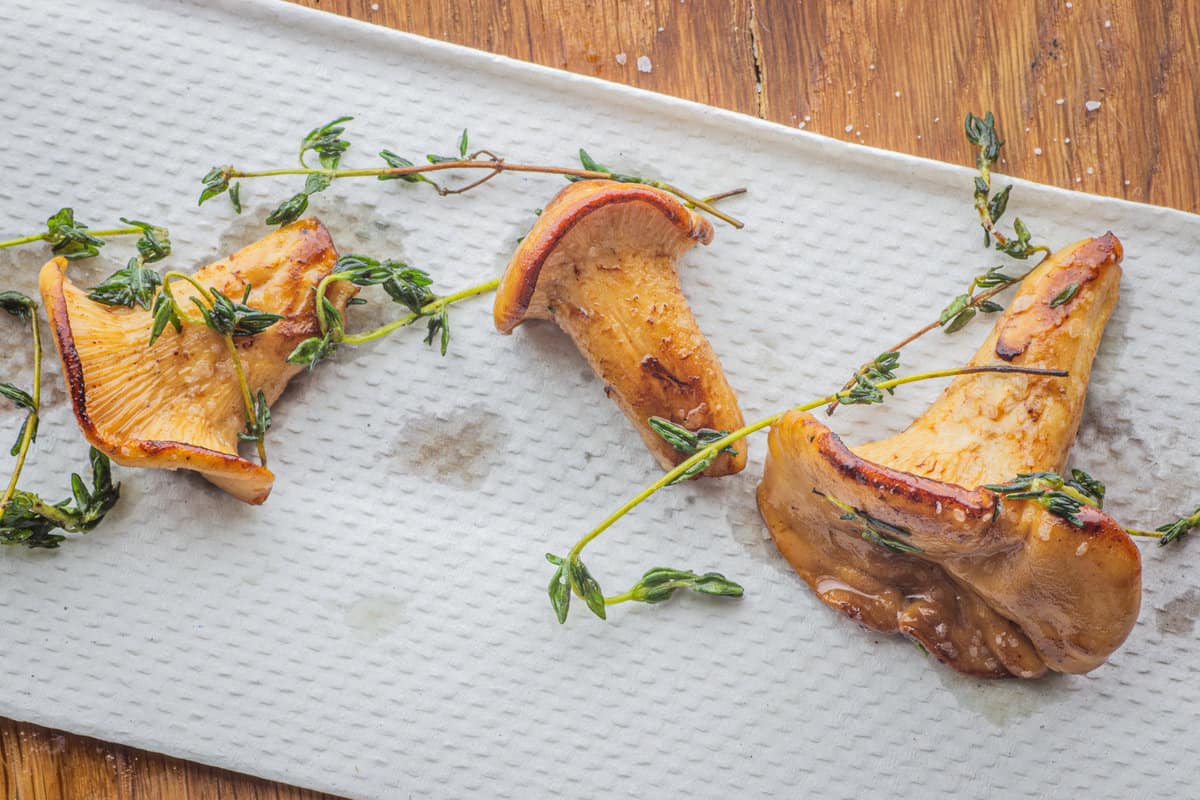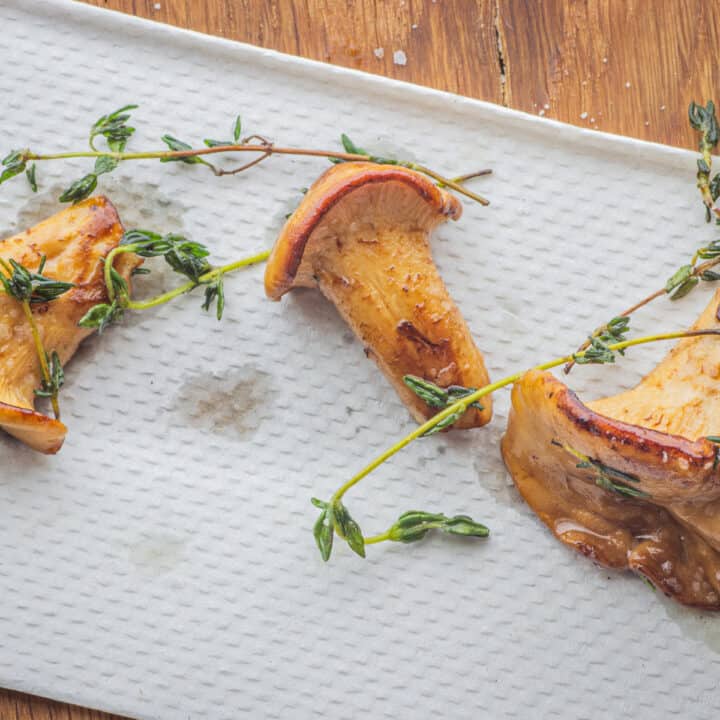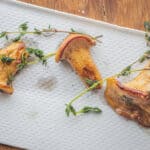 Print Recipe
Roasted White Chanterelles With Thyme
Simple pan roasted white chanterelles with fresh thyme.
Equipment
1 10 inch saute pan or cast iron skillet
Ingredients
½

lb

8oz cleaned and trimmed whole white chanterelles (golden chanterelles or hedgehog mushrooms can be substituted)

Kosher salt

to taste

4

tablespoon

Grapeseed or another flavorless oil

for sauteing

2

tablespoon

unsalted butter

a few small

whole sprigs of thyme
Instructions
Preheat the oven to 375 degrees.

In a ten inch or equally large saute pan, heat the grapeseed oil until lightly smoking.

Add the chanterelles and cook for 2-3 minutes, making sure not to jostle the pan too much (you want to give them time to bond with the pan, caramelize and brown. When the chanterelles have taken on some light color, add the whole thyme sprigs, stir, and place the pan and in the oven.

Pan roast the chanterelles for 5-6 minutes, or until tender and cooked through. Remove the pan from the oven and put it back on a burner turned to medium-high heat.

Add the butter to the pan and cook for 2-3 minutes more, stirring the pan occasionally to perfume the chanterelles with the thyme. Remove the chanterelles from the pan and place on a paper lined plate or platter, sprinkle lightly with kosher salt and serve immediately.
Notes
A simple way to prepare chanterelles. After cooking they would also be at home on top of a steak, a porkchop, or a piece of fish, but you could definitely just eat them straight off of a paper towel, like I did.
The technique of adding whole thyme sprigs to the pan is a great one, the herbs are not eaten, but they will flavor things really well. It's a great technique to use if you have a thyme bush outside.
Nutrition
Calories:
191
kcal
|
Carbohydrates:
4
g
|
Protein:
1
g
|
Fat:
19
g
|
Saturated Fat:
17
g
|
Polyunsaturated Fat:
0.2
g
|
Monounsaturated Fat:
1
g
|
Trans Fat:
0.2
g
|
Cholesterol:
15
mg
|
Sodium:
6
mg
|
Potassium:
289
mg
|
Fiber:
2
g
|
Sugar:
1
g
|
Vitamin A:
175
IU
|
Calcium:
10
mg
|
Iron:
2
mg