A simple baked custard of chanterelle or hedgehog mushrooms is an elegant way to serve them. It's the perfect thing to make if you have mushrooms with a little bug damage.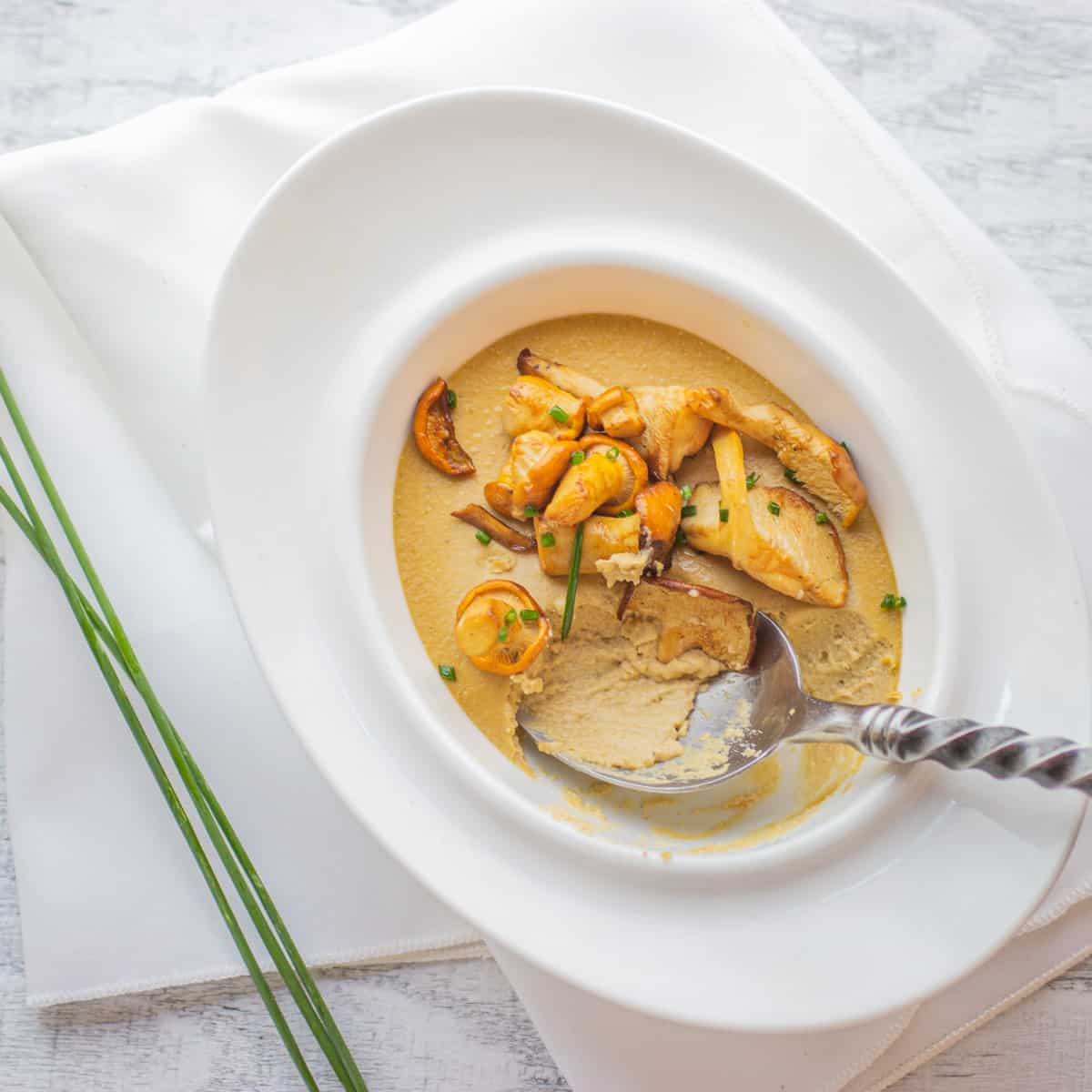 Our chanterelles in the Midwest are delicious, in my opinion much more than the variety that I see coming in from the Pacific Northwest. The P.N.W chanterelle I'm familiar with I suspect to be one cantharellus formosus, it turns brown after pickling, where our chanterelles will stay golden, it's flavor is also less intense, less perfumed.
But there is a trade off. The chanterelles from the Pacific Northwest I see, although not as flavorful as our Midwest ones, are never infested or eaten by bugs. I have seen only a handful of bug holes in couple thousand pounds of P.N.W chanterelles I've seen.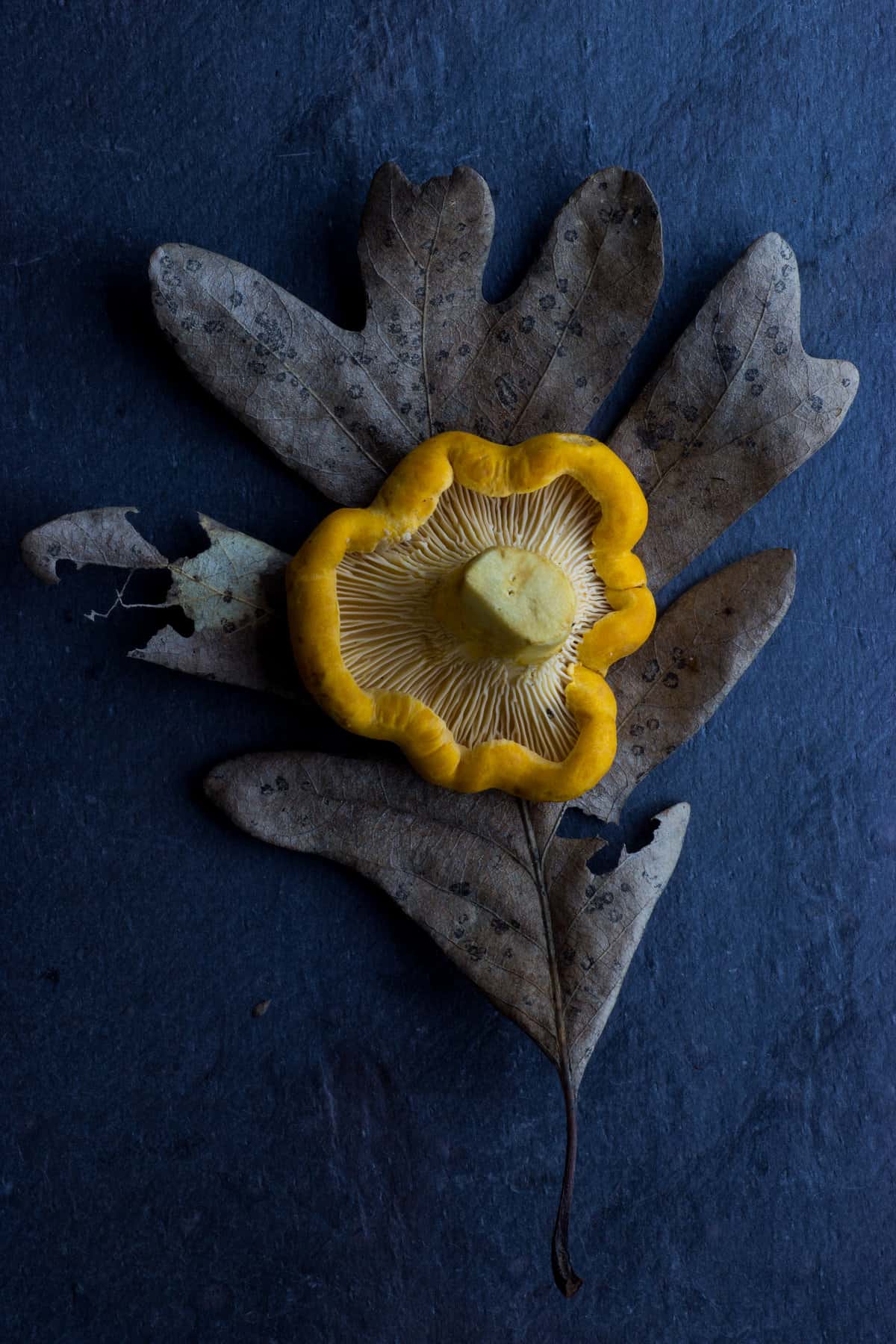 I can tell you it's really frustrating to see 5olb (or more) batches come in from Michigan or the Northern Minnesota woods that look great at first, but get eaten from the inside out as they sit in the cooler, since it's a loss of product/money.
Hollow or bug eaten mushrooms can't be cooked as they would be in their fresh state, so when we get chanterelles from the Midwest, we process them quickly, since even mushrooms that come in untouched by insect larvae can become infested from being in the same area as infested ones in a matter of days.
What I'm getting at here is that when you pay good money for chanterelles they must not go to waste. After a large batch of them came in last year from Michigan and deteriorated in only a few days, I made a soup from them which I gave a recipe for here.
A use for bug-damaged mushrooms
This year I wanted to give another example of how a restaurant or home cook could use chanterelles that have been damaged. Since the structural integrity of the mushrooms is a bit compromised, one of the best things you could do is puree them.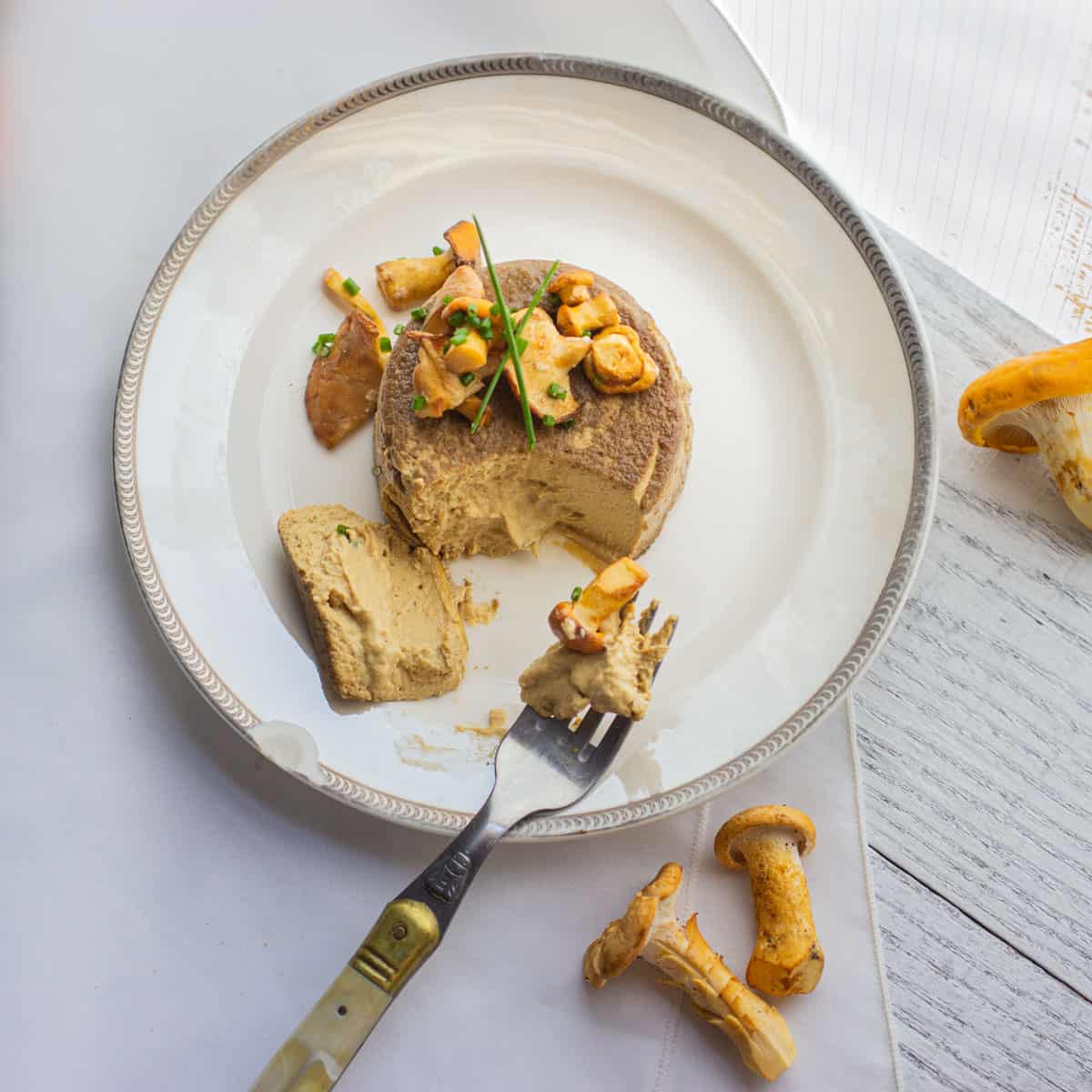 This could be done in any number of ways, but know that a puree of pure chanterelles can tend to have a slightly bitter note to it. Combining the mushrooms with cooked onions, or cream, will negate this for the most part, leaving you with a very nice puree that could be the basis for different recipes.
How to make the custard
Basically, you take some damaged chanterelles, caramelized them to deepen their flavor, then puree with some cream and mix in some eggs as well as few yolks. What you get left with is a velvety smooth custard base, which the possibilities for using are only limited by your imagination.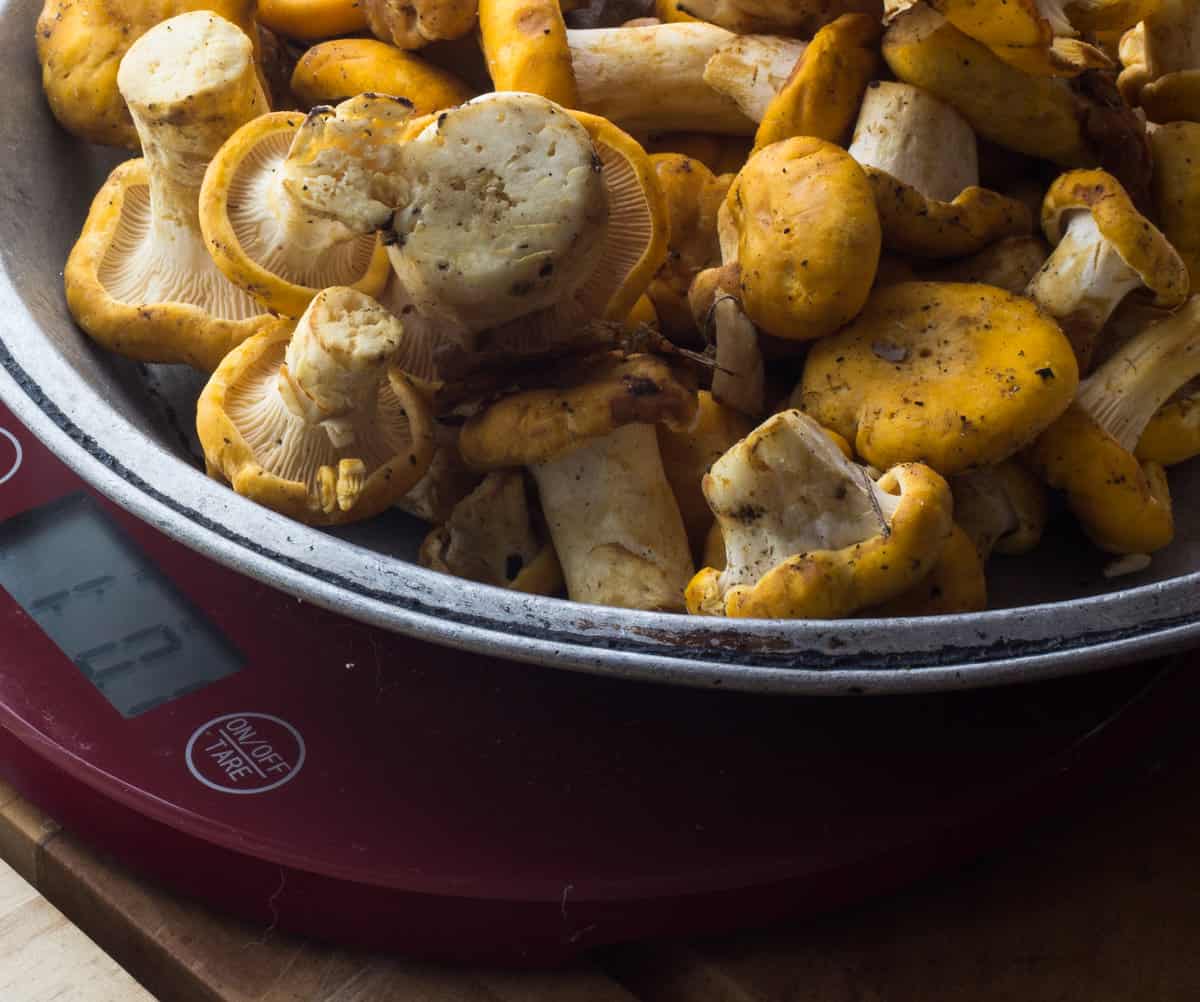 One of the fun parts about a custard is that you get to choose a vessel to cook it in. For the most part in restaurants, custards will be steam baked in ramekins using a water bath.
You can definitely use ramekins, but while I was searching for mine to cook this recipe, I had an idea to show some different vessels you might use to cook this in. The champagne flutes were the most fun, but any sort of custard dish or glass will work just fine.
Steaming the chanterelle custard in flutes
To cook the custard in champagne flutes, (I think you'll agree it's a bit ingenious) take a large stock pot and fill the bottom with a few inches of water.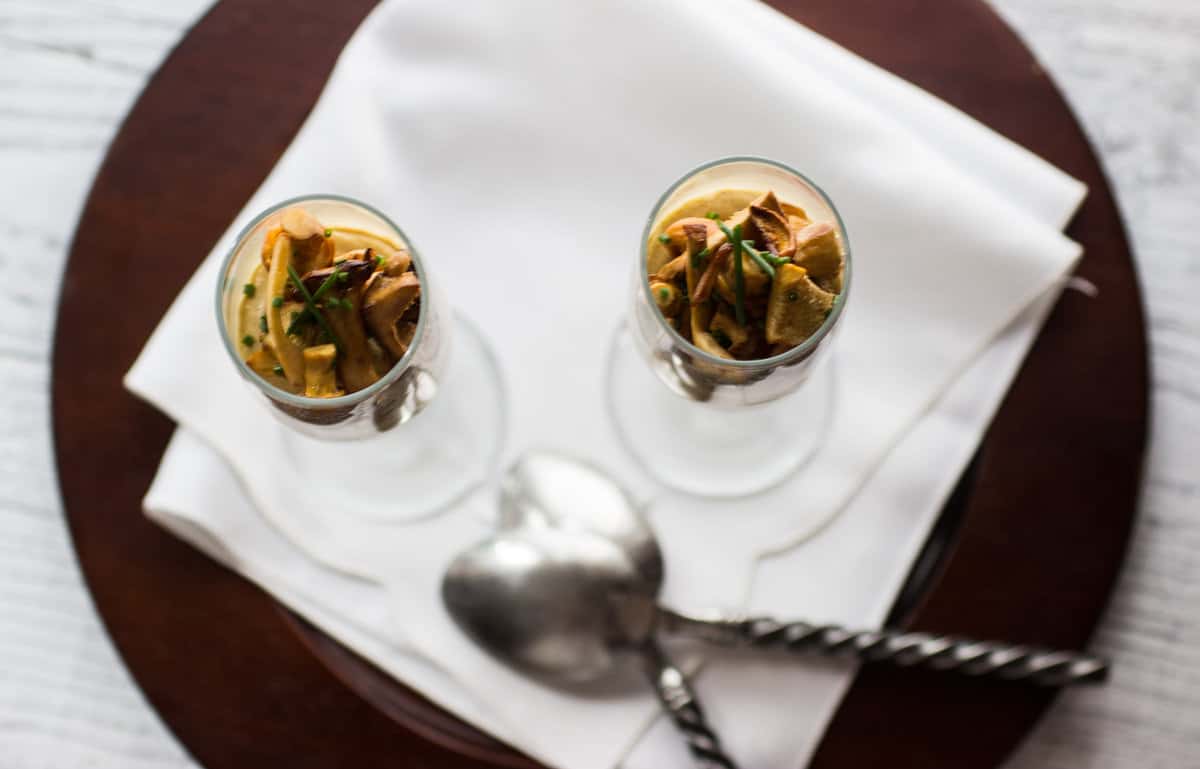 Put the champagne flutes filled ½ way with the custard into the pot, then put the lid on and heat on low-medium, covered until cooked through. The stem of the glass prevents the water from actually touching the custard in the glass, so you get a true, gentle steam cook. This method took about 30 minutes, I thought it was pretty fun.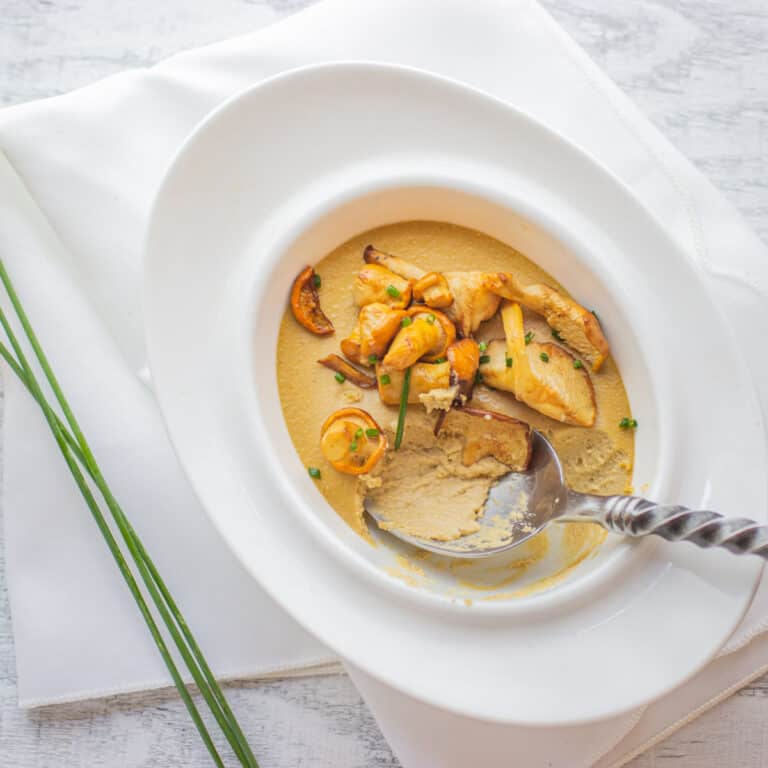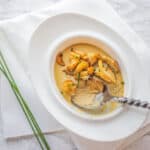 Print Recipe
Chanterelle Mushroom Pot du Creme
This amount will make about 8-10 custards depending on how you portion them.
Equipment
1 Blender

8 Custard dishes
Ingredients
1

lb

damaged chanterelles

or nicer, pristine chanterelles if you have excess

½

teaspoon

kosher salt and ⅛ teaspoon ground white pepper

plus more to taste if needed

2

cups

heavy cream

½

cup

dry white wine

3

tablespoon

grapeseed or canola oil

for caramelizing the chanterelles

1

large egg

plus 2 egg yolks

2

tablespoon

unsalted butter

Small bouquet of a few branches of thyme

and a fresh or dried bay leaf
Serving (optional)
4

oz

hedgehog or other mushrooms

1

Tablespoon

unsalted butter
Instructions
Make the custard base
Clean the chanterelles thoroughly, rinsing quickly under cold water if needed. Allow the chanterelles to dry for an hour or two, spread out on dry towels.

Heat the grapeseed oil in a large saute pan until lightly smoking. You want a saute pan with high sides for this (in the pictures I'm using a 10in "square-sided" saute pan).

Add the chanterelles to the pan and cook until they have released any moisture, then cook the moisture out until the pan is dry, add the butter and caramelize the chanterelles until lightly browned. Season the chanterelles with ¼ teaspoon kosher salt and ⅛ teaspoon fresh ground white pepper.

Add the wine to the pan and cook until the pan is dry and the wine has completely evaporated. Add the cream and simmer for 4-5 minutes on low-medium heat.

Puree the chanterelle-cream mixture in a highspeed blender, then allow to cool for 20 minutes in the blender to prevent it from cooking the egg. Add the egg and yolks, then puree the mixture again, cool and reserve.
Bake the custards
Spoon the custard mixture into your serving vessel of choice and bake, covered in a water bath or steamer, until the custard is completely set, (for most of my trials, this took about 25 minutes). Remove the cover of your cooking vessel when you can see the custard begin to set, this helps form a gentle skin that helps preserve the color and texture.

When the custards are cooked, heat the butter in a pan until lightly browned and then add the hedgehog mushrooms. Cook the mushrooms for 3-4 minutes or until cooked throughout.

Season the mushrooms lightly with salt and pepper, then add the chives and remove the pan from the heat.  Spoon the mushrooms on top of the cooked custard and serve immediately.
Notes
How to serve 
Once the custards are cooked, you can serve them, but they will be better if you cool them overnight, and then reheat gently until just warmed through in the oven. 
Nutrition
Serving:
4
oz
|
Calories:
333
kcal
|
Carbohydrates:
7
g
|
Protein:
3
g
|
Fat:
32
g
|
Saturated Fat:
17
g
|
Polyunsaturated Fat:
3
g
|
Monounsaturated Fat:
10
g
|
Trans Fat:
0.2
g
|
Cholesterol:
99
mg
|
Sodium:
32
mg
|
Potassium:
435
mg
|
Fiber:
3
g
|
Sugar:
3
g
|
Vitamin A:
1036
IU
|
Vitamin C:
0.4
mg
|
Calcium:
56
mg
|
Iron:
3
mg