Spiced crab apples pickled in apple cider with warm spices is one of my favorite ways to preserve the fruits when they're in season. It's also one of the best side dishes for a Holiday pork roast I know of.
Know your varieties
The apples you use will have a big impact on the finished product. Feral apples are highly variable in texture. If you want to use truly wild crab apples, you'll need to make sure that you use apples from a single tree, and that the apples are firm baking types. If you use a blend of apples you run the risk of some being soft, and others holding their shape.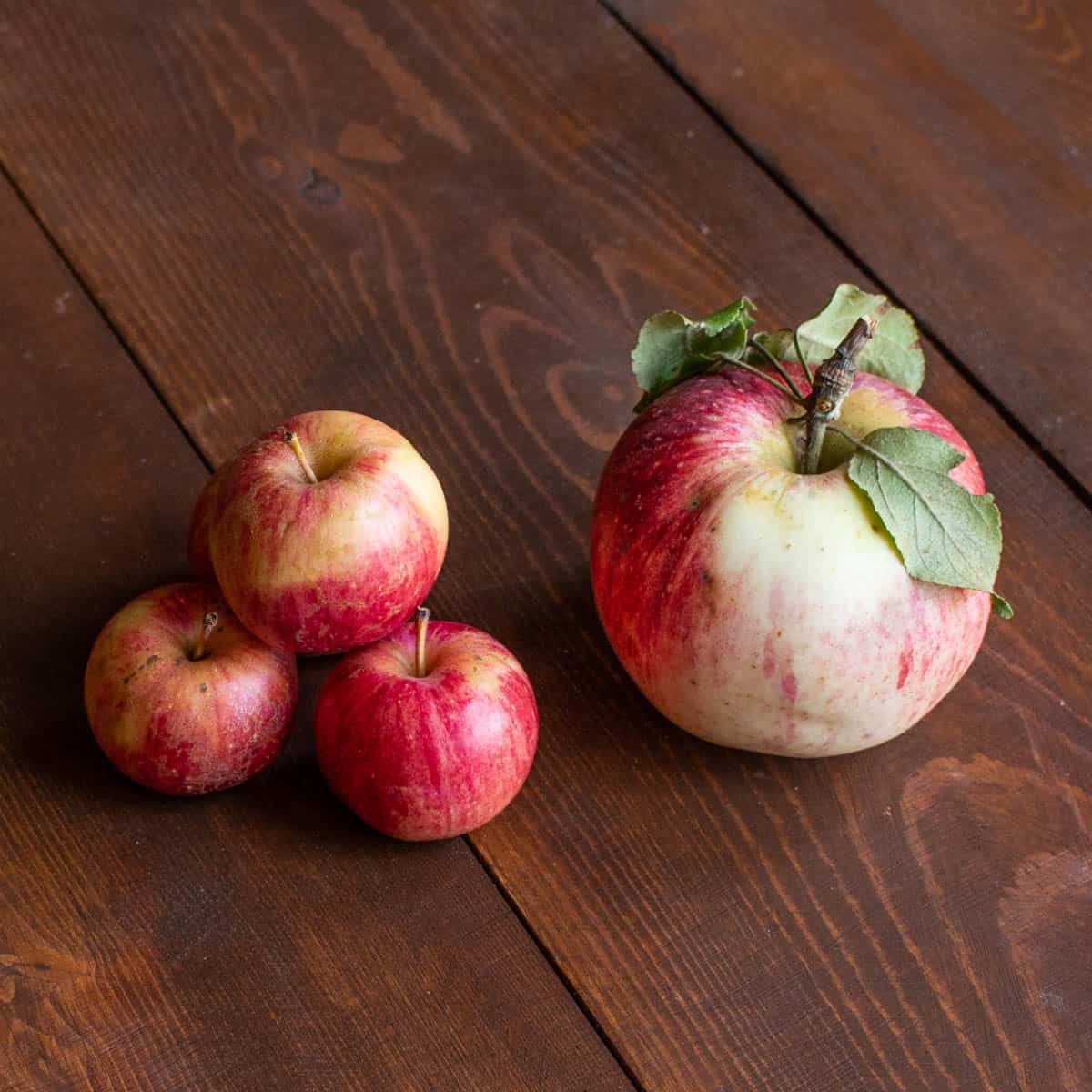 The best apples to use are firm baking apples, especially chestnut crab apples. Chest nut crab apples aren't truly wild, but their perfect for this pickled crab apple recipe since they fit nicely in a mason jar. For the perfect holiday gift, you'll want to use apples that can fit in a jar whole after they're peeled.
If you have apples that are mealy or soft after cooking, skip this recipe and use them to make apple butter.
The Apple Cider Pickle
Instead of using water, I like to pickle apples in their own juice, which is cider. I love the taste of apples and cider together, so using it instead of water just feels right.
While I'm on the topic, I'll share a little chef secret with you too. I used to love serving an apple tarte tatin for dessert. A trick my old pastry chef Jack showed me is that you can peel apples and hold them in cider in the fridge for a week or more. The cider prevents the apples from oxidizing or discoloring.
Saving the apple pickle syrup
If you like, you can reduce the pickle liquid until it becomes a hot syrup use it to glaze the apples, or a pork roast. Whisk in a nob of butter at the end.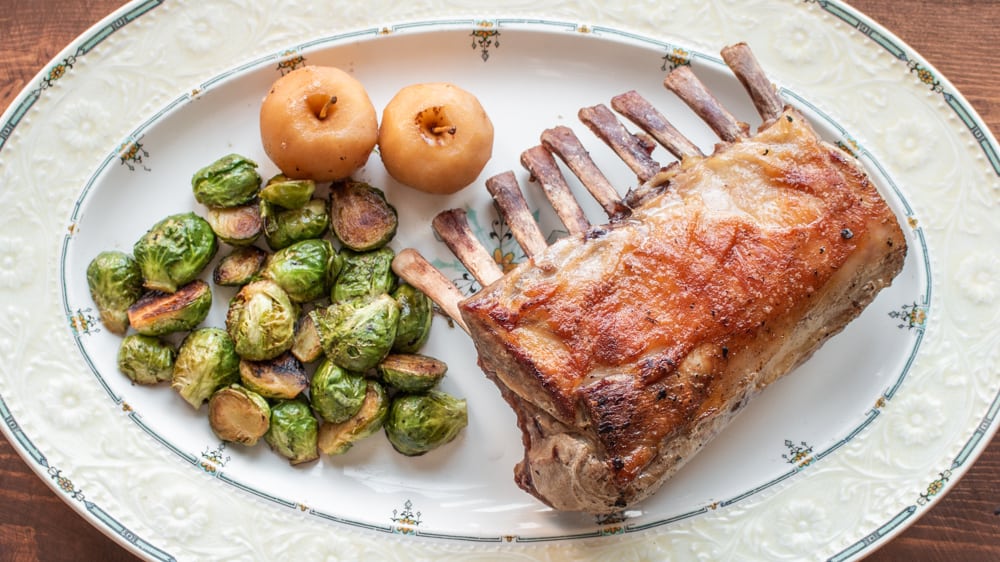 How to Serve
When you think of pickled apples, you might wonder how you eat them. To be very clear, I never just eat these raw out of the jar. Pickled apples should be served warm as a side dish. Here's how I do that.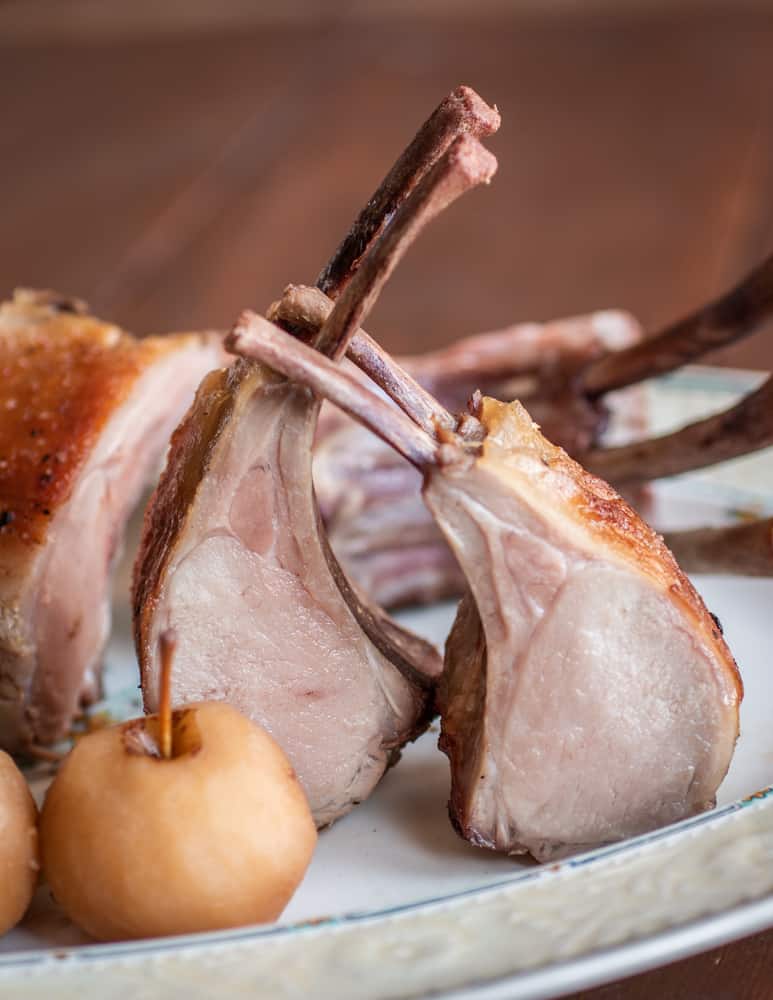 When a pork roast is almost done, I like to put the apples in a pan with a little butter, heat them up, then put the pan in the oven and cook them slowly until they're golden and starting to color. After the apples are heated through and tender, you serve them whole, alongside the roast.
More Crabapples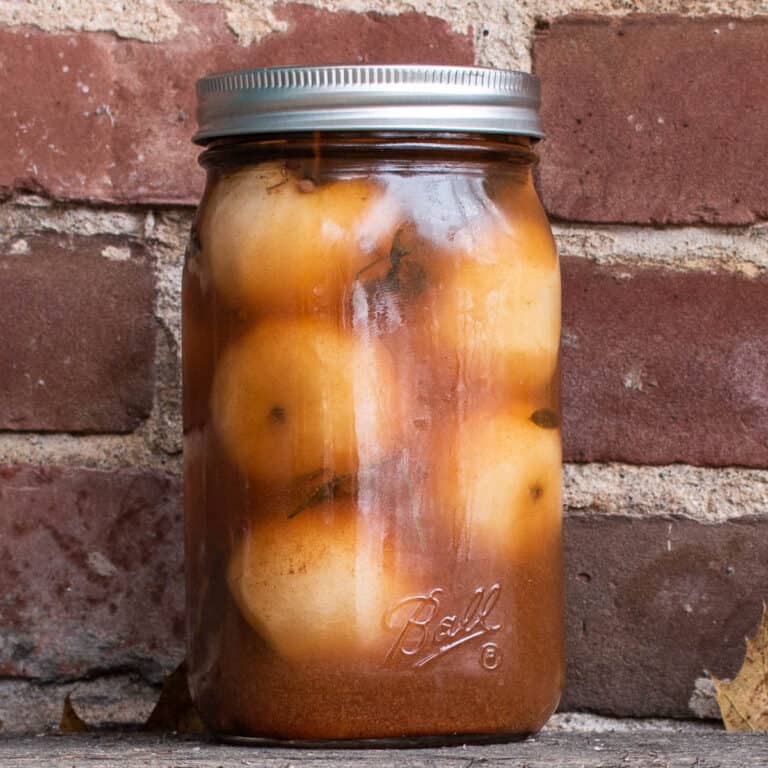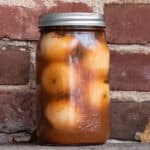 Print Recipe
Pickled Crab Apples
Tender-crisp pickled chestnut crab apples with apple cider and warm spices. The perfect compliment to pork. Recipe fills one quart jar.
Equipment
1 Quart mason jar

1 3 quart saucepot
Ingredients
About 10 chestnut crab apples

1

cup

cider

1

cup

cider vinegar

½

cup

sugar

½

inch

stick cinnamon

5

cloves

10

black peppercorns

1

inch

piece of fresh ginger

5

allspice berries

¼

nutmeg crushed

optional

2

teaspoon

salt
Instructions
Prepare the apples
Toast the spices, then add to the ingredients except the apples and bring to a rolling boil, then turn down the heat to a gentle simmer.

Meanwhile, peel the apples leaving the stem intact, making sure to peel the blossom end (calyx) to make it flat so the apples can stand up on a plate. As the pickle simmers, add the apples as you peel them to prevent them from oxidizing.

When the peeled apples are added to the pot, bring them to a gentle simmer and cook for 5 min, then remove the apples to the jar, bring the pickle mixture to a rolling boil and pour over them, screw on the lid, and turn upside down, allowing the jars to cool and seal.
Canning the recipe
It's not necessary, but you can water-bath can the apples if you like. Just make sure to leave ½ inch of headspace at the top of the jar, and process as directed for quarts. Note that apples processed this way will be softer than the recipe I describe.
Notes
The pickle liquid
If the liquid seems low low, top it off with a little extra cider to cover.
Peeling the apples 
Some people immerse the apples in boiling water until the apples are tender, and then pickle them cold. I don't recommend this. 
Nutrition
Serving:
2
apples
|
Calories:
124
kcal
|
Carbohydrates:
27
g
|
Protein:
0.1
g
|
Fat:
0.1
g
|
Saturated Fat:
0.02
g
|
Polyunsaturated Fat:
0.02
g
|
Monounsaturated Fat:
0.01
g
|
Sodium:
200
mg
|
Potassium:
100
mg
|
Fiber:
0.2
g
|
Sugar:
10
g
|
Vitamin A:
1
IU
|
Vitamin C:
0.1
mg
|
Calcium:
13
mg
|
Iron:
0.3
mg