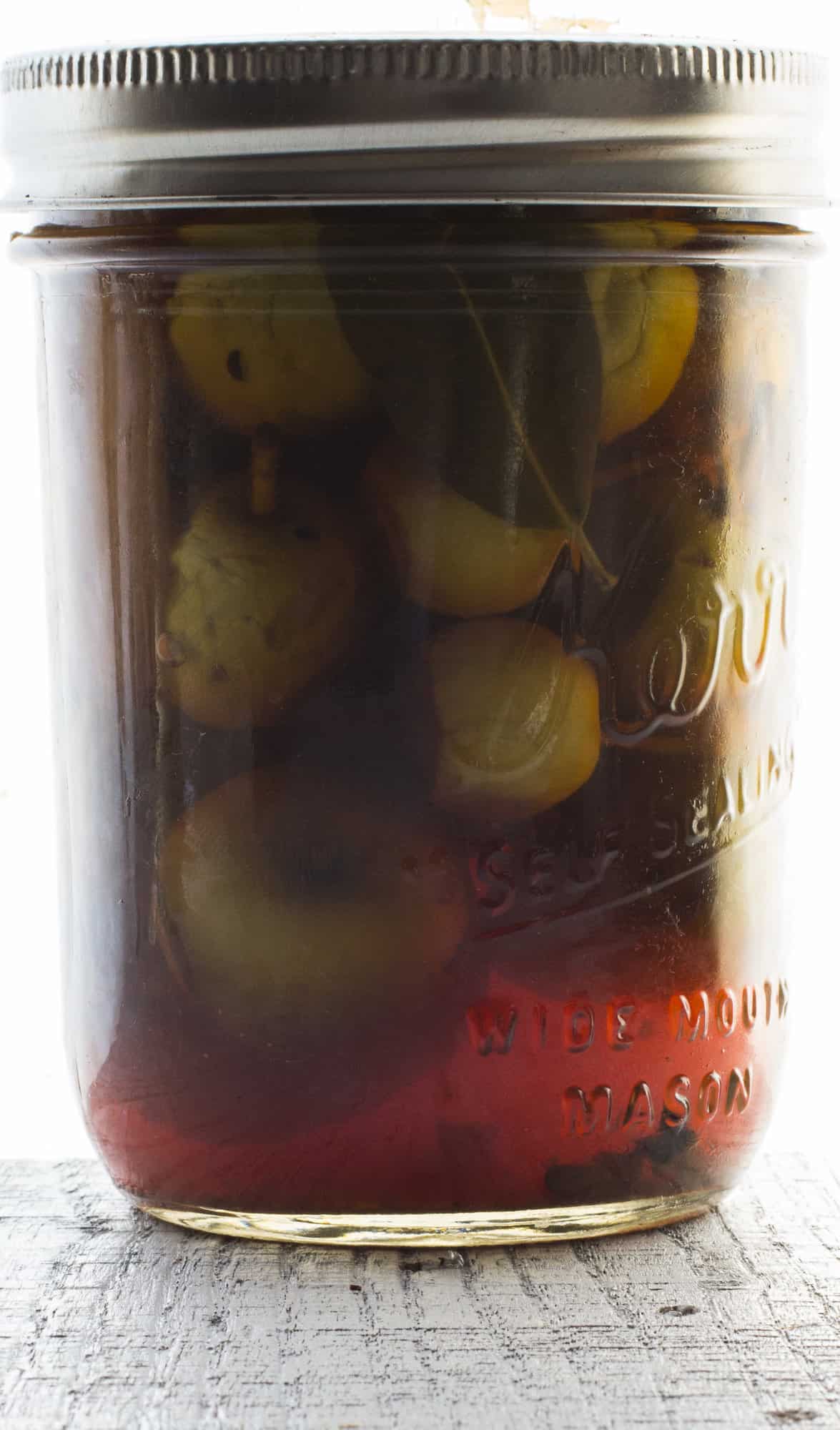 I had a nice hike the other day casually looking for chanterelles and boletes. It was a little windy, which is great since it'll keep the bugs at bay. I went over to one of my  patches, picked what I could, and headed back to the car-chanterelles haven't seemed to explode like I'd hoped this year. On the way back, there was a big gust of wind and I heard a little "plop" behind me. When I turned around, I saw a crab apple tree surrounded by a bunch of it's little green fruit.
I knew they weren't ripe yet, but I picked them anyway, I'll tell you why.
I had a bit of a paradigm shift regarding the correct stage to eat fruits and vegetables a while back. Suffice to say that even if something isn't "ripe", it may still have useful properties in the kitchen. Some great examples are the green, unripe strawberries Rene Redzepi has made popular at NOMA, Italian Nocino made from unripe black walnuts, and the old British technique of using green black walnuts to make pickles. (Hank Shaw has a super fun recipe for black walnut pickles here).
An even older use of unripe fruit is a technique the ancient Romans used: verjus. Verjus is the juice of grapes harvested before they're ripe. It's used like vinegar, since it's sharp, and acidic. I like using vejus for it's mild flavor, and also for the fact that it can be used to season food for people that have an allergy to yeast.
Our little crab apples here are in the same vein. At first glance, it might seem tedious to gather a whole bunch of little, astringent apples, but there are a couple cool reasons to do so:
1. Wild apples are notorious for being infested with worms. You will be hard pressed to find a young apple with bugs in it.
2. Mature apples have seeds inside that you will have to deal with, either by making them into puree, and straining, or halving and coring. Young crab apples haven't developed their seeds, which means that the entire thing can be eaten,  the little stems are nature's utensil. 🙂
After I brought the apples home, I was wondering what I could do with them. I remembered stumbling across a recipe in our old black book at work for pickled crabapples simmered with brown sugar and spices. Yum.
The recipe turned out great, and just a single lb of little crab apples will fill two pint jars, enough to have plenty of fun with. By themselves they make a powerful, spicy, acidic treat. But there is much more that can be done with them.
To mellow the flavor of the vinegar, you can add them to a sauce. Warming them up in a bit of stock and butter will curb their sharpness and make them meltingly soft, it's probably my favorite way I've found to enjoy them. It goes without saying too that they're a perfect garnish for pork, in any form.
To give you a fun idea of how the crab apples might be used to garnish a dish, I'm enclosing a recipe for pork tenderloin with pickled crab apple sauce. Besides the sauce, there is some sauteed cauliflower, which goes well with sweet things, as well as some fresh purslane, which also pairs well with sweet fruit and citrus, and adds some great, fresh texture. Enjoy.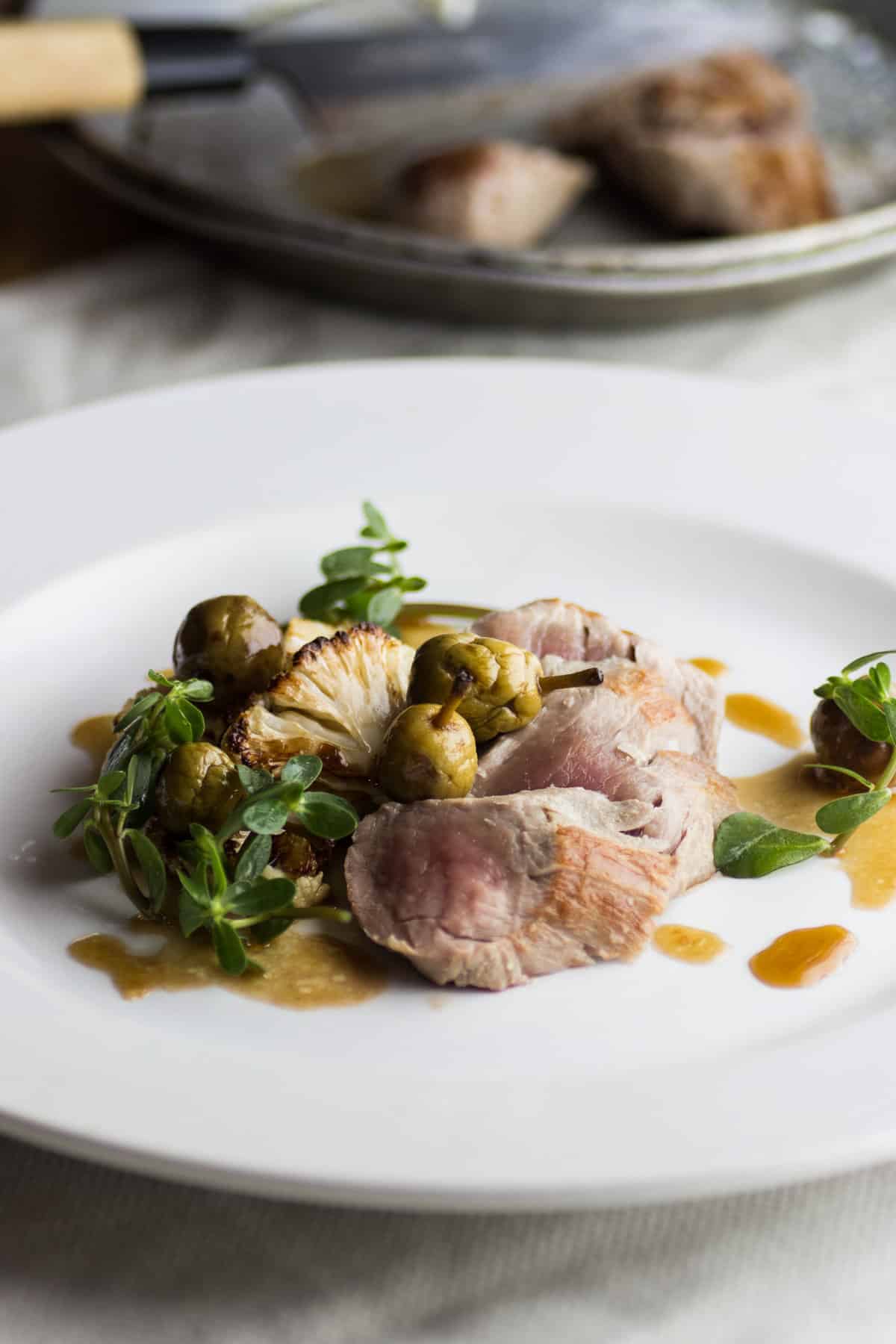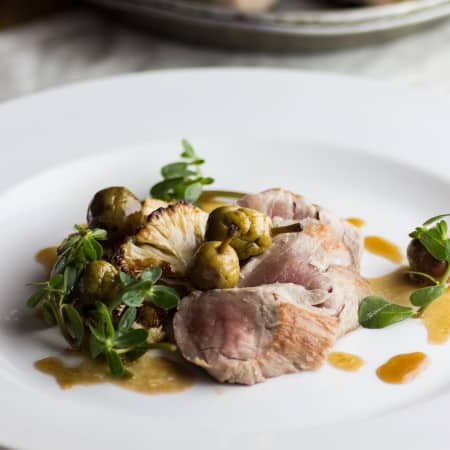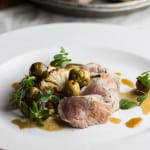 Print Recipe
Pork Tenderloin With Young Crab Apple Sauce, Cauliflower and Purslane
Ingredients
1

whole pork tenderloin

about 8 ounces is fine

6

ounces

cauliflower

any variety, picked into large florets and sliced ½ in

¼

cup

pickled young crab apples

plus ¼ cup of their pickling liquid (recipe follows)

½

cup

meat stock

such as pork or chicken

1

tablespoon

unsalted butter

chilled

To garnish: Sprigs of fresh purslane

young, tender parts only

2

tablespoon

calvados

optional

Kosher salt and pepper

Grapeseed

lard, or canola oil, for sauteing
Instructions
In a large saute pan, (I used a 10in size). Heat 2 tablespoon of the grapeseed oil or lard until lightly smoking. Season the pork liberally with salt and pepper, then sear in the pan for 2-3 minutes on each side until well browned. By now the pork should be medium rare. If you like your pork a little less done, (trichinosis is a thing of the past) allow the pork to rest in a warm place while you cook the cauliflower and make the sauce. If you want your pork more done, place it in the oven on a cookie sheet lined with a roasting rack and cook for 10 minutes more.

Begin making the crab apple sauce by deglazing the pan with 3 tablespoon of calvados, scraping up the browned bits. Add the crab apples, their pickling juice, and the stock, and reduce on medium high heat until the sauce is reduced by half and is thickened enough to lightly coat the back of a spoon. Reserve the sauce until it's time to plate.

To cook the cauliflower, heat a large saute pan with 3 tablespoon of the grapeseed oil or lard until lightly smoking. Add the cauliflower, making sure that the slices don't overlap in the pan. Season the cauliflower with salt and pepper and Cook for 4-5 minutes, until the cauliflower is golden brown and caramelized.

Plating the dish

Season the purslane lighlty with some oil, salt and pepper. Reheat the crab apple sauce and whisk in the butter, heating until the sauce thickens and becomes glossy. On each of two preheated dinner plates, arrange a few slices of cauliflower.

Slice the pork tenderloin on the bias into 2 ounce slices and arrange around the cauliflower. Spoon some of the crab apple sauce over the pork on each plate. Finish by garnishing with the purslane.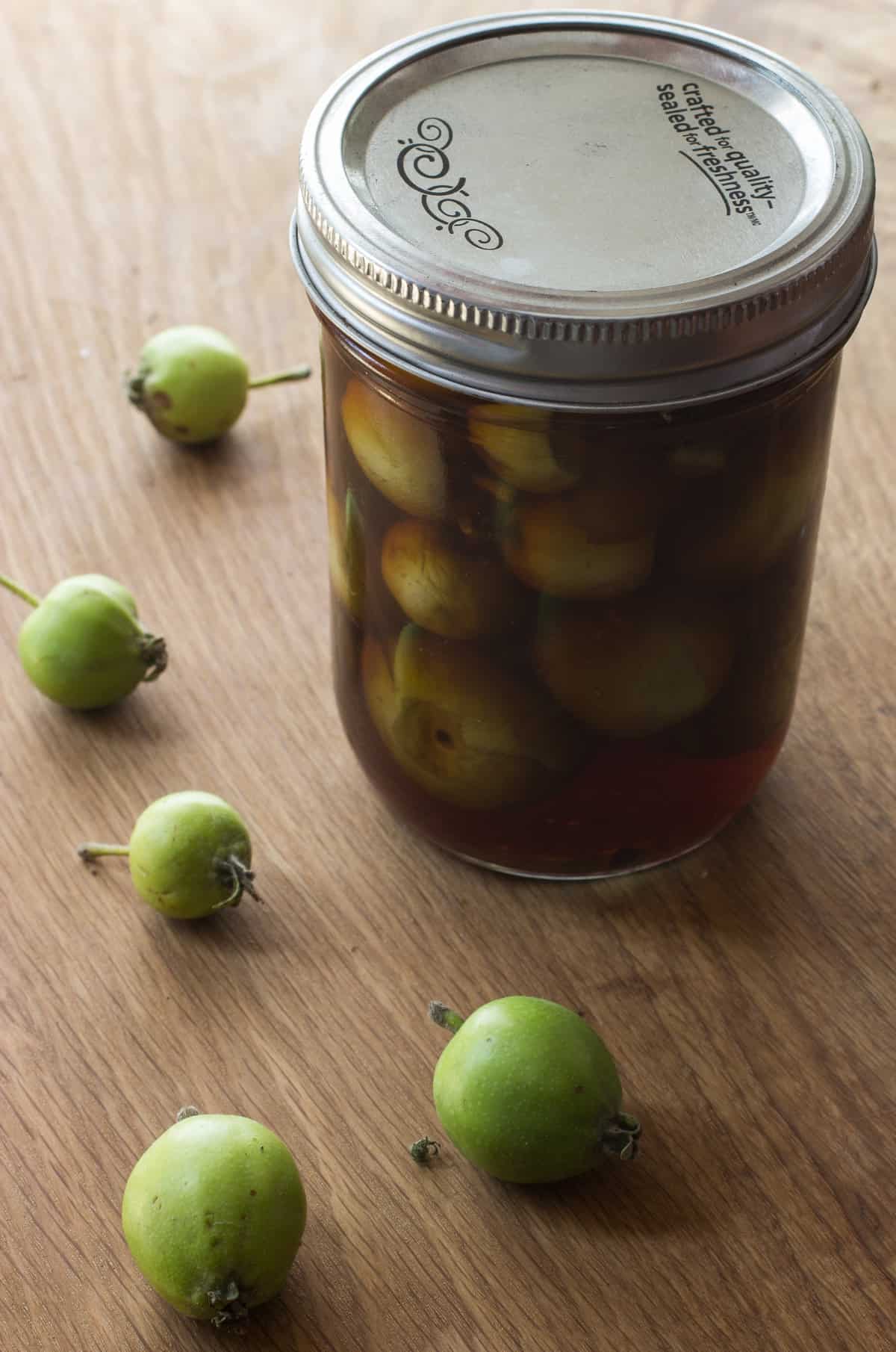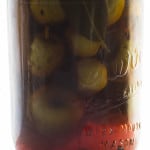 Print Recipe
Pickled Young Crab Apples
Feel free to use your own blend of spices here, the ones included are just what I felt like using at the time.
Ingredients
3

cups

apple cider vinegar

2

cups

water

2

cups

maple syrup or honey

dark brown sugar can be substituted

1

lb

young

green crab apples, bottoms trimmed up ⅛ in (the bottoms are trimmed to remove the texturally unpleasant bottom calyx, make them absorb the pickling liquid faster, and allow them to stand up on a plate, if you wish)

½

in

piece of cinnamon stick

2

whole cardamom pods

3

whole cloves

1

dried bay leaf

3

allspice berries

1

two inch piece of orange zest

pith removed
Instructions
Bring all of the ingredients to a boil except the crab apples. Reduce the heat and add the crab apples. Simmer the crab apples for 5 minutes, or until just tender. Fill 2 pint canning jars with the crab apples and their pickling liquid and refrigerate. They will keep a very, long time.

Canning the crab apples

To can this recipe, pack two pint canning jars with the trimmed, raw crab apples and pour over the pickling liquid, leaving ½ in headspace below the lid, then Process for 10 minutes in a water bath canner.