A while ago I was watching a television program on Netflix where soy sauce was being combined with other ingredients to flavor it. It I remember correctly, dried tomatoes were being steeped in soy, removed, and then a tomato salad was dressed with the tomato flavored soy.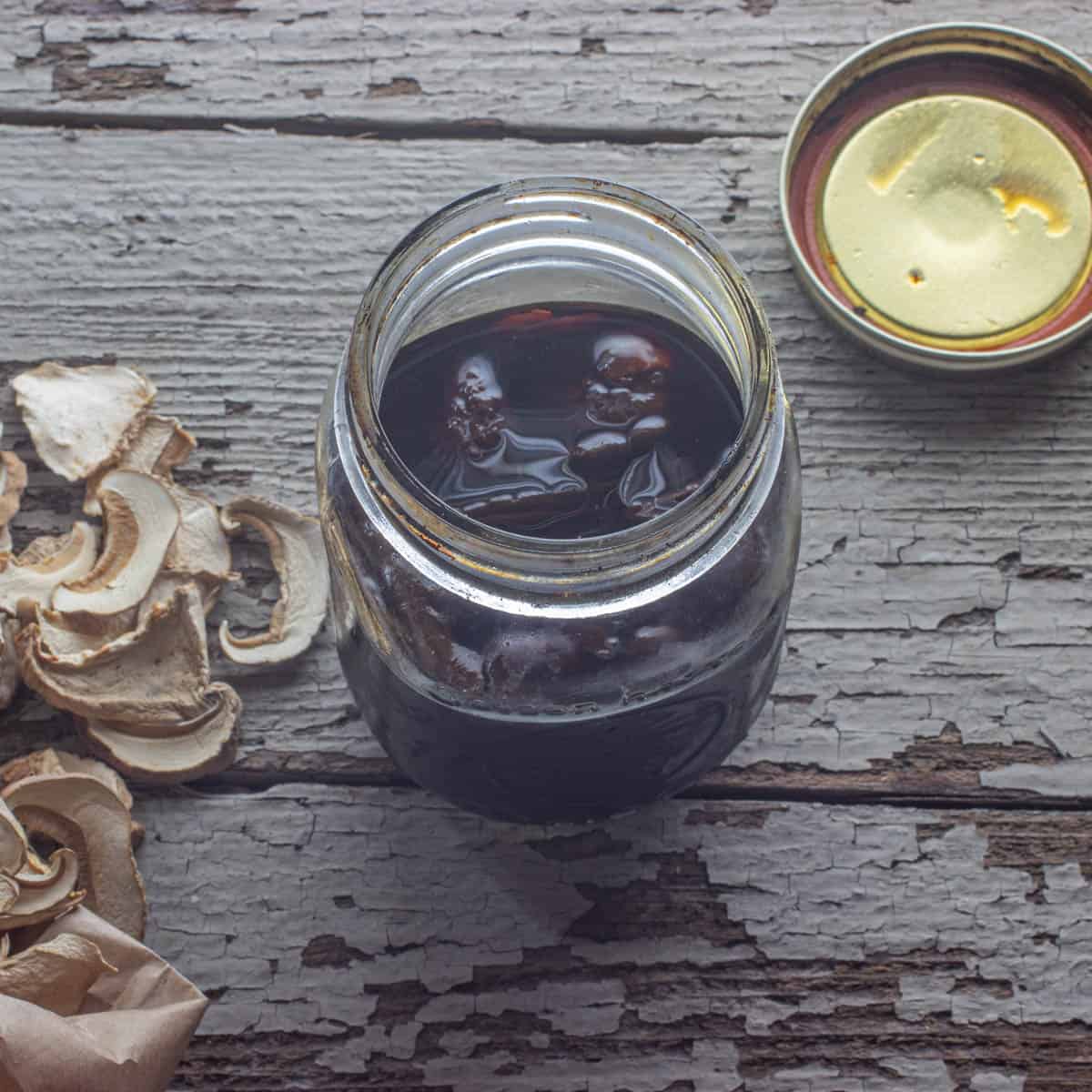 I don't work with soy much, but I like it. It's a strong flavor though, so you have to use a light hand. Following that, since the flavor of soy is strong I usually think of using it as a seasoning, so it's paradigm shifting to think of seasoning soy itself with other flavors.
The first thing that came to mind when I thought of what I could flavor soy with was dried Boletes and Russulas. Its really a match made in heaven, I'll tell you why.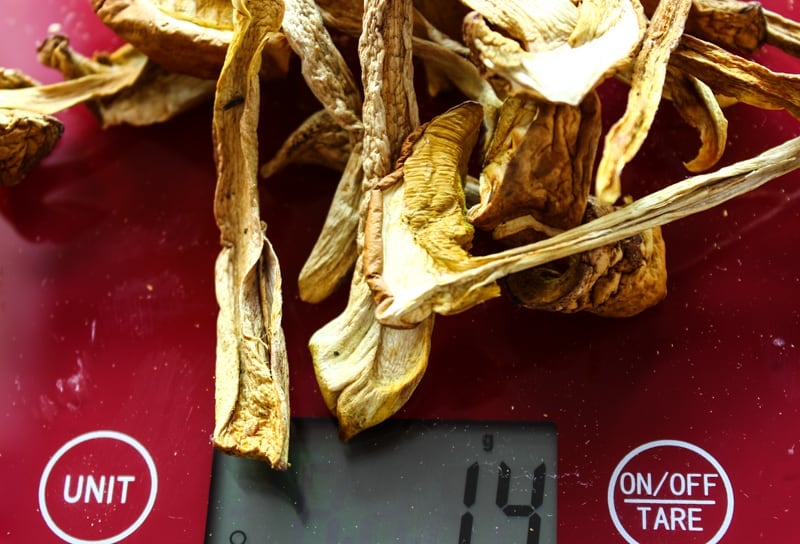 Dried boletes are are like secret flavor weapons. They're widely available, and can be found in massive quantities if you catch them after a heavy rain. The caveat with is that they have often been preyed upon by bugs, and may not be able to cooked fresh.
Luckily, the flavor of the mushrooms intensifies and transforms when dried. So much so that I pretty much dry every one that I find.
Boletes that many people call "subpar" or lackluster when cooked fresh will shock you with their character after a round in the dehydrator, Leccinum species and chicken fat boletes (slippery jacks) are great examples of this.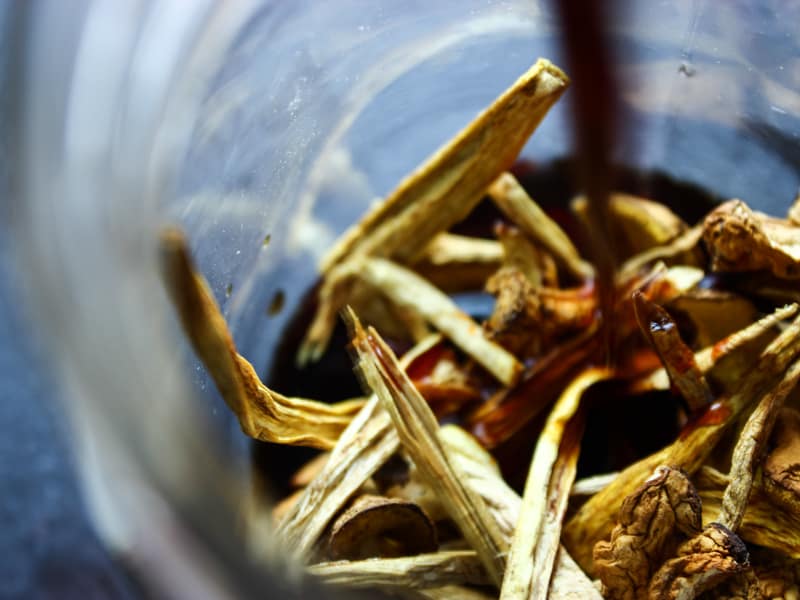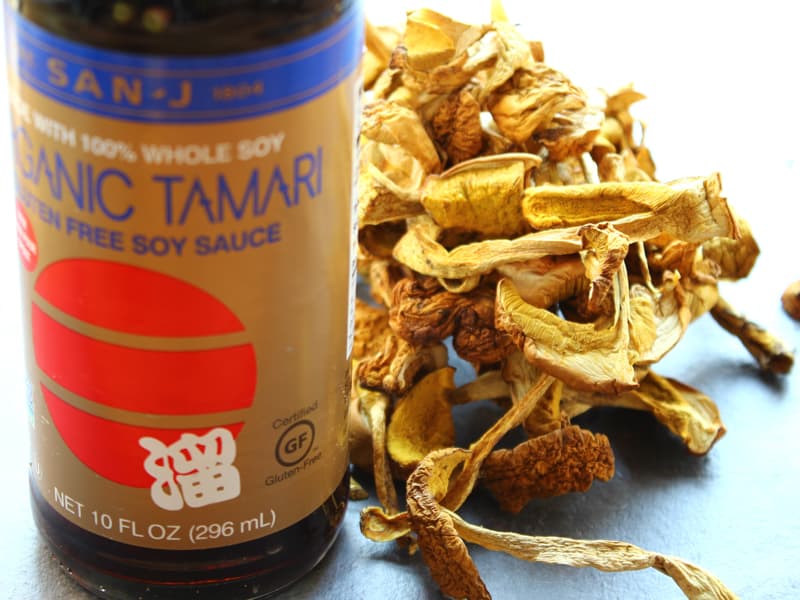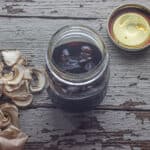 Print Recipe
Dried Bolete Soy Sauce
Makes 10 ounces of flavored soy sauce
Ingredients
½

ounce

dried Bolete or Russula mushrooms

1

ten ounce jar of soy sauce
Instructions
Combine the dried boletes and soy sauce in an airtight container such as a mason jar. You can also just remove a little soy sauce from the bottle, smash up the dried mushrooms and stuff them right in the original container with the soy, that will work just fine too.

Store the jar in the refrigerator and allow it to age for a few months before using, then use anyway you would regular soy sauce
Notes
The high level of salt in the soy will preserve the mushrooms near indefinitely, but if you pour off some of the soy sauce to cook with it, and expose the mushrooms to air borne bacteria, they may begin to mold. A way to get around this is just to put the whole shebang in the blender once the mushrooms are fully rehydrated, this way they will sink to the bottom of the container. You could also just strain the soy off after aging and discard the mushrooms.
.