Mushroom flavored soy sauces are something you'll see often if you shop at Asian markets. It's a delicious twist on regular soy sauce you'll love if you like mushrooms, and it's easy to make at home. If you're a mushroom hunter, you'll have access to many more varieties than others.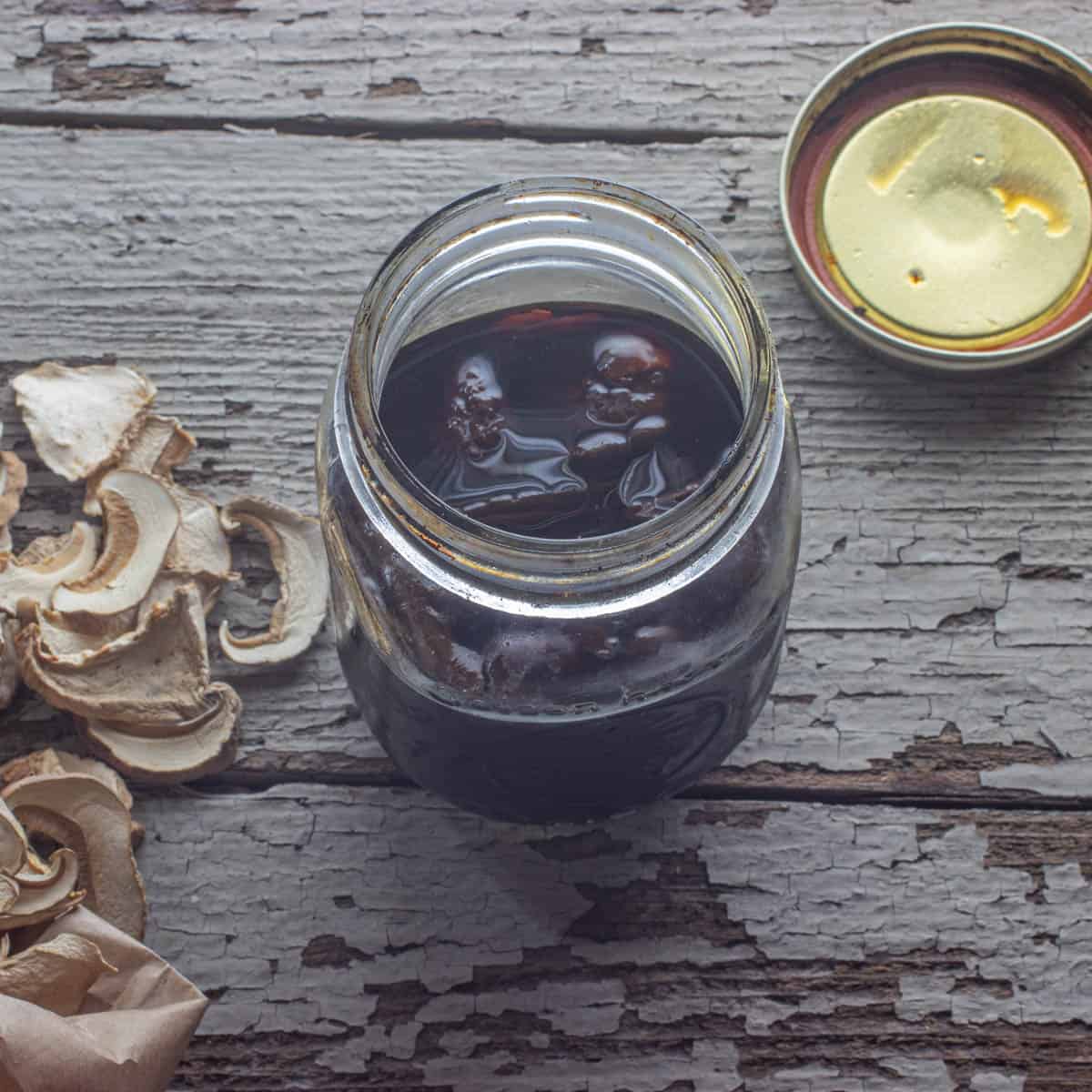 Mushroom infused soy sauce, especially the dark soy sauce versions will have a strong It's a strong flavor. It's good to use with a light hand.
How to make it
It's easy to make. All you need are some dried mushrooms, and a bottle of your favorite soy sauce.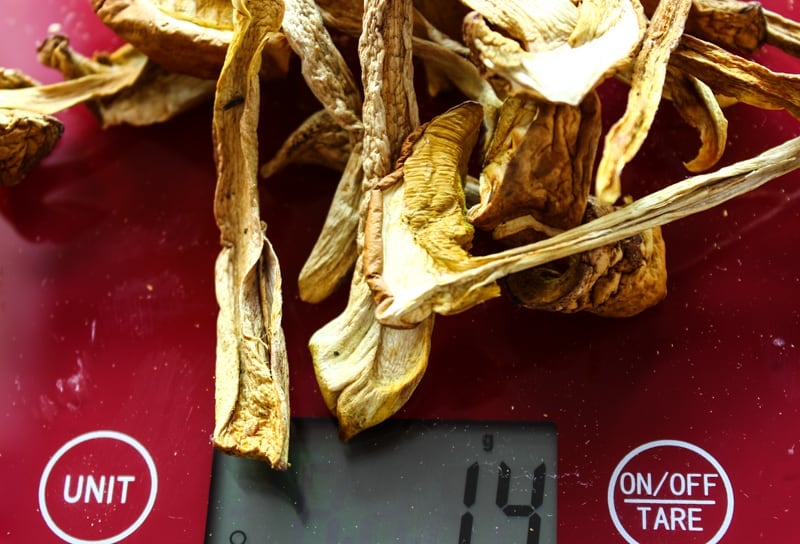 Fill a quart mason jar with dried mushrooms, cover them with soy. Put on a lid, let the mixture sit at room temperature for a couple weeks, then strain and keep in the refrigerator for the best flavor.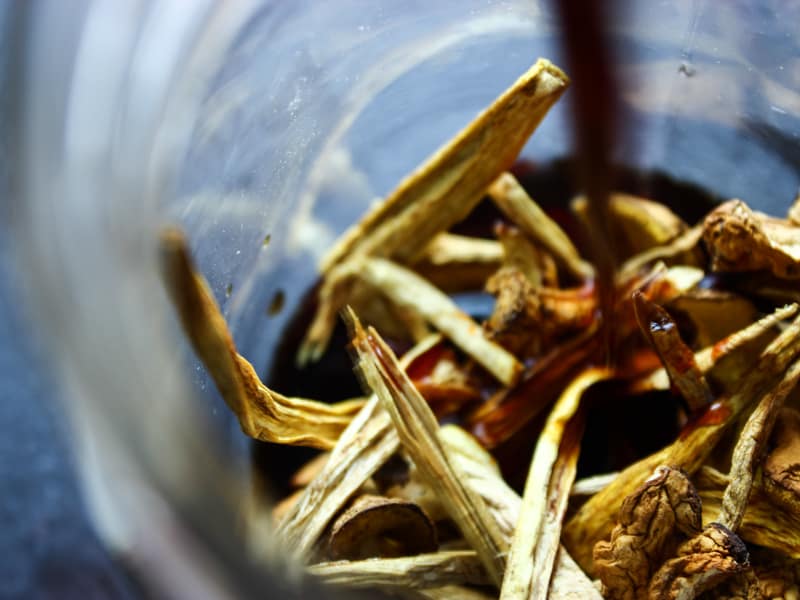 Mushrooms to use
This is a great way to use a variety of dried mushrooms. While dried porcini will give the strongest result, boletes that many people call "subpar" or lackluster when cooked fresh will taste better after a round in the dehydrator. Leccinum species and chicken fat boletes (slippery jacks) are great examples of this. Dried black trumpet mushrooms make a great version too.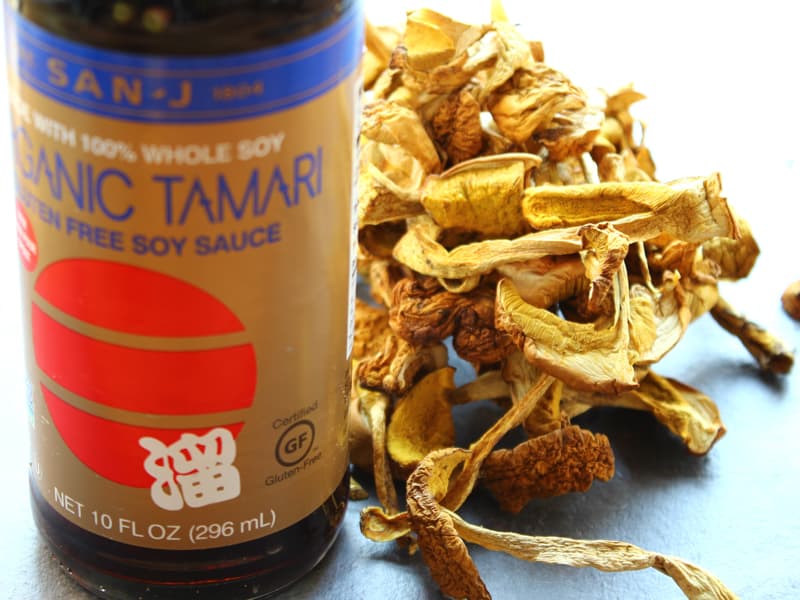 How to use
Use the mushroom soy sauce in any recipe that calls for soy. I love using it as the base of a Japanese dipping sauce mixed with mirin, and as a marinade. It's also fantastic used to season ramen or other brothy noodles. I'm sure you can find interesting things to do with it.
What to do with the leftover dried mushrooms
If you're a mushroom hunter you probably have plenty of dried mushrooms to use up. If you're not, you might be wondering what, if anything you can do with the mushrooms left over from infusing the soy. If you like, you can dehydrate the mushrooms and use them as a seasoning.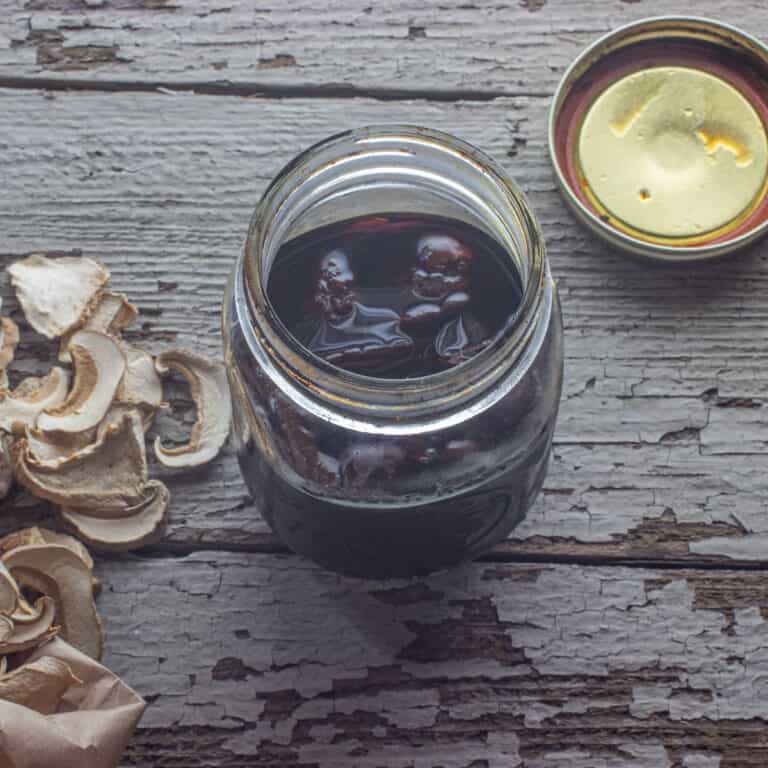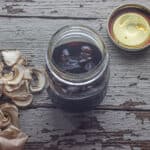 Print Recipe
Dried Bolete Soy Sauce
Soy sauce infused with the aroma of dried mushrooms. Makes 10 ounces of flavored soy sauce.
Ingredients
½

ounce

dried Bolete or Russula mushrooms

1

ten ounce jar of soy sauce
Instructions
Combine the dried boletes and soy sauce in small pot, bring to a simmer, then cool and store in an airtight container such as a pint mason jar.

Store the jar in the refrigerator and allow it to age for a few at least 30 days before using. Remove the mushrooms, squeezing out any soy into a bowl to add back to the jar. Use the mushroom soy anyway you would regular soy sauce.
Notes
You may be tempted to leave the mushrooms in the jar for longer. The high level of salt in the soy will preserve the mushrooms near indefinitely at room temperature. But, if you pour off some of the soy sauce to cook with it and expose the mushrooms to air borne bacteria, they may begin to mold. 
Nutrition
Serving:
1
Tablespoon
|
Calories:
3
kcal
|
Carbohydrates:
1
g
|
Protein:
0.1
g
|
Fat:
0.01
g
|
Saturated Fat:
0.002
g
|
Polyunsaturated Fat:
0.001
g
|
Monounsaturated Fat:
0.003
g
|
Sodium:
4
mg
|
Potassium:
15
mg
|
Fiber:
0.1
g
|
Sugar:
0.02
g
|
Vitamin C:
0.03
mg
|
Calcium:
0.1
mg
|
Iron:
0.02
mg
.