Curing egg yolks in salt is a great trick I learned from a chef friend of mine. Here I add truffles for an unforgettable flavor.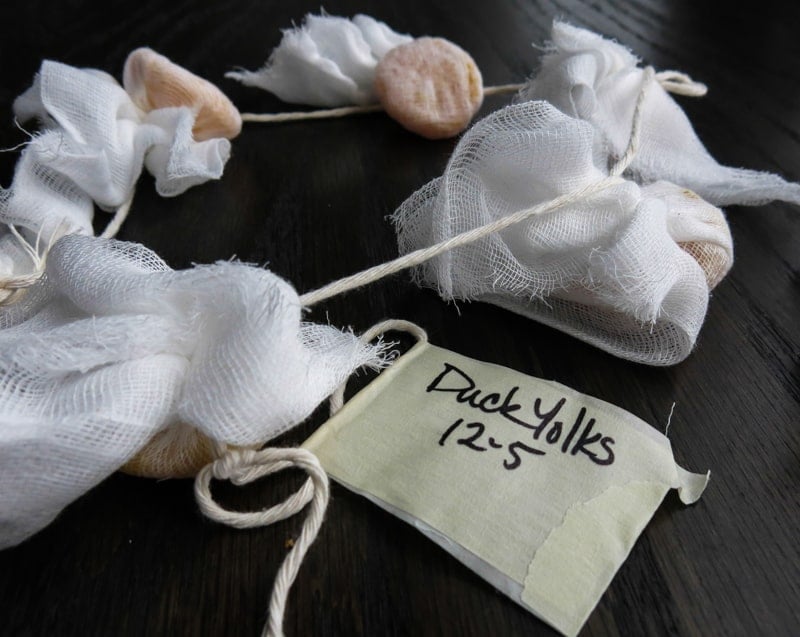 You take some duck yolks (chicken would work fine too, but they won't yield as much) cover them in salt, let them sit for two days, then wrap them in cheese cloth and hang them for a week. Afterwords the yolks can be shaved like cheese.
Now the basic salted yolk is a great thing, but eggs, more than anything else I know, will absorb aromas from things they come into contact with.
When I got a batch of truffles this year, I did an experiment using truffled salt in place of regular salt. The truffled yolks tasted so strong that they took over the flavor of a recent soup I made, almost all I could taste was truffle, just from a teency bit of grated yolk hitting the broth.
After I found out how good the truffle salt worked, I started using herbs, and the results were fantastic. Needless to say, you don't have to have truffles to enjoy the salted yolks, anything with a strong perfume would be excellent.
For example, salt ground in a robot coupe/food processor with lovage or rosemary gave awesome results too. Next year I will have to try ramp leaves.
You might find yourself wondering what you could garnish with shaved, salted egg yolks. Here are some of the ways we've enjoyed using them.
Shaved as a garnish on beef tartare
As a garnish for a soup
In place of cheese on a dairy-less salad
In place of cheese on a dairy-less pasta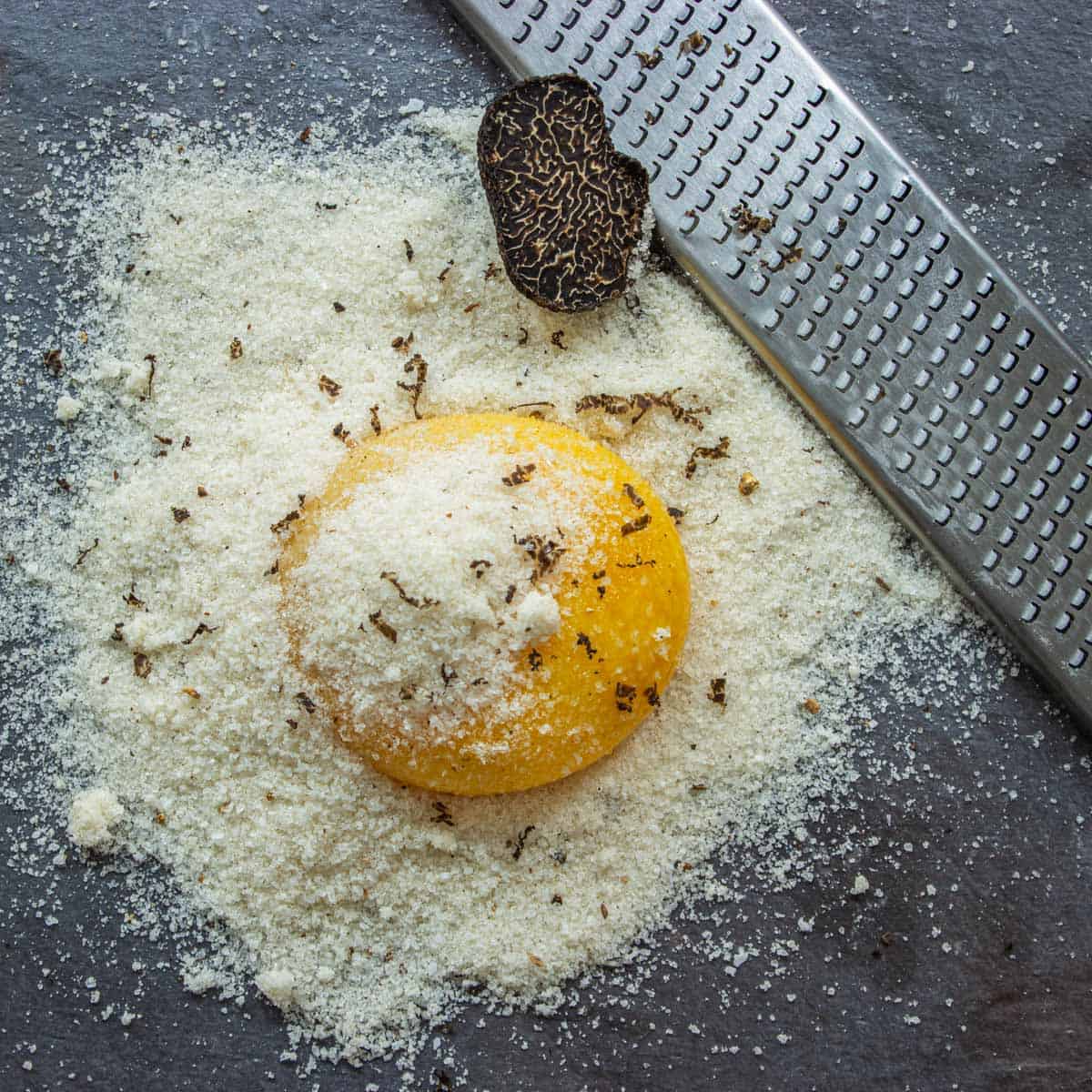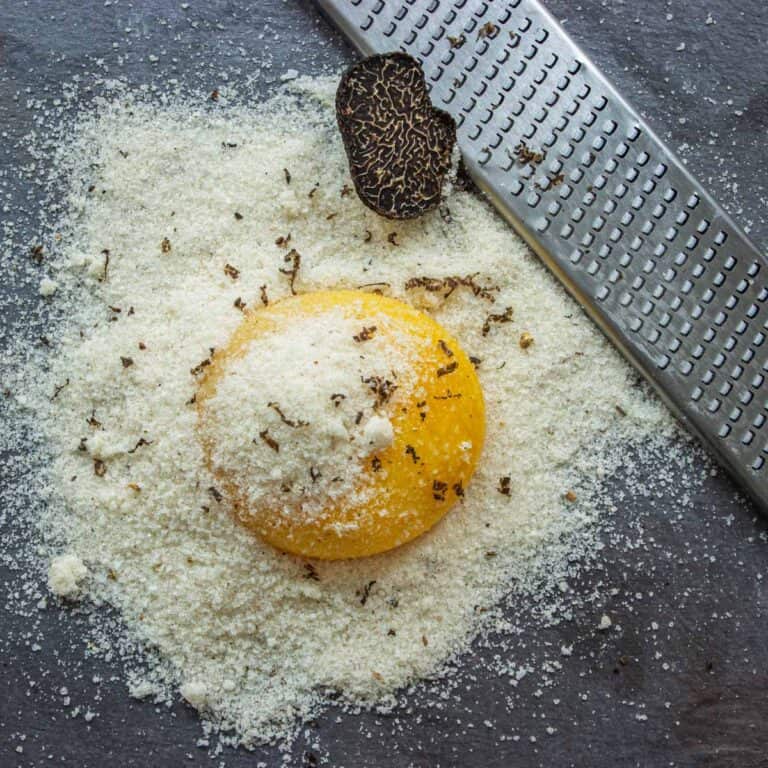 Print Recipe
Truffle Salt-Cured Duck Egg Yolks
Egg yolks cured in black truffle salt can be shaved like cheese.
Equipment
1 2 feet sheet of cheesecloth

1 microplane grater
Ingredients
2

duck eggs

½

cup

kosher salt

½

teaspoon

fresh black truffle

grated
Instructions
Spread ½ of the salt in a layer in a container such as a tupper-ware, the container doesn't matter that much, just so long as the yolks don't get sloshed around, since they would break. I have used cookie sheets, tupper-ware, and ½ pint canning jars, they all worked fine, but the ½ pint canning jars were probably the easiest to use.

Crack the duck eggs one at a time in your hand, allowing the white to fall through into another dish. Save the whites for an omelet or something, or discard.

Gently place the yolks on top of the salt and then cover with the rest of the salt, making sure they are completely covered. Refrigerate the yolks for 2 days.

After two days, remove the yolks from the salt and wrap in cheese cloth. Tie up the yolks and hang them to dry for 1 week in a cool dark place. After a week, remove the yolks from the cheesecloth, wrap in plastic and refrigerate. To serve, grate the yolks as you would cheese (preferrably with a microplane grater as they are salty).
Notes
Duck eggs or goose eggs are the best for this since they are so large, but chicken eggs make a fine substitute. If you don't have fresh truffles, don't worry. Truffle salt can be purchased at many specialty markets, I even see it in the discount aisle at Marshalls and T.J. Maxx.
Like I mentioned, you don't have to use truffles either for this, making perfumed salt blends with herbs will give great results too.
A little bit of cured yolk goes along way, so I'm scaling this to two yolks, which will be more than enough to garnish 10 plates or more, depending on what you're doing.
Nutrition
Calories:
65
kcal
|
Carbohydrates:
1
g
|
Protein:
5
g
|
Fat:
5
g
|
Saturated Fat:
1
g
|
Polyunsaturated Fat:
0.4
g
|
Monounsaturated Fat:
2
g
|
Cholesterol:
309
mg
|
Sodium:
14198
mg
|
Potassium:
84
mg
|
Fiber:
0.04
g
|
Sugar:
0.3
g
|
Vitamin A:
236
IU
|
Calcium:
31
mg
|
Iron:
1
mg
Related Posts
Black Truffle Butter Rigatoni Pasta alla Norcina Blue Ridge Truffles Honey Truffles