My Father told me about milkweed buds, and said that he used to eat them on the farm. Over the past couple years I've heard similar stories from people, mostly people involved in Boy Scouts or those interested in survival foraging.
Thinking of survival food is definitely not what comes to mind when I think of milkweed buds though, they are truly a special, seasonal vegetable; in a class all their own. They are easy to identify, a breeze to harvest, and a cinch to cook.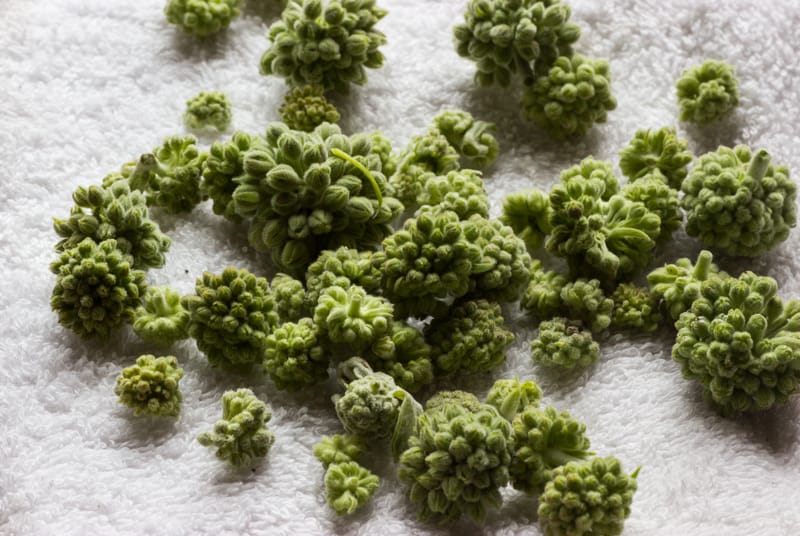 Of course you can just throw them in a pan and cook them, or blanch them in salted water and dress them with some butter. This week I thought it would be fun to combine them with another part of the milkweed plant in a dish, a sort of double milkweed theme.
There are plenty of ways you could go about doing it, but since I had a pile of excess milkweed leaves laying around I had trimmed from the edible shoots, it wasn't long until I started experimenting with pureeing the leaves and making things colored green with milkweed. Green milkweed pasta was a shoe in, and a great way to use the older leaves that have become too fuzzy to enjoy cooked.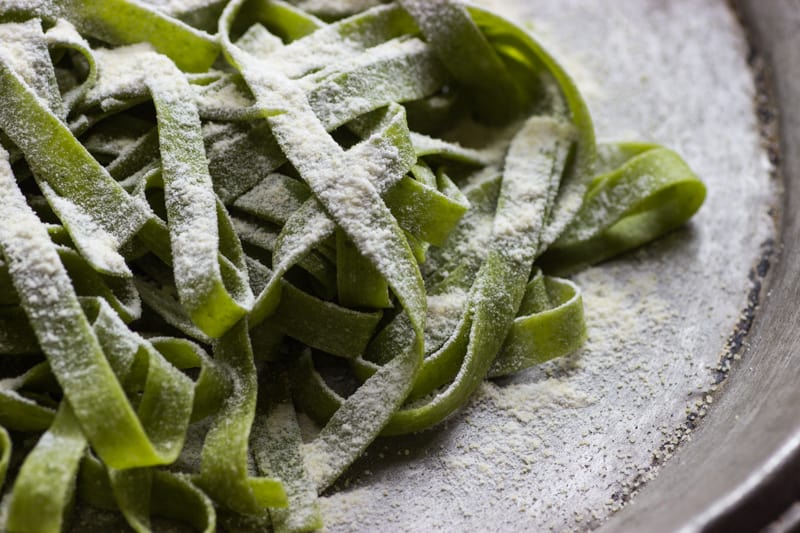 The recipe here for using the milkweed pasta and the buds together is much more than your average buttered noodle though, it's a little riff on a classic I learned from my former mentor from Rome, Angelo.
Whenever children would come into the Italian restaurant we worked in and ask for a "kids" pasta, Angelo would always make the same thing. He'd take some pasta, toss it with a little butter, pasta water, salt, parmesan and just the tiniest bit of lemon zest- no parsley though since kids freak out about green things.
The pasta was a whole lot more than you'd expect: it's subtle, salty, buttery, with just a hint of lemon on the end. The key to making it is in using a little pasta water and butter to emulsify the sauce and make it creamy.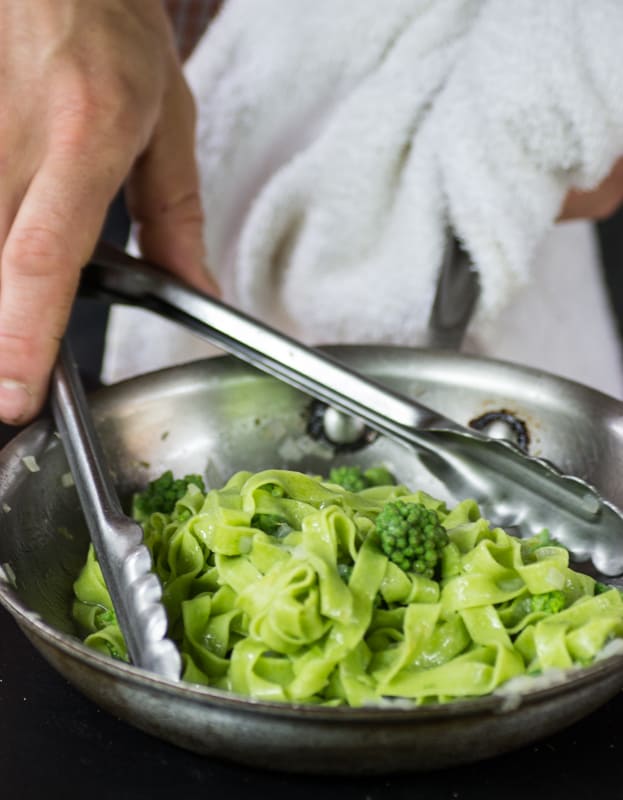 The flavor of milkweed buds is delicate, they don't need much done to them if anything. A little butter and lemon is a great match for them though, so I knew Angelo's old kiddie pasta would be just right. Try it out sometime, with or without the milkweed, it's awesome.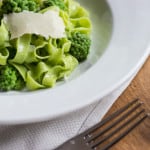 Print Recipe
Milkweed Bud Fettuccine
Serves 4
Ingredients
1

recipe milkweed leaf fettuccine

See recipe

4

tablespoon

shallots

diced ¼ inch

5

tablespoon

unsalted butter

2

teaspoon

fresh grated lemon zest

½

cup

chicken or vegetable stock

⅛

cup

pasta cooking water

Kosher salt

to taste

Parmigiano Reggiano or other domestic parmesan

to taste

1.5

cups

small

tight milkweed buds
Instructions
Bring a pot of lightly salted water to a boil.

Blanch the milkweed buds in the boiling water for 30 seconds, then refresh in an ice bath. Drain the milkweed buds thoroughly, and reserve.

In a large saute pan, melt half of the butter and add the diced shallots. Cook the shallots on medium until they are translucent and soft, about 2-3 minutes, season with a ¼ teaspoon of kosher salt. Add the stock and cook until reduced by half, then turn off the heat.

Add 8 ounces of pasta to the boiling water and cook until the pasta is done, about 2 minutes.

Drain the pasta, reserving ⅛ cup of the cooking liquid.

Add the pasta to the pan with the stock and shallots, add the cooking liquid, reserved milkweed buds, the rest of the butter, and lemon zest and cook for another minute or two, swirling the pan until the liquid is thickened slightly and creamy. Add 4 tsbp of parmesan and toss to coat, then divide the pasta between four heated bowls and serve immediately, garnishing with some additional parmesan if desired.
More