Yarrow, the bitter, aromatic wild herb mostly thought of as a medicinal plant, is something I prefer to use in cooking in small amounts. A little goes a long way, but it can be a nice accent to certain dishes. Read on and I'll explain the details.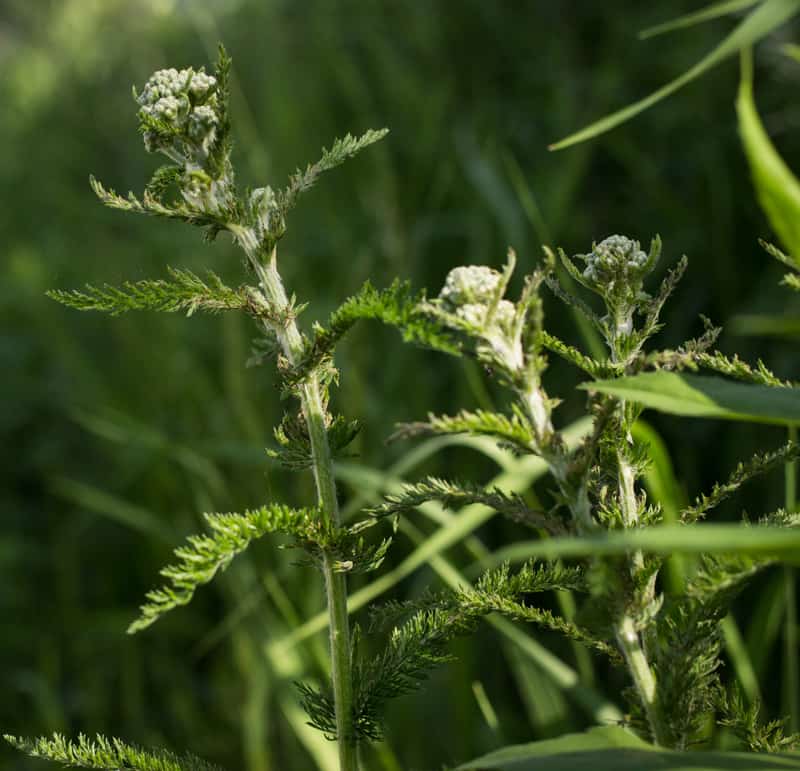 When I smelled yarrow for the first time, I knew I was onto something. Its scent is sweet, and potent.
Since then I've seen a couple different chefs use it, mostly just garnishing dishes with it's leaves. But yarrow is so much more. It's an ancient herb. The Greeks were known to use it as a medicinal since it promotes blood clotting, from there it became associated with war, and soldiers would carry it with them, just in case, or so I've read. Unlike wild mints and other plants from the Lamiaceae, yarrow is bitter. Really bitter. Just a leaf or two is all you need.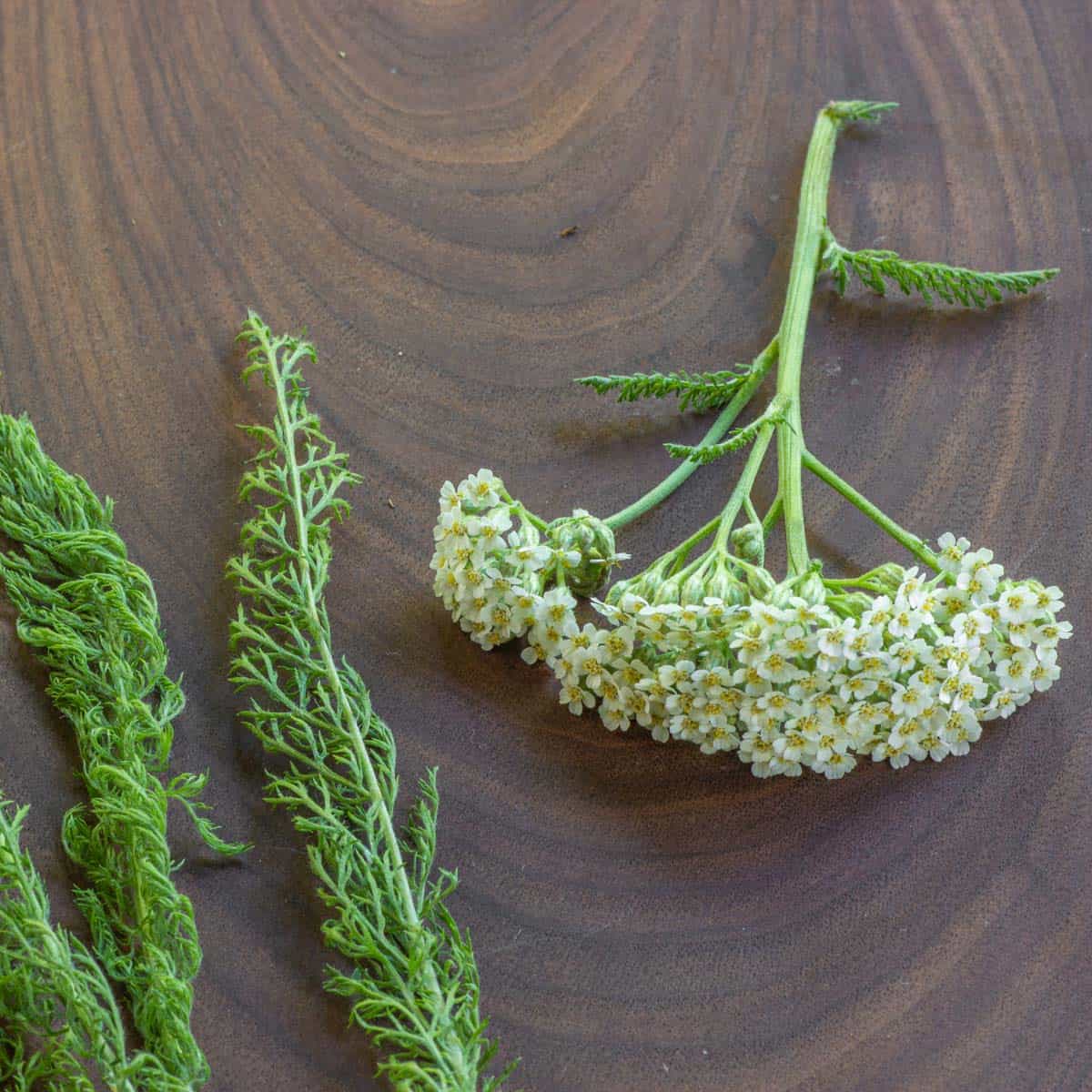 When I first started playing with it in the kitchen, I would take the whole plant, stem, flowers and all, and put it into stock or broth. The resulting broths took on the flavor, but they had an incredibly bitter aftertaste. I adjusted the broths with sugar and vinegar, which helped a bit, but for the most part I disregarded it as a novelty, and assumed the aroma couldn't be separated from the bitterness.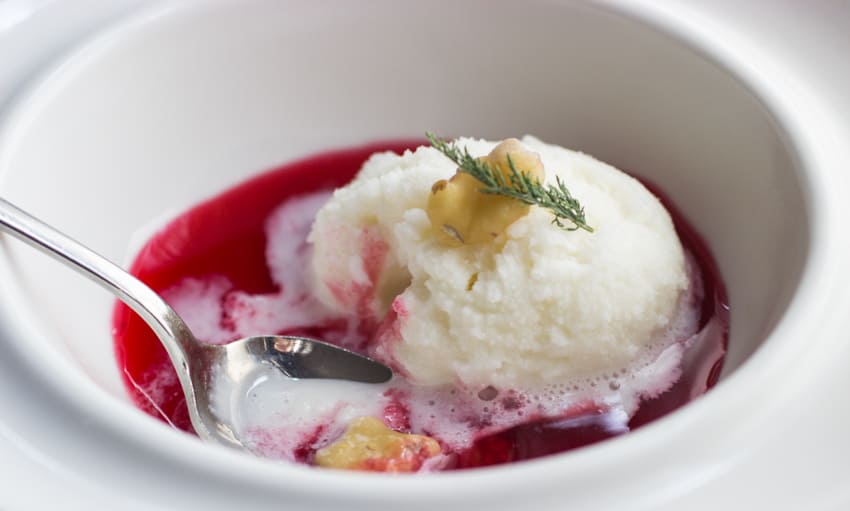 I knew there had to be someway to enjoy this new herb. But how? When I started to see it growing again this year I vowed to unlock it's secrets. I'm still working on that.
At first smell, yarrow comes off as something in between anise and flowers, it's got a very sweet, scent that's hard to describe. I've never tasted anything quite like it. Here's some things I've noticed after using it in the kitchen for a while: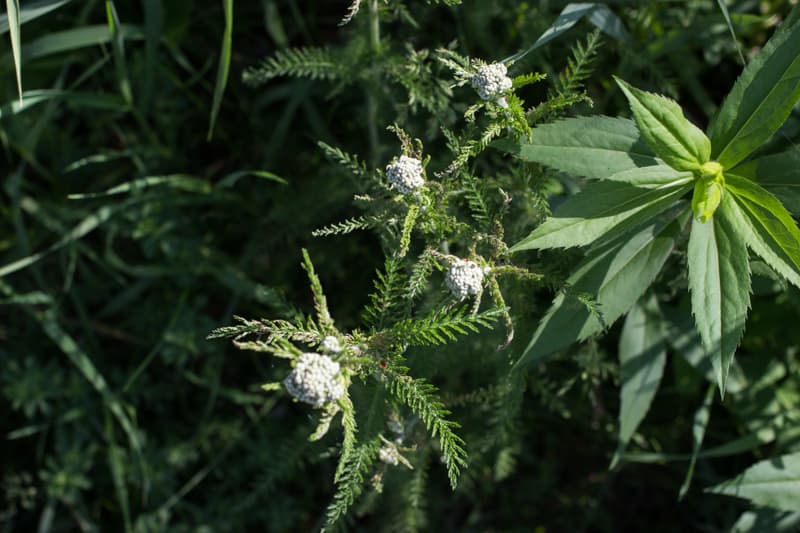 Notes on cooking with yarrow
It's bitter. It's going to stay bitter, and nothing you do will change that.
Mixing yarrow with other soft herbs like tarragon, chervil, or parsley is a good way to enjoy it's flavor if you find it a bit powerful for your tastes.
Just like other soft herbs, high heat will destroy yarrow's flavor. You don't want to really "cook" it. For example, if you wanted to flavor sauteed meat or vegetables with yarrow, add it at the end of cooking just to heat it through for a moment, with the heat turned off like you would chives or parsley. Seasoning something with yarrow and then sauteing will destroy the flavor.
Yarrow will be nice in desserts since it's naturally sweet, especially those that use cream. I've seen sorbets made from it, as well as ice cream. Small amounts only, remember, it's bitter.
Putting it in stock or broth is a great way to make bitter stock or broth. Not recommended.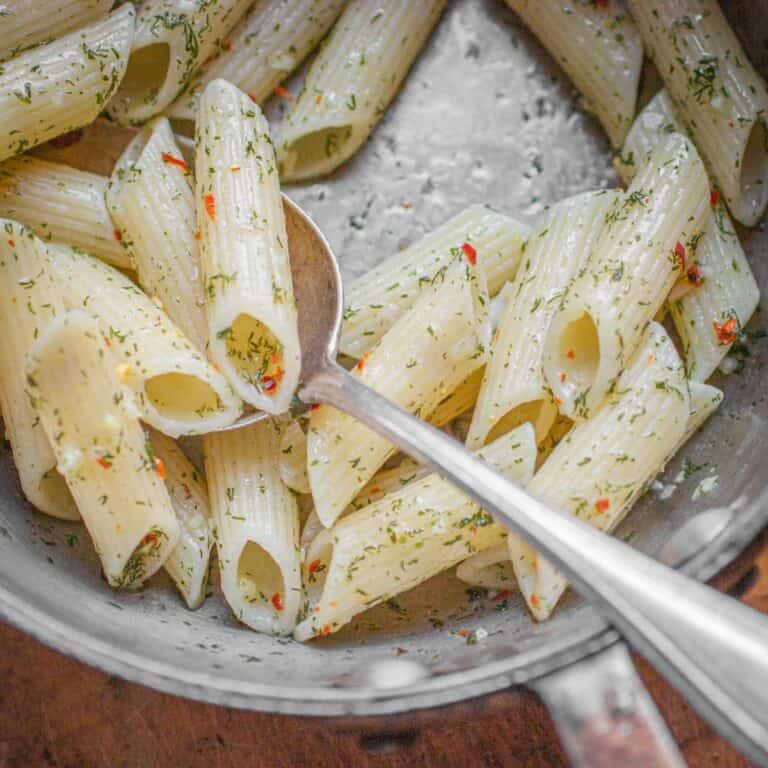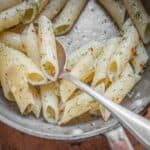 Print Recipe
Penne Aglio Olio with Yarrow
Serves 4 as an entree, to be accompanied by a big green salad
Equipment
1 Pasta pot

1 10 inch saute pan
Ingredients
8

oz

dried penne

finest quality available (look for masciarelli or rustichella pasta, they're by far my favorite, although spendy)

4

tablespoon

fresh garlic

finely chopped

Kosher salt

3

tablespoon

extra virgin olive oil

3

tablespoon

grapeseed or canola oil

1

teaspoon

crushed red pepper

or more depending on how much you like spicy food

a large handful of yarrow

leaves picked from the stem and chopped to yield 2 tsp

¼

cup

dry white wine

4

anchovy filets in oil

rinsed and chopped (optional, but I recommend it)

Parmesan for serving

purists would pooh-pooh it
Instructions
Make a pile of the yarrow and crushed red pepper flakes, then mince them together finely.

Bring a pot of water to a boil and season it with salt until the water tastes like the sea. Add the penne and cook until al dente, the time of which may vary depending on the brand of pasta you use. High quality Italian dried pasta will take longer to cook than something like Creamette.

While the pasta is cooking, heat the garlic in the pan with the oils and chopped anchovy on low heat until the garlic is fragrant and lightly browned. Do not allow the garlic to burn. Remove the pan from the heat and swirl it for a minute to cool the pan so that the wine doesn't explode grease all over your face. Add the wine to the pan.

When the pasta is done, drain and add to the pan. Toss the pasta to coat with the oil and cook for a minute to evaporate any raw wine flavor.

To finish the dish, add the yarrow-chilli mixture and toss just to heat through. Transfer the pasta to each of 4 bowls, garnish with some parmesan and an extra drizzle of extra virgin oil if desired, then serve immediately with a big green salad.
Notes
I have made plenty of things with yarrow, one of my favorites was a simple pasta. I like the flavor of anise and similar tastes with spicy, garlicky things as well as sweet, similar to Italian recipes where fennel and hot chilli are used together. This is a simple, dressed down way you might try it.
Nutrition
Serving:
4
oz
|
Calories:
317
kcal
|
Carbohydrates:
43
g
|
Protein:
7
g
|
Fat:
11
g
|
Saturated Fat:
2
g
|
Polyunsaturated Fat:
1
g
|
Monounsaturated Fat:
8
g
|
Sodium:
13
mg
|
Potassium:
147
mg
|
Fiber:
2
g
|
Sugar:
2
g
|
Vitamin A:
148
IU
|
Vitamin C:
0.003
mg
|
Calcium:
15
mg
|
Iron:
1
mg