I wanted to end the morel season with a bang, so I waded through a couple piles of old French cookbooks. I found just what I wanted in an old 80's recipe by Roger Vergé.
There's just something about dated cookbooks that turns me on. The plating is usually super cheesy and over the top. If your eyes stop hurting after poring over the pages, there's a lot to learn from old books. There are plenty of flavor combinations that are timeless classics, and just because a dish is plated like it was served in the Crillon Hotel doesn't mean you have to do it that way. Old books inspire me; looking to them for new tricks is one of my secrets.
Back to Mr. Verge, my chef buddy Ryan (Currently executive chef at Caribou Highlands resort) told me about him years ago:
"Al, you've never heard of ROGER VERGÉ? The dapper don of France?!" The man makes consomme wearing 5000 dollar suits!"
Dapper is really a great description of Vergé. He has the kind of old school style that your grandpa has, with his snowy hair and a perfectly white mustache. His cuisine is elegant and oozes the warm, Mediterranean style of the French Riviera. I've heard some people describe his cuisine as "girly", or "froo, froo", which makes me chuckle a little.
His book Roger Vergé's Entertaining In The French Style is a good example, it's filled with fancy tables settings, warm colors and pastels; to me it's like enjoying a summer that never ends. At the same time his food is simple, and like a lot of other chef's I admire, he draws inspiration from the peasant food and traditional cuisine of where he lives.
The recipe of Vergé's was a special quiche, made with morel mushrooms. It's an easy recipe, although a bit expensive since it uses a full lb of Minnesota's state mushroom. The mushrooms are cooked down and give off a bunch of their tasty juice, afterwords you combine this with some creme fraiche or sour cream.
The sour cream takes on the flavor of the morels, and gets very rich. It's not so much a quiche with morels in it as much as it's an insanely rich morel custard baked in a crust. The morels are really the star here, that's for sure.
The only real small change I made was instead of creme fraiche I substituted sour cream thinned with a bit of heavy cream.
Creme fraiche is great, but can make a lot of old school French recipes seem unapproachable, since many people don't want to attempt it at home. Sour cream thinned with cream is a decent substitute; you still get a bit of that sour flavor.
This makes for a really fun eat, especially if you leave the morels whole, they soak up the custard mixture very well.
Bye bye morels, see you next year!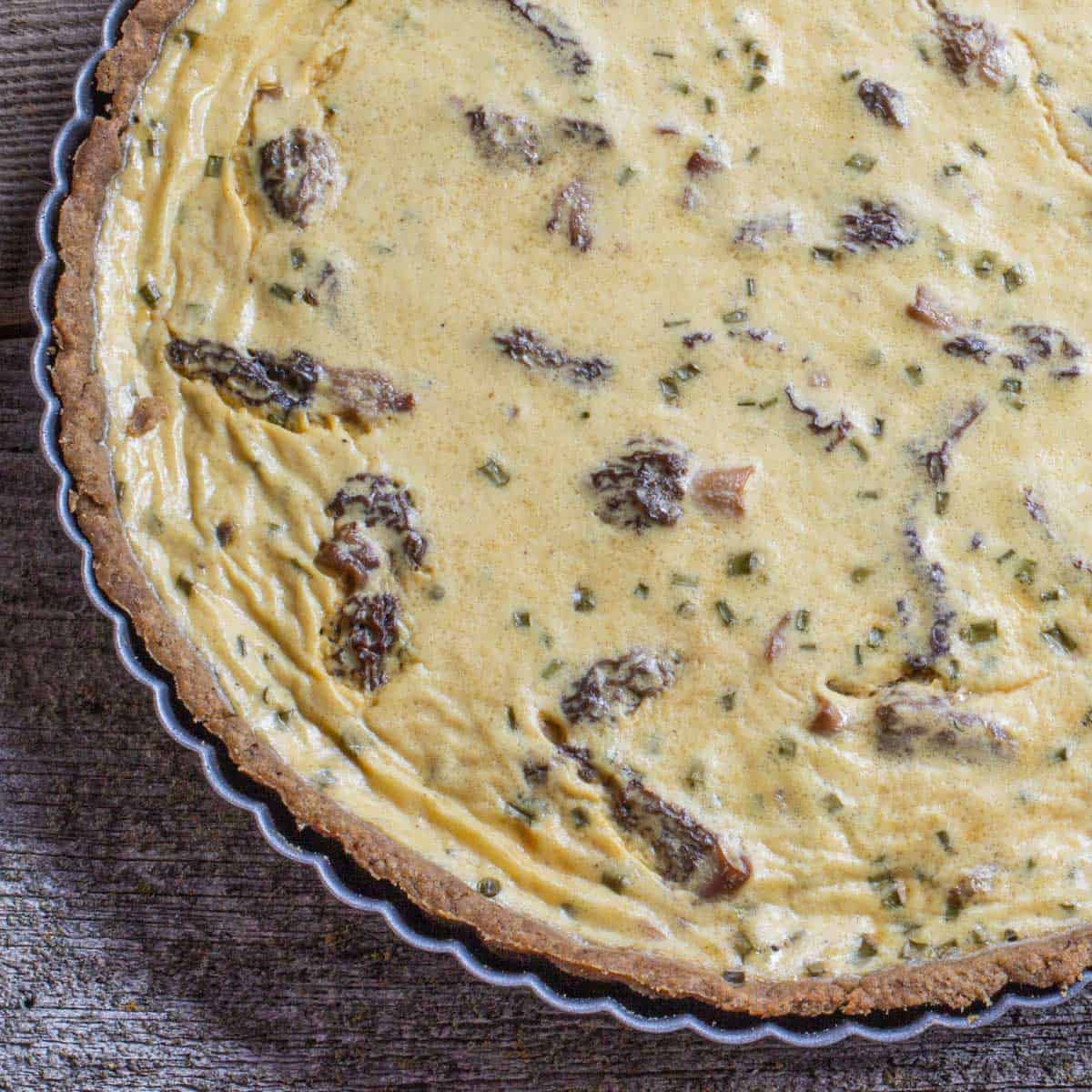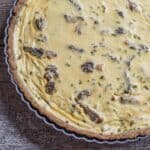 Print Recipe
Roger Vergé's Morel Quiche
Serves 8 as a light meal. I'd Serve with a green salad on the side, so you can wipe up bits of egg with the greens, per French tradition.
Ingredients
Grapeseed

canola oil or lard for cooking

2

tablespoon

unsalted butter

Kosher salt and fresh ground pepper to taste

1

lb

fresh whole morels

cleaned of dirt, washed and dried on towels if necessary

2

tablespoon

sweet yellow onion or shallot

2

cups

sour cream

¼

cup

heavy cream

¼

cup

cognac or brandy

½

cup

vegetable stock

chicken stock, or water

Pie weights for the crust

such as lentils, beans, or grains, about 6 cups

3

tablespoon

grapeseed oil

or another high heat oil like canola, or lard

3

tablespoon

fresh cut chives

thinly sliced

2

large eggs

plus 2 egg yolks

1

recipe gluten free wildrice-buckwheat crust

follows or your favorite quiche crust
Instructions
Preheat the oven to 350 degrees.

Whisk together the sour cream, heavy cream, eggs and egg yolks. Reserve until needed.

Heat the grapeseed oil in a large saute pan until lightly smoking, add the morels and saute on high heat until browned, about 5 minutes. Season the morels to taste with salt, push them to one side of the pan and then add the onions or shallots, along with the butter to make sure there is enough fat for them to not burn. Cook the onions for a minute or two until translucent, then add the cognac or brandy and cook until the pan is nearly dry. Add the chicken or vegetable stock and cook until reduced by half, about 5 minutes.

Transfer the morel and onion mixture to a metal mixing bowl. Combine the morel mixture with the sour cream egg mixture and the chives. Season the mixture with salt and pepper, then transfer to the prepared crust. Bake the quiche for 30 minutes, or until just set. Allow the quiche to cool for 10 minutes before cutting and serving.
Notes
Adapted from a recipe by Roger Vergé
Simple Quiche Crust
Feel free to use 100% all-purpose flour here if you like.
Ingredients
1

cup

wild rice flour

1

cup

all purpose flour

¼

teaspoon

kosher salt

¼

teaspoon

fresh ground pepper

Pinch

of ground nutmeg

¾

cup

cold

8oz, unsalted butter, diced ½ inch

tablespoon

or two of ice cold water

6

cups

rice

beans, or lentils, to use as pie weights
Instructions
Combine all the ingredients in the bowl of a food processor. Pulse the mixture until it looks like coarse meal, and all the butter is in very small bits.

Slowly add the cold water until a loose, dough is formed. You should be able to see little chunks of butter in the dough, these will steam and form the flaky layers of your crust. Pack the dough into a ball and refrigerate to allow the butter to hydrate for 30 minutes.

Remove the dough from the refrigerator and roll out on a surface dusted with the flour mixture until it is very thin, about ¼ in. Place the dough over a quiche or tart pan, pressing it into the edges of the pan, but making sure not to stretch it, which would cause the dough to shrink as it bakes.

Cover the crust in the pan with aluminum foil, fill with the pie weights, and bake for 30 minutes at 325, or until the crust is lightly golden. Remove the weights and bake the crust for 5 minutes more. Remove the crust from the oven and reserve until needed.
More