Morel Quiche is a classic French morel recipe from a famous French Chef. It takes a little time to prepare, but there's a few readers who make this every year when the morels come. Each slice is a little bit of luxury.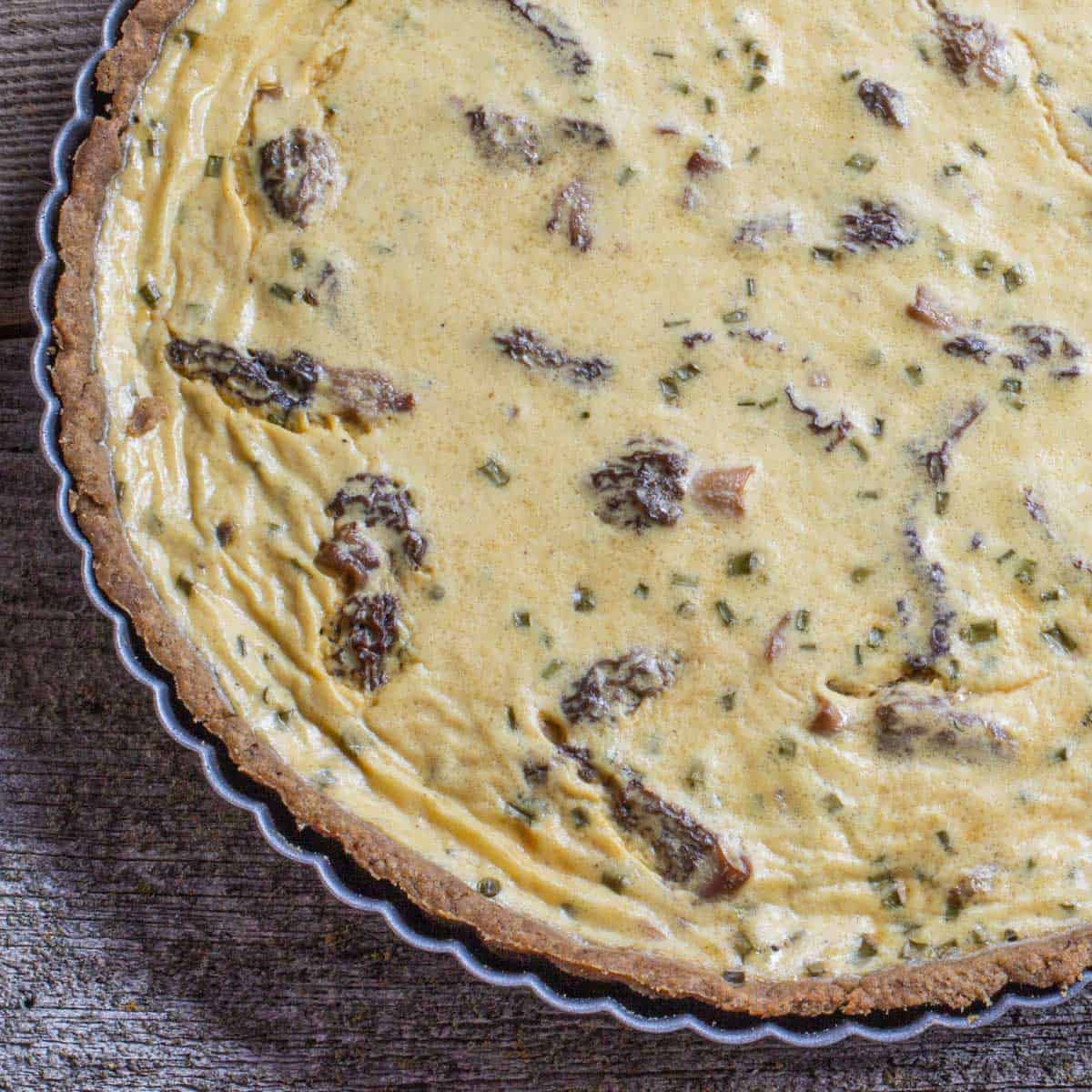 I love the book Roger Vergé's Entertaining In The French Style. It's filled with fancy tables settings, warm colors and pastels. To me it's like enjoying a summer that never ends.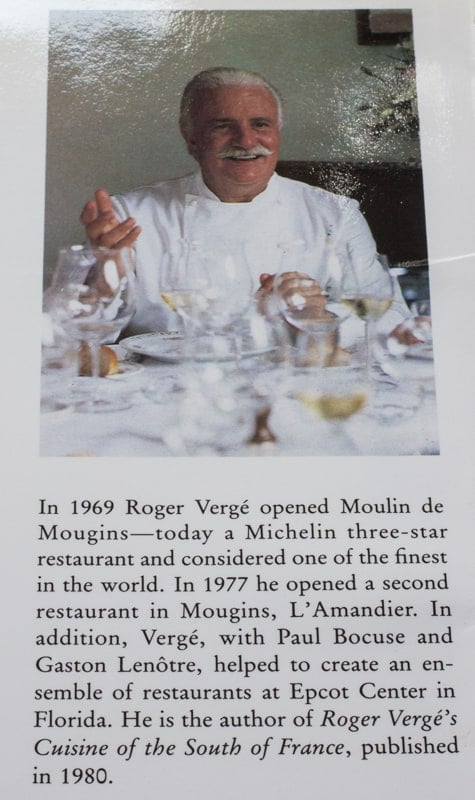 At the same time his food is simple, and like a lot of other chef's I admire, he draws inspiration from the peasant food and traditional cuisine of where he lives.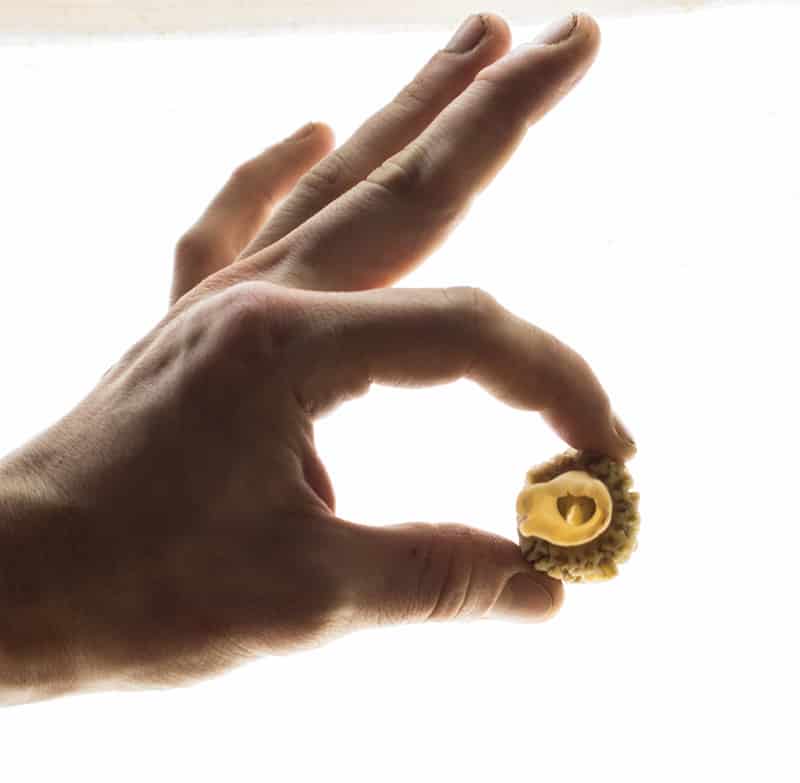 The recipe of Vergé's was morel mushroom quiche. It's an easy recipe, although a bit expensive since it uses a full pound of Minnesota's state mushroom. The mushrooms are cooked down and give off a bunch of their tasty juice, afterward you combine this with some creme fraiche or sour cream.
The sour cream takes on the flavor of the morels and gets very rich. It's not so much a quiche with morels in it as much as it's an insanely rich morel custard baked in a crust. The morels are really the star here.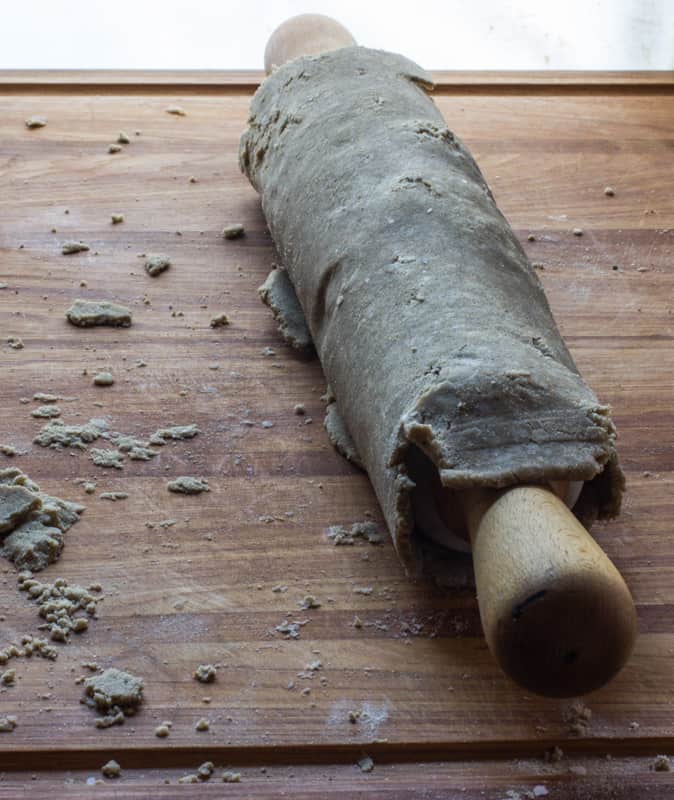 The only real small change I made was instead of creme fraiche I substituted sour cream thinned with a bit of heavy cream.
This makes for a really fun eat especially if you leave the morels whole, which most recipes do not.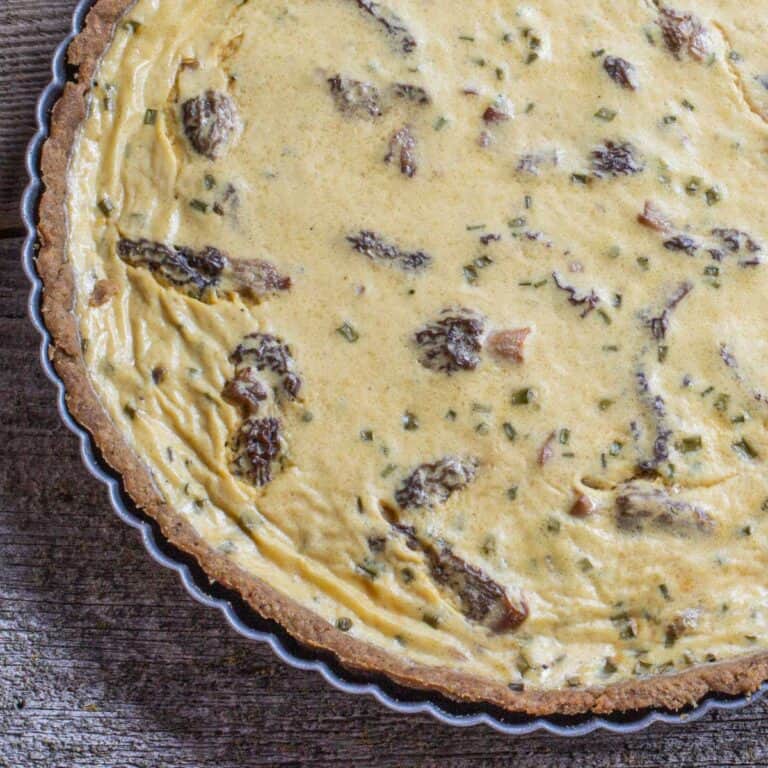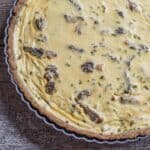 Print Recipe
Roger Vergé's Morel Quiche
Serves 8 as a light meal. I'd Serve with a green salad on the side, so you can wipe up bits of egg with the greens, per French tradition. Expect about 45 minutes of prep time if you make your own crust.
Equipment
1 large mixing bowl

1 Whisk

1 tart pan with removable bottom

4 cups pie weights

you can use rice, beans or lentils
Ingredients
Grapeseed

canola oil or lard for cooking

2

tablespoon

unsalted butter

Kosher salt and fresh ground pepper to taste

1

lb

fresh morel mushrooms, whole

cleaned of dirt, washed and dried on towels if necessary

2

tablespoon

finely diced shallot

2

cups

sour cream

¼

cup

heavy cream

or whole milk

¼

cup

cognac or brandy

½

cup

vegetable stock

3

tablespoon

unsalted butter

3

tablespoon

fresh cut chives

2

large eggs

plus 2 yolks

1

quiche crust

follows
Crust 6 cups rice beans, or lentils, to use as pie weights
2

cups

all purpose flour

¼

teaspoon

kosher salt

¼

teaspoon

fresh ground black pepepr

1

pinch

ground nutmeg

8

oz

cold, unsalted butter diced ½ inch

1-2

Tablespoons

ice water
Instructions
Crust
Combine all the ingredients in the bowl of a food processor. Pulse the mixture until it looks like coarse meal.

Slowly add the cold water until a dough forms.

Form the dough into a smooth, flat disk and refrigerate for 30 minutes. Remove the dough from the refrigerator and roll out on a lightly floured surface until very thin, about ¼ in.

Place the dough over a quiche or tart pan, pressing it into the edges of the pan. Make sure not to stretch the dough which will cause it to shrink. Pierce the dough all over with a fork.

Cover the crust with aluminum foil, fill with the pie weights and bake for 30 minutes at 325, or until the crust is lightly golden. Remove the weights and bake the crust for 5 minutes more. Remove the crust from the oven and cool.
Filling
Preheat the oven to 375 degrees.

In a bowl, whisk the sour cream, eggs, milk or cream and egg yolks. Reserve until needed.

Heat the grapeseed oil in a large saute pan until lightly smoking, add the morels and saute on high heat until browned, about 5 minutes. Season the morels to taste with salt, push them to one side of the pan and then add the onions or shallots, along with the butter to make sure there is enough fat for them to not burn.

Cook the onions for a minute or two until translucent, then add the cognac or brandy and cook until the pan is nearly dry. Add the chicken or vegetable stock and cook until reduced by half, about 5 minutes.

Transfer the morel and onion mixture to a metal mixing bowl. Combine the morel mixture with the sour cream egg mixture and the chives. Season the mixture with salt and pepper, then transfer to the prepared pie crust.

Bake the quiche for 20-30 minutes, or until just set. Allow the quiche to cool for 10 minutes before cutting and serving. Serve warm or at room temperature.
Notes
No water bath necessary
Some recipes will call for baking a quiche in a water bath. This recipe uses a tart pan, which is thinner than most quiche pans so that is unnecessary. It will als0 cook faster, in 20-30 minutes, compared to larger pans that will take about 45 minutes. 
Variations 
You can add a handful of peas, or a few blanched asparagus tips for a morel-asparagus quiche. 
Nutrition
Serving:
1
slice
|
Calories:
262
kcal
|
Carbohydrates:
6
g
|
Protein:
5
g
|
Fat:
23
g
|
Saturated Fat:
10
g
|
Polyunsaturated Fat:
5
g
|
Monounsaturated Fat:
5
g
|
Trans Fat:
0.1
g
|
Cholesterol:
91
mg
|
Sodium:
107
mg
|
Potassium:
328
mg
|
Fiber:
2
g
|
Sugar:
3
g
|
Vitamin A:
646
IU
|
Vitamin C:
1
mg
|
Calcium:
94
mg
|
Iron:
7
mg
More