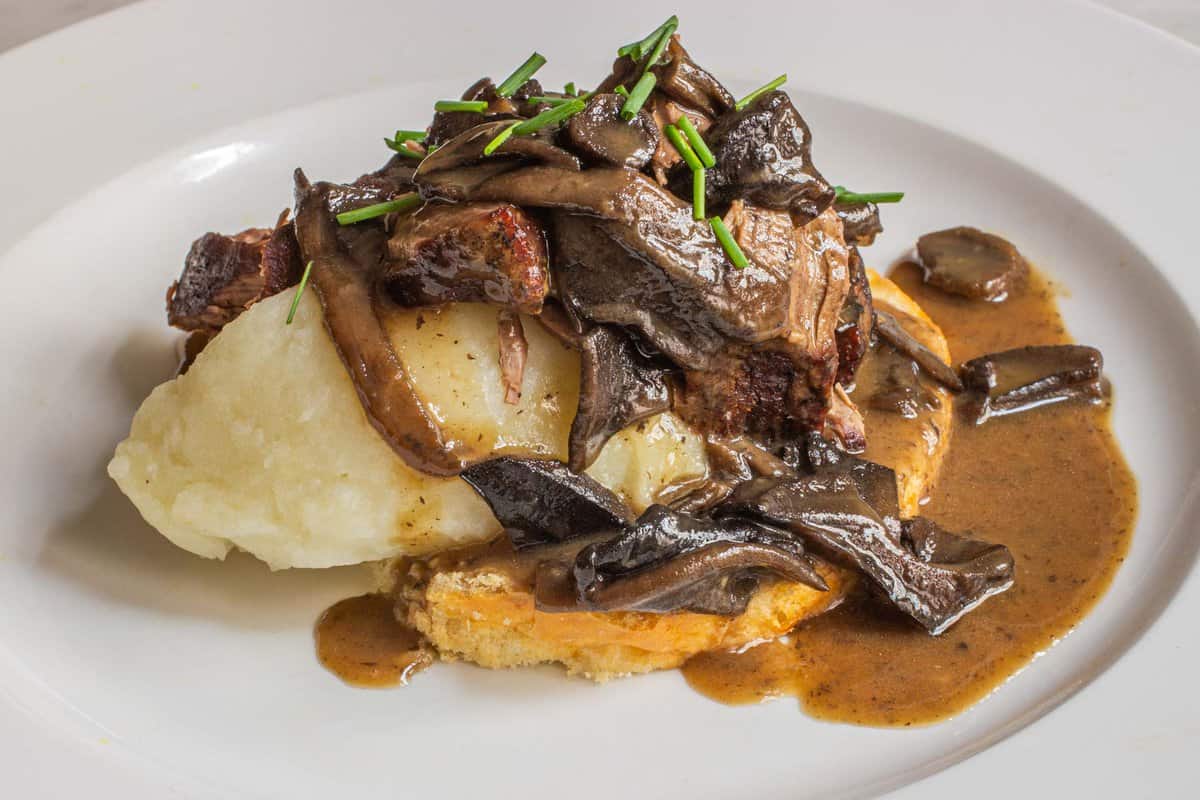 Childhood food memories, everyone has some, those dishes that take you back in time. A hot beef commercial is one of mine.
It reminds me of being a kid, about waist high on my Father. My dad and I would make trips back and forth to Willmar Minnesota from Grove City where the family farm is, and where he still harvests an impressive amount of corn and soybeans.
Our trips into town varied. Maybe we were going to church on Sunday, picking up some lumber at the yard, or some spare parts from a hardware store. Sometimes, we'd stop at a little diner called Hillcrest right outside of New London, to grab a bite to eat.
Hillcrest is a working man's joint. It's perched on the top of a hill, and it's the spitting image of your textbook truckstop/diner, looking like a lighthouse, a trucker's beacon. They even advertise on their website that they have an extra large parking lot for overnight stays, which is pretty endearing.
The menu, from what I remember is your typical truck-stop fare: breakfast, lunch and dinner, a couple pies and desserts. There was pretty much only one thing my dad and I ever ordered when we ate though: hot beef commercials.
If you've not familiar, here's the jist: You take some un-toasted bread, top it with a scoop of mashed potatoes, some hunks of cooked beef, and smother the whole shebang in beef gravy. It's simple, and pretty much the ultimate nap time food.
Heck, after poking around a little bit I even found an entire blog dedicated only to roast beef commercials (It's awesome), as well as a note or two mentioning it as a special served at the Chatterbox Cafe in Lake Wobegon, Minnesota- a fun town I used to visit about every Sunday around dinner time.
As for the how it got it's name, account vary, but one that has held weight with me is that the beef commercial was a favorite of traveling "commercial people", a.k.a. salesman.
The reason this has been on my mind is that I've been talking on and off with two friends of mine: a husband/wife-professional food photography and styling duo. They're a crazy talented team, but beyond that, I'm silent, for now.
My friends asked me to contribute some recipes to an upcoming book involving Minnesota Cuisine. It took all of about two minutes to jot down some fun, Midwest style recipes. On the top of the list was a sexy version of the old beef commercial I used to eat with Dad.
I didn't want to change it much, it's still mashed potatoes, toast and gravy. The gravy is the secret though, it's imbued with an unsung hero of the boletus family, hot cousin of porcini, and a mushroom I only really use dried: Leccinums.
Leccinums are an under-appreciated mushroom, which is easy to understand after you eat some fresh-they're very mild. This changes when they're dried though, their flavor gets concentrated, and rich.
You should know that some people have experienced gastric upset when eating orange cap leccinums. I haven't ever had ill effects if the mushrooms are dried first, but it could be possible-just a heads up.
The hot beef commercial turned out really, really good. After I cleaned the plate I got the same fuzzy feeling you get after Thanksgiving dinner, and then I went to sleep.
Dad, when the cookbook gets published, I'll make this for you.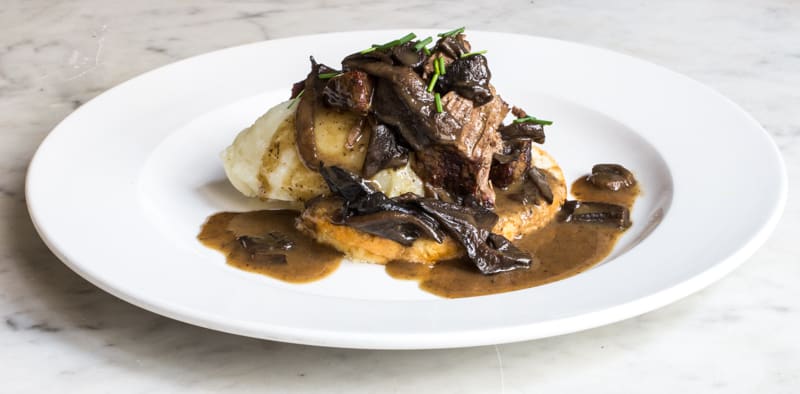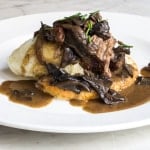 Print Recipe
Hot Beef Commercial, with Dried Bolete Gravy 
Ingredients
12

ounce

cut of braising beef, like chuck

½

cup

basic mashed russet potatoes

recipe follows

1

tablespoon

unsalted butter

1

tablespoon

all purpose flour

Kosher salt and fresh ground black pepper

to taste

3

cups

beef stock

preferably homemade

Fresh chives

cut ½ in, to garnish

½

ounce

dried leccinums or other boletes

(about 1 cup using a dry measure)

2

slices

of plain white bread

cut into circles with a ring mold or glass

3

tablespoon

grapeseed

lard, or other high smoke point oil, for searing
Instructions
Cover the Leccinums with the stock in a container and rehydrate. Agitate the leccinums to remove any dirt or debris, then remove them, strain the liquid, and recombine the two. Preheat the oven to 275. Heat the oil in a cast iron or similar heavy pan and when it's smoking, season the beef liberally with salt and pepper and brown deeply on each side, about 4-5 minutes per side. Discard the oil from the pan, then deglaze the pan with the stock and mushroom mixture, scraping up the browned bits with a wooden spoon. Place the beef in a baking dish with a lid, cover with the mushrooms and stock, and cook, covered in the oven for 2.5 hours, or until the beef is very tender and gives easily when pierced.

When the beef is done, remove it from the pan, tear into large 1in chunks, and keep warm.

Knead the butter and flour together until they form a smooth mass (you are making buerre manie here). Place the mushroom-stock mixture in wide pan and heat. When the stock is bubbling, whisk in the kneaded flour and butter until completely dissolved. Continue heating the mixture until thickened, then double check the seasoning and reserve. Add a tablespoon or two of water and whisk if it becomes too thick.

To plate the dish, on the middle of two pre-heated dinner plates, put a round of white bread. Top the bread with a scoop (I made a quinelle) of ½ cup mashed potatoes. Top each mound of mashed potatoes with the ½ of the reserved beef, then spoon on the leccinum gravy.
Basic Mashed Russet Potatoes
Yield: About 4 dinner sized portions, depending on appetite
1lb russet potatoes, peeled and quartered
Kosher salt and pepper, to taste
¼ cup cream or milk
2 tablespoon unsalted butter
Water, as needed
Method
Place the potatoes in a pot and cover with water by 2 inches. Bring the mixture to a boil, then reduce the heat to a simmer. Season the water to taste with salt. (It's easier to season the water with salt to taste when it's warm since the salt dissolves quicker, which will prevent oversalting).
Cook the potatoes for 10-15 minutes or until tender when pierced with a knife. Do not over cook the potatoes or they will become watery.
Remove the potatoes and drain in a colander. Pass the potatoes through a ricer, then stir in the butter and cream. Keep the potatoes warm, and covered until needed.