Cockscombs are an obscure type of chicken offal. They used to be more common, but now are mostly used in Europe, often in fancy restaurants. Read on and I'll break down how to clean and use them, and make them taste good.
Chicken is so much more than white, skinless meat. After a few years in kitchens, I had cooked my share of frozen I.Q.F. breasts that lose half their volume after cooking from the solution they're injected with. I knew chicken as a dry, powdery meat usually roached on a grilled and chopped to bits before being thrown on a salad. Chicken was pretty much dead to me.
I had a paradigm shift once I started working with heirloom and thoughtfully raised poultry: I learned to love it again. I also learned how to work magic with their gizzards, hearts, kidneys, and feet. There was a part that had eluded me though: the combs.
Cockscombs are some of the most odd and interesting things I've ever cooked. Believe it or not too, they're really, really good. Imagine a soft chicken dumpling, and that's pretty much it.
Ever since I read about them in an old Alain Ducasse book, I was intrigued. I mean if a guy's restaurant has them on tasting menus that are hundreds of euros per person, there has to be some way to make them delicious, no matter how strange they might look. Right?
Even if you're not hot on the idea of eating this funky part of male poultry, you have to admit that they are at least interesting, and colorful. For years I begged and pleaded with any supplier of chicken I can find to get me these, and every supplier refused. I made some new friends this year that raise chickens though, so guess what? I got my combs.
So why would you want to know how to cook these?
Here's my angle: chicken is pretty much a cop-out for non adventurous diners at most restaurants. Chicken is overcooked, marinated to death, and a shoe in for a simple protein up-sell at plenty of restaurants.
Everyone's seen the note underneath such and such a salad that reads: "Throw some overcooked chicken on it for 3$". To reiterate, chicken is a lot more than some white meat; and to me, combs are a perfect example of the greater possibilities our feathered friends have to offer.
Cleaning combs is tedious, but worth it for the end product: a tender, melt in your mouth morsel of chicken-y goodness. If you're not a fan of offal, don't worry, these aren't livery tasting or "organy" at all, not in the least. They're just delicately chicken flavored, with a soft texture.
The texture isn't like eating pure collagen or fat either. Cockscombs won't stick the roof of your mouth, or get stuck in your teeth like tendons or gristle. They're just soft little chicken nuggets-nothing to be afraid of.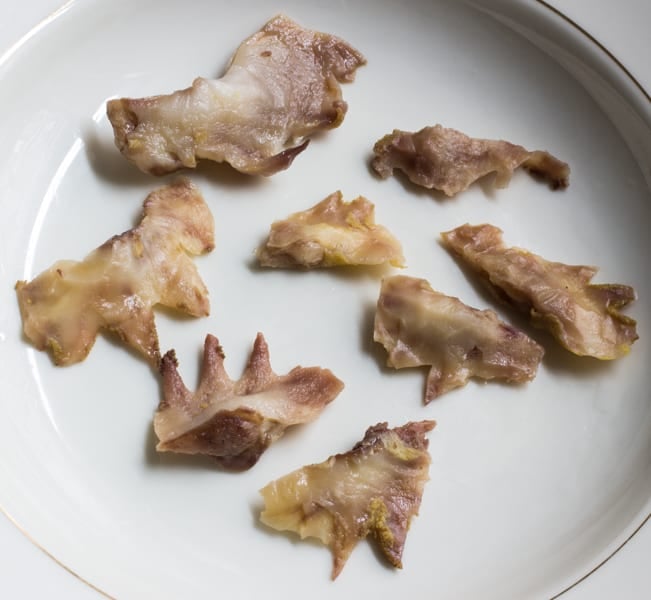 All you really have to do to prepare them is give them a quick braise, then peel the outer skin (kind of like tongue) and add to whatever you're making. The only thing I would really suggest is to make sure to insist on the largest combs possible. My combs were a mixed bag of small to medium size, the small ones were a chore, but the larger ones were much easier to work with, as well as having more of the delicious, meaty, middle part.
Only with the larger combs will you be able to get results that keep their pretty, pointed shape too. Given the fact that the larger combs are easier to work with made me think too: turkey combs would probably be excellent.
I separated my cockscombs into small batches and experimented with a few ways of braising them for different lengths of time, then different ways of peeling: at room temp, cool, warm, etc. Here's the basic recipe for them I came up with.
Braised Cockscombs
These would be wonderful added to anything with a light sauce. I know Chef Lenny Russo used to use them to garnish broth too, which would be great. Scale the recipe as needed. The leftover braising liquid is rich with collagen, and will make an excellent base for a sauce.

6 oz cockscombs, largest possible
Kosher salt
2 cups chicken or vegetables stock, preferably homemade
2 cups milk, any type, optional
Method
Season the milk with salt to taste, stirring to ensure the salt dissolves. Soak the cockscombs over night in the milk. The next day, discard the milk and rinse the combs off. In a small sauce pot, combine the combs and stock and bring to a boil, then reduce the heat and cook, covered, for 20 minutes. Remove the combs from the heat and cool in their liquid until just cool enough to handle.
Remove the combs from their liquid and dry them with a towel. Next, using a very sharp paring knife, begin peeling the combs, starting in the meaty middle portion and working your way out to the tender tips. If the combs are very large, you may be able to simply peel them by hand. Peel the combs, add them back to their liquid, to keep them moist, and reserve for whatever recipe you're using.