The Chicken Fat Bolete, a funky looking, relatively unloved mushroom. The best part about picking these is that every year I inevitably have to try and beat the Eastern European population of the Twin Cities to the spots where these grow in order to get them first.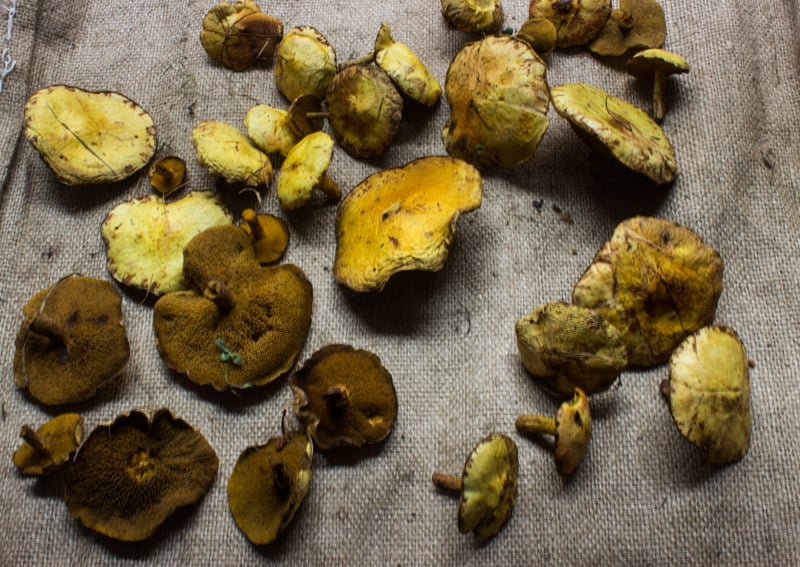 Essentially, these are a type of slippery jack mushroom, which means they're a bolete (a mushroom that has pores instead of gills). They differ from other boletes in that their cap can be slimy, yep, slimy when it's moist outside. The slimy-ness is less apparent when It's dry, and they become a bit tacky to the touch.
What I find special about Slippery jacks is that they're are beloved by people from Eastern Europe, contrastingly, most American hunters I know don't care for slippery jacks at all and regard them as a garbage mushroom. Cultural preferences with food are interesting things, and believe me, it's a thing.
Habitat
I see chicken fat boletes in Minnesota and the surrounding region almost exclusively with white pine. They hide in the long grass under the pines and it seems to me they like trees younger although I do see them occasionally with older pines too. They'll start to fruit typically in August, at the end of the Bolete and Chanterelle season, but before the Honey Mushrooms. They grow in troops, sometimes I will randomly come across twenty or thirty mushrooms in a nice pocket while not even looking for them.
Cooking
I will be upfront and say I don't cook these fresh, they are not that great. Fried up in garlic butter, cooked with wine and herbs, stewed in meat stock, whatever I do the result is the same, they're just a bit bland compared to other mushrooms. Once dried though, they have a rich woodsy flavor that makes a great addition to mushroom mixes, and let be clear: I prefer these in mixes of dried mushrooms.
Their flavor is very rich, as in it's an acquired taste. Do you like things like liver pate or organ meats? If so you may really like these. For the culinary faint of heart though, these have an aggressive, almost organy flavor, so I like to mix them with other boletes like leccinums, porcini, or other boletes to make a blend.
Preservation
If you have a dehydrator, slice the mushrooms thinly, discarding the stems, and then place them in the dehydrator. If your dehydrator has metal drying racks, you'll want to spray them with some nonstick spray, since these guys have a tendency to stick (alternately place the thinly sliced mushrooms on parchment) then dry on the lowest setting of your dehydrator.
You'll want to do this immediately the day you pick them, otherwise they will turn to a pile of slime in your fridge, bolete mushrooms have a horrible shelf life, although these are better than porcini. A word of advice too on de-hydrating, since mushrooms are very delicate things, make sure the de-hydrator isn't too warm. If you can feel warmth coming off of the fan, open the door a little to let in some cooler air. Too much heat while dehydrating can spoil your whole batch.
If you do not have a dehydrator, lay the thinly sliced mushrooms out on a cookie sheet covered with wax paper and blow a fan over them, making sure that none of the mushrooms are touching, just a little bit of excess moisture can cause these guys to go bad. A couple days later when they're cracker dry, store them in a sealed container like a glass mason jar, they will keep for a very long time.
When you want to re-hydrate chicken fat boletes to use, remember to pick out the little blades of grass that will stick to their cap, soaking in water will release these, and they will float to the surface of whatever liquid you are re-hydrating them in. Simply pick the grass out, then pick out the mushrooms, strain the liquid, and then combine the liquid and the reserved mushrooms to add to whatever dish you're creating.
Recipes
Here's some favorite recipes I like specifically for Suillus, or boletes in general