A little while ago I got to make a fun dinner for my grandparents and their friends. We usually do around one or two of these each year, and they are a lot of fun for me to put together. Instead of making things I know everyone will have tasted before in Minnesota, like walleye and steak, I try to find interesting and obscure things people have never eaten before. The exception to the funky food rule is that I usually try to showcase a few of the beautiful pheasants my grandpa has hunted during their season. The last dinner included whelks from Britain, (giant marine sea snails) paw paw cheesecake, pheasant breasts (skin on of course) and this soup.
The soup was the simplest dish of everything that I put together, but it was also the most fun. Dishes don't have to be incredibly complicated to be good, especially when the starlet of the show is to be the obscure boletus-rex veris, or spring porcini.
Earlier that year a bunch of boletes showed up that the suppliers told us were porcini. I was a bit skeptical though, since the flavor was slightly different than porcini, and plus, it was spring- porcini fruit in the fall. Also strange was the fact that the mushrooms slowly stained blue occasionally when dried, which I know never happens with porcini.
Initially I thought that the mushrooms could be queen boletes, since their caps were also a bit darker than I see with porcini. However, I know from finding queen boletes in Minnesota that they fruit at or around the same time as porcini as well the white king bolete and others, such as tylopilus felleus, the bitter bolete.
Doing a bit of research into seasonal fruitings in Oregon quickly gave me the answer to my confusion, these mushrooms were none other than boletus rex-veris, the spring porcini. The seasonal timing, occasional blue discoloration when drying, and slightly darker color of their caps were the keys to unlocking their true identity.
I had been saving some of these beauties that I had dried, and wanted to make something decadent to showcase their individual flavor, which is very similar to usual porcini, but a bit more delicate, subtle.
I don't always cook with cream and dairy, as I know some people eschew them on account of the calories. There is just something magical that happens when dried mushrooms are cooked with cream though, it amplifies their flavor and intensifies it, as anyone who has ever eaten  a cream of morel soup can attest to.
What I came up with was a simple, yet rich little soup which is really nothing more than porcini, onion, cream and meat stock for body potatoes are added since they give a velvety texture.  If you like, you could substitute chopped button mushrooms for the potatoes if you want a more traditional cream of mushroom soup, they will serve as a binding agent, although it will be a bit more loose, which is fine.
I kept the ingredients to a minimum to allow the unique flavor of the boletus rex veris shine, and it did. The addition of the black walnut pesto adds a bit of color and texture to explore while eating, as the soup by itself would be a very rich experience.
When I served it at the dinner party it also had a couple of croutons on it, which were great, and I definitely suggest adding them. The photo of this dish is more of a conceptual shot, garnished with toasted black walnuts to show their fun shapes, and with the pesto being swirled by running toothpicks through it, a nod to some of the cheesy/old-school French cuisine I adore from the 80s.
This is not a soup to make to feed a crowd, it one to feed people who appreciate all that is porcini. It is not a meal either, but rather a starter course to be followed by other dishes, as the serving size of 4 oz should tell you.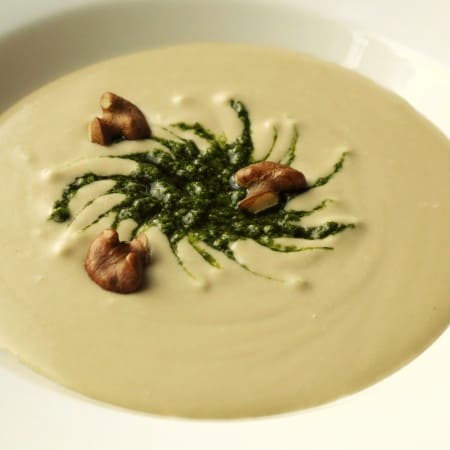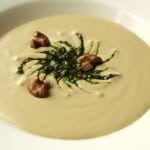 Print Recipe
Cream of Dried Porcini Soup 
Yield: 2 qts of soup

Ingredients
4

cups

2oz dried boletus rex-veris, porcini, or other boletes like leccinums or slippery jacks

1

cup

hot water

½

cup

dry white wine

4

cups

chicken stock

2

cups

heavy cream

½

cup

white onion

2

cups

peeled and diced russet potato

you could also use golden potatoes

1

bay leaf

dried or fresh

Salt and white pepper

8

tablespoon

black walnut pesto

recipe here

Croutons of your choice to garnish

whole grain would be a great choice
Instructions
Heat the water to boiling in a pot and then pour over the mushrooms, allow to rehydrate for 10 minutes and then agitate the mushrooms vigorously in their liquid to remove any dirt. Remove the mushrooms from their liquid, strain the liquid through a fine strainer or cheese cloth, and then add back to the mushrooms.

Saute the onion until soft and translucent in a soup pot, making sure they do not brown, season them lightly with kosher salt. Add the wine and cook until most of it has evaporated, then add the potatoes, stock, porcini and their liquid.

Cook the soup covered at a gentle simmer until the potatoes are very tender, about 15 minutes.

Add the cream, now working in small batches if necessary, puree the mixture in a blender, alternatively you can puree the mixture with a hand blender.

Season the soup with salt until the porcini flavor really hits you in the face, then season with a little ground white pepper.

When the soup is finished, ladle it into the smallest soup bowls you have and serve, topping with the croutons and black walnut pesto. 1 cup of soup per person is ample, it is very rich.