I have made pestos, pistous, and a dizzying amount of purees from just about any type of green. The possible combinations are really endless. Mustard greens, arugula, sorrel, dock, nettles, watercress, spinach, any sort of green can be pureed and used in this way. It should be noted though that some greens need to be finely chopped if they have very hard stems that can stress out the motor of your blender, such as dock or watercress.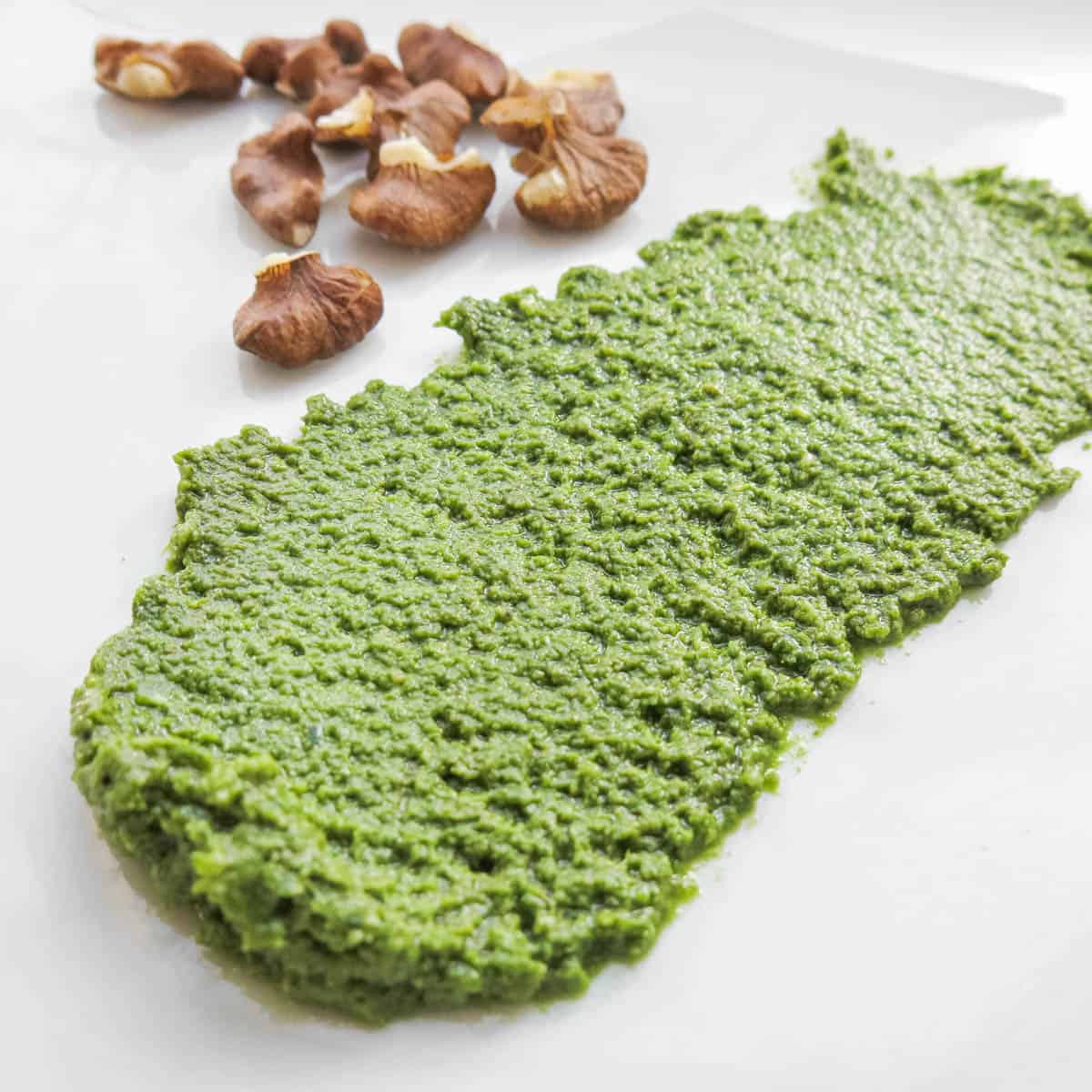 The other ingredients that are typically added, nuts, cheese, and various oils are fun to experiment with and change up a bit to give you a little flavor too. Sunflower seeds are a great substitute for expensive pine nuts, pecans add a rich, buttery flavor, pumpkin seeds can enhance the vibrantly colored oil that helps make pesto turn dishes an attractive, verdant green. Often I find simple variations on pesto and pistou made with basil are still my favorite, there is just something about basil's perfume that is extra special. A little while ago I made a great pesto using black walnuts, whose unique flavor really shines through and stands up to basil.
Black walnuts are probably the most interesting nut I cook with, their flavor is almost minty, with a sort of menthol taste. If you don't like black walnuts, you will definitely find this out the first time you try them. Like black licorice, I see black walnuts as an old, acquired taste, one the old people in your town might reminisce about over a game of cribbage.
I pride myself on my ability to cook with funky food, but I will share a secret here: I don't shell black walnuts myself, I buy them. I do pick wild black walnuts for making nocino and vin de noix, Italian and French liqours made from unripe black walnuts, respectively. Black walnuts are incredibly labor intensive, and I just don't have the time to shuck them, maybe when I'm an old man, and my body aches at the thought of trudging through trails and through ravines looking for mushrooms I'll start.
Someone who does have the time to shuck black walnuts is an old man in Northern Italy, whom my friends at Great Ciao receive their black walnuts. The old guy still does it the old way, shucking them slowly by hand. Great Ciao's black walnuts are expensive, and you can't really buy them as a consumer, but there are plenty of purveyors that sell them online. Whoever you get them from, black walnuts are pretty expensive, but their flavor is so unique that there really is no substitute for them.
This is a refined pesto recipe, which requires you to first blanch the basil in boiling salted water before pureeing. When I first made pesto with a chef from Rome in St. Paul, we would puree the basil raw in a food processor. If the fresh basil is in the food processor for too long though, it can start to heat and lose it's pretty green color. Blanching the basil and chopping beforehand also helps to ensure a smooth pesto, that will be free of chunks as well as rogue pieces of hard, bitter basil stem.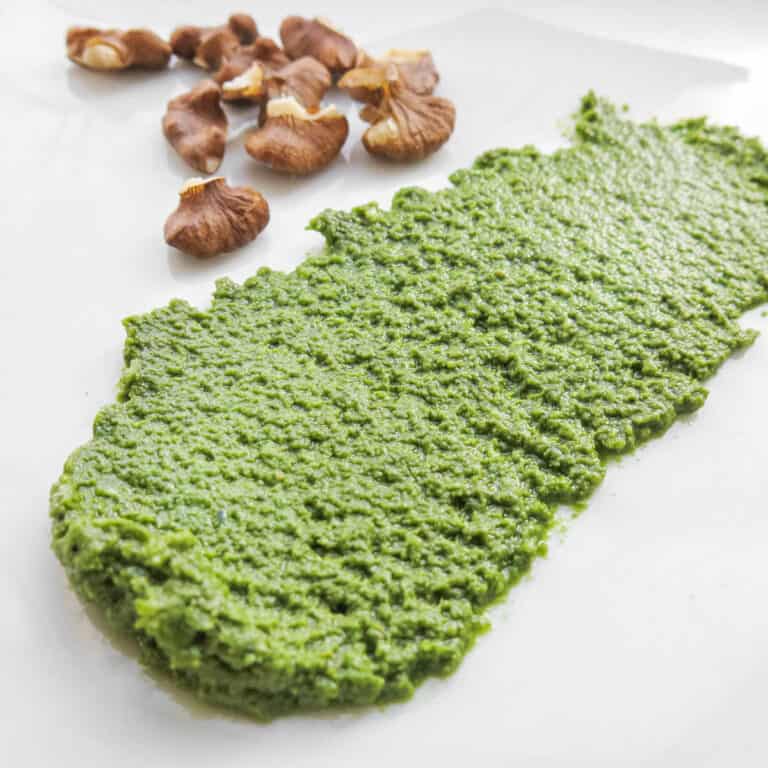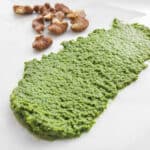 Print Recipe
Black Walnut Pesto
A simple pesto made from fresh basil leaves and black walnuts. Yields 1 cup
Ingredients
2

cups

of tightly packed basil leaves

⅓

cup

black walnuts

toasted and rubbed in a towel to remove bitter skins

1

clove

fresh garlic

½

cup

virgin sunflower or extra virgin olive oil

¼

teaspoon

freshly ground pepper

½

cup

grated grana padano or parmigiano reggiano
Instructions
Preheat the oven to 350. When it is preheated, put your walnuts in a saute pan or cookie sheet and toast for about 15 minutes, until aromatic and nicely toasted, but not at all black or burnt. Cool the walnuts completely so they do not heat the basil while pureeing in the blender, which will destroy the color.

Bring a couple quarts of water to a boil, salt the water until it tastes like the sea

Pick the basil leaves off of their stems, making sure not to include any hard, woody stem pieces.

Blanch the basil in the boiling salted water until just wilted, then refresh in ice water to cool and preserve the color. Then drain the basil and chop roughly.

In the bowl of a high speed blender or food processor, puree the basil, cheese, nuts and clove of garlic until roughly pureed.

Finally drizzle in the oil slowly until a smooth puree is formed.

Transfer the pesto to a container, such as a tupperware. Press plastic wrap down directly on the surface of the pesto, so that air cannot touch it, Then cover the container with another layer of plastic wrap and refrigerate until needed. The pesto will also keep for months if not years in the freezer as the oil helps to prevent freezer burn, but I doubt it will last that long.
Notes
Feel free to use your favorite herbs here. Sometimes I use a mix of parsley, ramp leaves, cilantro, arugula, or whatever I have around. 
Nutrition
Serving:
2
tablespoon
|
Calories:
237
kcal
|
Carbohydrates:
1
g
|
Protein:
5
g
|
Fat:
24
g
|
Saturated Fat:
4
g
|
Polyunsaturated Fat:
4
g
|
Monounsaturated Fat:
15
g
|
Cholesterol:
6
mg
|
Sodium:
134
mg
|
Potassium:
68
mg
|
Fiber:
1
g
|
Sugar:
0.2
g
|
Vitamin A:
490
IU
|
Vitamin C:
2
mg
|
Calcium:
117
mg
|
Iron:
1
mg
Related Links