Wondering what to do with venison fat? Here's a fun project you can make that will yield an all-purpose cooking fat.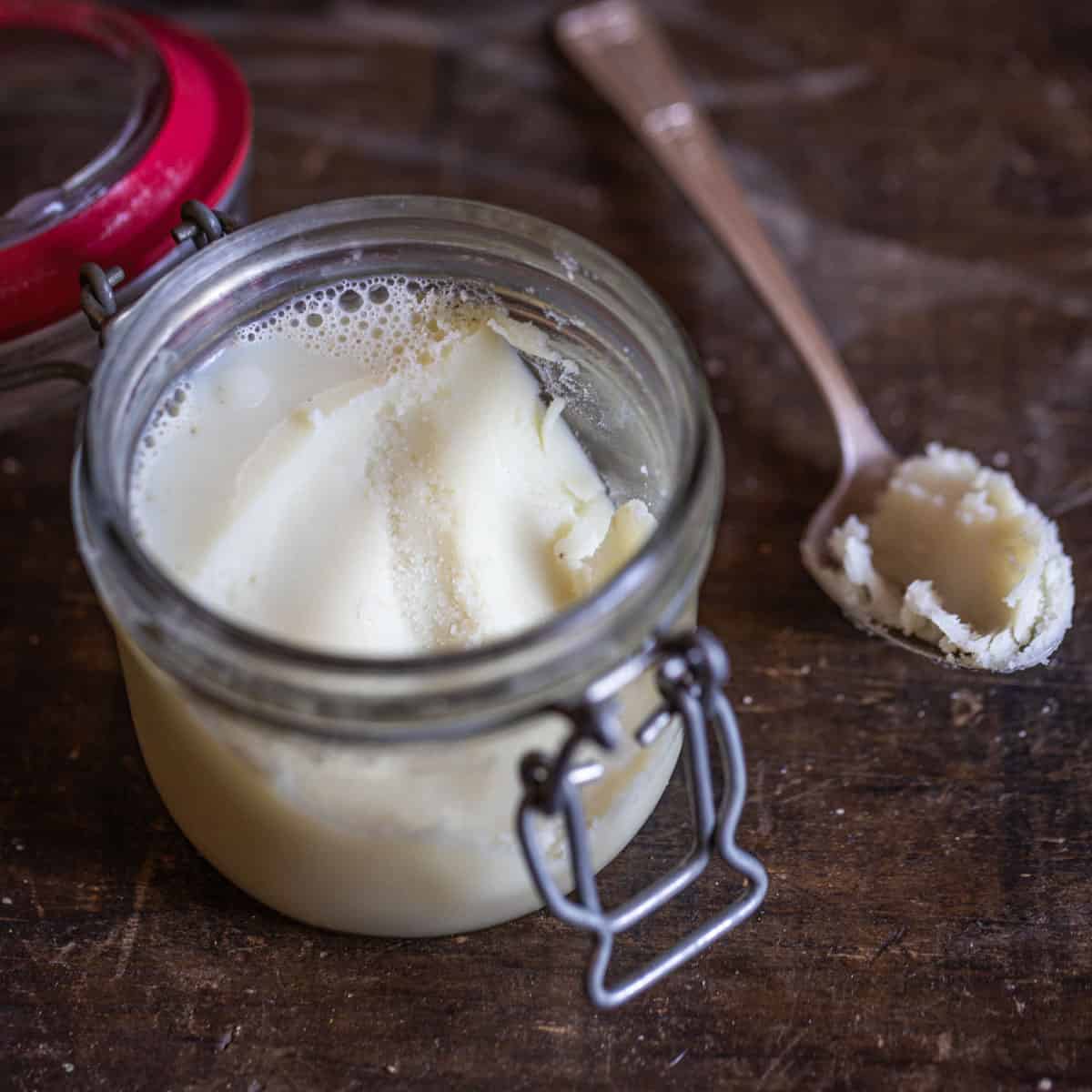 There's a huge misconception about venison/deer fat and it's use in cooking. Basically, people think it tastes like chapstick, it's gamey and horrible, too rich, or some other common unfortunate misunderstanding.
If you're here, you're probably bambi fat-curious, so know this: deer fat is good tasting, good for you, and yes, you can absolutely render it for cooking.
Can you cook with venison fat? Is it even good?
Ok, I should rephrase that a tiny bit. Venison fat can be very good, just like bear fat can be very good. I'm not a venison specialist, but I am a bit of a specialist on lamb and goat, and they're very similar. Basically, the fat of animals will all taste a little different, but the biggest thing I that find that gives a strong flavor to fat, especially in wild animals like deer and bears, is their diet.
If bears are eating fish, I'd assume their fat (and the meat) would be very strong tasting, the same could be said from the meat of a racoon if it's been living off crayfish compared to chickens.
My grandmother still recounts how awful the white tail deer in Montana my Grandpa would shoot were, because of how it smelled—like wild sage. Venison eating aromatic herbs, and shrubby, tough aromatic plants will naturally have a strong flavor.
Over here in Minnesota and Wisconsin, where most of the deer get a bit of corn in their diet, the deer will taste very mild. For contrast too, I once ordered farmed venison obviously fed a bland corn diet (at a price of 50$/lb) and had to quickly send it back to the supplier since it didn't even taste like, well, anything, and the meat was bland and pale.
I've had the same thing happen with bison. As far as flavor's concerned, just because it's a "wild animal" or was once wild, doesn't necessarily matter as much as the management practices do.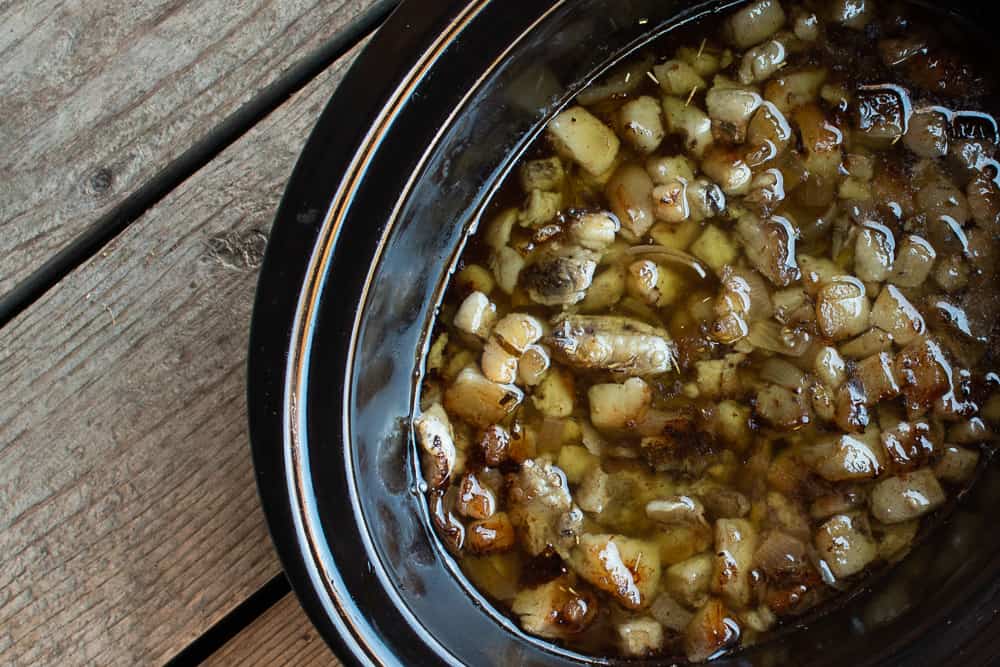 The high melting point
Flavor aside, probably what most people don't care for with venison fat is that is has a high melting point, which is a nice way of saying rendered venison fat/tallow will be rock solid cold, and will firm up on a plate and in your mouth if your dish cools off. Some people liken it to chapstick.
All of this is true, but, it's also true with lamb, goat, beef, and buffalo. All of these ruminants have fat with a similar melting point, and all of them can be good in the right place. Remember, McDonalds French fries were cooked solely in beef fat for many years, for a reason: it tastes great. 
Blend fats to get the texture you want
Here's the secret. Just because deer, beef, and lamb fat is rock hard and pasty doesn't mean that it has to be, per se. There's ways around it, and I like to cheat a bit. Basically, I modify fats depending on the texture I want. For example, one year for a special dinner I wanted to make deviled eggs inspired by some I had at Dominique Crenn's Bar Crenn that were flavored with crab.
Crab oil is really easy to make, but if I mix some into deviled egg filling, it's going to get too loose. So, I cooked crab shells in half butter and half oil, then pureed the hybrid fat into the deviled egg mix and, voila, after it chilled, I had custardy, stiff, crab-flavored deviled eggs. I do the same thing here with the deer fat.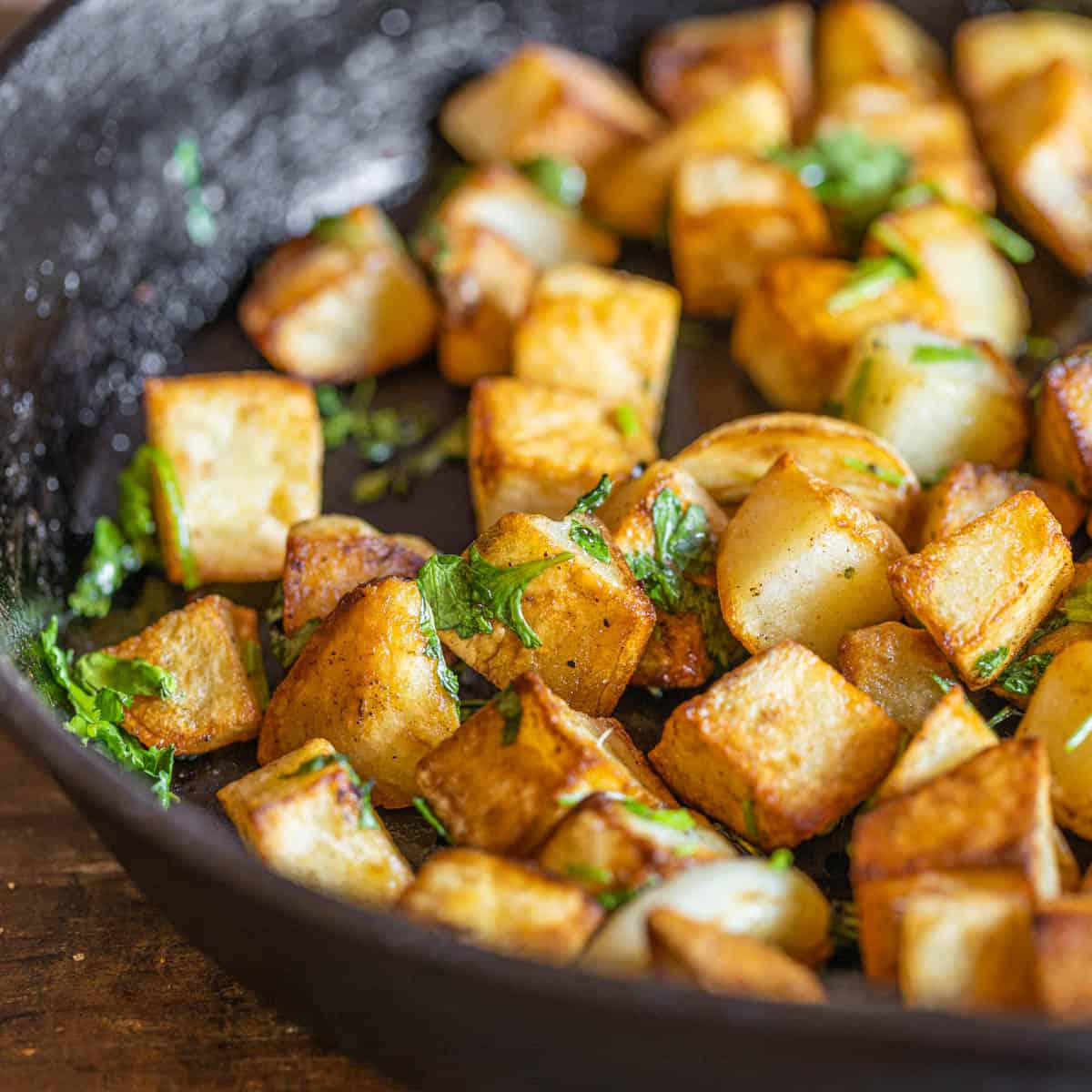 Venison Fat "Shmaltz"
I call this venison or deer fat shmaltz because shmaltz is kind of what it is. Depending on who you ask, shmaltz will typically be used to refer to poultry fat, typically in Jewish cuisine, although it's been adopted into the modern culinary lexicon a bit.
Some versions of shmaltz incorporate flavorings like onions, garlic and herbs into the rendering process, and that's exactly what I do here with the venison, which helps give it some deep, rounded flavor.
The other secret is cutting the venison fat with cooking oil—whatever kind you have that isn't cold pressed, avocado oil, grapeseed, and other oils will be fine, just don't use extra virgin.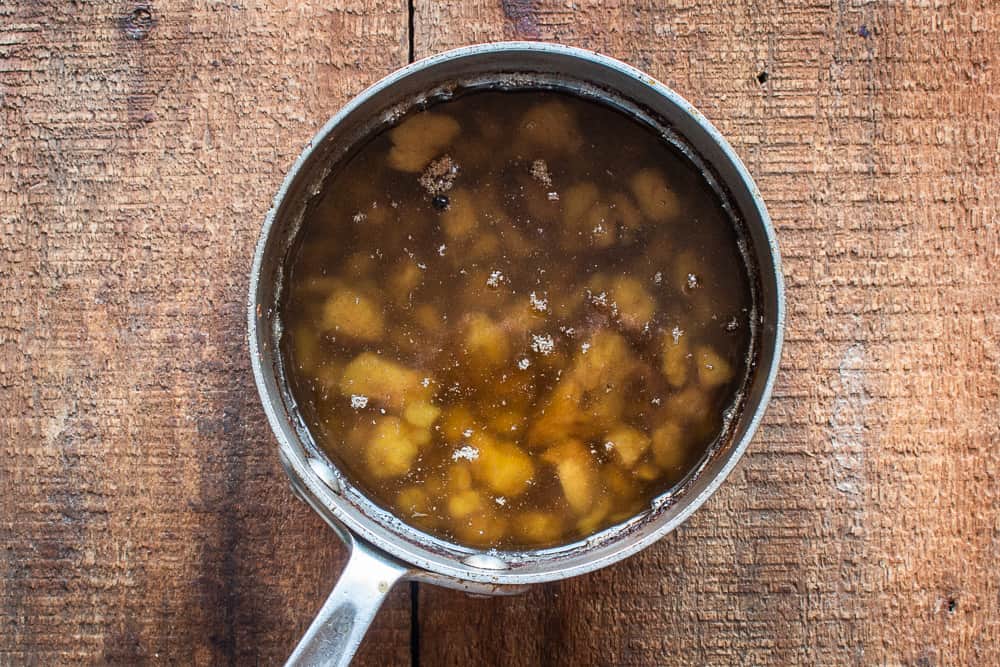 The finished rendered venison fat-hybrid is still going to get firm when it's cold, but you wont have to chip it like a block of stone, and, what's even better is that it tastes great, and you can use it for everything from sautéing vegetables to some of the most crispity, crunchity roasted potatoes you'll eat. Try it next time you have some deer fat and don't feel like using it to polish your boots.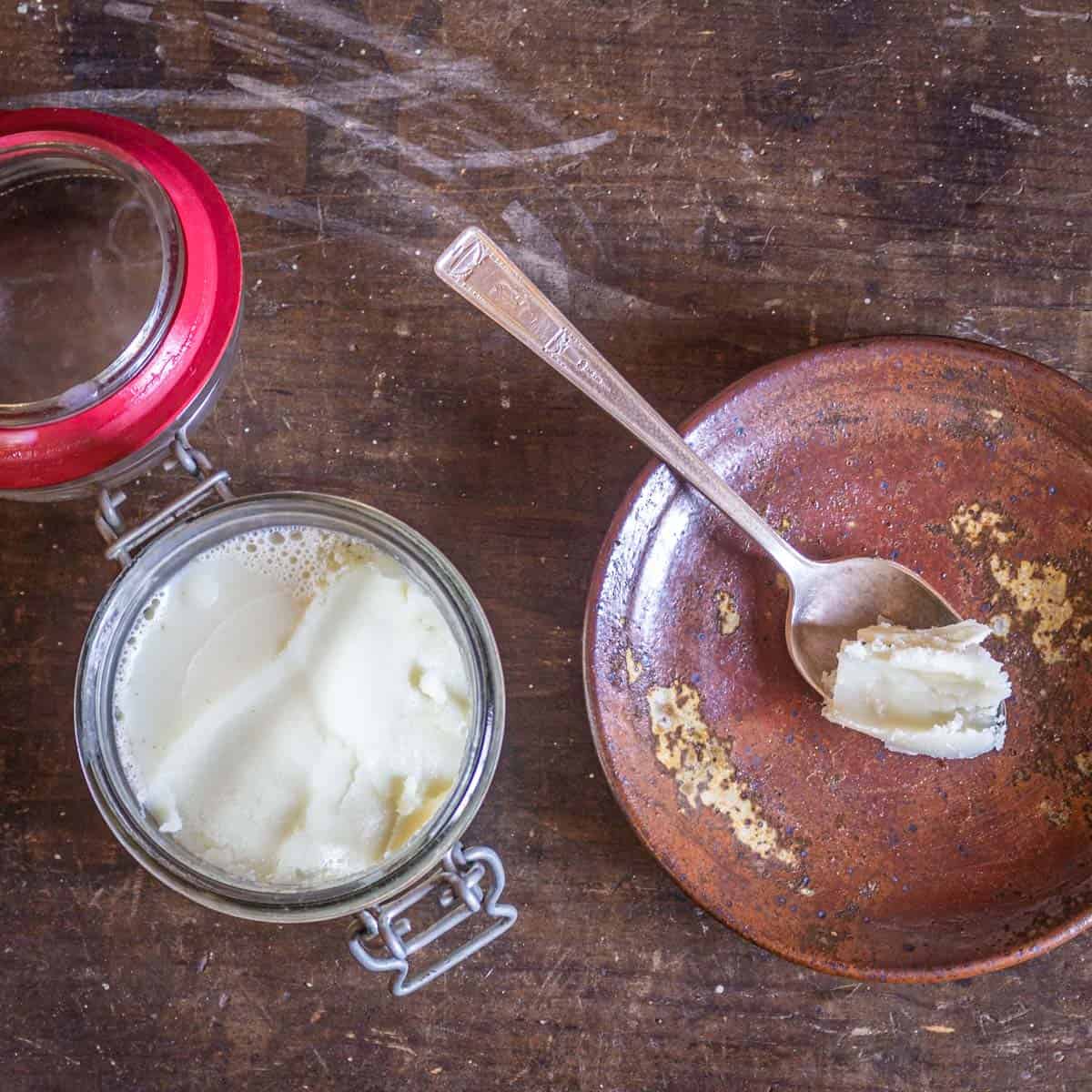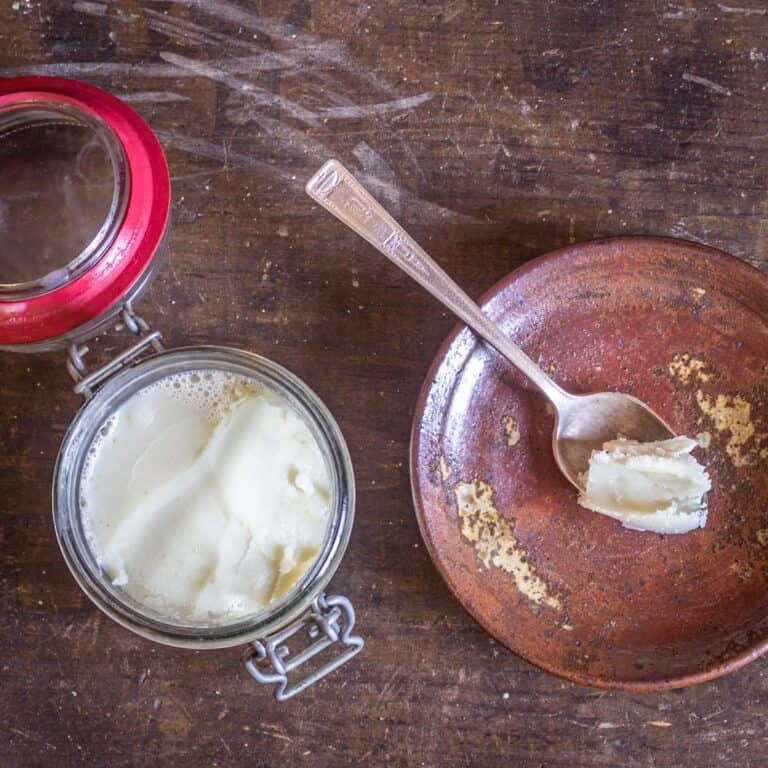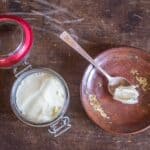 Print Recipe
Venison or Deer Fat Shmaltz
Rendered venison fat you can use for all-purpose cooking, especially high heat applications like roasting vegetables, potatoes, etc. Makes a little under 2 cups.
Equipment
1 Crock pot or 3 quart sauce pot
Ingredients
32

oz

fat diced ½ inch

6

oz

grapeseed oil

4

oz

water

1

lb

onion large dice

1

bulb garlic halved

2

teaspoons

dried herbs

3

dried bay leaves

1

teaspoon

salt

1

tablespoon

peppercorns
Instructions
Combine all ingredients and bring to a simme in something like a 2-3 qt sauce pan, then turn the heat to the lowest possible setting, cover, and cook, stirring occasionally for 3-4 hours, or until the water has mostly cooked off and foam appears on the surface, then strain and chill.

You can also do this in a crock pot on low for 6 hours or so, and it is probably a good idea if you haven't rendered your own tallow or lard before.

After chilling, remove the top layer of fat, and discard any water underneath.

Pat the fat dry, then vacuum seal and freeze, or refrigerate for up to a month.

Bring the fat to room temperature to make it easier to scoop and portion before cooking as it will eventually mold at room temperature.
Notes
You can adjust the ratio of oil to fat up and down which will adjust the consistency of the finished shmaltz. 
Nutrition
Serving:
0.5
oz
|
Calories:
972
kcal
|
Carbohydrates:
1
g
|
Protein:
0.1
g
|
Fat:
108
g
|
Saturated Fat:
37
g
|
Polyunsaturated Fat:
22
g
|
Monounsaturated Fat:
44
g
|
Cholesterol:
86
mg
|
Sodium:
233
mg
|
Potassium:
15
mg
|
Fiber:
0.3
g
|
Sugar:
0.01
g
|
Vitamin A:
15
IU
|
Vitamin C:
0.1
mg
|
Calcium:
9
mg
|
Iron:
0.4
mg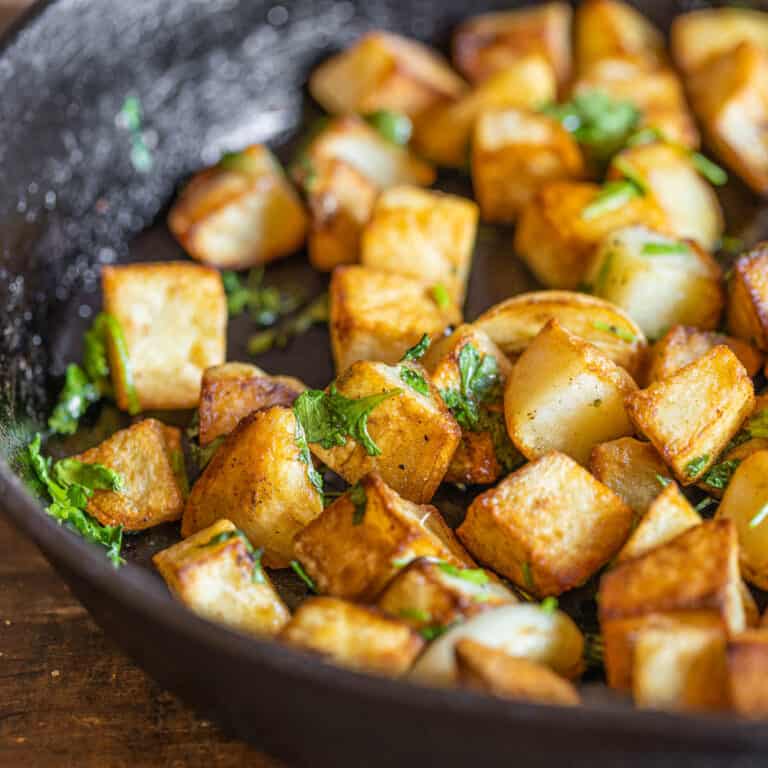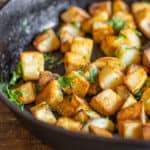 Print Recipe
Roasted Potatoes with Venison Fat Shmaltz, Garlic and Parsley
Crispy, delicious roasted potatoes are always a good side dish.
Ingredients
4

medium russet potatoes or roughly 1.5 lbs

3

Tablespoons

venison fat shmaltz

see recipe

Chopped Italian parsley

to taste

1

large clove garlic

crushed with the back of a knife (optional)

Kosher salt and fresh ground black pepper
Instructions
Put the potatoes in a pot, cover with an inch of water, cover, bring to a boil, then take off the cover and allow the potatoes to cool in the water.

When you can handle them, remove the potatoes, peel, and cut into bite sized pieces, about 1 inch. You should have about a pound of potatoes.

From here, I like to refrigerate the potatoes, uncovered in a single layer, and cook them the next morning, since exposure to air in the refrigerator helps them dry out and get extra crisp.

To cook the potatoes, preheat an oven to 450, and turn on a hood vent or open a window. In a 10 inch cast iron pan, heat the venison fat until lightly smoking, then add the potatoes, season with a pinch of salt, toss to coat, and cook over high heat until starting to brown. Add the garlic.

Stir the pan to help the potatoes brown evenly, then put the pan in the oven for 15-20 minutes, or until the potatoes are browned, crisp, and delicious.

Finish with parsley and serve.