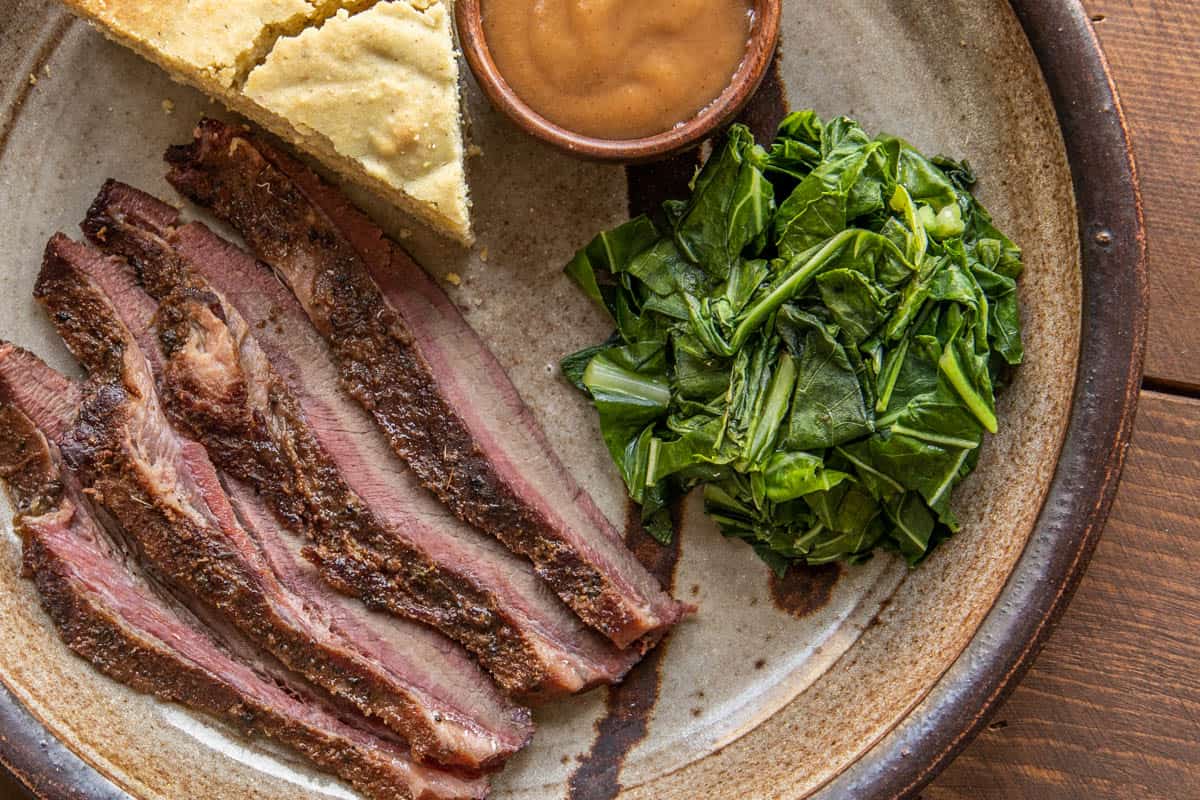 Yes, deer have brisket, and so do pigs, lambs and goats. While all the briskets (they sometimes go under the name of breast as well) of these animals are smaller than the typical beef brisket that most people think of when they hear the word, every one of them is worth cooking. I know there'll be some skeptics here, but I know my meat, and I'm going to do my best to persuade you to consider trying your hand at your own deer brisket before you toss the next one in the grind pile.
I'd cooked briskets and breasts of other animals before (pork is so good!) but it took me a while to remember to try cutting one from a deer to save just for smoking and cooking a la beef to see if it was worth it. The problem here, is that venison brisket also makes, in my opinion, the best cut of homemade venison bacon on the whole animal. I hate to say it, but, if you haven't made my venison bacon yet, and you have access to a good chunk of brisket / breast, try that first, or, if you can, save the two halves of breast you can get off a deer and try both methods.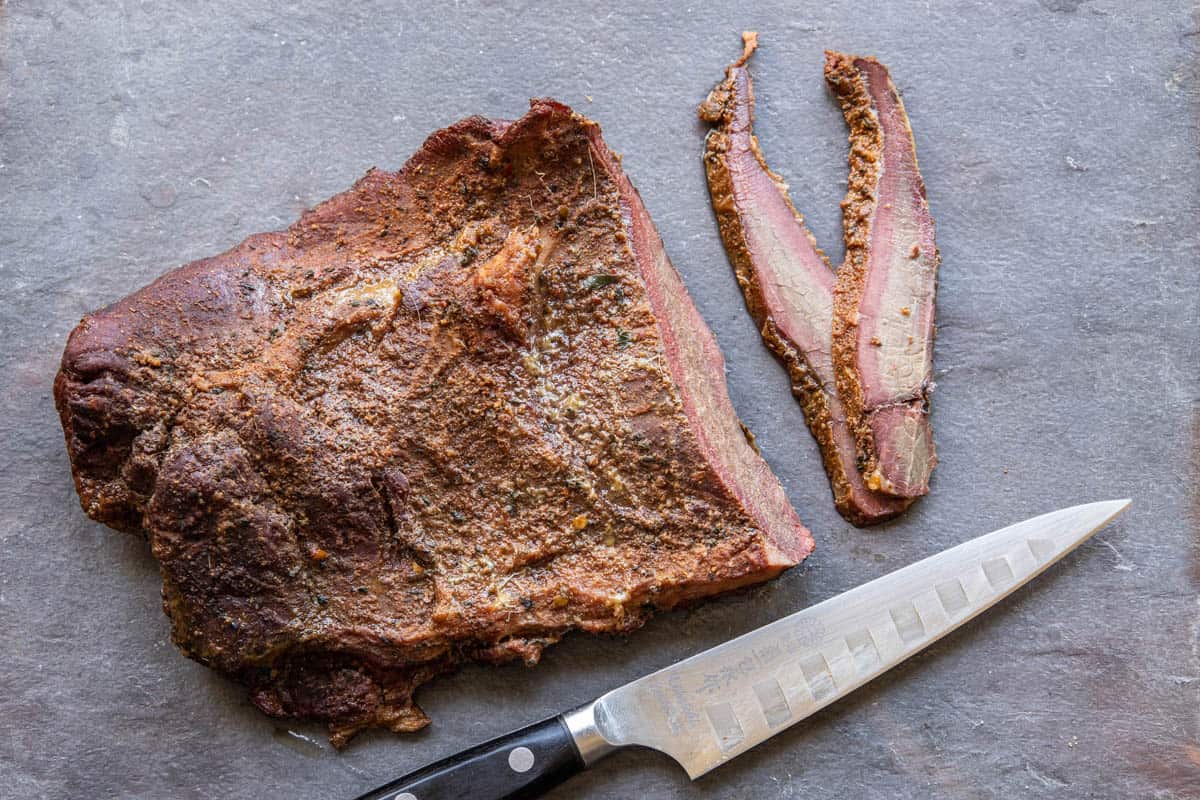 It's chewy, but it's a good chewy—not tough
This year, as I cut up 9 deer, I had plenty of breast/brisket saved to play with. Here's a shot of me taking one off of the first buck of the year. Anatomically, the image here probably includes a little more neck than what you might say a typical brisket includes, but when I butcher, I cut things how I like, and you should too.
How to find the brisket / breast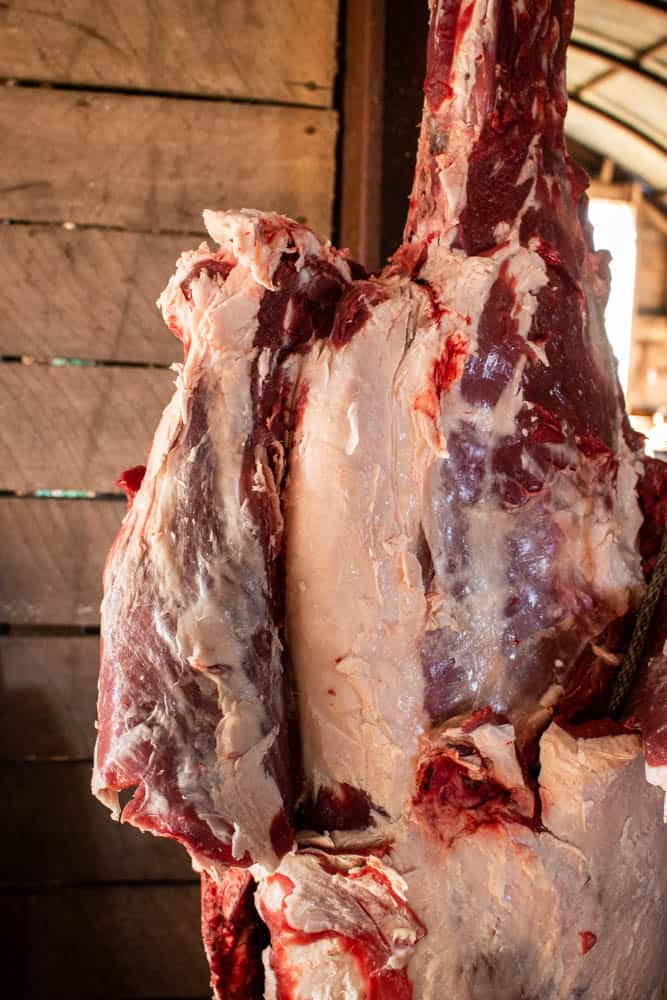 How's it compare to beef?
The big question. First, it's not the same as beef, so I don't think it's fair to compare them since venison, goat, and lamb brisket are so much smaller in size. That being said, it is it's own thing, and it's a delicious thing at that. One of my favorite parts about brisket in general is that it's firm, and gives a good chew, and you're going to get that here. Yes, venison brisket, when cooked as I'm going to outline below will be chewy, but it's a good chewy—not tough.
I'd say the only thing that could improve it would be trimming the membrane around it to prevent it from stiffening slightly as it cooks, but since the muscle is so thin, trimming the membrane off would be a waste of time in my opinion. Don't worry though, it's not offensive, and once you whip some up with corn bread and collard greens, I think you'll agree it's pretty damn fine eating, and a nice break from other cuts of venison most people are used to.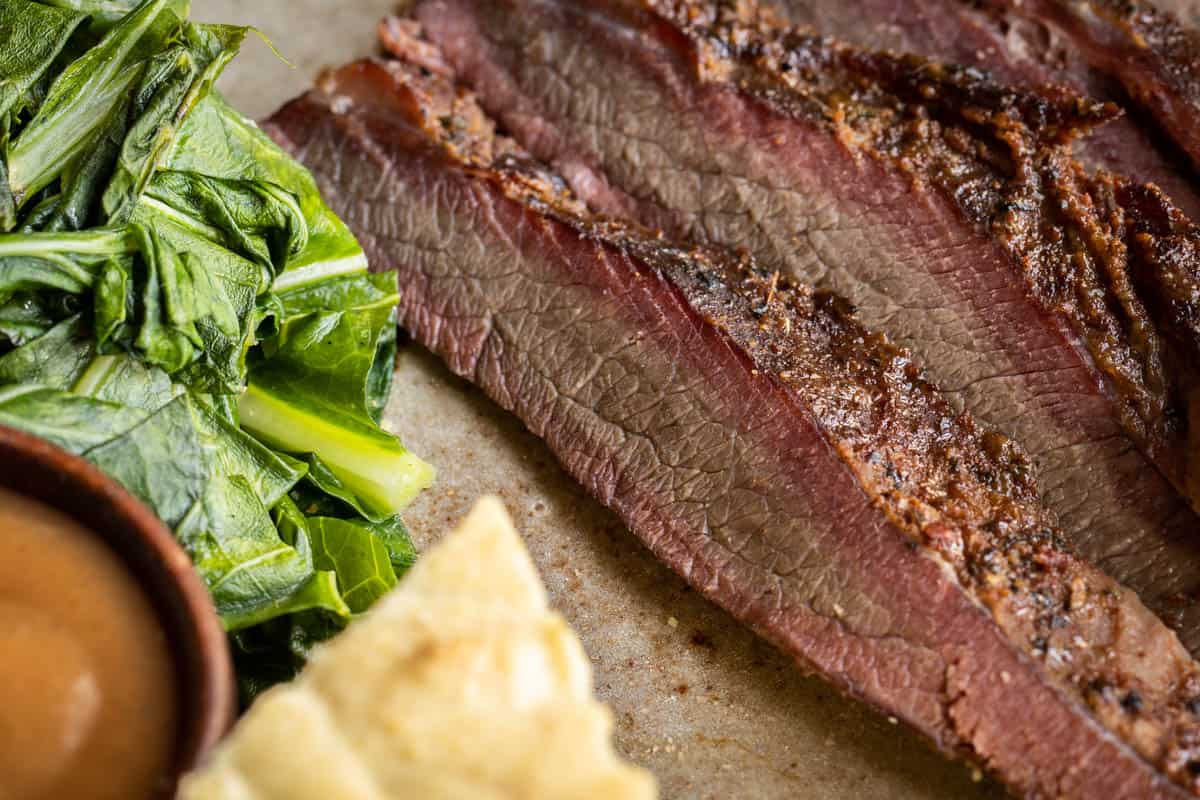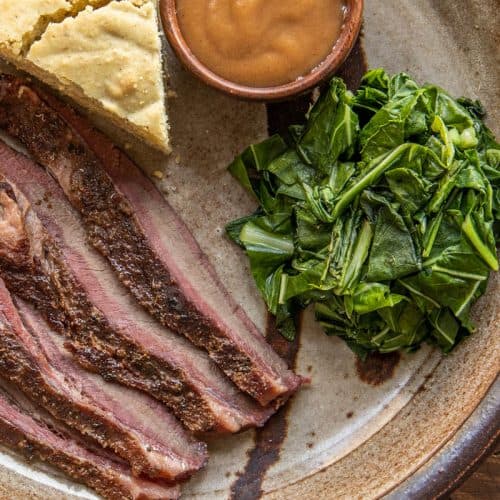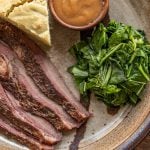 Print Recipe
Smoked Venison Brisket
Smoked venison brisket, prepped like you would beef. This is for a single brisket to serve a couple with leftovers, but if you cut it from both sides of the deer you could double your yield.
Ingredients
Brisket
1

venison brisket

roughly 1-1.5 lbs trimmed of most of the fat

Your favorite spice rub

preferably one that includes salt
Serving Ideas
Cornbread

Collard greens

Your favorite condiment

pictured is wild plum ketchup
Instructions
Dry Brine the Brisket
Season the brisket well with your rub. Keep in mind the brisket is thin, so you may want to keep the salt to a minimum.

Refrigerate the venison brisket overnight or for at least 4-6 hours or so.
Smoking
The next day, smoke the brisket at 225 for 2 hours. (You can probably get away with more but I thought this worked fine--do what you like, just don't overcook it)

Remove to a baking pan, add ½ inch of water, cover with parchment, then tightly with foil, and bake at 250 F for 3-4 hours, or until the meat is fork tender.
Bake Wet Until Tender
From here, you can slice and serve the brisket as is, but I like to chill it and reheat it to make slicing easier.