Smoked venison kidneys are not only one of the best ways I've had deer kidneys, it's one of the best recipes for offal and organ meats I know. If you've had kidneys are didn't care for them in the past, or if you're new to cooking kidneys and want something that everyone will eat this is a great place to start.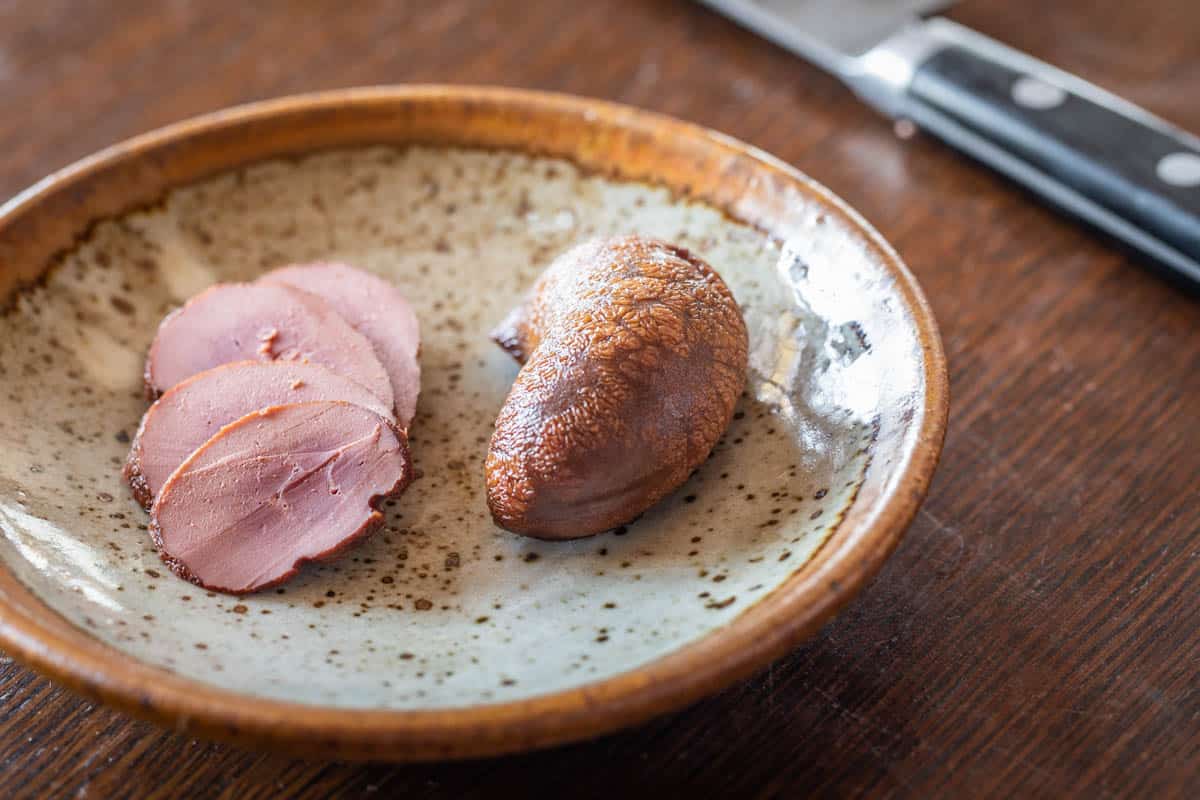 Besides the trotters/feet and gut bag, kidneys are right up there with the most discarded parts of venison.
Even after my years of nose-to tail and whole-animal cooking and tutelage in professional restaurants, kidneys were still a mystery to me until I started harvesting my own animals.
More than Steak and Kidney Pie
Kidneys are wobbly bits, and, if you've ever held one warm, fresh from a creature, you'll know they have a certain aroma that is probably about as close to smelling fresh animal piss as most people will ever come.
After a couple years of eating and enjoying lamb kidneys and goat kidneys from animals I butcher, I can tell you that kidneys are one of the best pieces of offal there is to be had. If you like liver, even if you don't like liver, you will like kidneys.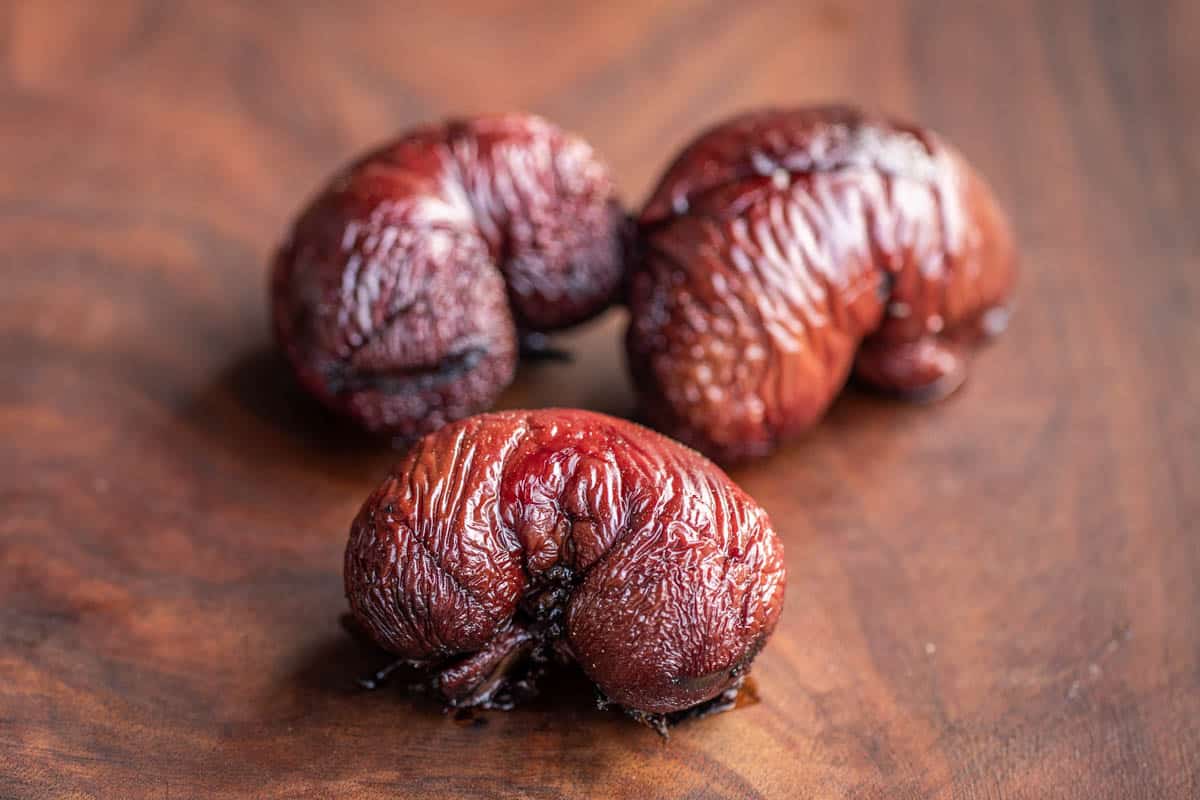 It's tough to overcook kidneys
Unlike liver, venison kidneys are hard to overcook. The timeline of the smoked venison kidney recipe here I'm sharing might catch you off guard: you cook them for 1.5 hours.
For reference, most of the time I cook liver it's either hot and fast, or manipulated in some way like pate or my venison braunschweiger dumplings.
Soaking and brining
Soaking and then brining to calm the gamey flavor is really the secret here, and it's one that I borrowed from another recipe of mine for offal: smoked testicles.
How to Serve
Charcuterie and snack plates
Smoked kidneys will be a great conversation piece for a holiday cheese or charcuterie plate, just slice them thin and have a little hot mustard and crackers ready.
Salads, pasta, sandwiches and more
Kidneys are firm, which means they can be cut into slices or slivers and added to recipes. Imagine thin, smoky slivers tossed in a salad with dried fruit and nuts, stirred into carbonara with bacon at the last minute, or in a sandwich of cold cuts with cheese and pickled peppers.
Bonus: smoked kidneys are a great dog treat
If I have a lot of them, I might smoke kidneys for a good, natural dog treat. If you want to try that, skip brining them since too much salt isn't good for dogs.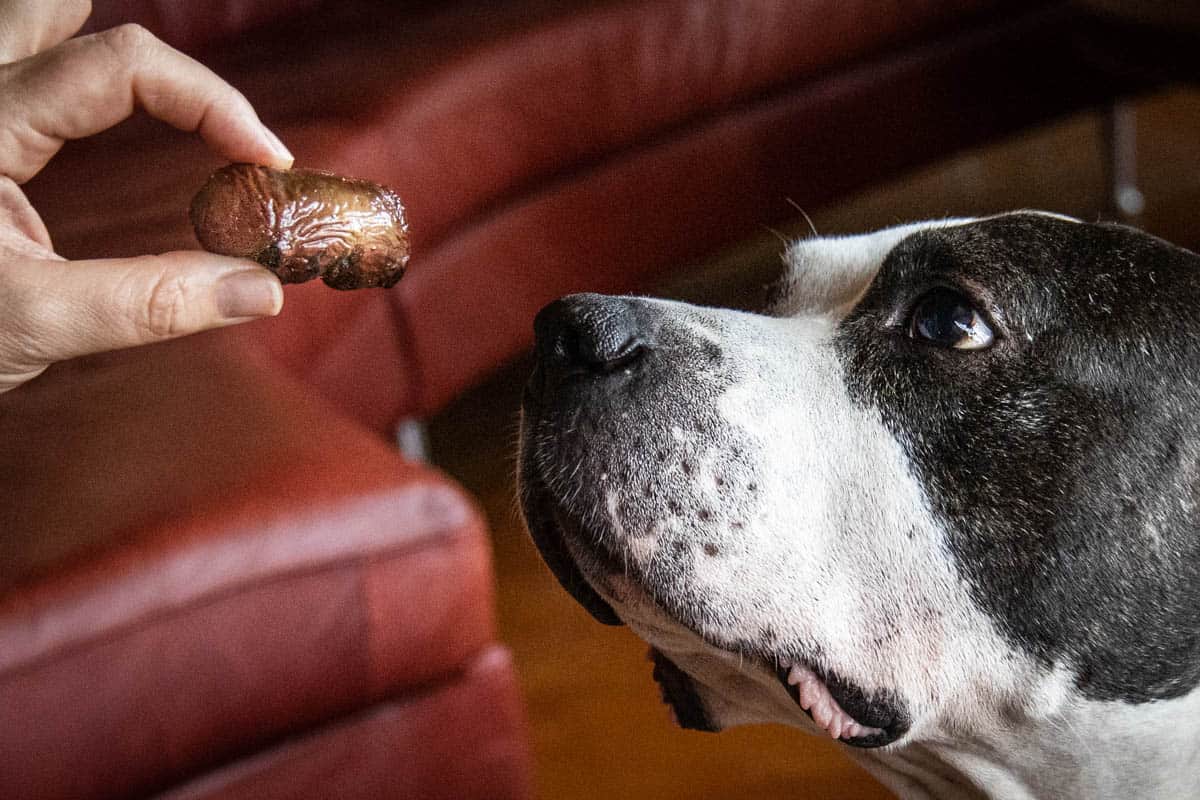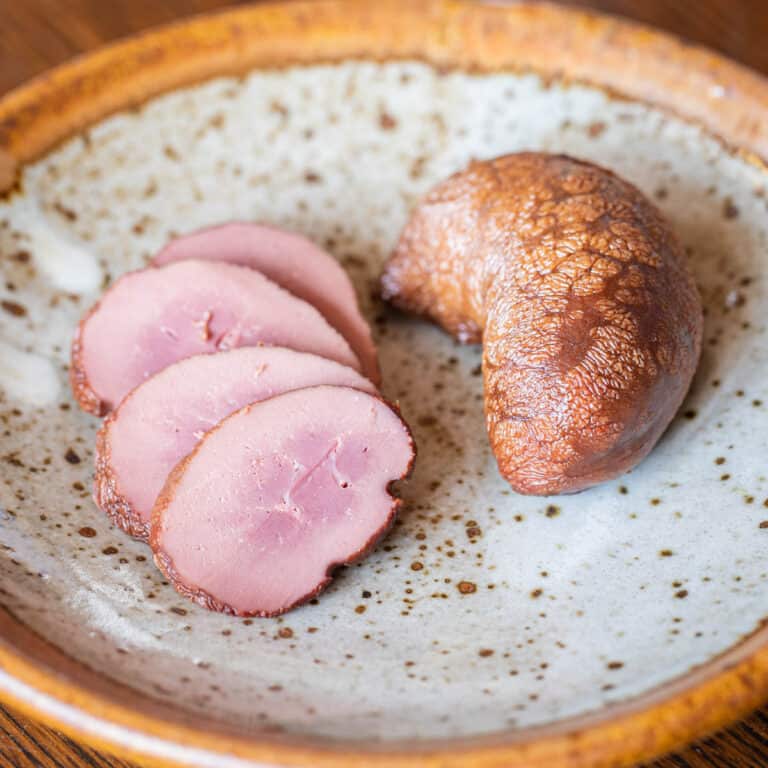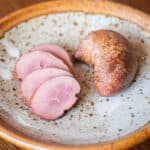 Print Recipe
Smoked Venison Kidneys
Smoked venison kidneys are a delicious way to eat one of the most under-utilized parts of the deer. Serve with a good mustard.
Equipment
1 2 quart container for brining

1 Smoker
Ingredients
Kidneys
1

lb

kidneys

or up to double that amount (see note on the brine)
Brine *see note
1.5

T

10g Kosher salt

1

teaspoon

2g pink salt (sodium nitrate)

¼

cup

50 g brown sugar or maple syrup (use a little extra than ¼ cup if you use maple to account for the water it contains)

1

tablespoon

cooking oil

for smoking

Aromatics

you can adjust to your taste and what you have

1

large clove garlic

grated, minced or mashed

1

teaspoon

black peppercorns

¼

teaspoon

crushed red pepper flakes
2 bay leaves
½

inch

piece cinnamon

10

allspice berries

5

whole cloves
Instructions
Removing the fat
Remove any membrane from the kidneys, then inspect the middle portion where they attach to the body and remove the fat from the inside of the kidneys, I like to do this with a sharp knife or pruning shears.

The fat can be tricky to remove without a thin, sharp tool. If you don't have a sharp shears, you could also remove the fat inside by freezing the kidneys half-way to make them less wiggly. That being said, if you can't get the fat out, or don't want to, don't worry, it will still be ok.
Soaking and brining
Soak the kidneys in water for 24 hours in the fridge. Meanwhile, bring the brine ingredients to a boil, then cool completely.

Add the soaked kidneys to the brine, and leave for 2 days.
Smoking
Lightly oil the kidneys, then smoke at 250F for 1.5 hours or until an internal temperature of 150 F. Cool, slice, and enjoy fooling your friends and family into thinking they're eating fancy smoked bologna.

Smoked kidneys will last in the fridge for 5-6 days, and can be frozen.
Notes
Brine
You will have enough brine for a few batches. You can use the brine for another purpose or re-use it 1x. You can also kidneys soaked in milk. 
Nutrition
Serving:
1
oz
|
Calories:
100
kcal
|
Carbohydrates:
8
g
|
Protein:
10
g
|
Fat:
4
g
|
Saturated Fat:
1
g
|
Polyunsaturated Fat:
1
g
|
Monounsaturated Fat:
1
g
|
Trans Fat:
0.1
g
|
Cholesterol:
233
mg
|
Sodium:
150
mg
|
Potassium:
169
mg
|
Fiber:
0.2
g
|
Sugar:
7
g
|
Vitamin A:
796
IU
|
Vitamin C:
5
mg
|
Calcium:
19
mg
|
Iron:
3
mg