Say the words venison bacon or venison pancetta to a hunter and they're likely to tell you how much they like it. Unfortunately, the venison bacon so many people like is a mocked-up, sort of salty meatloaf injected with liquid smoke and pork fat to make it palatable.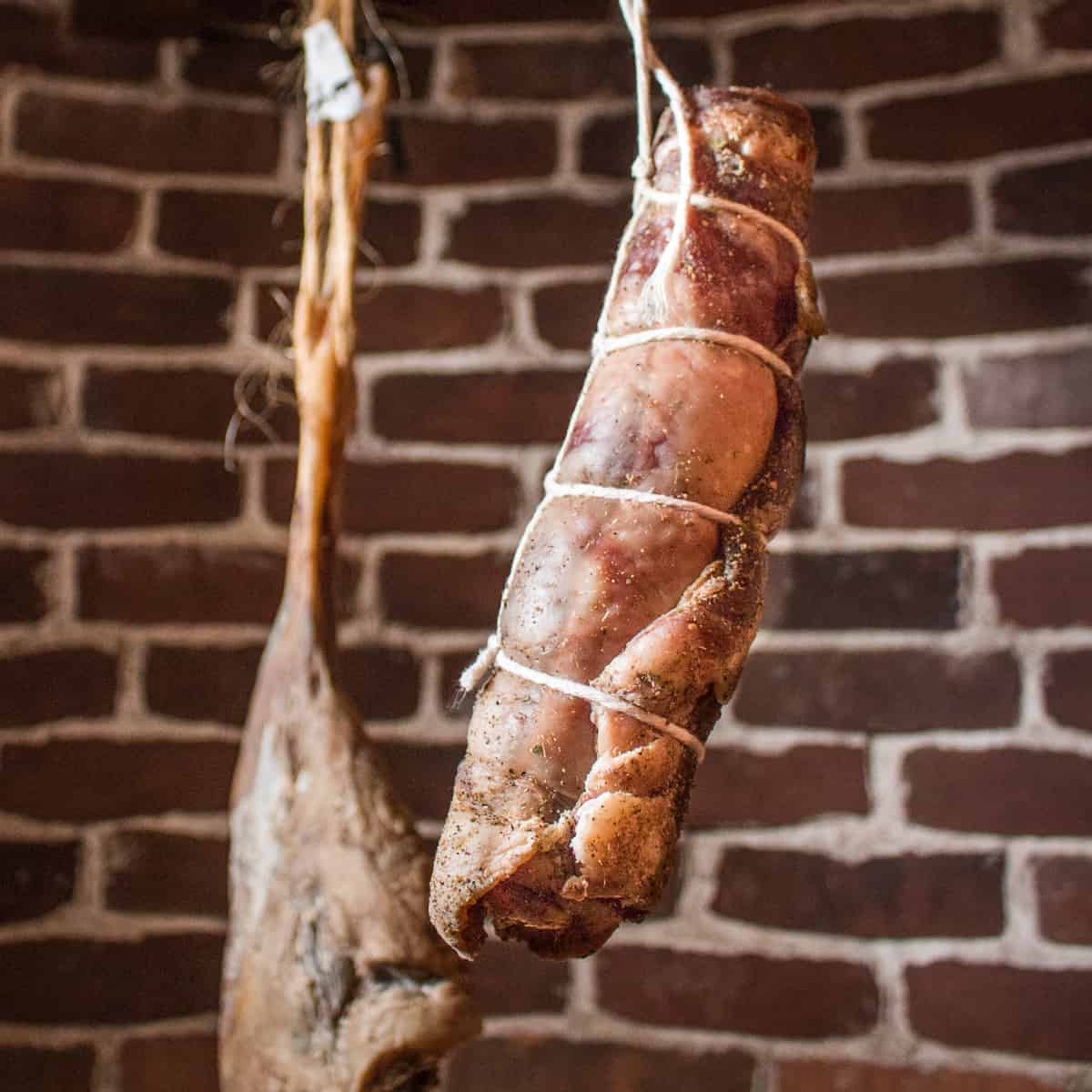 Like I talked about in my basic venison bacon recipe, bacon made from deer is a thing--a delicious thing that I make every time one of my friends shoots a whitetail. You just have to know what you're getting into (you won't be cooking fat slices of it) and you'll be fine.
Venison pancetta follows exactly the same methodology and my bacon does. Unlike pork bacon, bacon from deer and other small ruminants is actually a little more flexible in where the actual meat comes from--it doesn't have to be only the belly flap, like a pig. Since deer, lamb and goats don't have huge bellies, you can take any of the belly flap or trim from above and around the ribs, including the breast to make it (see a video of me making lamb bacon here you can apply to venison).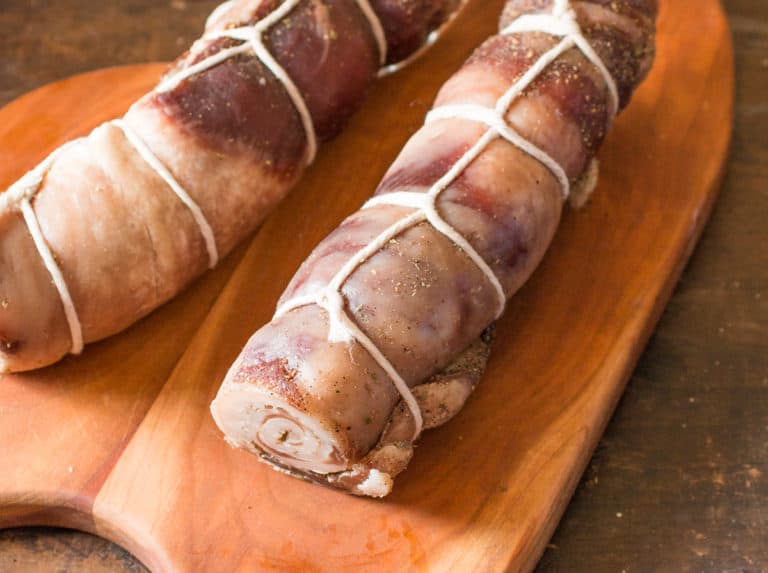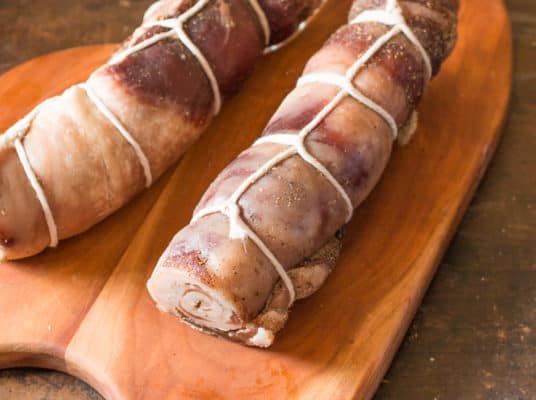 Now, if you're a hunter, you might be thinking "that meat's full of fat, what the hell are you doing?!". First, yes, it is fatty, second, trust me. Just like regular bacon, you're going to drain the fat off, but you don't have to, and I actually recommend leaving it in if you make something like tomato sauce with venison pancetta, or any other similar Italian sauce where the meat is slow-cooked.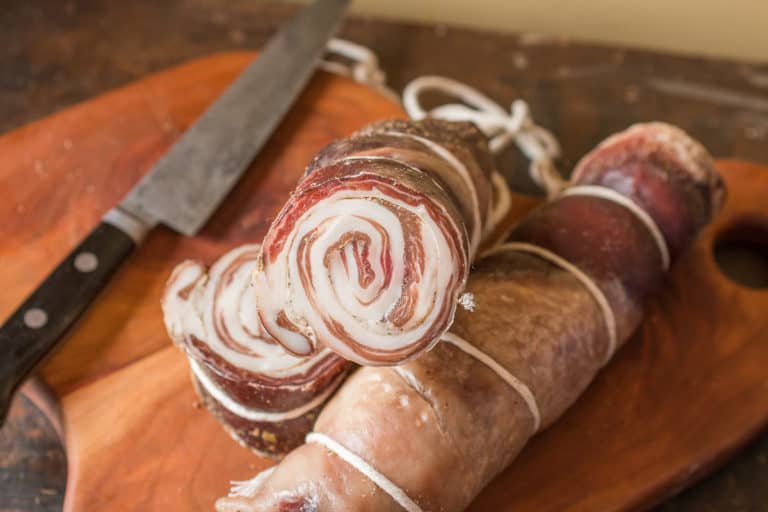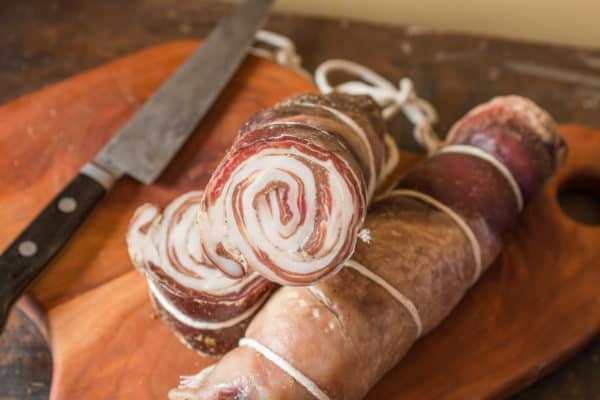 The best part though, is that this is a great type of beginner charcuterie to start out with if you have limited time, space, or all of the above. Venison pancetti are small--about 1 lb a piece starting weight, so they're not going to require a separate fridge, humidity control, or any of that. Unlike pork belly, too, venison flap and trim is thin, so it cures in a fraction of the time.
It also doesn't require any special equipment other than a meat mallet, some twine, and a spice grinder, compared to sausage makings that will have your kitchen blown up for half a day, with plenty of cleanup to do before you sit down and relax.
Venison pancetta will come together for you in about 10 minutes, with only a little care here needed afterwords. I cure mine during the winter in an adjacent tower connected to our bedroom on the farm. If you don't have a tower, and like making charcuterie, I highly recommend adding one.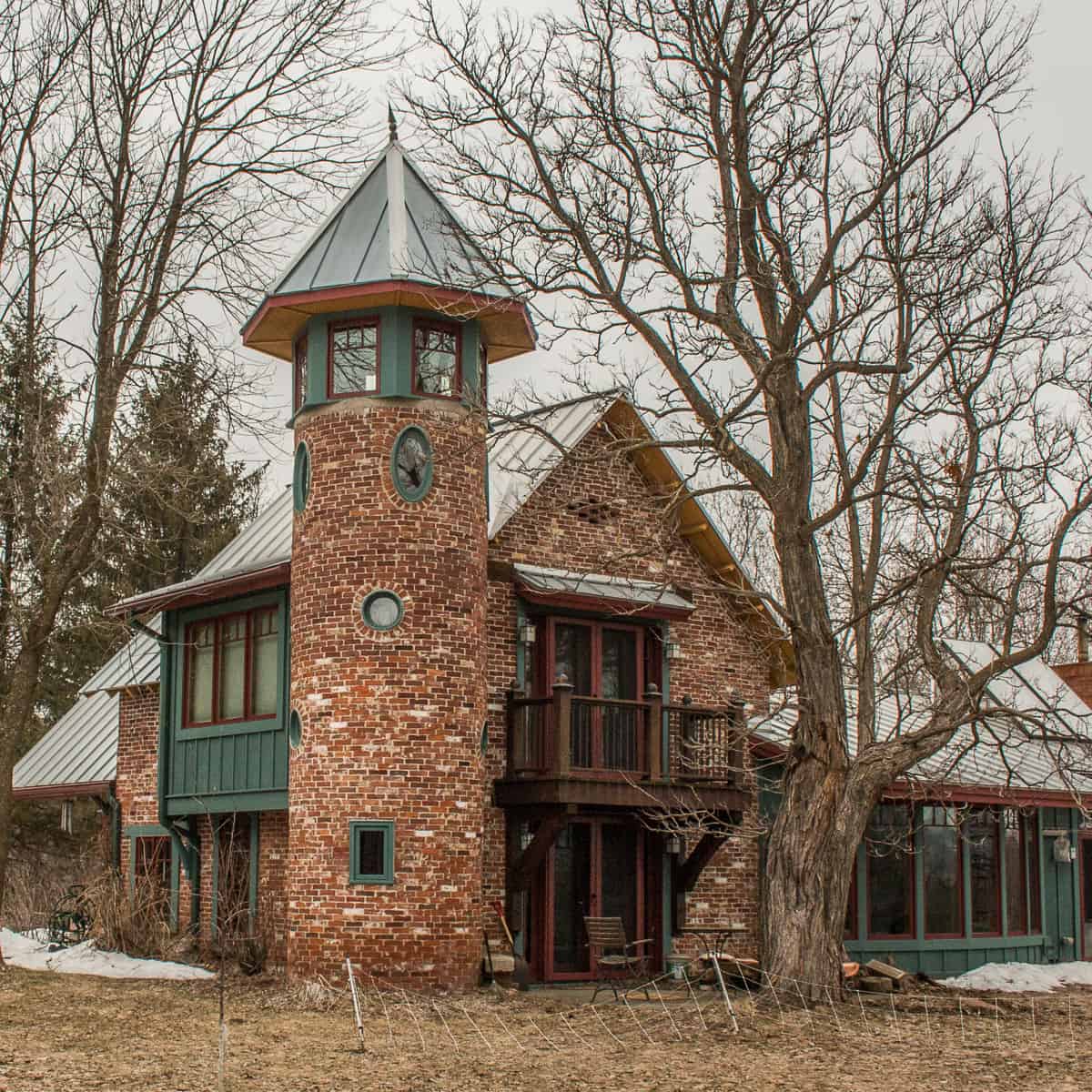 Cooking
There's only one real caveat with your veni pancetta, and it is a caveat: just like with lamb and goat belly, venison belly or other cuts you might use for pancetta can have a touch membrane running through the middle, or just be a little tough in general, which is natural.
What it means though, is that you can forget about cooking crispy spirals of this to put on a burger, and cutting slices to cook like regular bacon is likewise not going to happen.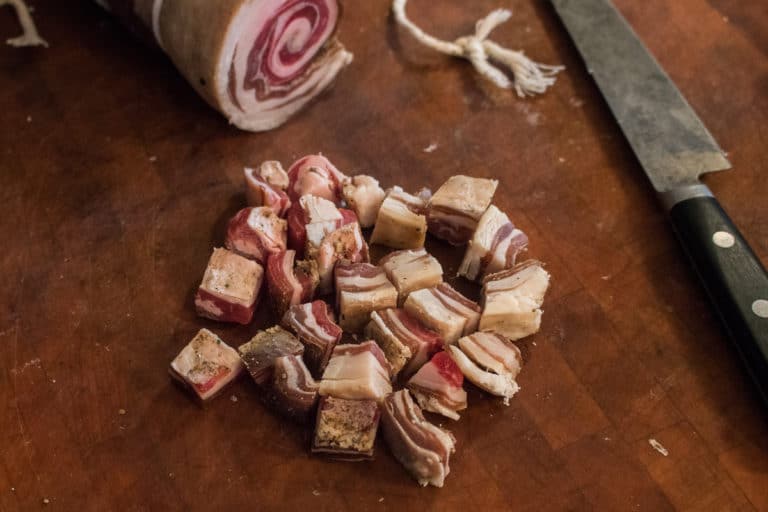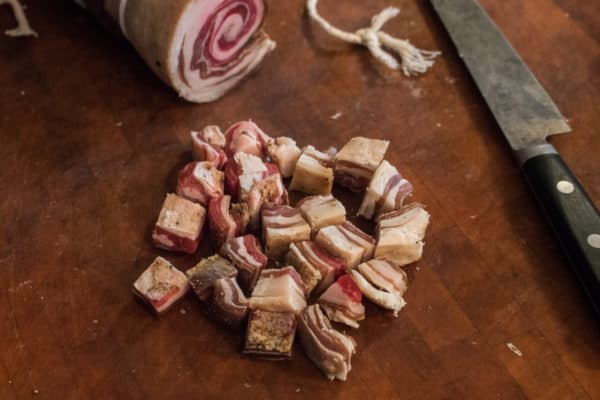 The good part, is that there's more than one way around the chewy-ness, two ways, really. The first way is adding the pancetta to something that's going to cook for a long time, like that pot of tomato ragu simmering on the back of the stove filled with sausages and meatballs, or a slow-simmered sugo in the vein of Amatriciana, the famous sauce traditionally made with cured pork jowl bacon from southern Italy near Rome.
The second way, and probably the most efficient, is to sous vide your pancetta after it's done. To do that, take a look at the recipe below and follow my directions in the notes. It's easy.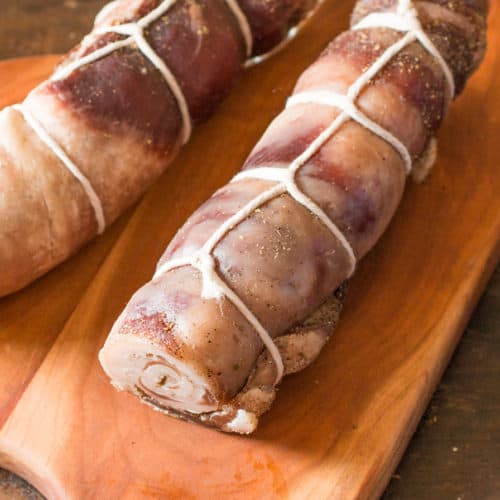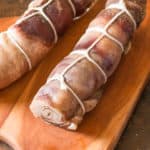 Print Recipe
Venison Pancetta
Home-cured venison pancetta. Makes enough to add to 5-6 meals, or more.
Equipment
butchers twine

Vacuum bags

for portining (optional),

A cold room or fridge
Ingredients
2

lbs

venison belly, flap, trim, flank, boneless rib meat, or fat caps, cut into two 1-lb pieces

try to make them rectangular
For the cure
¾

ounce

20 grams kosher salt or fine salt

3

grams

pink salt or 1 scant teaspoon Sodium Nitrite

available from butcherpacker.com

4

grams

or ½ tablespoon whole peppercorns

4

grams

fresh rosemary

chopped fine, or 1 gram dried rosemary

2

grams

or 1 teaspoon whole coriander seed

2

grams

or 1 teaspoon dried fennel

.5 grams or roughly 3 dried bay leaves
Instructions
Pound the meat with a mallet well until it's a uniform thickness and easy to roll up like a jellyroll.

Grind the dried spices and herbs with the salt and pink salt in a spice grinder.

Rub the entire mixture over the meat, massaging it in and taking your time, then refrigerate for 5 days, turning ever day, or as often as you can remember. After 5 days, tie the pancetta with butchers twine and hang to dry in a refrigerator or a place with similar temperature for 5 days to remove some water weight.

After 5 days of drying, remove the pancetta, cut into manageable pieces (I like 4oz hunks) and vacuum seal and freeze, or keep in the fridge. The pancetta will keep in the fridge for a month or two.
Notes
Improvising a place to hang 
If you don't have a cool place to hang the pancetta, you can cure it in the fridge on a cookie sheet, while it isn't the best, it will still work fine, just turn it regularly so it can dry out, and if you can, lift if off the ground using a few dowels or something similar.
Cooking with your pancetta
The pancetta isn't meant to be cooked in strips like bacon. To use it, dice it into pieces, then slowly render the fat until crisp and simmer for an hour or two in something like tomato sauce. Alternately, you can vacuum seal and sous vide the pancetta after curing for 3 hours at 150 F using a sous vide cooker, after which it will be tender. Then cool, slice, and cook as needed. 
Nutrition
Serving:
2
oz
|
Calories:
109
kcal
|
Carbohydrates:
0.1
g
|
Protein:
21
g
|
Fat:
2
g
|
Saturated Fat:
1
g
|
Polyunsaturated Fat:
0.4
g
|
Monounsaturated Fat:
1
g
|
Cholesterol:
77
mg
|
Sodium:
870
mg
|
Potassium:
291
mg
|
Fiber:
0.1
g
|
Vitamin A:
12
IU
|
Vitamin C:
0.1
mg
|
Calcium:
6
mg
|
Iron:
3
mg