Along with nettles, mallow (numerous varieties) is one of the most widely used foraged greens in the Mediterranean and surrounding areas, and a Google search using words like "Malva soup" will show you what I mean. It's a very traditional green.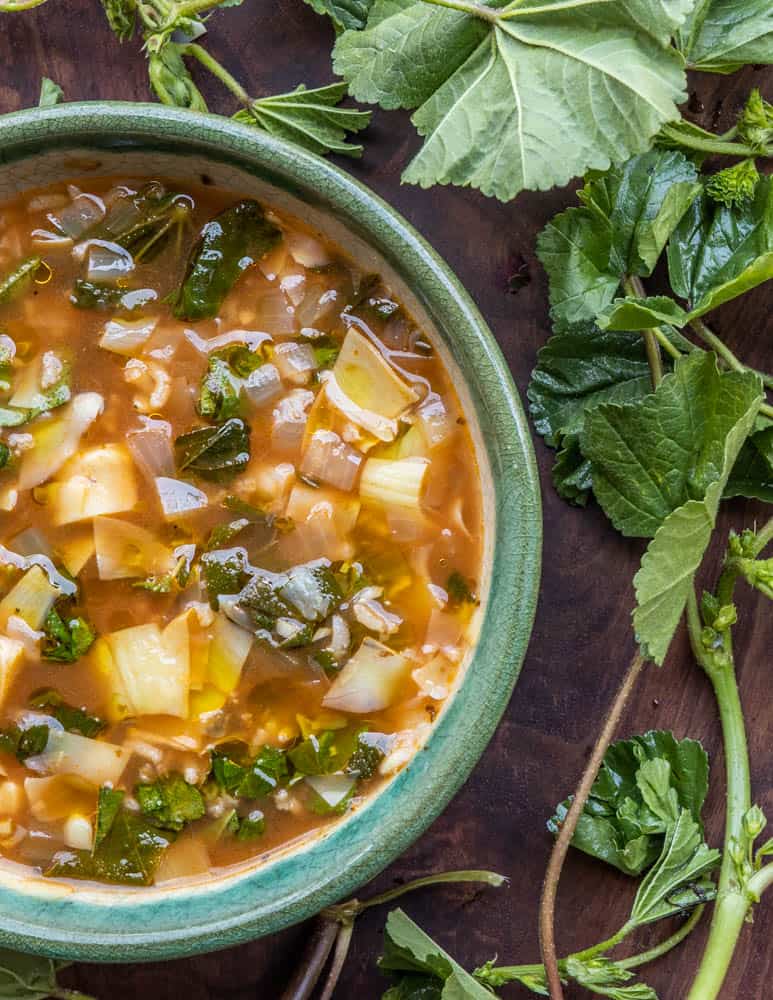 Most of the time when you see a recipe for mallow or malva soup, it's going to be something along the lines of a recipe calling for large amounts of mallow, stock or water, onions, garlic and potatoes. I prefer rice over potatoes as rice is a more traditional Mediterranean starch, but if you want to switch the rice out for them, it would be fine. Often the soups are pureed, sometimes not. This is one of the chunkier types.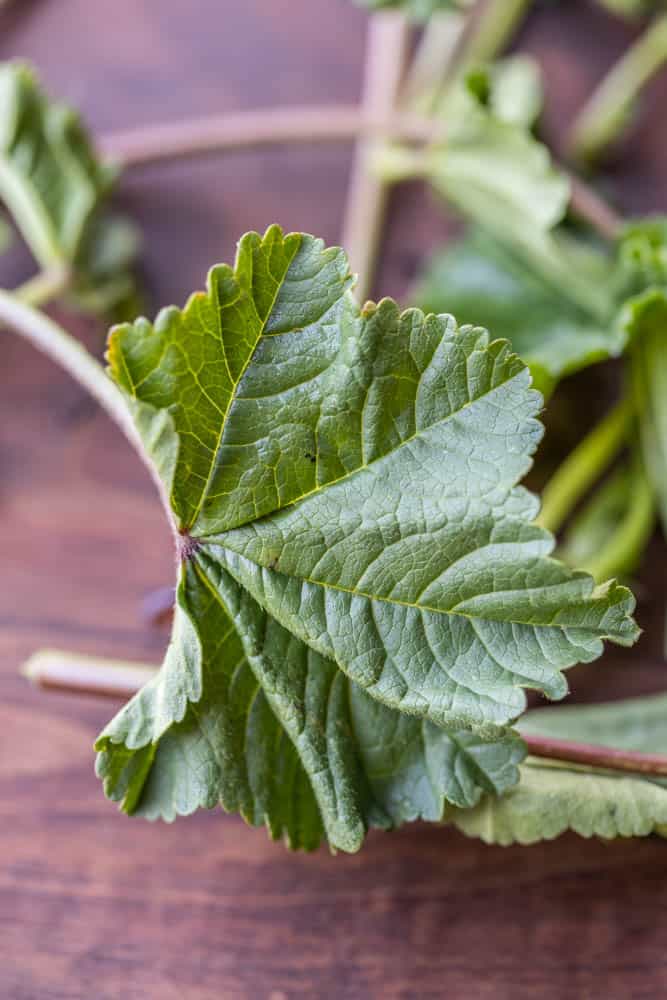 Soup with mallow vs mallow soup
This version is inspired by my Girlfriend's family from Greece, and some soups I've eaten ate dinners with them. It is much more of a soup with mallow greens in it, than a mallow greens soup, since sometimes I only find small amounts of the greens around the barn where they like to grow. It's easy to make with an onion, some garlic, a little tomato paste, a handful of rice, and a couple artichokes.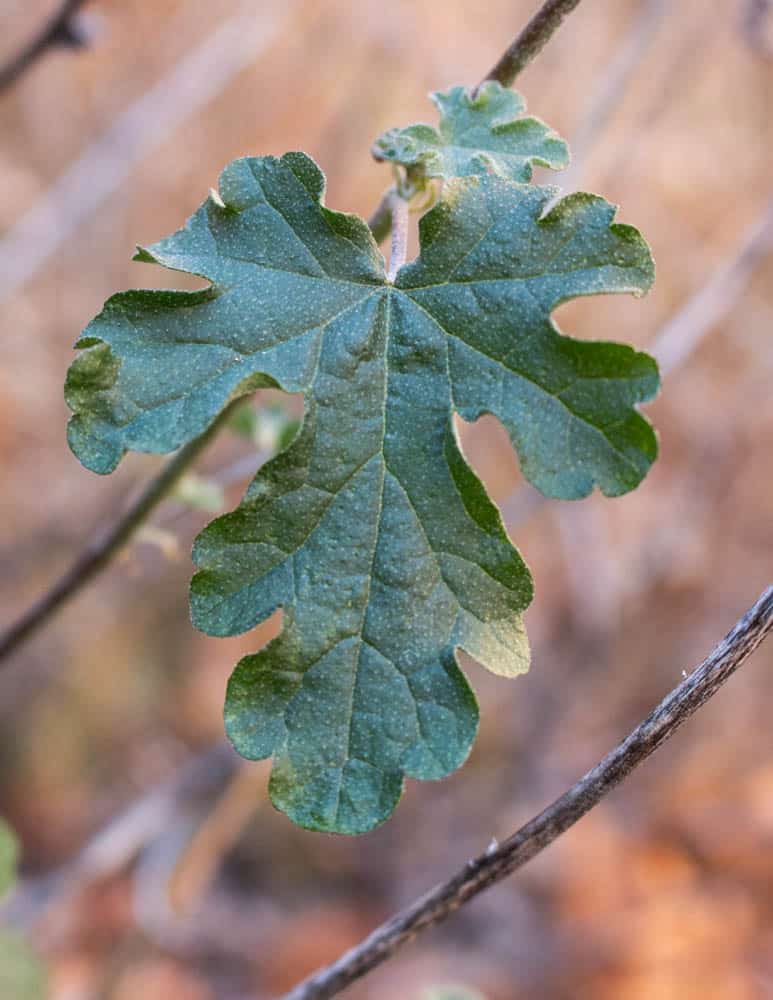 Vegetarian, but adaptable
I made the basic version here vegetarian, but I added a bunch of Greek meatballs to ours after it was cooked. Sausage would be good too, as well as cooked chicken.
Toasting the rice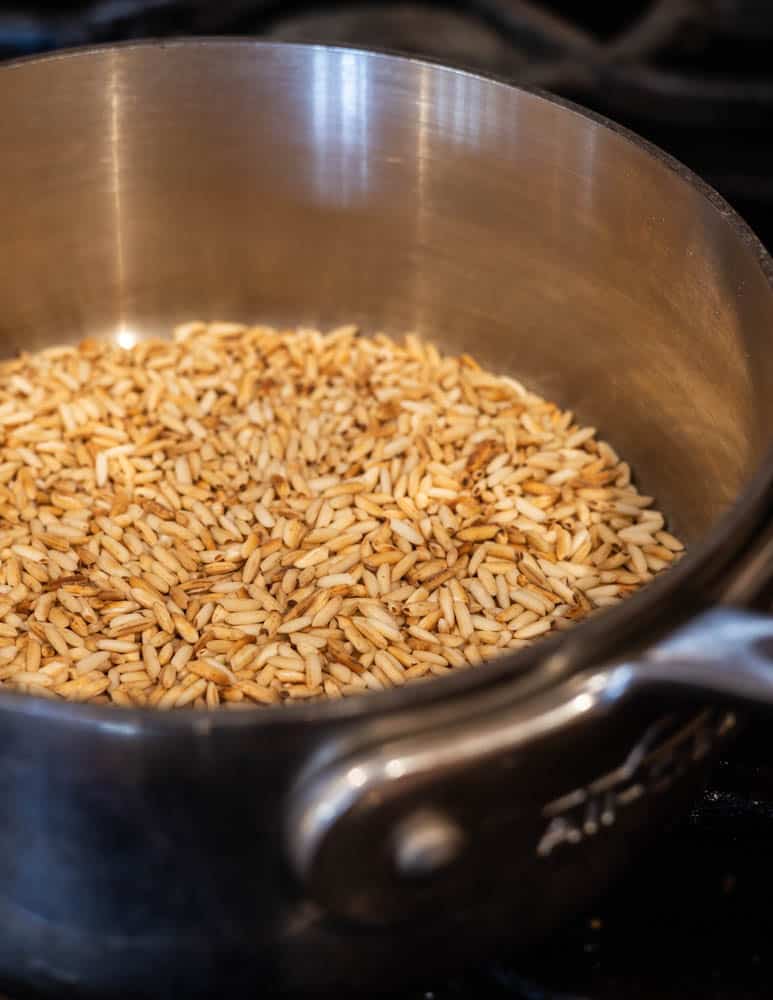 Toasting rice is a really good trick hidden in here you'll want to remember. I toast rice all the time, for a number of reasons. First, it deepens the flavor, bringing out toasty, nutty qualities. Second, and also very important, is that toasting the rice seems to denature the starch remaining on the outside of the rice, and helps it cook up nice and fluffy. Try it.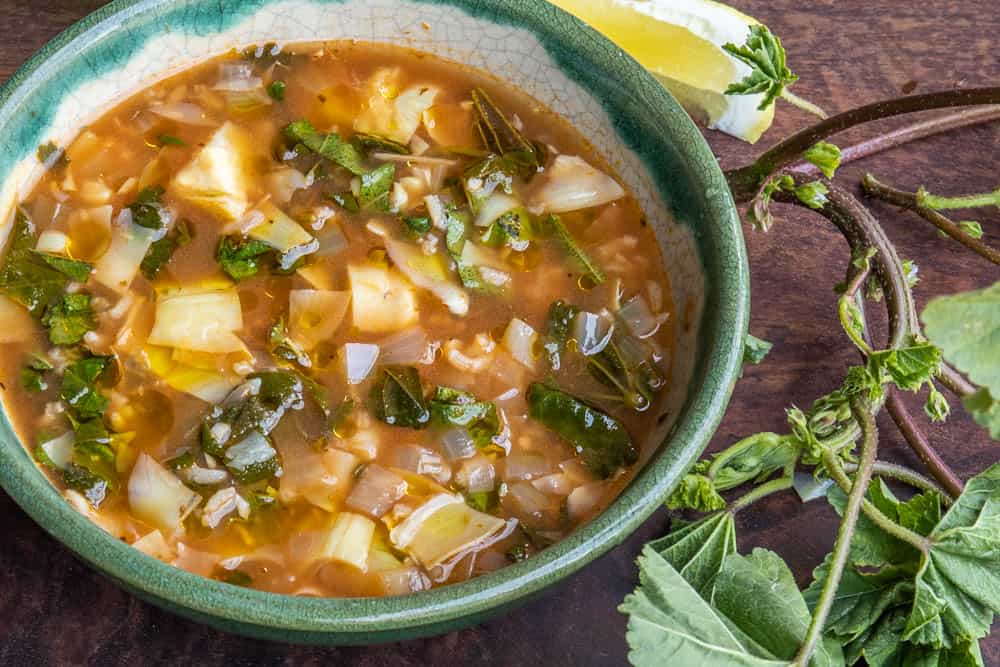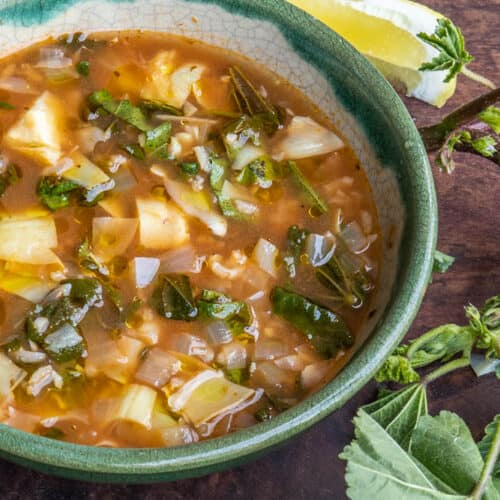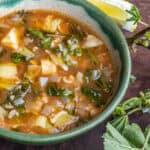 Print Recipe
Mallow Soup with Artichokes and Rice
A simple soup made with artichokes, mallow leaves, rice, and stock. It tastes slightly reminiscent of avgolemono soup. If you eat meat, consider adding sausage or chicken.
Ingredients
Rice
½

cup

long grain rice

or ¼ cup cooked rice. This makes double what you need since it's pointless to cook less.

1

cup

chicken stock or vegetable stock

2

teaspoons

olive oil

¼

teaspoon

kosher salt

1

dried bay leaf
Soup
1

small

4oz onion, diced ¼ inch

3

large cloves garlic minced or grated

2

tablespoons

olive oil

4

oz

(roughly 2 packed cup) fresh mallow leaves

stems discarded, shredded ½ inch

5

cups

chicken stock

Kosher salt

to taste

Pinch

of crushed red pepper

to taste

Fresh lemon juice

a dash, to taste

½

teaspoon

dried Greek oregano

or to taste

1

14 oz

can artichoke hearts or bottoms

drained and roughly chopped
Instructions
Toast the rice in a small pan on low heat while you prep the other ingredients, swirling the pan occasionally for about 15-20 minutes, until the rice is toasty brown and aromatic.

Add 1 cup of the stock to the rice, along with ¼ teaspoon salt, olive oil and bay, cover, turn the heat to as low as possible and cook until tender, about 15 minutes. Cover the rice and allow to rest.

Meanwhile, in a 2 qt or large pot, sweat the onions and garlic in the olive oil until translucent, then add the tomato paste, and oregano, crushing the oregano between your fingers as you sprinkle it in.

Add the remaining 4 cups of stock, along with the mallow leaves and artichokes, bring to a simmer and cook for 15 minutes. Taste the soup and adjust the seasoning for salt and oregano until it tastes good to you.

Just before serving, stir in ½ cup of the cooked rice, heat through, then and the lemon juice to taste at the last moment. Feta or dollops of goat cheese can be a nice garnish too.