Possibly the greatest sweetbread or brain recipe I've ever made, and certainly the best way to serve them to others, from my experience. If you want to serve offal to people and have them ask for seconds, this recipe will do that.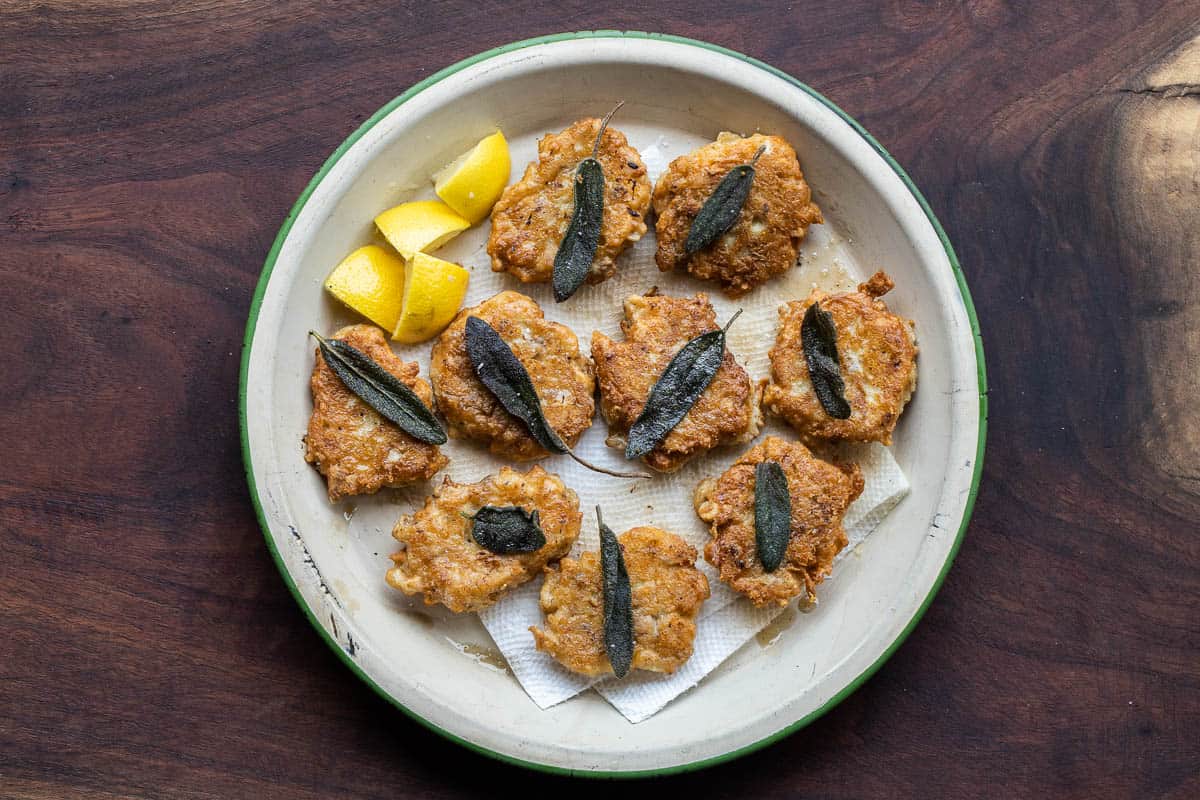 If you've never eaten brains, but are curious about them, these fritters should be the first thing on your list to make. If you're a seasoned eater of elusive cranial sweets, you can probably say hello to your new favorite brain recipe.
The key with brains, at least for me, in trying to serve them to others, at least for the time being, seems to be figuring out the best way to disguise them, and I don't know anyone who will turn their nose up at crispy, cheesy, golden brown fritters perfumed with fresh sage and anointed with a squeeze of lemon. Seriously. Everything is good in cake or fritter form.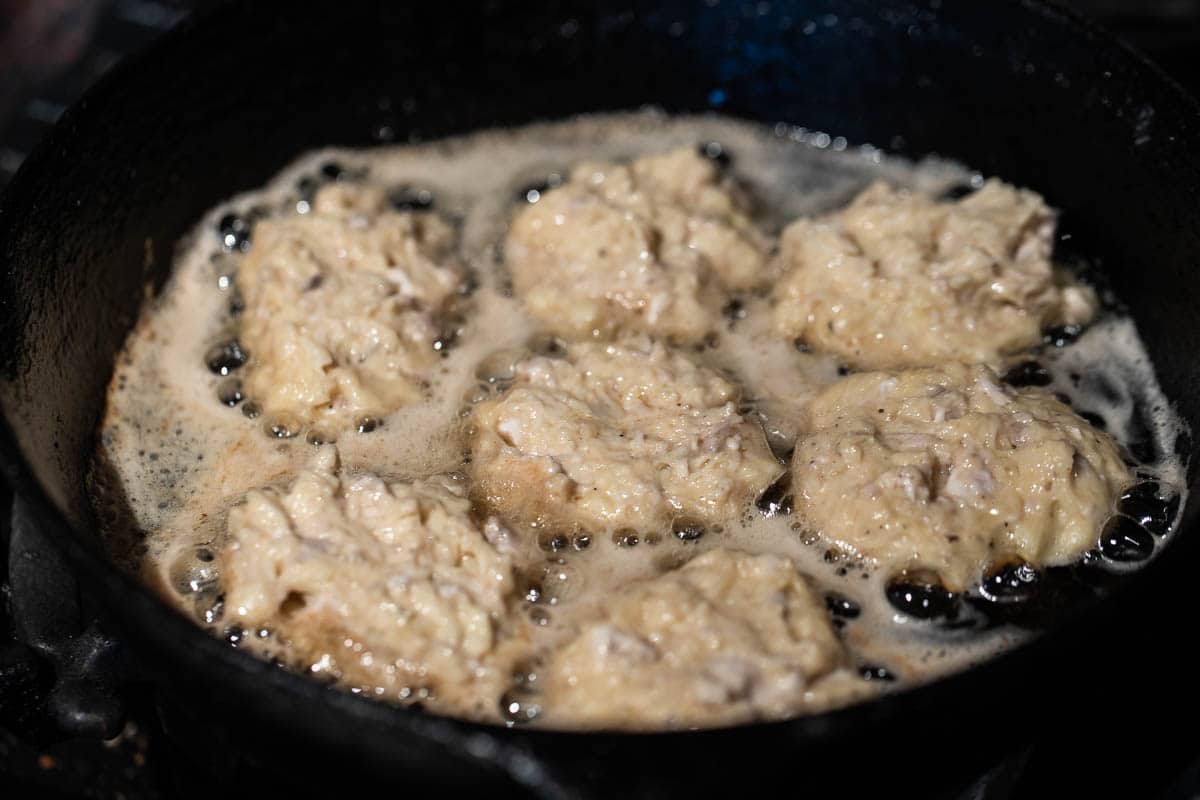 While doing research for all my cranial cookery projects for this site, I made notes of the brain recipes I wanted to try and tweak, and I found more than one recipe for fritters.
Richard Olney described one in his great book of offal cookery, but looking at the ingredients I could see it was going to be a bit dense, since there wasn't any egg. Another recipe I found in the great Phaidon book I Know How to Cook had a recipe for brain fritters too, and that one, with it's gruyere cheese, nutmeg and eggs, was more to my speed.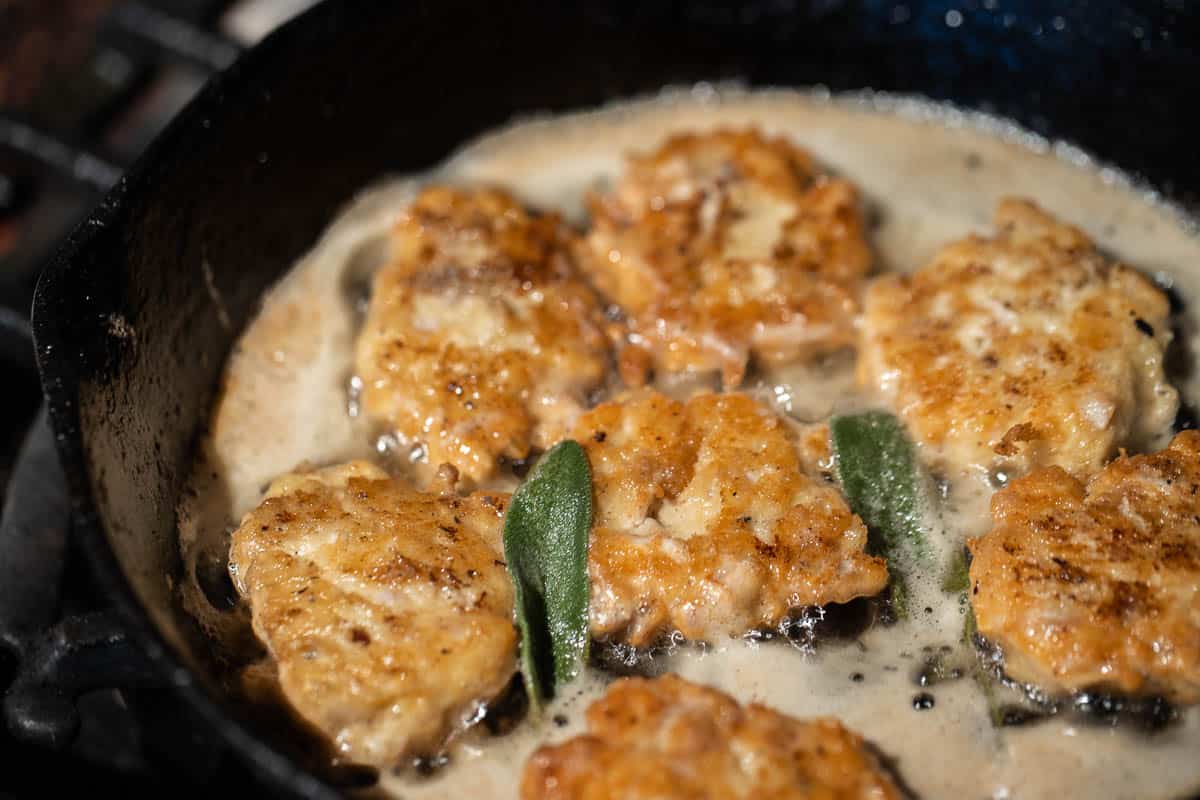 After I played around with a few versions, I settled on the one here, which is more or less the same, with the addition of fresh sage and a little tweak on some of the proportions. It's really easy, and, I can guarantee, if you don't tell your friends they're eating brains, no one will suspect a thing.
You can break it to them as they fight over the last golden brown fritter, and watch their minds juggle with the cognitive dissonance that comes with loving something they might never have considered edible.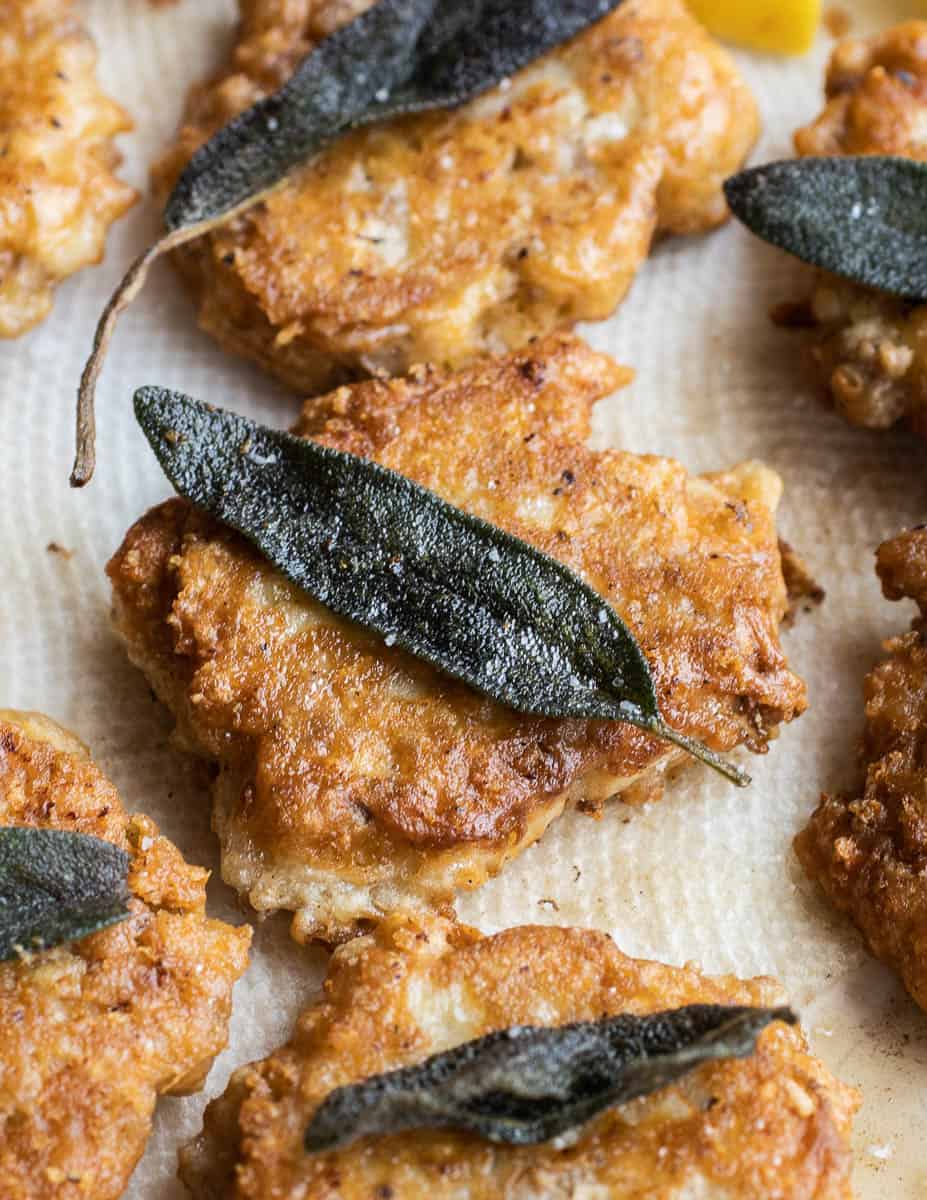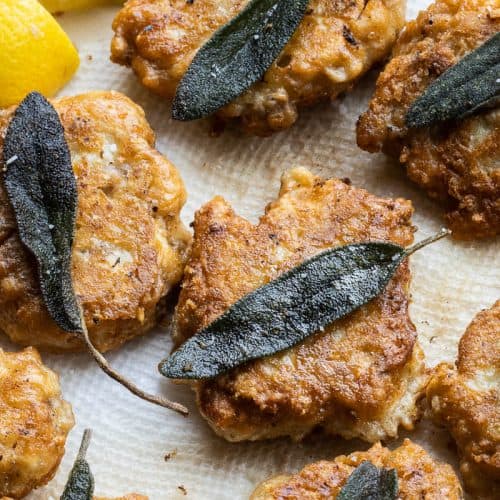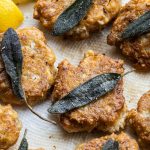 Print Recipe
Lamb Brain Fritters with Lemon and Sage
Fritters of brains mixed with grated gruyere cheese are a delicious way to begin your journey into enjoying one of the most under-utilized offal delicacies. Serve 2-4 and makes about 10-12 cakes
Equipment
1 12 inch skillet

1 2 small mixing bowls
Ingredients
Fritters
4

oz

cooked lamb or other brains *see note

I used 2 whole lamb brains, halved

2

oz

Gruyere or Parmesan cheese

1

large egg

2

tablespoons

heavy cream or half and half

2

tablespoons

all purpose flour or equivalent

Fresh cracked black pepper

A few scrapes of fresh nutmeg

Tiny pinch of cayenne
For serving
Fresh sage leaves

about 12

¼

cup

clarified butter or cooking oil

for frying

Fresh lemon wedges
Instructions
Batter
Cut the lamb or other brains into ½ inch cubes, then mix with the remaining ingredients except the flour. Mash the brains around with a fork a bit to break them up. Add the flour until just combined.

Cook a small piece of batter to test the seasoning and adjust as needed. Heat the clarified butter or oil in a pan about 8-10 inches in diameter, a cast iron skillet is great.
Cooking the Fritters
Fry the sage leaves until just crisp, then transfer to a pan lined with a towel in the oven to keep warm. Fry the cakes a few at a time in the now sage-flavored butter until golden on each side, transferring cooked brain fritters to a dish in a warmed oven.

Once all the fritters are done, arrange them on a warmed plate, put a sage leaf on each on, and serve hot with lemon wedges.
Notes
To prepare the brains for cooking
Soak the brains in cold water in the refrigerator, changing the water until it runs clear, then poach them in lightly salted water to cover with a peel of lemon zest and a bay leaf for 20 minutes. Cool the brains in their liquid completely, then they're ready for the fritters.
Using other brains besides lamb 
You can use other brains here, and you'll get a better yield from pork or beef. All of my lamb and goat brains have lost about half their weight after poaching, for what it's worth. 
Nutrition
Serving:
2
oz
|
Calories:
260
kcal
|
Carbohydrates:
4
g
|
Protein:
12
g
|
Fat:
22
g
|
Saturated Fat:
5
g
|
Polyunsaturated Fat:
5
g
|
Monounsaturated Fat:
11
g
|
Trans Fat:
0.1
g
|
Cholesterol:
137
mg
|
Sodium:
141
mg
|
Potassium:
129
mg
|
Fiber:
0.1
g
|
Sugar:
0.4
g
|
Vitamin A:
5011
IU
|
Vitamin C:
0.4
mg
|
Calcium:
159
mg
|
Iron:
2
mg